Textes en wallon (normalisé) sur les religions.

Sicrijhaedjes e (rfondou) walon sol rilidjon.
dierin rapontiaedje - last update: 2005-12-29.
Dressêye:
Page des textes catholiques. Li pådje des tecses po les catolikes.
Histoire des religions.
Analyses sur des problèmes religieux.
Traditions religieuses.
Islam.
Poésie à inspiration religieuse.
Poésie à connotation sceptique.
Chaque religion croit que seuls ses adeptes seront sauvés.

Les rlidjons (Justin Boinet).

Doutes sur l'existence de Dieu, vu le comportement des hommes.

Credo ? (François Nyns); Avri (Gina Spirito); I seront la (F. Dewandelaer).

La prédication des valeurs religieuses: entreprise à échec garanti:

Sint Ågustin et l' gamén (Lucien Gaspard).
Divers.
---
La foi traditionnelle des noirs africains.
Li fwè tradicionele des Noers afrikins.
Dji vos va djåzer d' on sudjet k' est foirt long et lådje. Po ça, dji m' astocrè so mi apriyesse dins l' Coûtchant do Congo-Kinshasa, di Kisantu a Kikwit, mins eto so mes léjhaedjes, copurade so les lives do Pere Joseph Van Wing, on djezwite flamind : "Études Bakongo". C' est deus gros spès lives ki dj' aveu ddja yeu l' ådjeu do splitchî cwand dji studyive li teyolodjeye, et m' aprester a catrucimer ces djins la, pår les cis di Kwilu (500 km å Levant d' Kinshasa).
Divant d' ataker, dji vos doe dire ki dji n' eploye nén voltî li mot "animisse" ki vout dire "croeyance dins des esprits k' animèt les plantes, les djins, les rotches". L' animisse n' est k' on ptit boket del fwè tradicionele, mins c' est l' veur ki c' est l' boket k' on ndè cåze tos les djoûs dins ces payis la.
Li Bon Diu, Nzambi.
Nzambi, e lingaedje kicongo, c' est l' Bon Diu. Dj' ô bén : Onk k' est ådzeu d' totafwait. C' est Nzambe e lingala, Mu-ungu e kiswahili, Imana e kiniarwanda et kirundi (riloukîz cial on boket da Omer Marchal ladso).
Après l' no di Mzambi (Diè), on aplake sovint l' addjectif Mpungu. Mzambi mpungu est èn emantchaedje pår come e walon "li Bon Diu" ey e francès "Dieu Tout-puissant".
Sacwants advineas mostrèt bén ki c' est l' Bon Diu k' a askepyî totafwait:
- Cwè çki c' est, li ptit paket ki Mzambi a fernukî et ki n' si disloye nén ? Response: li botroûle.
Des spots, avou :
C' est Nzambi k' aprestêye li pwin et l' maniok; et nozôtes, on n' î mete fok les såces.
C' est Nzambi ki decide des lwès. Aler disconte est on petchî. I vout k' on aide les djins: li ci ki rfuzreut di dner d' l' aiwe a èn etrindjî k' a soe, i serè pûni. Come li ci ki boute li feu ås cahoutes, ki touwe li bisteu et distrure les dinrêyes. Si pûnicion arivrè ddja so tere: i serè tofer angoxhî, diswaibyî, peu ki l' tonoere ni lyi toume sol cabu.
Pitite adire avou l' fwè catolike: Mzambi ni dene nole ricopinse ås bråvès djins. Les cis ki respectèt les lwès da Nzambi et les dujhances do payis, cwand i mourront, i seront rascoyîs emey les tåyes, dins des viyaedjes ki sont dzo tere, la k' i gn a toplin des femes, do djibî et do vén d' påme. Tant k' ås cis k' on fwait do må tins d' leu vicåreye, i seront codånés a divni des spérs ki vnèt hanter les vicants.
Ça fwait ki: li djudjmint del vicåreye d' ene djin n' est nén metou so les spales da Nzambi. C' est purade les tayons zels-minmes k' acceptèt u ki rfuzèt ene djin dins leus viyaedjes, sorlon si cdujhance so tere.
Les tåyes - les bakulu -
Les tayons ont les minmes viyaedjes ki les vicants. Les viyaedjes des tåyes si trovèt dins l' aiwe, a costé des bwès, dins l' minme ban ki les viyaedjes des vicants. Li morant leye si coir el fosse et i dvént nkulu, et atraper ene blanke pea. Les prumîs blancs k' ont-st arivé låvå ont stî rwaitî come des tåyes k' avént raviké et il ont stî rçûs come des ptits diès. Les bakulus ont les minmes ovraedjes et les minme gosses et l' minme plaece dins l' société ki cwand il estént so tere.
Dimander aidance ås tayons
Les tayons drovèt u cloyèt come ça lzî toke li muchiete ås trezors. Si les djins ont des bons dveriaedjes, i diront : "C' est les tåyes ki m' les ont dné." Sifwaitmint po des bounès wangnes dins leu handele, on bon ståve avou des haiteyès biesses, et hay vos nd åroz.
Po dmander l' åjhmince des bakulu, les djins vont so l' aite et boere do vén d' påme pu dire çou k' i vôrént bén.
C' est co pus li veur po les tchesses. Totes les biesses ås shabots et ås grawes sont dås tayons. Dabôrd, cwand on est po tchessî, i fåt decider, avou, li djoû k' on va ndaler al cimintire dimander l' aidance des tayons.
Les fiesses des moirts
Cwand ene djin est malåde, li rbouteu mostere cobén, dins s' diagnostik, les bakulu ki sont mwais pask' on n' les a nén fiesti come il åreut falou
Adon, les vîs omes do viyaedje si rapoûlèt po vey cwè. Dazår k' i vont adjinçner ene fiesse des åmes, k' est todi etcherpetêye insi:
Ene ceremoneye wice k' on va so l' aite advierti les åmes k' on les fiestixhrè, s' i rwerixhèt li ci (cene) k' est malåde.
Li mostraedje a tertos des ptitès biesses k' on touwrè a l' ocåzion. Kécfeye, dinltins, touwéve-t on eto des efants. Dji m' a leyî dire ki ça egzistéve co di tenawete ouy. On m' a rapoirté deus cas, inte 1977 et 1987.
Li fiesse des åmes leye-minme, la k' on va dire des longuès priyires, ene miete come des såmes [psaumes]

Ngyadidi mooko; Kiyala mooko kafwaa ko !

Dji stind mes bresses (po vs priyî); Li ci ki stind ses bresses inla èn såreut mori.
Li macralreye
Dji n' eployrè waire les mots di nosse lingaedje (come macrea, macrale, emacraler, esse tchôkî, esse segnî del noere gade, aveur on mwais sôrt, taper on sôrt…), paski les atuzes sont foirt diferinnes.
Dji vons sayî di bouter a pårti des lingaedjes di låvå.
Li bodje dins l' lingaedje kicongo, come dins ds ôtes lingaedjes bantous po cåzer d' on sôrt, d' en emacralaedje, c' est lok. "loker" c' est taper on sôrt, emacraler (NDR; droldimint, on rtrouve la li walon "loket", sere).
So l' Bon Diu (Nzambi) gn a nou locaedje ki s' pout. Tos les ôtès djins, vicantes u moites polèt loker et esse lokêyes.
L' adire inte les priyires ås bakulu et l' arinnance po-z emacraler.
I fåt bén fé l' diferince inte li priyaedje des tayons ki nos avans dit enawaire, et les emacralantès faitindjes ki nos ndalans cåzer totasteure.
Cwand on preye les tåyes, on lzî dmande pititmint des gråces, divant on coirbion avou des rlikes, ki s' lome lukobi lu bakulu, et boere a leu santé. Dins l' cahoute ås priyires, gn è pleut pont aveur di nkisi (emacralante posturete, fétiche). Dinltins, li curé priyeu des tåyes ni pleut aveur nou nkisi da sinne, minme dins ene ôte cahoute. Ça fwait ki l' priyaedje des tåyes et l' atôtchance macralrece [communication de magie noire], minme avou les tayons, ça n' si fwait måy so les mimès plaeces.
Les posturetes, u nkisi.
Li nkisi, c' est ene sacwè fabrikêye pås djins, k' elodje èn esprit u ene åme et k' est cmandêye pa ene sakî.
Gn a tant des sacwès ki s' fijhèt pa l' åjhmince do nkisi, ki, pa stindaedje di sinse, li mot nkisi vout dire eto "rimede". Li naganga nkisi, l' ome k' a on fetitche da sinne, c' est eto li rbouteu ki cnoxhe totes les yebes ås maladeyes [plantes médicinales]. Mins il årè wåde di dner les uzaedjes des plantes; et i va påterniker des oremusses tot segnant l' må, po fé les cwanses k' i werixh do scret.
Kî çki pout "loker (taper on sôrt) på nkisi"?
Li ci k' end a onk et ki cnoxhe totes ses dujhances, u l' ci k' on lzî a mostré.
Cwand èn ome-å-nkisi cåze a s' posturete, i lyi djåze come on mwaisse ki cmande si sudjet. I l' evoye dåre-dåre macsåder li ci k' est responsåve d' ene maladeye. Gn a ene nouzome diferince inte ci cåzaedje ci, k' est fwait d' ôres [ordres] dinés setchmint et les priyires k' on dit ås bakulu.
Cwand il a tot påterné avou l' fetitche, li rbouteu va cweri les plantes ki vont avou, et les semer so les pazeas ki l' emacraleu - li djin k' on dit k' est l' cåze do måleur u del rascråwe, et k' on vout loker - i va semer ses waides, di dj' so les pî-sintes ki l' ôte s' î pormoenne tofer. Et s' i passe dissu ces plantes la, li posturete lyi va fote ene rame.
Li locaedje sins posturete (loka mpanda).
C' est ene foice di locaedje ki les parints et les tåyes ont so leus efants et ptits-efants, et k' n' a nén mezåjhe d' ene posteure po aler. On l' lome loka mpanda.
Metans cwand on valet n' vout nén schoûter, mågré ki s' pere lyi a dmandé co cint côps. Al fén i nd a s' sô et i si rclame "coixhî dins l' parfond di s' cour". Adon, i va "loker sins posteure" (uloka mpanda), avou l' dijhêye ki shût:
Mbari kieleka
Ndiama ka mono ko tat' aku!
Nzambi Mpungu ukuganga nzala
Ye nelmbo
Nda we yunga na kwaku
Ti, po ene djin, / Ebén mi, dji n' serè pu t' pa / Par Diè, ki pout tot, et ki t' a fwait tes / Doets et tes ongues / Va-z è, va-z è holer mierseu.
Tot djhant ça, i fwait aler les bresses d' ene façon, come on håspleu. Li fi k' a stî loké, endè va, li loca aclapé a s' coir.
Adon, i n' a pus nou rasta. On bea djoû, i si rpintixh, et rivni el måjhone, sovint paski s' mame l' a taené po. I fwait saveur k' i va raboirder, pu i vént, avou ene poye et ene djusse di vén d' påme. Et s' adjeni dvant s' pa tot maltonant : dj' a vnou po fé l' påye; c' est ça ki dj' dimande.
Li pere dirè adon: çou k' dj' a dit, djel rissaetche.
Les sôrts dins l' vicaedje di tos les djoûs.
Ces croeyances la vont dzôrner [perturber] pår li vicaedje di tos les djoûs. Boutans
Li locaedje provnant d' on mononke do costé del mame (li responsåve d' ene famile) di loker ene neveuse po k' ele n' åye pont d' efants. Li pere Wing a cnoxhou mo des cas. (NDR si disloként i al moirt do nonke ? ).
Li foice di loker on parint (Kindoki muna kanda). Les cis ki sont do minme sonk ont ene foice so n' on l' ôte. I plèt "magnî l' sonk do cour" d' on parint et insi, li fé dcweli.
Li kulokana, li rilocaedje n' on l' ôte [maléfice réciproque] dins ene parintêye. Tchaeke côp k' i gn a moirt, on dmande a l' advineu : Nani ndoki ? (kî çki l' a fwait mori ?). Nouv côps so dijh, il amete on parint. Ci-cial doet passer les bardôxhes: boere on vere di pwezon. Novele moirt a novele rivindje a prinde.
Li kindoki : c' est ene nouzome foice, k' on a d' nexhance u k' on atrape avou on nkisi, on pô come li pocion madjike d' Asterike. Li ci k' a li kindoki pout mwaistri les åmes di ses parints mins eto li veye et les ritchesses di tolminme kî. Nouk ni pout aler disconte di lu, apus k' el ci k' a on kindoki co pus poûxhant.
A cåze di ces croeyances la, les djins ont todi sogne k' on les vegne aduzer madjicmint. Boutans, les fotbalisses. Li nute di dvant on match i wårdèt l' bouye [ballon] avou des wåmeles esprindowes [bougies allumées] di ttåtoû. I n' falaxhe nén ki les cis d' l' ôte ekipe toutchrént l' balon, nén ddja s' end aprepyî.
Les djonnes ki vlèt monter ene eterprijhe sont des côps bråylés [entravés] s' i croeyèt å kindoki. Les cocourants, s' il ont des posturetes pus foites ki lu, lyi pôront "evoyî a Rekem" [le ruiner] come i vôront.
On voet did ci kéne aroke ki ça pout esse, avou totès djins ki sont d' doûce croeyance, po diswalper on payis.
Å djoû d' ouy, a Kinshasa, on djåze bråmint des efants-macreas. Emey totes les rascråwes ki s' ont ramonçlé di cåze del guere civile, on tape li hate so des roufions ki n' si sårént disfinde. On les macsåde, pa côps on les rlône a moirt. Ces ptits "macreas" la sont tchessîs evoye di leu famile, cwand on les leye evike. C' est a braire, mins gn a rén a fé a ça. Ci n' est nén so sacwants ans k' on pout candjî les croeyinces d' on peupe.
Cloyaedje.
Dins totes ces croeyances la, nos voeyans ki l' prumire est åjhey a-z acmoirder po l' missionaire catolike ki dj' esteu : Mzambi, li Grand Mwaisse, li grand Askepieu, c' est l' Bon Diu, sins manke.
Li respet et l' priyaedje azès tåyes rishonne a nosse cule des sints, ki sont nos tayons dins l' fwè. On lzès priyive eto po-z aveur des bons dvers, do haitî bisteu, et minme des bounès tchesses (sint Houbert).
Li macralreye, nerén, divreut esse leyeye la, mins c' est çou k' ocupe les tuzêyes des djins, - minme les cis k' ont stî a scole - tote li sinte djournêye.
Ni tapans nén trop vite li hate. Tuzans ene miete ki, disk' å djoû d' ouy, on croet co e l' Årdene ås macreas et ås macrales et k' on va ås rbouteus, et fé des nouvinnes po s' riweri des mås d' sints. Et çoula, 1500 ans après l' crustinnijhaedje !
Fåt des ans et des razans, et eto ene masse d' atimprance po fé bodjî les tuzêyes des djins.
Po dire li veur wice k' il est, gn a ki Nzambi k' el såreut fé.
---
Jean-Marie Lecomte, sj, Vervî, li 5 di may 2003, sicrijhaedje dimandé et ratourné - e rascourti - e walon pa Lucyin Mahin, li 20 di may 2003; divins Li Ranteule l° 27 (erire såjhon 2003).
---
Les grandes fêtes en concordance:
Li samwinne do 6 å 12 d' avri 1998, pol prumî côp dispu 99 ans, les 3 revelêyès rlidjons avént ene grande fiesse e minme tins. Les Crustins fiestént li peneuse samwinne et Påke (moirt et ravicaedje da Djezus-Cri); les Djwifs fiestént leu Påke, ki rminbere li rexhowe foû d' Edjipe, eyet l' adrovaedje del Rodje Mer dizo l' baston da Moyize, k' els a fwait passer di sclåves e frankès djins; les Moslimîs (Muzulmans) touwént l' berå, al memwere da Abrâm k' aveut sgoziyî on bedot so l' ôre do Bon Diu, adon k' i vleut touwer si prôpe valet Izåk.
La semaine du 6 au 12 avril 1998, les 3 religions révélées avaient une grande fête en même temps: les chrétiens fêtaient la semaine sainte et Pâques (mort et résurrection de Jésus-Christ), les juifs fêtaient leur Pâques, qui rappelle la sortie d'Egypte, et l'ouverture de la Mer Rouge sous le bâton de Moïse, qui les a fait passé d'esclaves en hommes libres; les musulmans célébraient la fête du sacrifice, à la mémoire d'Abraham qui avait égorgé un mouton sur ordre de Dieu, alors qu'il voulait tuer son propre fils Isaac.
Chixh Tantawi, li Grand Prêtcheu d' Al Azår rabistoke Jean-Pierre Chévènement
[Cheikh T., l'imam d'Al Azhar, fait un cadeau en or à J.-P. C.]
C' est ene sifwaite bistoke ki li Chixh Tantawi, Grand Prêtcheu a l' Univiersité d' Al Azhar, e l' Edjipe a fwait å minisse di l' interieu francès. Il a consyî åzès Moslimîs del France di respecter les lwès del Republike, eneviè li metaedje do foulård dins les scoles. A dit ki les Muzulmans ki n' estént nén binåjhes avou çoula n' avént nén dandjî di dmorer e France, et rivni dins leu payis.
Mins, c' est, sapinse k' on n' dit, on prusté po on rindou : a dmandé eto ki, come les Francès estént pol liberté di moussaedje dins les plaeces ki tertos î pout aler, ki l' Estat waerantixhaxhe li francté [liberté] ås Muzulmans eyet åzès Muzulmandes di s' abyî el rowe come ça les ahåyive, sins aveur des atacaedjes raecisses.
Li chixh Tantawi n' a nén todi stî ossu lådje: riwaitîz vochal li djudjmint k' il aveut decidé dins l' afwaire da Nacer Abuzayid.
Ordinaire de la messe en wallon.
---
L. Mahin, Aberteke 1998.
---
Syince et rlidjon sont les deus costés d' Mouze: i n' si resconterront måy mins c' est etur les deus ki l' aiwe court. L' aiwe, c' est nosse vicåreye: si les deus rivaedjes sont stocaesses, ele si disvude påjhûlmint et loyminoymint; si on costé wague evoye, nosse vicåreye toûne a cou d' poyon. (Veer Bhadra Mishra, bramane et edjenieur indyin k' a-st adjinçné on sistinme di rvetiaedje di l' aiwe do Ganje).
---
Traditions religieuses en Espagne.
El semana santa, el djoyeuse peneuse samwinne a l'Espagne.
E walon do tins do vî Bon Diè, el samwinne ki va d' el floreye Påke al Grande Påke ès loméve el peneuse samwinne. Dandjreus paski les bons catolikes divént esse tot disbåtchîs å rviker [à l'évocation], djoû après djoû, del paskeye del moirt do Crisse. El djoye, c' èn diveut esse fok a Påke, cwand "Nosse Signeur" a raviké et moussî foû do tombea.
Les Espagnols estént, dispu Izabele li Catolike et disk' a Franco, des vraiys mindjeus d' Bon Diè. Po mostrer azès djins el paskeye del peneuse samwinne, il ont metou so pîs so fotches [organiser] des porcessions, dins cåzu totes les veyes et les viyaedjes del Peninsula.
Si c' esteut po braire dinltins, asteure, c' est pus rade ene grande fiesse populaire.
A Cartagena, boutans, c' est a pårti del Floreye Påke ki l' Avenida Alfonso III est, totes les après-l'-dinner, bôrêye di djins ki vnèt vir les agroupaciones, ça vout dire les soces ki rprezintèt fouxhe-t i el cofrereye Sint Cristofe, fouxhe-t i el Sint-Djan, fouxhe-t i " el Nazareyin ". Tchaeke coron, tchaeke viyaedje des cotoûs d' Cartagena a s' soce di djouweus d' tabeur. Tchaeke a èn unifôme diferin des ôtes et gn a tos les ptits aprindisses, des gaméns d' 6 a 12 ans, k' aprindèt a tabeurner. Les ptitès båsheles shuvèt padrî, avou des panîs d' fleurs, totes blankes moussêyes.
El djoû del pitite Påke (el dimegne des Ramos), c' est totes djins ki disfilèt avou des coxhes [branches] di påmîs e leus mwins.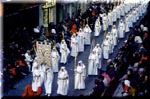 El mårdi sint, c' est l' cofréreye Sint Cristofe, avou des droles d' ekipaedjes [habit]: des longowès pontowès bounetes come el Ku-Klux-Klan.
El mierkidi sint, c' est l' cofréreye Sint Djan l' Evandjelisse, ki poirtèt el " trone Sint Djan ". C' est on decor avou el posteure [statue] do sint, metou so ene tcheyire tote dorêye, poirté so leus espales pa deus rindjeyes d' omes.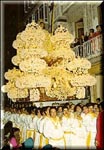 El vénrdi sint, el bon Vénrdi, dabôrd, vos avoz les soces k' ont tchaeke leu disguijhmint.
Onk, c' est moussîs e Romins, avou les cotes k' on lzî voet leus djnos. L' ôte, c' est les Djwifs do Sanédrin avou leus longuès båbes et leus longuès noerès cotes. Après c' est les doze apoisses, avou Djudas Iscariote, sovint on grand rossea, moussî e rodje, et Sint Esteban, moussî e bleu, et Sint Pire, ki va rniyî troes côps ès mwaisse, moussî e breune. Avou zels, Mareye Madlinne et ene pekêye di femes fenes makiyeyes.
El posteure da Djezus ki poite ès croes, elle erpoize so ene nouzome civire, sotnowe pa bén trinte-z omes di tchaeke costé, come les cis del trone Sint-Djan, mins del " cofréreye do Nazareyin ", ces-ci. Après, gn a co totes sôres di djins ki poirtèt des tchandeles, avou les curés et les corås [servants].
Après aveur riwaitî el porcession, eviè 11 eures meynute, el djonnesse, ki sont dins leus vacación di la semana santa, dårèt eviè les discotekes, ki fjhèt å pus sovint shijhe trawêye [nuit blanche], disk' a 6-7 eures å matén, al pikete do djoû.
Et å pus sovint, i ndè vudèt [en sortent] plins come des oûs... des oûs d' Påke.
C' est po ça ki dji vos a dit å cminçî: el djoyeuse peneuse samwinne.
---
Djina Gañan Spirito, li 18 d' avri 2000, parexhou a l' Aberteke d' avri 2001.

Mwaisse modêye.
---
Intégrisme musulman: Condamné à divorcer pour apostasie.
Nacer Abuzayid: dismaryî d' foice a cåze ki: pardjureu.
El Cayira [Le Caire]. Li tribunå di dierin schalon [cour de cassation] vént di rbouter [débouter] Nacer Abuzayid (N.A.), si feme et li govienmint edjipsyin lu-minme. Eyet, sujhanmint [conséquemment] oblidjî l' ome eyet l' feme di s' dismaryî. Rén k' çoula !
Cwè çki c' est co d' ça po ene sipoûle sins cawe ni tiesse? Et cwè çki dj' avans a vey avou tot çoula, dê, nozôtes ?
C' est çou ki dji vos va conter ouy.
Cominçans pal fene comince, si vos vôrîz bén. N.A., c' est on cotuzeu [intellectuel] mo liberål. Il a bråmint scrît so l' Alcoran. Si idêye, c' esteut k' on n' diveut nén prinde les tecses di l' Alcoran avou tos les ponts et les tchapeas so les î [au pied de la lettre]. Eyet k' i faleut waitî di radapter ses messaedjes ås tins d' asteure. I faleut, sapinse lu, ene miete d' exégèse coranique.
Do tins da Richelieu, e France, l' exégèse biblique esteut disfindowe. Mon les Princes-Evekes di Lidje eto, dayeur. Gn aveut pa côps des houyeus k' ovrént e beur ki trovént totes sôrts di caracoles edjalêyes dins les pires [mollusques fossilisés]. Gn aveut des coines-di-vatches, des grevesses, des corones då Bon Diu, des holenes, des mousse-e-vinte [entre dans son ventre], des Sint-esprit, des tiesses di houprale [tête de hibou], des trokes [raisins], des dzis. Totès sôres di biesses come on trove el mér, cwè. Mins si vos årîz yeu dit ki, do vî vî tins, li mér vineut motoit disk' a Lidje, vos estîz seur bon pol "djustice", ça vout dire a esse pindou al potince divant tos les djins.
Après, ça a mo beazebén candjî, co pus rade avou Darwin k' a bén mostré ki l' monde ni s' aveut nén fwait so ût djoûs. Et Theillard de Chardin, on curé, k' a etcherpeté li teyoreye di l' evolûcion, eyet dire k' on n' ireut nén motoit direk e l' infier tot zunant k' on Francès et ene mårticote di Djibraltar [femelle de macaque d'Europe], ça pôreut esse cuzén cuzene.
Mins nerén, si on-z î rlouke did pus près, gn a ene nouzome diferince etur les Evandjîles et l' Alcoran. Les Evandjîles ont stî scrîtes lontins après l' moirt da Djezus-Cri. Pus d' cénkante ans po l' Evandjîle da Sint. Djan. Il ont stî scrîts en ebreus pus ratourné e grec, pus e latén, pus e francès, almand, inglès,... walon. Vos admetroz åjheymint k' i gn a polu aveur des ptits candjmints sol voye. Traduttore, traditore. Ratourner c' est trayi.
L' Alcoran, lu, il a stî dicté pa Mayoumet lu-minme. Totes les spales di chamo et les papiruss k' avént siervi a l' sicrire ont stî rashonnêyes pa Omar El Khattab, li cwatrinme calife, nén co vint ans après l' moirt da Mayoumet. Poz avni o minme sicrijhaedje so tot l' live avou tos scrijheus diferins, il a falou ehåyî les patwès arabes, et rfonde les scrijhas [planifier les dialectes et normaliser les graphies]. Ç' a seur sitî ene des prumirès paskeyes di linwe-ehåyaedje di l' istwere [une des premières expériences de planification linguistique]. Ça fwait k' on-z a todi seriné ås Moslimîs ki l' Alcoran, c' esteut li Ponant eyet l' Djondant [l'Alpha et l'Omega]. Et k' on n' î pleut nén candjî ene faflote u on coma.
Mins l' Alcoran, come li Bibe, c' est co sovint powetike. Ça fwait k' on doet tolminme l' eterpruster [interpréter]. Divins l' Crustinnisté, mon les catolikes, todi, gn a ene estance eternåcionåle k' est mwaisse di l' eterprustaedje del Bibe. C'est l' Pape di Rome. Po k' on n' trove nole ardire a ses decidaedjes, il a fwait vôter ene lwè la 125 ans did chal: l' admetance ki l' Pape ni s' brouye djourmåy [dogme de l'infaillibité papale]. C' est come Cristofe avou l' oû: c' est simpe mins il î faleut tuzer.
Mon l' djin d' l' Alcoran [dans le monde musulman], ça n' va nén inla. Gn a nol eståvlixhmint [intitution] ki soeyixhe ricnoxhou påzès 26 payis oficirmint muzulmans. Mins tchaeke payis a come vos dirîz si prôpe pape da sinne. E l' Edjipe, c' est l' doyén del rinomêye Univiersité Al Azhar, todi al Kayira [au Caire].
Les grands docteurs d' Al Azhar, c' est zels ki N.A. critikéve li pus dins ses scrîts. Il esteut sotnou påzès moderniveus do payis, inte di zels sacwants minisses da Hosni Moubarak. Mins les cis d' Al Azhar ont l' bresse long. Et cwand on vout bate on tchén, on trove todi bén on baston, dwô ?
Ni rovians nén co ene tchoi. Dins tos les payis arabes, les ministeres di l' economeye, di l' agriculteure, des menes, do petrole, evnd, boutèt mitan do tins en inglès u e francès. D' èn ôte des costés, les tribunås et li djustice e djenerå, ovrèt en arabe. Did la a dire ki li foirtissîme [tout-puissant] doyén d' Al Azhar a les djudjes divins si schô [son giron], i gn a k' ene hazêye, ki vos åroz surmint ascoxhi avou mi, azår [il n'y a qu'un pas que vous aurez franchi avec moi, sûrement].
Li machinereye a tourné come ene ôrlodje. C' est èn advocat islamiveus k' a metou N.A. divant les tribunås po-z aveur rniyî si rlidjon. Il a stî ricnoxhou djureu [blasphémateur] et pardjureu [apostat]. Come Selman Rushdie, ça vout dire ki tolminme ké muzulman ki toumreut båbe a båbe avou lu al coine d' on bwès a l' droet del zigouyî. Ça dene li tchår di poye, dwô ?
Li toele toume !
Deujhinme ake. Come N.A. est on rniyeu, et ki si feme est muzulmande, et veyanmint k' ene muzulmande ni pout nén esse marieye avou on nén-muzulman, li manaedje do N.A. doet esse disfwait.
Al fén do deujhinme ake, li govienmint da Hosni Mubarak, ki n' voet nén les islamiveus d' on trop bon ouy, atake d' èn ôte des costés. I fwait passer ene lwè al vinvole, come cwè ene sakî ni pout nén mete kéconk o tribunå, s' i n' a nén stî avindou [atteint] directumint pal pårteye disfindrece.
C' est l' aplicåcion di ci lwè la ki les noerès cotes do tribunå di dierin schalon divént corwaitî [analyser], al dimande do govienmint. Sol minme asyinne [cession], ene ricwesse da N.A. lu-minme, ki s' a assåvé addé nozôtes, mon nos vijhins olandès po cotinuwer a poirter vete pea [pour sauver sa peau]. I dmande a n' nén-z esse ricnoxhou rniyeu. Et co ene ricwesse di s' feme, ki dmande a n' nén esse dismarieye.
Li djudjmint a toumé o troejhinme ake, come nos avans dit. Il ont stî rboutés, tos les troes, li govienmint avou !
Po N.A. eyet si feme, i nelzî dmore pus k' a lower ene grande måjhon a Schaerbeek, avou Selman Rushdie et Tashrina Nashrint. Ça lzî spågnrè des costindjes å dfait di gårdicôrs.
Gn a cwand minme åk a rilver. E l' Edjipe, todi, li djustice n' est nén-st elaxheye al moennance politike [est indépendante du pouvoir]. Ci n' est nén tos les payis arabes, nén ddja les pus moderniveus, k' endè pôrént dire ostant.
Come cwè gn a pont d' si grand må ki n' oyixhe on ptit bén [à quelque chose malheur est bon].
---
L. Mahin, 1996.
---
Signeur
Cwand k' nos voeyans les mizeres
Et les rascråwes, et les rujhes des djins
Ene miete pa tos costés sol daegn
Nos n' polans ki vos dire: gråces ! merci bén !
Paski, mon nozôtes, les teres et les djins
Ont todi del plouve et do solea tot a pont.
Dins des payis k' i gn a
C' est todi setchresse et pômagne,
Grossès aiwes et minêyes di totès sôres.
Merci eto di nos aveur metou so ene coine di tere
K' il î fwait si bea et si bon viker etur les cresteas d' Årdene
Li claire aiwe di nos rixhots
Eyet les cråssès campagnes ki totafwait î crexhe si åjheymint.
Merci, avou, vos, Mwaisse
Di nos aveur diné des parints
K' ont bouté des ans et des razans
Po nozôtes aveur totes nos ahesses
Et nos abondroets,
Po k' on n' nos rotaxhe måy so nos pîs
Et nos fé tchamter come des biesses.
Nos vos dmandans foice et coraedje po fé come zels:
Etertini nos veyes eyet nos viyaedjes,
Aveur sogne des cis k' on leye sol costé
Les pus vîs, les pus pôves, les pus fayés.
Nos vos priyans ådjourdu,
Mon Diu,
Po ki l' Walonreye ouxhe si plaece emey les ôtes payis,
K' i gn ouxhe pupont d' margaye etur nozôtes,
Ki tchaeke di nos efants apoite li meyeu d' lu-minme
Po mete so pî on payis k' il î frè bon dmorer;
Et k' i wådnuxhe tertos come eritance
Nos manires di viker,
Di tuzer,
Et d' cåzer
Disk' å dierin djoû del daegn.
Amen.
---
Emile Gilliard, tecse ratourné dins mwints sôres di walon pa Robert Arcq, eplaidî på CRIWE (tite: Prière pour la Wallonie), 1990.
---
Le sérieux au travail était aussi un acte religieux
Priyire di l' ome di mestî.
O ! nosse Signeur Djezus !
Dji vs adresse li priyire des djins d' mestî ki travayèt tot seus et ki vlèt dmorer leu mwaisse !
Aprindoz mu, Signeur, a bén rimpli tot l' tins ki Vos nos dnez po travayî sins è piede a des réns foû scwere [bagatelles, futilités].
(Seigneur Jésus, Je vous adresse la prière des artisans qui travaillent seuls et qui veulent rester leur propre patron. Apprenez-moi, Seigneur à bien remplir tout le temps que vous me donnez sans le perdre dans des futilités. )
Fijhoz, Signeur, ki tos les côps ki dj' m' a trompé siervénxhe a mi rmete sol bone voye sins m' fé trop d' mwais sonk !
Fijhoz, Signeur, ki dj' arandjaxhe mi ovraedje sins m' fé di bîle et, s' i mousse foû d' mes mwins ôte tchoi ki çki dj' årè volou... ki djel riwaitaxhe cwand minme come åk di bén reyussi.
Aprindoz mu a m' dispaitchî etot-z alant a mi åjhe ! Aprindoz mu a dmorer foirt påjhire etot-z alant a rlame ! Aprindoz mu a-z esse fir di mi ovraedje etot sayant di n' nén spotchî les ôtes.
Faites, Seigneur, que j'organise mon travail sans me stresser...
Apprenez-moi à être efficace tout en allant à mon rythme. Apprenez-moi à être serein, tout en travaillant avec rendement. Apprenez-moi à être fier de mon travail, sans essayer d'abaisser mes concurrents.
Aidîz mu å cminçmint di l' ovraedje e m' ovrant grands les ouys po bén vey dou çki dj' va et çou ki dj' va fé. Aidîz mu co å mitan d' l' ovraedje po k' mi tuzaedje ni s' pierdaxhe nén pattavå...
Et cwand dji so a stok, dinez mu on côp di spale. Come ça, si c' est bén fwait, dji diré ås ôtes ki c' est gråce a Vos. Et s' i ndè gn a do må fwait, dji m' dirè a mi-minme ki c' est a cåze di mi.
Wårdez mu dins l' idêye ki dj' doe todi sayî d' aler å meyeu et å pus bea, sinon dji piedrè l' gosse a l' ovraedje... mins wårdez mu dins l' idêye ki l' meyeu et l' pus bea, dji n' î arivrè jamwais, sinon dji m' prindrè po on Djan-vo-m'-ci [prétentieux] et on grandiveus.
(Gardez-moi dans le désir de toujours viser la fabrication d'un produit de la meilleure qualité, sinon, je perdrai le goût à l'ouvrage... mais rappelez-moi åssi que le top en question, je n'y arriverai jamais, sinon je risque de devenir un prétentieux et un vaniteux.)
Rindoz clair mi rwaitaedje: ki dji voeyaxhe todi l' bén dou çk' il est et l' må dou çk' il est... ki dji n' roviaxhe jamwais ki si m' tiesse est bén plinne, dji n' so rén do tot si dji n' fwai nén l' ovraedje k' ele mi dmande...
Ki l' ovraedje ki dji frè soeye po mostrer ås djins ki dji les inme bén.
Ki l' ovraedje li pus bea, c' est l' ci ki dj' frè e sondjant ås ôtes et a Vos... et on pô a mi ossu, si Vos vloz bén.
Ki mi ovraedje soeye ene priyire di mes bresses, di mes mwins, di totes mes foices.
Fijhoz ki dji n' roviaxhe nén ki l' ovraedje di mes mwins, c' est da vosse... poy ki, mes mwins, c' est Vos ki m' les a dné.
N' est çu nén djusse, Signeur, ki dji vos l' rindaxhe en ofrande ?
Si dji n' travaye ki po les çansses, Vos m' lairoz d' costé come ene peume toumêye fén d' l' esté ki pourit dins les yebes.
Si dji n' travaye ki po m' mostrer et fé l' fel, dji srè come les rôzes ki n' vicèt bén et beles k' ene tote pitite djournêye.
Mins si Vos m' dinez on côp d' mwin, dji travayrè pol bén, rén k' pol bén et dji dmeurrè dins l' bén.
Li moumint d' fé li bén k' est vosse volté, c' est asteure ki ça cmince, Signeur, avou Vos ki m' sotént.
Amen
---
Emile Pècheur, 1997, divins: Qué walon po dmwin, Quorum, Djerpene, 1999.
---
Boket d' l' evandjîle Sint Djhan.
Å cmince, i gn aveut l' Parole, et l' Parole esteut avou l' Bon Diu, et l' Parole esteut l' Bon Diu. Ele esteut å cmince avou l' Bon Diu. Totafwait a stou fwait avou lu, et sins lu rén n' a stou fwait; çou k' a stou fwait, divins lu esteut veye, et l' veye esteut loumire po les omes. Li loumire lût e li spexheur, et l' sipexheur ni l' a nén apicî.
I gn ourit èn ome, ki l' Bon Diu evoya. Si no esteut Djhan. I vna po esse temon, po dner temognaedje del loumire, po k' tot l' monde ouxhe li fwè por lu. Lu-minme n' esteut nén l' loumire, mins i dveut esse li temon del loumire.
C' esteut Lu l' vraiye loumire, ki loume tchaeke ome ki vént å monde. Il esteut e monde, et c' est lu k' a fwait l' monde, mins l' monde ni l' a nén ricnoxhou. Il a vnou adlé les sinnes, mins les sinnes ni l' ont nén rçû.
Mins a tos les cis ki l' ont rçû, i lzî a dné l' droet di divni les efants do Bon Diu; c' est åzès cis k' ont metou leu fwè e s' no, åzès cis k' ont vnou al veye, nén a cåze do sonk, ni co a cåze d' ene volté do monde ou bén d' ene volté d' èn ome : c' est l' Bon Diu k' les a fwait vni al veye.
Li Parole s' a fwait ome et il a vnou dmani avou nozôtes; nos avans veyou s' glwere, ki c' est l' glwere do seu Fi då Bon Diu. Elle est plinne di gråce et d' verité.
Djihan end est l' temon, lu ki creye : "C' est lu, li ci k' dj' a dit : li ci k' va vni après mi, passe divant mi, pask' il esteut divant ki dji n' fouxhe".
Nos avans tortos rçû di çou k' il est tot plin, li gråce, a cåze k' il est tot gråce. Ca Moyize fourit l' ci ki dna li Lwe; li gråce et l' verité, c' est Djezus-Cri k' el dene. Li Bon Diu, nouk ni l' a måy veyou; såf seulmint li Fi då Bon Diu, lu k' est todi avou l' Pére; et c' est lu ki nos l' a fwait saveur.
---
Prumire pådje di l' Evandjîle sorlon Sint Djhan, metou e walon pa J.M. Lecomte, k' a ratourné ttafwaitmint (e walon d' Brå) les cwate evandjîles, ratournaedjes ricnoxhous oficirmint pa l' Eglijhe.
---
Extraits de l'Évangile selon Saint Luc.
Bokets d' l' Evandjîle Sint Luk
Djezus est ramoenné dvant Pilåte.
Pilåte houca les mwaisses des priyesses, les mwaisses do peupe et tot l' monde; i lzî djha : "Vos m' av' amoenné cist ome la, tot l' acuzant d' monter les djins. Dji lyi a dmandé cwè divant vozôtes, et dj' n' a rén trové d' veur divins tot çou k' vos djhoz siconte di lu. Erôde nén pus, pusk' i nos l' a ravoyî. Dabôrd, c' est k' n' a rén fwait ki merite li moirt. Ça fwait k' dj' el va pûni, et pu l' leyî aler.
Adon, i s' metît a criyî tertos eshonne : "Touwez cist ome la, et s' dinez nos Barabasse". Barabasse aveut stou metou el prijhon, a cåze d' ene emeute k' aveut eclaté divins l' veye, et il aveut touwé ene djin. Pilåte, ki voleut leyî aler Djezus, saya co d' djåzer avou zels. Mins i criyént "Metoz l' sol croes ! Metoz l' sol croes !".
On troejhinme côp, i lzî djha " Ké må a fwait cist ome, dabôrd ? Dji n' a trové nou motif d' el codåner a moirt. Ça fwait k' dj' el va pûni, et pu l' leyî aler. Mins zels criyént todi pus foirt, dimandant k' i fouxhe crucifyî.
Adon, Pilåte decida d' fé come i vlént. I lzî dna Djezus, et leyî aler li prijhnî k' aveut stou codåné po ene emeute, et a cåze k' il aveut touwé ene djin. Il abandna Djezus a leu volté.
---
Sint Luk, 23, 13-25, ratourné pa J.M. Lecomte, divins: Li Bone Novele da Nosse Signeur Djezus-Cri sorlon Sint Luk, sins dåte, Vervî.
---
Mins mi, dji vs di, a vozôtes ki m' schoûte : inmez vos innmis. Fijhoz do bén azès cis ki v' haeyèt ; benixhoz les cis ki vs mådixhèt ; priyîz po les cis ki djhèt do må d' vos.
Å ci ki vs a bouxhî so ene tchife, prezintez lyi l' ôte. Et å ci k' a prin vosse paltot, leyoz lyi co vosse tchimijhe.
Dinoz a tos les cis ki vos l' dimandèt; et å ci ki hape çou k' est da vosse, ni ridmandéz rén. Çou k' vos vloz k' les ôtes fijhexhe por vos, fijhoz lu por zels. Si vs inmez les cis ki vs voeyèt voltî, vos èndè sårè-t on gré ? Minme les petcheus [pécheurs] voeyet voltî les cis k' els inmèt. Si vos fjhoz do bén azès cis ki vos fjhèt do bén, sårè-t on gré ? Les petcheus fjhèt tot parey.
Et si vs prustoz azès cis ki vs estoz seurs k' i vos l' rindront, ké rcompinse end åroz ? Minme les petcheus prustèt azès pètcheus po k' on lzî rinde tot parey.
Ki do contråve, inmez vos innmis, fijhoz do bén et pruster sins conter k' on vos l' rindrè. Vosse ricompinse serè grande et vs seroz ls efants do Bon Diu. Lu-minme est bon po les cis ki sont tchéns [ingrats] eyet måvas po leu soçon [autrui].
Soeyoz rovyisses do må k' on vs a fwait come vosse Pere est rovyisse do må ki vos fjhoz a vosse soçon.
---
Sint Luk, 27-36.
---
Ni djudjîz nén et vos n' seroz nén djudjîs. Ni codånez nén et vos n' seroz nén codånés.
Dinez et on vs dinrè ene bone mezeure, plinne a make et bén coschoyeye, ki serè vudeye e vosse vantrin. Paski, avou l' mezeure ki vs åroz ahessé ls ôtes, on vs ahesrè, avou.
I lzî fjha cisse comparåjhon ci :
Est çk' èn aveule pout moenner èn ôte aveule ? Ni vont i nén toumer ambedeus [tous deux] e schiråd [trou, faille] ?
Li dissipe n' est nén pus grand ki s' mwaisse. L' aprindisse k' a bén sti scolé serè come si mwaisse.
K' av' a rloukî l' fistou di strin k' est e l' ouy di vosse fré, dabôrd ki vos n' voeyoz nén l' sômî [poutre] k' est e vosse. Kimint ploz dire a vosse fré "Hé, valet, leye mu rsaetchî l' fistou k' est e ti ouy" cwand vos n' voeyoz nén l' sovronde k' est e vosse ?
Toursiveus ki vs estoz ! Bodjîz po cmincî l' sômî.
---
Sint Luk, ratourné pa

J.M. Lecomte, divins: Li Boune Novele da Nosse Signeur Djezus-Cri sorlon Sint Luk.
Modêye papî: 6 euros + evoyaedje amon l' ratourneu, a Vervî.
---
Evandjîle: On boket del Bone Novele d' après Sint Luk (X, 25-37)
On djoû, vo-z è ci onk di ces grands berdelåds la k' atôche Djezus et, po l' emacraler, voci k' i lyi dmande :
- Schoûtez, Mwaisse ! Cwè çki k' i m' fåt fé po-z awè m' pårt di paradis ?
- Vos l' divrîz sepi mî k' èn ôte, dit-st i Djezus. Cwè çk' i gn a di scrît dins tos vos lives ?
L' ôte lyi respond:
- Li Bon Diu, vos l' voeroz voltî, di tot vosse pus foirt, et vosse soçon come si ç' sereut vos.
- Tot djusse, dit-st i Djezus. Et bén dabôrd, fijhoz lu, insi, et vos l' åroz, l' Paradis !
Mins l' ôte, pask' i lyi faleut l' dierin mot.
- Mins, mi soçon, kî çki c' est ?
Adon, Djezus lzî conte ene fåve.
" Gn aveut, on côp, èn ome ki dischindeut l' voye di Djeruzalem a Djerico. I n' i fwait nén trop seur. Et voci k' i tchait so ene binde di brigands k' lyi foutèt ene dispoûslêye, et li rnetyî et l' leyî o fossé, ossu bon k' moirt.
On curé, ki passéve par la tot djhant ses orémusses, l' avize mins i fwait l' grand tour. Li mårlî k' el shujheut d' å lon, li voet tot parey mins... hay evoye, sins fé shonnance ! Arive, adon, on grand laid mvét, a djok so si tchvå. Èn ome nén d' avår ci : on Samaritin, sapinse k' on dit ! Do côp k' il avize li målureus, ça lyi fwait må. Rouf, al valêye ! et fé åtoû. Et l' sognî do mî k' i pout, avou çou k' il a. Pu, i l' tchedje et l' miner disk' å prumî otel et-z î waitî, bén comifåt. Li londmwin, i dene deus biyets å patron tot lyi djhant : "Purdoz sogne di lu. Et s' i gn a nén po fé avou ça, dji payrè l' restant cwand dji rpasrè l' côp ki vént."
- A voste idêye, li kék des troes k' a stî l' soçon d' l' ome k' esteut o fossé ?
L' ôte lyi respond
- C' est bén seur li ci k' a pris sogne di lu !
- Alboneure, dit-st i Djezus. Alez dabôrd ! Yû ! et vos ossu, fijhoz è ostant !
C' est l' Bon Diu ki cåze insi !
---
André Henin, divins: Les Cahiers Wallons, 11-93.
---
Sermon prononcé à Liège lors de la visite retour des Wallons de Paris.
Prêtchaedje po les Parizyins.
Bén, dji vs el va dire tot droet, bones et binamêyès djins,... dji m' vôreu bén taire... po k' nos polanxhe leyî moussî e pus parfond d' nosse cour çou ki Djezus-Cri vént d' nos confyî totasteure et çou ki torade, nosse camaeråde Jules nos fjha schoûter del Lete da Sint-Pire : "L' Espwer ki nos rimplixh et ki nos dvans-t esse presses a-z esplikî avou doûceur et respet."... Esplikî... ou bén dimani sins moti, leyî toumer l' prêtchaedje ?... Et ki l' Bon Diu lu-minme si mostere a vos ouys.
Et portant, i nos fåt-st esplikî nost espwer !
Djudi passé, li feme d' on camaeråde mi djheut : "Vos savoz bén dji n' croe a rén, et dabôrd, s' i gn aveut-st on Bon Diu, tot voeyant come li monde toûne, i rtoumreut moirt !"
Neni i n' ritoumreut nén moirt on deujhinme côp. "Li Crisse est moirt po les petchîs on côp po totes", avans ns oyou lére.
Awè, ene feye po totes. Adonpu "vos m' voeroz... bén vicant. Et vozôtes ossu, vos vicroz" Mins, po cnoxhe cist espwer la, i n' a k' ene voye : c' est l' cisse di l' Amour. Fjhans ene foice po nos inmer et c' est adon k' nos ratacrans a viker.
Cwand dj' end a m' conte des catchotreyes et des cis ki metèt des wants po djåzer, dji n' a k' a rdrovi l' Bone Novele avou tos ses messaedjes, çou k' on est afaitî d' lomer l' Evandjîle. La, do moens, ene sakî vs dit foû des dints k' awè, c' est awè, et neni c' est neni.
Cisse sakî la n' s' a måy siervou d' ene linwe di bwès, ki c' est minme po çoula k' on lyi a fwait saveur çou ki l' bwès voleut dire, li Bwès del Croes : on lyi a minme fwait s' poirtrait !
Mins nozôtes, on-z a rovyî çou ki ç' mwaisse la aveut-st acsegnî, ou pus vite, on n' l' a oizou shure et on s' a leyî aler foû voye; on-z a dischindou la wice ki c' esteut pus åjhey.
On s' a metou a djouwer avou des tites : des "monsigneur", des "eccelance", des ptits mwaisses voci et des couroubetes vola... Et ç' n' est co rén çoula : des tchitchêyes, mins n' a-t on nén trové k' i faleut broûler les djins po ndè fé des bons catolikes ? Et-z emoenner les noers di l' Afrike po-z aler fé les deurs et les pus måssîs ovraedjes di l' ôte des costés del mer ? et, minme pol djoû d' ouy, evoyî tot plin des divinès gråces et ene benediccion apoistolike å djenerå Pinochet et a si cpagneye po les noices d' ôr di leu mariaedje ?
Awè, vola kimint k' e nosse prôpe Eglijhe, des djins avou des crosses (et nén des crosses di pan) ont conté bén fé... N' est çu nén on pô çoula k' a fwait k' on s' a må compris ?... Et k' i n' a ki l' Bon Diu lu-minme ki serè capåbe di rtrover ses djonnes !
Inte ci-et-don, i m' dimane a vs dire, et a vs repeter après nosse camaeråde Robert, ki turtotes et turtos vos estoz les bénvnous.
Va co bén dabôrd k' i n' a nole usteye po mezurer çou k' i gn a e pus parfond do cour et del consyince : on sereut seur ewaeré... des prumîs ki seront les dierins et les dierins k' amousront po les prumirès plaeces.
Å raeze, ci n' est nén nos afwaires : nos n' avans nén a nos djudjî d' onk al ôte. Çou k' i nos fåt fé edon c' est nos aboirder tés ki nos estans, et avou respet... minme avou on ptit sorire. Ci n' est nén pask' on-z est rashonnés el catedråle k' on s' doet rloukî come des posteures !
Et, par egzimpe, n' åyans nén sogne di mostrer la k' nos estans diferints. Assuré, li comûnion del messe c' est po les cis ki croeyèt ki rçûre li sinte Osteye, c' est prinde l' eurêye al manire ki Djezus lu-minme a volou. Mins li fiesse, li bone etinte, èn akeuy come ça dvreut esse, ente sours et frés pår k' i gn a l' Walone di Paris ki fwait hôt avou nozôtes, ci rapoûlaedje la, c' est tot l' monde ki ça compete.
Dabôrd, ni l' avans ns nén co mostré divant-z ir al nute : awè, vormint nos estans d' acoird di nos rtrover po des croejhires, nén po des croejhådes ! et ki ci soeye tot shuvant les cmandmints di l' Evandjîle, ou ki ci soeye tot schoûtant çou ki shofele e nosse consyince (pocwè nén les deus eshonne ?), leyans toumer, åtoû d' nozôtes, di l' Amour... troes gotes d' amour.
"Troes gotes d' amour ? mins... C' est l' boneur ! Wice voloz vs ki djel våye cweri ?" si dmandéve li macrea da da Alice Closset.
Wice ? wice cweri l' boneur ? I sourdêye di l' amour : c' est d' la k' i vént foû. Wice ? wice el trover ? Po nozôtes, les crustins, et mågré les droles d' egzimpes ki dji djheu torade, et k' on s' a siervou del rilidjon po miner des gueres et fé del politike, po nozôtes, l' amour ki prustixh et ki fwait lever l' vraiy boneur mågré poennes et displits, l' amour li pus foû-mezeure, c' est addlé Djezus-Cri ki nos l' trovans.
Ossu et po fini, dji tuze a ene foirt bele priyire da Françwès Masset - ki c' est djustumint ciste anêye dedja dijh ans k' i nos a cwité !- Françwès, di So-les-bwès,... on vî camaeråde... sol trevén d' ses dierinnès anêyes, on s' a sovint håbité... Tot fjhant k' i n' croeyeut nén, mi djheut i, i s' a metou a scrire çou k' voci, loucant ou mådjinant on crusfis :
"Tot djemixhant dzo mes poennes, vo m' la dvant Voste imådje : ele mi dit Vosse Mårtire, ki Vs estoz l' seu a cnoxhe... I Vs ont clawé sol croes, Vos deus grands bresses å lådje, di sogne ki, tot morant, Vos n' les benixhoxhe co"
Åmen.
---
Gaston Schoonbroodt, divins: " Djåzans walon ", 3-1993, pretchaedje dit li 16 di may 1993, po cwand les Walons d' Paris ont rivnou a Lidje.
---
Islam des lumières ou islam des ténèbres ?
Kén islam po dmwin ?
C' est l' minme tite ki po nosse live : "Ké walon po dmwin ? "
Ostant dire docô k' on n' såreut responde al kesse so les sacwantès royes di ç' papî cial. Dji vos revoyrè roetebale a deus lives ki vnèt d' vudî lanawaire.
Li prumî da Olivier Roy, mådjuster al Sicole des hôtès Studes e Syinces Sociåles a Paris, escrît en inglès "Globalised Islam: the search for a new ummah" (Columbia University Press). Po les cis ki n' lijhèt nén l' lingaedje da Shaekespeare, gn è dvreut aveur bénrade ene modêye e francès eplaideye ene sawice.
Li deujhinme live, c' est onk da Malek Chebel, èn antropolodjisse aldjeryin: "Manifeste pour un islam des lumières: 27 propositions pour réformer l' islam" (Hachette).
Olivier Roy saye di corwaitî li movmint estrinmisse di l' Islam k' on lome les Salafisses.
I n' a nén les pinses ki c' est li cdujhance des Amerloxhes e l' Irak ey Palestene k' ecoraedje les aschativeus [radicaux] muzulmans. Les Salafisses, sapinse l' Olivî, c' est èn ôte vizaedje do mondialijhaedje.
I n' sont nén po fé rviker les viyès tuzances des payis moslimîs did la k' i vnèt. I n' magnront nén des ptits wasteas do Marok u del Turkeye, mins on pistolet ås vitolets [hamburger] atchté dins on Macdo avou del tchå halal (kel biesse a stî axhorêye avou les dujhances muzulmandes). Et boere on "Mecca-Cola", ene måke di fabrike enondêye pa on Tunizyin et ki rclame: "Boevoz sûti ! 20 åcint des wangnes seront reployeyes po-z aidî les pôves di vosse payis."
Les Salafisses polèt esse foirt påjhûles, mins, s' i divnèt des sôdårds pol "Djihad", il iront el Bosneye, el Tchetcheneye u e l' Afganistan. Nén el Palestene u e l' Irak, la k' on s' bate po des idintistés nåcionåles.
Les salafisses pôrént esse riwaitîs come li modêye d' ådjourdu do movmint ipî u del foite-gåtche des anêyes 1970. I trovèt des shuveus dins les minmes gropes sociås: les "ptits bordjoes" et les cotuzeus (intellos), copurade les cis des payis muzulmans k' ont vnou bouter dins les payis do Coûtchant. Mins eto emey les djonnes sins ovraedje ki dmorèt dins les gayolires åtoû des grandès veyes, et ki n' ont pus nou soûmint culturel po s' î anancrer.
Malek Chebel, lu avou, kinoxhe bén les Salafisses et tos les noû-fondamintalisses. Elzès voet evi, mins i sait bén ki ci movmint la est metou so bele voye a cåze do djantî politike dins les payis muzulmans. Si n' est i nén tinre po les moenneus di ces payis la. Aschoûtans l' :
Gn a nén on seu payis arabe la k' les djins sont seurs di leus abondroets, waerantis pa des lwès et ene vraiye djustice.
Dins li scolaedje des efants et des djonnes po lzi fé trover ene plaece, tos les payis arabes ont fwait berwete.
Tos les moenneus des payis arabes si rimplixhèt leus taxhes avou les liårds di l' Estat, et leyî leus djins dins l' mizere.
Chebel trove ki l' islam, ene rilidjon foirt må cnoxhowe avå droci, a, divintrinnmint, tot çou k' i fåt po candjî tot çoula. I sufixhreut di corwaitî les tecses sacrés, l' Alcoran et l' Vicåreye do Profete (Hadith) avou les ouys del Råjhon, avou les ouys des Loumires (sapinses a Descartes).
Did la, 27 atåvlas, foirt djenerås, po fé bodjî li Grande Taijhance [Minorité silencieuse] des Muzulmans, ki n' sont nén po les gueres et les disduts.
L' idêye est di saetchî les djonnes des payis arabes foû des grawes des vîs paltots d' pretcheus ki djåznut come la 1400 ans, et ki vôrént ki tote li societé rivicreut come adon.
On sfwait programme, valet, Malek ! Nén po rén k' on rtrove, dins vosse live, li mot "utopeye" dipus d' ene dijhinne di côps !
Mins… li batreye [combat] pierdowe d' avance, c' est l' cene ki n' a måy kimincî !
Droldimint, les deus lives nos stombièt [stimulent, aiguillonnent] dins noste idêye di spåde li tuzance eyet l' lingaedje walon emey les efants des abagants, arabes u nén, ki dmorèt el Walonreye. Ostant ça ki les pretchmints då Ben Laden.
---
Lucyin Mahin, li 3 d' nôvimbe 2004.
---

Si des mots difficiles se présentent à vous sur ces pages, allez voir s'il ne sont pas expliqués dans le Splitchant motî do walon (avec brève traduction française), ou dans le Wikipedia, l'encyclopédie en wallon (suivez: "Pordjet Esplicant Motî").
---

(Back index par sujet) Alans rzè a l' indecse des sudjets.

(Index des auteurs présentés sous forme pré-normalisée) Djivêye des scrijheus eplaidîs dizo cogne årmonijheye, mins tot wårdant ene miete l' accint. (Index des auteurs dont les textes sont disponibles en wallon commun) Djivêye des scrijheus k' ont scrît u k' ont stî rashious e rfondou walon

(Back textes en wallon commun) Erdalans sol pådje des scrijhaedjes e rfondou walon.

(Back homepage) Alans rzè el mwaisse-pådje

(homepage wallon commun) Alans rzè eviè l' pådje moennrece do rfondou walon.
---
Sacwants scrijhaedjes di cisse waibe chal polèt esse dizo abondroets; nos les rsaetchrans foû s' i fåt. Les papîs da Lucyin Mahin polèt esse ricopyîs et ratournés francmint, tot metans l' no do scrijheu et leu-z adresse did so les fyis.
Some texts published on this site may be affected by copyrights and eventually need to be removed in the future. Papers from L. Mahin are free, inluding translations, quoting the author and their URL source.
---