Textes de réflexion sur la langue wallonne

Sicrijhaedjes sol lingaedje walon
dierin rapontiaedje - last update: 2007-12-11.
Dressêye:
---
Opposition à la normalisation : cri du cœur mais mal argumenté
Leyîz m' dire li minne so li rfondou
Djouprele, li 12 di nôvimbe 2007
Binamé fré,
Awè, dj' a bén rçû vosse lete et l' live da Lorint, ki dji n' a nén co léjhou, come di djusse ! Merci co cint feyes ...
Vos savoz, fré, dji n' a rén disconte li rfondou walon, do moumint k' on l' sicreye po les djins ki djåzèt voltî l' walon, po les cis k' el lijhèt sins s' fé des mås d' tiesse et po les cis (i n' a waire) k' el sicrijhèt d' adrame. Tant k' c' est po loukî lure si botroûle, n' a nou må ! Tant k' c' est po s' fé aveur bon inte "sincieus", passe co ...
Awè, mins vola, paret, dji saye, mi, do fé (ri)vni a nosse bea lingadje totes les binamêyès djins k' el voeyèt voltî, mins ki n' ont waire l' ocåzion del håbiter. Pus vite ki di m' fé "gleter l' minton" avou les plankets ki fjhèt dedja pårteye di nos societés, dji saye, mi, do fé l' "unité" åtoû do lingaedje di nos tayes. Dji saye, mi, do rapoûler tos les cis ki n' ont pus, el tiesse, e cour et pår el boke, ki deus troes ptit bokets di nosse "vî" lingadje. C' est po ces djins la ki dji cour totavå l' province di Lidje po lzî dire les sinteurs, les coleurs, li sawoura d' on lingaedje k' elzî raspite tot doûçmint el tiesse (ene conferince, mitan francès, mitan walon, ki dj' a dné 30 feyes et ki ç' n' est nén co tot!). C' est po ces djins la ki dji passe tos les djoûs å posse po lzî fé prinde consyince k' i djåzèt l' walon tos les djoûs, sins l' saveur å pus sovint, et k' i frît bén del raprinde pitchote a midjote ("Les liégeoiseries" so Vivacité Liège matin, so l' côp d' 8h20). C' est po ces djins la ki dji screye on ptit biyet avou on ptit cwatrin, divins ene gazete po rén, ki 250.000 manaedjes polèt lére totes les samwinnes, dispoy 1988. C' est po ces djins la ki dji dene, tos ls ans dispoy cwatre ans, so l' viyaedje di Noyé d' Lidje, (todi po rén), 10.000 pitits lives come li ci k' vos trouvroz chal. C' est po ratoker l' feu d' leu sovnances, po raviker l' exhowe di leus atnances ... Si ces djins la n' vinèt nén, tot seus, å walon, c' est l' walon ki les va rescontrer... Såf ki ...
Såf ki ces djins la ni polèt fé l' voye viè nosse walon k' avou çou k' end ont wårdé (nén todi bråmint), çou ki vout dire tchaeke "si" walon ... Såf ki ces djins la, k' ont dedja bén målåjhey do lére deus mots e walon, si nos volans les rmete so l' ton di nosse "vî" lingaedje, fåreut k' on lzî rmetreut e l' ouy çou k' il ont dedja-st e l' oreye (c' est insi k' on raprind a lére li walon, edon!), et nén ene sacwè ki n' ravize rén por zels.
Awè, fré, mete, divins les mwins d' ces djins la, des lives e rfondou walon, mi shonne-t i ki c' est les tourmeter po rén ... Mi shonne-t i ki c' est lzî dmander ene si grande foice k' i vont taper djus å pus abeye ... Mi shonne-t i ki nos diferins walons ni meritèt nén ça (n' ont i nén tchaeke leus pieles, di ces pieles la ki blawtèt el memwere di "ces djins la", come des meyes di stoeles e cir d' ene bleuwe nute ?) ... Mi shonne-t i ki nos n' avans nén l' droet di rnoyî ci bea lingaedje la ki nos a-st aclevé, dispoy des siekes, et ki nos a fwait crexhe, so l' schô del Walonreye ... Nos n' alans nén tot l' minme nos neyî a voleur poujhî e Moûse avou ene banse! Adon ...
Adon, vos l' åroz compris, dji n' a nén l' minme piceure ki vos po dner, å walon, li grand côp d' mwin k' a dandjî ouy. Ki volez vs, tchaeke ses makets, edon ! Åresse, dji n' so seur ki d' ene sôre: dji n' a motoit nén totafwait råjhon, totafwait bén l' toû, mi "pedagojeye" n' est nén télfeye li pus djusse, mins li rfondou walon, lu, n' arindjrè måy les potikets des cis ki volèt bén fé ene pitite foice po sayî di (r)trover leu "prumire vwès". Li rfondou walon ni frè måy ki d' elzî mete des hames el voye, adon ki c' est télmint åjhey, et plaijhant tot a ene feye, do leyî raspiter ses "ptits bouneurs". Les binamêyès djins ki dji vs djåze mi dmandèt cwè et come, rapoirt å "rfondou" . I sont tot pierdous ! Parey ki l' efant k' on vént d' lyi côper l' coirdon po l' deujhinme feye. Endè volèt nén, al copete do martchî ! End årît i sogne? Mi, po m' pårt, dji såye di les rapåjhter etot fjhant rglati li walon ki nos mete li cour al djoye ...
Nonna fré, dji n' vou nén prinde li wadjeure ki li "rfondou" sereut l' pîce po mete so l' trô d' nos diferinces. Dji so pus vite po "tchaeke ses ritchesses" ... Nonna, fré, dji n' vou nén prinde li risse ki nos n' serans pus, dimwin ou après, k' ene tote pitite pougnêye di "waloneus", ki tot l' monde loucrè po des "rescoulés" et ki nolu n' comprindrè pus ... Dji croe, mi, ki tos nos walons s' divèt mete so leu trinte-deus po fé fiesse avou tot l' monde, mins k' ci n' est nén po çoula k' tot l' monde doet-st aveur li minme mousseure.
Å troes vîs omes, s' i plêt-st a Diu.
Ene boune anêye (dedja), ene boune santé (et tot çou ki va-st avou), sins rovyî tote mi camarådreye, come di djusse.
---
Lete di response da På Hinri Thomsin a Lucyin Mahin, ki lyi aveut scrît après èn årtike da sinne e francès disconte li rfondou, parexhou divins l' "Bulletin wallon" do moes d' octôbe 2007; lete rexhowe dins divins Li Rantoele, l° 44, ivier 2007-2008.
Bate di dvizes sol sudjet so "Toudi" (e francès ey e walon)
Bate di dvizes so "Berdelaedje" (e walon)
---
Li walon n' est nén moirt
Dins on papî kel tite c' est " Li blanke dame ", on pout lére cisse fråze ci (e walon dins l' tecse) :
Djôzef vos m' alez copyî cénk pådjes di " Dji m' doe tni pajhûle a l' otocår
On vout ki, emey tos les romans lingaedjes, c' est l' walon k' åye li pus di rmanances d' ene langue tîxhone, li flamind. C' est bråmint dpus, dit-st on, ki les sacwès kel francès d' Swisse a hapé d' l' almand. Portant, po ratourner e flamind li fråze cial ådzeu, dji n' irè nén lon avou m' neyerlandès. Si on cwirt aspoye sol francès, adon, ci seré:
"Djôzef, sicrijhoz mu cénk pådjes: Dji n' doe nén fé des biestreyes dins l' otocår"
u ene sacwè inla.
Ci tecse la est saetchî foû di Scrire ene antolodjeye des belès letes e walon, di 1970 a 1990. Ene miete pus lon, on s' pôrè tolminme siervi do flamind po vey clair. Li Blanke Dame, c' est pår " een blanke dame " (e neyerlandès dins l' tecse) ene tote blanke djin avou on bladje vizaedje, a mode di l' Aviedje. Et, tot l' restant do racontaedje, ciste apåricion la va waeranti Djôzef, on roufion todi dins l' lune, d' atraper co des ôtès pûnicions. Ene ôte sipoûle (do minme live) a come tite " Li blanke leuve " (e walon dins l' tecse). C' est ene blanke lovresse, ki caweye åtoû del pire Heina, dins les bwès d' Wérisse, li viyaedjes ås dolmens et ås menirs.
On eplaide bråmint e walon, mins gn a waire di rlomés lives. Les gazetes di Walonreye, come "Vers l'Avenir", ont cobén, dins leus pådjes cultureles, on ptit årtike e walon, sovint a môde di racontroûle do vî tins. Et dins "Toudi ", li moetî d' ene soce redjonalisse moennêye pa José Fontaine, on trove kécfeye on long papî e walon da Lucyin Mahin, avou, al fén, sacwants målåjheys mots esplikés e francès : saiwoe: égouts; hamtea, hameau (e walon et francès dins l' tecse). Lucyin Mahin boute come årtisse e Marok, çou ki mostere kel walon n' est nén fok eployî come lingaedje del måjhon. Sapinse a Fontaine et Mahin, l' eployaedje do walon va avou l' tuza redjonalisse, on movmint ki vout fé del Walonreye ôte tchoi k' ene sitindêye economike, mins ene vraiye kiminålté, dislaxheye del francofonreye brusselwesse.
Ces djins la rhazixhèt tofer li clå po tot çou k' est pår walon come li prôpe lingaedje del Walonreye. Mins cisse soce la ni parpinse nén fok li langue, (mins eto tote li culteure walone).
Disk' asteure i gn a nou standårdijhî walon ki sereut eployî totavå. So ç' pont ci, avou, c' est co l' esprit d' clotchî, bén cnoxhou, ki vént ponde si nez.
Onk dins l' ôte, on pout pårti l' walon e troes trokes di pårlers : li walon d' Lidje, li walon d' Nameur et d' l' Årdene, eyet l' walon d' Tchårlerwè et del Lovire (çou k' on lome li " Cinte "). Les diferinces ni sont nén pus grande ki inte l' Ouwess-flamind et l' limbordjwès mins l' idêye di rmete eshonne les accints, en on cmon scrît lingaedje, a bén do må d' passer el Walonreye.
Li walon est bén khåyné dins les motîs et les croejhetes (di Lidje) mins Nameur et Tchålerwè n' elzès vlèt nén shuve. Gn a on decret so les lingaedje do payis ("les langues endogènes") el kiminålté francesse. Mins, di l' avisse minme des cis ki l' eployèt, gn a waire yeu d' adierça po kel walon åye ene plaece oficire dins l' Beldjike francofone. Dilé l' walon, et totes ses sôres, on djåze eto picård, (gåmet) et tchampnwès el Walonreye, et ces troes lingaedjes la sont pus près do francès k' do walon. Li picård, c' est l' lingaedje d' on payis metou dilé l' frontire francesse, dins l' cotoû d' Tournai. Li tchampnwès est djåzé sol vå di Smwès, disk' à Floravile. Di ttåtou d' Årlon, et e sacwants viyaedjes metous astok del kiminålté tîxhon-cåzante, on djåze lussimbordjwès u almand mozelike. Tos ces ptits lingaedjes la sont eto ricnoxhous dins l' decret, çou k' est co metou des xhames el voye po fé on lingaedje unifyî pol Walonreye.
Li walon a des sons foirt deurs, ki vnèt del goidje, c' est cåzu come l' almand. Dins les scrîts, on trove ene cåkêye di voyales di totes les cognes et toplin des faflotes, et sacwantes n' egzistèt nén ddja so ene taprece ordinaire. Les mots n' ont nén sovint ene drovowe sillabe å coron. Ci walon la sereut foirt vî et sacwants sons provnèt do gålwès et do plat latén d' sôdård, come on cåzéve do tins da Julius Caesar. C' est nén mi k' a ponou cisse sincieuse atuzlêye la, mins si a-t ele a l' air d' asgur. Sol tins ki dj' catoûne li Walonreye et c' est cåzu tos les djoûs, dj' ô toltins djåzer walon. Li lingaedje n' est nén moirt do tot. Emey les houyeus et les ovrîs des foidjes, c' esteut l' lingaedje d' atôtchance corant. Dins l' beur et dins les corons, on n' cåzeve ki walon, et minme les Flaminds et les Itålyins el cåzént avou les efants e leus måjhones. Sacwants did zels sont asteure des minisses u des pårlumintîs. Dins les colidôrs des Congrès Socialisses et minme dins les poices do pårlumint walon, gn a tenawete deus francs Walons ki copinnut dins leu langue. Mins, cwand gn a ene troejhinme djin ki s' vént stamper dlé zels, u bén cwand l' cåzaedje divént ene miete tecnike, i s' rimetèt otomaticmint å francès.
Gn a eto l' contråve: ene bate di dvize ki s' enonde e francès, mins do côp k' i gn a ene miete di fiyåte inte les cåzeus, i passèt, come après on scret messaedje, å walon. Come troejhinme djin, t' es la stampé come on båyåd ki tént l' tchandele.
Ca m' arive cobén ki deus Walons, des pareys a mi (gaztîs) tot d' on côp, å fén mitan d' ene bate di dvizes , kimincèt a eployî des ratourneures e walon. Mins c' est come ene sôre di djeu, et on sait bén k' on irè nén pus lon.
Insi, li lingaedje est eto on sene po mostrer li ci k' est d' ene sadju eyet l' ci ki n' l' est nén.
---
Guido Fonteyn, foû di: Zannekin, troemoetî del soce ZANNEKIN, d' Îpe, 3inme trim. 2004, ratourné e walon pa L. Mahin li 28 di fevrî 2005, eplaidî dins Li Rantoele l° 33, 2005.

Mwaisse copeye.
---
Li dijh d' avri, a Djiblou, li Rantoele priyive sacwants pretcheus po ene bate di dvizes [débat] sol walon did dimwin. Chantal Denis î cåza di si apriyesse [expérience] al sicole di Lignè. Vos åroz l' ådjeu [la possibilité] di lére so ciste esperyince la dins l' live "Qué walon po dmwin ?" k' est dins totes les bounès livreyes [librairies].
Ciddé padzo: sacwants bokets do plaidaedje [discussion] k' a shujhou les coferinces:
På Djiye: (P. Dj.) - Vos Chantal, comint vos î purdoz po dner scole?
Chantal Denis (C.D.) - On s' î prind come avou tolminme ké lingaedje, l' inglès, l' almand et vos nd åroz.
P.Dj. - Cåzez tofer e walon?
C.D. - Dji cåze todi e walon. Oyi ! On cmince pa des ptits djeus. On lzî fwait fé des djeus d' roles. Et il inmnut bén. Tos les efants inmnut bén d' djouwer. Avou les tot ptits, c' est des tchansons : zels, i tchantnut voltî. Avou les pus grands, on djouwe. On shût on ptit live ki dj' a fwait. Dj' a sayî d' fé des djeus d' roles ene miete po rire. Et ça lzî plait bén.
P.Dj. - Et cwè sohaitrîz ? Ki ça s' sitinde ene miete dipus. Mins avou des mwaisses ki srént scolés po-z aprinde li walon ås efants, edon ?
C.D. - Bén seur ça ! Si nos vlans schaper nosse lingaedje, gn å rén a fé : nos fåt des mwaisses. Et s' li fåt i cåzer, po cmincî, e si måjhon. Ca ôtmint, èn efant si dmandrè : douvént k' fåt aprinde li walon ? Pocwè nén l' gayel [celte] dabôrd ?
P.Dj. - Dji m' a leyî dire ki ça aveut risseré les loyéns dins les familes ?
C.D. - Come di djusse. Vos åroz des efants k' iront trover leu pårén u leu mårene, et-z esse firs di dire sacwants mots e walon. Minme avou les viyès djins do viyaedje : dispu k' il apudnut l' walon, i djåznut pus voltî avou ces djins la.
Andrêye Bacq (A.B.) - N' avoz jamwais yeu l' fårce k' on vs dijhaxhe ki l' walon est broxhire [brohûle, brouchîre : rustre, " paysan "]
C.D. - Deus å cint, siya. Nos avans cint-z eleves et gn a deus parints k' ont vnou dire k' i n' vlént nén k' leus efants apudnuxhe ci lingaedje la; k' c' esteut grossire. Po nozôtes c' est l' bon, ca c' est åjhey di responde ki c' est des mintes. Si on nos åreut yeu dit k' ça n' sierveut a rén, c' est l' vraiy ki c' esteut pus målåjhey a responde.
Djôzef Bacchus (Dj.B.) - Si vos vôrîz vey ki c' est l' francès k' est broxhire, vos n' avoz k' a schoûter li Flipe Bouvard al tévé francesse. Ça, c' est åk di grossire. Et c' est do francès.
Rodji Viroux (R.V.) - Dj a on côp dmandé a on fré d' mestî, professeu come mi. Cwè çk' est l' pus grossire ? " Clôs t' gueuye ! " udonbén " Ferme ta gueule ! ". " A ! c' est l' walon, hin, sins manke ! " a-t i respondou. Bén tuzez ene miete, lyi a dju dit : c' est les deus minmès fråzes avou les minmès mots. C' est paski l' walon est vosse lingaedje ki vos rsintoz dipus li grossirté. Tos les cis k' ont-st aprindou des langues etrindjires, i cnoxhnut bén çoula.
P.Dj. - Chantal, cwè fjhoz, å djusse a vos scoles ?
C.D. - Avou les scoles gårdyinnes, on fwait des ptitès tchansons, Fré Djåke etc etc, ki dj' a ratourné e walon. Adon, les 3inme et 4inme anêyes, on cmince a lzî fé fé des ptits djeus d' role. E 5inme et 6inme, i compudnut tot. Cåzer, c' est ôte tchoi.
P.Dj. - Et scrire ?
C.D. - Nonna, on n' aprind nén a scrire.
Ene divizeuse (X) - S' i gn åreut assez d' mwaisses po dner scole, fåreut ki l' cours divénreut obligatwere, kécfeye ?
Djôzef Lahaye (Dj.L) - Si t' vous disgoster les djins, ti n' a k' a ls oblidjî a fé ene sacwè !
C.D. - Fåt copurade mostrer k' on pout dire des cayets d' ene ôte façon dins nosse lingaedje. Comint dirîz e francès : " Ça brotche foû di tos costés ? "
Dj. L. - Ça broche hors de tous côtés.
(On reye)
A.B. - El Grande Dutcheye [GD du Luxembourg], po-z aveur ene plaece di tchampete, fåt cnoxhe li lussimbordjwès !
R.V. - Et les debats al Tchambe [Parlement], i sont riscrîts e lussimbordjwès. Si l' walon åreut-st on statut, on l' acceptêyreu, et adon li poleur rinde obligatwere e scole.
X - Li scole ni doet nén seulmint aprinde a l' efant ene peclêye di matires. Ele lyi doet aprinde a esse soçnåve [sociable]. Si èn efant a håsse [envie] et plaijhi a-z aprinde li walon, i va assaetchî [attirer] les ôtes efants.
C.D. - Oyi, mi, gn a ene pitite båshele ki m' a dit " Mi, nosse dame, dji vôreu bén-z esse mwaisse di walon "
X - Li dierinne anêye ki dj' a fwait scole åzès 3inmes gårdienes, dji racontéve des ptitès fåves e walon. Et les efants schoûtént, diale, vozôtes. Et gn aveut on ptit Flamind. I n' comprindeut rén. Gn a onk k' a dit : " Ça n' fwait rén dj' el î va tradure ! "
C.D. - A Lignè gn a deus ptits Marokins. Onk di shijh ans et l' ôte di nouv ans. Ebén l' gamén k' a 6 ans, c' est lu ki djåze li mî walon di tote li classe.
Dj. B. - Dins ene comene, gn a sacwantès scoles; gn a ene ki fwait scole di walon; gn a ene ki fwait scole di muzike. Mins les academeyes di muzike, ele bodjèt. Pocwè nén fé li minme tchoi e walon, ene sacwè ki rashonnaxhe les efants ki vlèt fé do walon, vinant di tote les scoles d' on ban [entité communale] metans ? Et l' comene li pôreut subzidyi adon.
R.V. - Mi, dji so po ene eure di walon par samwinne pol moens avou des ponts mårkés å bultén. Douvént ki, el Frize, wice k' i gn a fok 450.000 djins, on-z aprind l' frizon, k' est obligatwere, deus eures dins des scoles k' i gn a et troes eures dins ds ôtes. Si vs alez dmorer vaila et k' vs avoz des efants ki vont e scole, il åront des cours di frizon a costé des cours di neyerlandès.
A.B. - C' est parey pol lussimbordjwès.
Adon cwè li walon e scole : oblidjî u nén ? Dinez nos voste avuzion, binamés lijheus, binamêyès lijheuses.
---
eredjistré et rapontyî pa L. Mahin li 20 d' avri 1999, nén eplaidî
---
Cinq mauvaises pistes dans l'argumentaire en faveur du wallon
Cénk mwaijhès façons di disfinde li walon
Ci n' est nén a vozôtes, léjheus, k' i fåt aprinde ki l' walon a sovint stî tapé a l' abat. Et portant, i gn a todi yeu sacwants djins po l' voleur disfinde, mågré ki l' grande masse des Walons end aveut a keure. Ça fwait k' ces djins la, ki voeynut voltî l' walon, ont sayî d' trover des bounès råjhons po dire del disfinde.
Mins on etind sovint les minmès afwaires. Et pa côp, des djins ki pinsnut k' il ont trové ene boune idêye vont dmorer aroyîs dins l' minme esplicaedje, sins vey k' i dinnut ene imådje do walon ki n' est nén l' cine do walon tot etir.
Sacwants djins vont stitchî avou ça des idêyes da zels ki n' sont nén loyeyes tot droet ås afwaires di lingaedje. Oudonbén, il ont ene råjhon k' est trop åjheye a distrure po les cis ki s' fotnut bén do walon. Afeye, i sont témint percés seurs d' aveur råjhon, paski c' est ene sacwè ki vént d' leus tripes, k' i n' cåznut pus k' d' ene sôre.
Dji n' sicreye nén ç' boket ci po-z ataker des djins ou po les måvler. I n' fåt nén prinde çou ki dj' va dire por lu. Tot çki dj' vou fé, c' est sayî d' cåzer bén påjhirmint des afwaires k' on-z a ddja dit so l' walon et vey çou k' i gn a padrî ki våt vraiymint les poennes do wårder dins l' riclamaedje po nosse langue.
Disfinde li walon
E djhant ça, on-z a tot dit. Les djins sintnut ki l' walon est ataké et k' on dit d' lu k' ci n' est nén ene linwe. Adon, i saynut do mostrer k' ci n' est nén l' vraiy.
I gn a sacwantès voyes po prover çoula, ki n' sont nén foirt bounes, a m' shonnance, copurade si on ndè prind k' ene.
Vo les la :
1. Li walon est ene viye viye langue
Dj' ô bén: dire ki l' walon ni våt nén moens k' èn ôte lingaedje d' asteure, pask' il est vormint vî.
I gn a la des djins ki vos vont rcweri onk ou l' ôte mot ki sont, apinse zels, des mots celtikes oudonbén gålwès. Et dire : "Waitîz, divant k' les Romins n' arivnuxhe, ces mots la egzistént ddja."
Gn a minme des djins ki vont pus lon, et dire ki l' walon rmonte å tins des Babulonyins (onk ki djheut ki "Djezus" esteut li mot walon "djåzeu"), et vos nd åroz.
Pus pajhire, i gn a onk bén cnoxhou k' a dit ki l' walon, c' est do latén k' a vnou a pî.
I n' dijhnut nén tertos des biestreyes, mins dabôrd ki c' est l' vraiy po l' walon, c' est l' vraiy ossu po tos les lingaedjes d' Urope : il ont tertos des minmès raecenes.
Et adon ? Si on dmeure a djoke la dsso, li walon dvént ene afwaire a mete dins on muzêye.
2. Li walon ni rshonne nén tant k' ça å francès
On a co sovint etindou dire ki cåzer l' walon, c' est må cåzer l' francès. Ça fwait ki, po responde a ça, i gn a k' ont pinsé k' i faleut mostrer ki l' walon est foirt diferin do francès. C' est vaici k' on rtrove les "djermanisses". Dji n' cåze nén des djins k' ont studyî ça (paski mi ossu); dji cåze pu rade des cis k' ont passé leu tins a cachî après les mots k' ont ene raecene tîxhone, djusse po dire. Si bén tant k' enawaire, dj' a léjhou èn årtike wice k' on djheut co ki l' walon esteut ene linwe djermanike. Mins dj' end a léjhou eto, des årtikes, ki djhént parey po l' picård... Et pa des côps, ossu rade ki ça rshonne ene miete, on creye Barabasse ki "C' est djermanike !", sins sondjî ki l' mot francès rshonne å mot walon avou.
Ça m' plait bén eto do cnoxhe les rcinêyes d' on mot, mins i n' fåt nén ki ça dvegne ene bataye des romanisses conte les djermanisses, et a l' difén, ci n' est nén po ça k' on lingaedje våt dpus k' èn ôte. Et si on mot walon est l' minme k' e francès, c' est co todi on mot walon, ci n' est nén èn epront (on calcaedje).
On voet ossu ki ç' a stî l' môde di fé des lexiques wallons wice k' on cachive pår après les droles di mots nén come e francès. Asteure, ça va mî; on studeye li walon come on l' cåze (waitîz li dico da M. Francard). Ôtmint, li walon åreut yeu divnou come ene coleccion di påwions.
3. On pout fé ossu bea avou l' walon k' avou l' francès
Gn a yeu des djins po dire k' i gn aveut ki les må-aprins po cåzer walon. Ça fwait ki, po mostrer k' ci n' esteut nén l' vraiy, on-z a vlou fé del bele literateure, come e francès. Minme si c' est l' vraiy k' on pout fé ossu bea avou l' walon k' avou l' francès, ci n' est nén e scrijhant del powezeye a make k' on disfind bén l' walon. Abele si on n' fwait pus k' ça ! Asteure, i gn a des djins ki pinsnut ki l' walon ni sieve k' a ça. Por zels, li walon est a mete dins on diccionnaire di rimeas.
4. C' est on lingaedje ki "tchante"
Vos estoz kecfeye, come mi, hodé d' etinde cåzer di notre vieux patois croustillant plein d'expressions savoureuses qui sentent bon le terroir.
Vos årîz yeu dit ça a m' mononke ki cåzéve walon, il åreut yeu stî fén sbaré, èn ome !
Des djins insi, i scrirént bén on mot so on papî et l' mete dins on cåde. L' aroke, c' est k' on-z a ddja dit des afwaires insi... po totes les langues. Cwand on-z î tuze ene miete, ça n' vout rén dire, et l' walon divént ene posteure so l' tchiminêye.
5. C' est l' lingaedje di nos tayons
Minme si c' est l' vraiy, bråmint des djins ni s' sievnut do walon fok po cåzer do vî tins. Waitîz ene miete tos les scrijhaedjes k' ont dins leu tite ou å cminçmint "Sovnances", "Do tins di m' grand-mé", "Dji m' sovéns"...
C' est foirt bén di wårder des sovnances, po saveur comint çk' on vikéve didins l' tins. Et c' est co sovint dins des scrijhaedjes e walon k' on-z aprind totès sacwès sol vicaedje des ptitès djins k' on n' trove nén ôte pårt. C' est l' vraiy ossu k' i gn a waire di scrijheus walons, et laddins i gn a co moens ki oizrént scrire, metans, on roman di syince-ficcion.
Ça fwait ki, li pus åjhey po ene sakî ki n' a co måy sicrît, c' est d' raconter s' veye. Mins si on n' fwait k' ça avou l' walon, i dvént ene miete come ene foto d' famile.
Mins c' est l' veur k' asteure, on cmince a scrire so totès sôres ene miete dipus d' nosse tins !
Li bon a wårder
Dins ces cénk råjhons la, i gn a a tchaeke côp ene sacwè d' bon a rastini :
1. Dins l' walon, on pout studyî les mots et pa côps rtrover des vîs mots ki n' ont dmoré k' e walon. Item est i avou les ôtes lingaedjes.
2. Come tos les lingaedjes bén vicants, li walon a epronté des mots d' on costé et d' l' ôte, et ces mots la sont asteure bén walons. Minme cayet dins les ôtes lingaedjes.
3. On lingaedje, c' est çki sieve a cåzer; dabôrd, on fwait çk' on vout avou.
4. Tos les lingaedjes ont ene melodeye et ene zûnance da zels; c' est ça l' pus målåjhey a-z aprinde, mins i l' fåt aprinde si on vout aveur li boun accint. Si on trove ki l' walon "tchante", c' est paski noste oreye etind bén ki l' walon est ene ôte linwe ki l' francès. Mins ça, on l' saveut ddja bén, don !
5. I n' fåt nén rovyî ki, dins l' tins, bråmint des djins cåzént walon tos les djoûs. Dire ôtmint, ça sereut ene minte.
Vo l' la !
Mins çou ki rashonne tos ces djins la, c' est k' i voeynut voltî l' walon, et ça, on nel sårot espliker !
Dabôrd, pocwè disfinde li walon, èm dirîz ?
Por mi, c' est tot biesse : pask' il egzisteye !
---
J.F. Brackman, divins: Li Ranteule l° 21, bontins 2002.
---
Sicrire li walon come li francès ?
Dins "Les Cahiers Wallons" 6-98, Chantal Denis a scrît on papî ki l' tite c' est "Eco todi", ou çk' on djåze e walon d' ortografeye do walon.
Po cmincî, nos fåt rilver ki c' est pår li prumî côp ki les CW eplaidèt on papî di prôze nén racontrece [prose non narrative]. Proficiat, les couz' ! Fåt cotinouwer so ci voye la, ca l' airance [ambiance] k' on rtrove dins li restant di ci limero la des C.W., l' atmosfere des ptits viyaedjes, evnd, pus nolu nel sårè rinde dins 20 ans. I n' dimorrè pus ki li powezeye sorreyalisse et foû-naturele, u des noveles fantastikes, a môde des ciles da Dj.F. Bracman.
Chantal Denis, al fén di si papî, nos dit ki ci sereut mî si on scrireut li pus analodjicmint eneviè [par rapport à] li francès. Mins nerén, l' ahike, c' est: wice k' on va s' arester et låtchi [s'arrêter et lacher prise]. Pocwè nén scrire eto, e walon: "français" "li chant des Wallons" (come sol prumire pårticion do tchant, evnd) ? On pôreut ttossi bén rprinde les G avou l' valixhance J (Bèlgique, viyadge) come Edmond Wartique, portant on Rèli Namurwès dins ses "Dierins Contes" e 1954. On pôreut rsaetchî evoye les accints sol droete di "c' èst, lès, dès, mès, livrèt" come propôzé dins l' disfaflotaedje e rfondou hard.
Chantal Denis astotche si råjhonmint k' i fåt scrire li pus près possibe dilé l' francès, tot djhant ki les raprindeus et les raprindeuses åront pus åjhey a lére.
Tot depind do prodjet k' on-z a pol lingaedje walon. Si on tuze di cotinouwer a l' aprinde al shijhe a sacwantès pogneyes di volontaires, c' est l' veur eyet c' est l' vraiy ki, di pus k' c' est scrit a môde francesse, di pus k' c' est åjhey
Si on tuze a-z endè fé on lingaedje nåcionå pol Walonreye, a-z aprinde a tos ls efants so l' aroyaedje [périmètre] politike do Payis Walon, adon, tolminme ké scrijhaedje va [n'importe quelle orthographe convient], dolmint [du moment que] k' il est li minme pattavå. L' efant aprind ossu åjheymint a lére "tåvlea" come "tauvlê", "tâvlin" u "tauvia" k' il aprind a lére "oiseau" come "wazô".
Djustumint: les cis k' on les pinses di fé do walon on lingaedje oficir, i pinset purade li contråve [contraire]. Fåreut puvite ki li scrijhaedje soeyixhe et fourixhe li pus lon eri possibe do francès, po les efants ni nén maxhî les deus lingaedjes.
L' agrès [intérêt] d' on scrijhaedje lon eri do francès, c' est cwand on rexhe foû do ptit stroet cåde des waloneus, et "vni dvant les djins". Les djins c' est ttossi bén les Walons waire o corant des cayets [choses] d' walon, les Brusleres, les etrindjîs.
Mi, dit-st i l' fô, k' est tos les djoûs divant ds etrindjîs ki léjhèt des tecses ki dji screye e walon, metans sol waitroûlêye d' astådje [écran de veille] di mi copiutrece, cwand on m' dit: "c' est cåzumint do francès", ça m' fwait må ! Dandjureus paski ça fwait adon rsûner ["re-sourdre"] les acuzåcions ki l' walon n' est k' on fayé patwès.
Dji n' sai nén si cichal frè plaijhi a Chantal Denis et åzès cis ki voeyèt voltî on scrijhaedje a môde francesse. Dispu li moes di djun 1998, so èn atåvla [proposition] da Lorint Hendschel, nos metans al saye, so les waibes [sites internet] del Ranteule sacwants noveas scrijhas [graphies] pus près do francès:
ai po les ê "analodjikes" mins gn a yeu do côp mwintès reyaccions disconte.
oi po l' oyon [phonème] wa ó wè ó ô. Metans goidje = gwadje ó gwèdje ó gôrdje; oizu = ó ôzu ó wazu ó wèzu; foice = fôrce ó fwace ó fwèce, evnd. C' esteut insi ki tos les "wè" si scrijhént dins li vî vî scrijhaedje lidjwès (1750-1850).
Asteure si on decide asteure ene sacwè d' novea rapoirt a l' ortografeye do walon, nos fåt bén tuzer: po kî ? Si c' est po fé des rîles pus strindowes ki les da Feller po les scrijhaedjes dins les walons d' viyaedje (walon d' Transene, d' Åssôr, d' Inguezêye, di Helecene), gn a nole avance. Dins 20 ans did chal, gn a pus nolu ki scrirè dins on walon d' viyaedje. Mostroz mu on moens di cwarante ans ki scrit enute [aujourd'hui] en on walon etnike ! Chantal Denis ni scrit nén e walon d' Inguezêye. Ive Påket ni scrit nén e walon d' Lonzêye, ni Pire Otdjåkes e walon do Tchestê [Neufchâteau]. Les cis did moens di 40 ans k' el plèt co fé, c' est des boles-a-pårt [petits génies] k' on stî rcweri dins les lives eyet les studias des ramexhnêyes di mots "atestés" e leu payis di ratatchmint, come li Djan-Françwès Bracman po Fumwè [Fumay, France].
Adon si mete d' acoird so des rîles di scrijhaedje, dins ké cåde?
Surmint dins l' idêye d' on rfondou soft, on cmon walon [wallon commun] ki sereut mo dilé [très proche de] li walon d' Nameur u d' Cînè, sorlon li mwaisse-idêye di "rfondaedje a môde ecorinnante" [nomalisation centrale]. C' est li prodjet k' est atåvlé dispu lanawaire pa Djohan Virou.
Ki tos les djonnes ki boutèt ådvins des abanijhes [balises, bornes] do walon d' après Nameur si meténxhe a ene tåve, et si fortuzer [se creuser les méninges] po on scrijhaedje, nén fok djinti po ls aprindeus, mins eto po ls uzeus [non seulement pratique pour les débutants, mais aussi pour les utilisateurs].
Ca cwand on ptit lingaedje divént ene vraiye langue, ki les djins s' endè siervèt tertos, 99 procints di l' uzaedje, ça a a vey avou [cela concerne] des cis k' el conoxhèt et l' mwaistri, et nén ddja 1 procint avou ls aprindisses.
Et po ça - mande escuze si dji rbouxhe sol clå - ci n' est nén foirt ahessåve [pratique] d' aveur 80 faflotes [signes diacritiques] ås cint mots.
Mins dji di ça et dji n' di rén…
---
Lucyin Mahin, li 4 di setimbe 1998.
---
Adaptation phonologique planifiée: Adapter les emprunts du français au génie de la langue wallonne
Aprinde a dire walon sacwants calcaedjes do francès
Cwand l' inglès a divnou li lingaedje oficir [officiel] di l' Inglutere el plaece do francès, diviè les anêyes 1500 et des, si dj' el tén bén, les djins d' avår la si dmandént bén comint çk' il alént lomer tote ene pecleye di cayets [choses] et d' afwaires k' il estént arotinés di djåzer did zels e francès : li pårlumint, li tchå [viande] d' vea, di moton, di pourcea, les meubes, li palå do prince, evnd [èt vos nd åroz = etc.]
Cwè ont i fwait ? Els ont tot bounmint calké do francès, mins do francès come esteut prononcé påzès ptitès djins d' avår la : parliament, veal meat, mutton meat, pork meat, furnitures, prince palace.
Ça fwait ki, tot d' on côp, les diccionaires di l' inglès s' ont trové ecråxhis ["engraissés", enrichis] d' ene cåkêye [floppée] di mots ki provnént do francès et do normand, tantea [à tel point] k' on s' dimandreut sovint si l' inglès n' est nén tot biesmint on patwès do francès.
Nos n' alans nén dvizer, vaici, d' onk des ponts pol response : l' emantchaedje del fråze [syntaxe] et tote li croejhete [grammaire], ki mostrèt bén l' adire (li diferince) etur les deus lingaedjes.
Dj' alans purade foyî [creuser] et s' cotuzer [et ainsi plancher sur] li manire di radapter, dins vosse prope langue, les mots ki vs alez calker en èn ôte lingaedje. Dj' alans burziyî [réfléchir] a ça po nozôtes s' endè siervi dins l' adjinçnaedje do walon d' enute [d' aujourd' hui], come di djusse.
Si vos léjhoz des gazetes come " Li Chwès " u cwand ele parexheut, " La Dépêche de Wallonie " u minme " Djåzans walon ", vos voeroz ki les gaztîs n' ont nou rastena po rprinde ene hopêye di mots do francès, riscrîts tot bounmint en ortografeye Feller : poésie divént powèzîye; identitaire, idantitêre; atelier, atèliè; appartenance, apârtinance, crypte, cripte, etchik, etchak [etc].
Mins s' divans nos, eto, po bén fé, waitî di dire ces noveas mots la calkés do francès come nos tayons els årént prononcîs, la cint-z ans did ci, cwand les djins cåzént tofer avou l' accint walon.
Mins comint l' sawè, li manire ki les vîs djins årént prononcî ces mots la ?
Tot biesmint e rloucant des ôtes mots k' elzî rshonnèt, et ki sont ddja dins les lives di mots e walon [dictionnaires wallons] pask' ont stî radaptés dispu des ans et des razans.
**************
Èn atrocla [groupe de lettres], metans, k' i gn a waire di scrijheus ki savèt radapter, c' est li cawete francesse -isme. Portant, nos avans deus beas mots, dedja bén spårdous, k' el riprezintèt : " urbanisse " eyet " romatisses ", les radjustaedjes e walon, di urbanisme eyet rhumatismes. Voeyoz bén ki li cawete -isme divént tot bounmint -isse. Si vos vloz co ene ôte acertinance, alez vey li diccionaire da Francård, a des mots come "ciclisse" metans. Vos trovroz: 1. cycliste Ene coûsse ciclisse, des tchåsses ciclisses, k' arivèt disk' å mitan des djnos. 2. cyclisme.
Nos årans dabôr : " li mecanisse di l' ôrlodje; l' organisse si disfind conte li må. "
Dji rleve ces fråzes ci dins m' ridant del djåspinreye "Viker"
"Les particularisses di tchaeke terwer, fåreut sayî d' les schover ene miete evoye."
"Dji n' a nén les pinses ki l' disfinse do lingaedje walon si doet fé a côps d' grandès citåcions saetcheyes foû des lives comaxhant l' istwere des Djwifs et do Nazisse."
"L' uzance ki fwait k' deus Walons ki s' rescontrèt ni sepèt fé ôtrumint ki di s' margayî après deus munutes, li manire k' a l' waloneu di s' acrotchî a s' clotchî purade ki di rwaitî a s' mete eshonne et s' acoirder avou ls ôtes,... vola ene sacwè k' on pout candjî nozôtes dins nos manires di fé sins dispierter les tinmes "dinozôres" come l' Estat Bedje, l' antisemitisse, li zenofobeye, li raecisse, li Monarcheye..."
Vos ploz stinde ci mecanisse la a tos les mots francès ki li M arive å coron do mot, diri ene ôte cossoune [consonne]. Inla, vos åroz rythme ki dvénrè " rite "; asthme ki s' dit e walon " asse ".
Ça fwait dabôr k' i gn a nole adire [aucune différence], e walon, inte on socialisse [un socialiste] eyet li socialisse [le socialisme] ?
Neni, mins s' dirè dju, avou, ki l' walon va uzer bråmint pus voltî di l' addjectif socialiste ki do sustantif socialisme. Metans po rashire [transcrire, traduire] e walon " Le communisme est en voie de disparition ", on-z årè ptchî [p'tchî = de préférence] "Des comunisses, end årè dabôr pupont". Ucobén "L' idêye comunisse, (u : li movmint comunisse) est ki toûne e cou d' poyon."
***************
Èn ote grope di letes ki srè todi candjî, e walon, c' est li X aclapé a ene ôte cossoune.
Po cmincî, avou li betchete ex-, li X divént todi S : esprès, espropriyaedje, esperyince, espert. Al fén des mots, et s' i gn a ene cossoune k' el shût e francès, li X dimeure tot seu e walon : on tecse; ene sicole micse [un texte, une école mixte].
Å resse, li S, shujhou [suivi] d' ene cossoune å coron des mots, lyi djouwe li minme tour k' enawaire li X : el tchesse evoye. Les mots francès risque, casque, compost, Basque divnèt åjheymint e walon : " sins nou risse, on casse d' Almand, do composs, li Payis Basse. "
C' est Piron parey po ds ôtès dobès letes : F : libre; W : libe; F : le cycle; W : li cike des umanités; F : liste des titres; W : lisse des tites.
Li walon a si waire di håsse [si peu d' envie, de tendance] a wårder deus cossounes å coron des mots ki minme dins des mots francès avou X tot seu al fén, li X, ki våt lu-minme les deus cossounes K eyet S, li X, di dju, divént K udonbén S. Metans sexe si dit co e sacwantès plaeces " seke ". Metans : Paul Renson scrît dins " l' Oronde ", ene pitite gazete do payis d' Hanu : " Di ç' tins la, les dramatikes, c' esteut tos omes u totès femes; måy les deus sekes eshonne. " D' ayeur, li mot parint [dérivé] si bastixh lu-minme so ci bodje [radical] la : ene sekelreye [débauche, désordre, lit. sexe-rie]. Li mot axe va, li èto, diner li peur walon " asse " u " ache ", did la : li mot " aessi " [assi, èssi, achi = essieu, lit. ax-is].
**************
Les djonnes sicrijheus rovièt co bén ces radaptaedjes la, come i passet mo voltî houte del rîle des troes cossounes [règle des trois consonnes]. On lerè tenawete " on foirt spès monumint " po " on foirt sipès monumint ", u " on foirt espès monumint "; " on fel scrijheu " el plaece di " on fel sicrijheu " u " on fel escrijheu ".
Mins c' est des flotches di djonnesse; våt mî scrire avou toplin des dfåtes ki di n' nén scrire. Dayeur, gn a pont d' fåtes e walon, poy ki l' sicrijhaedje do walon n' a måy passé å Moniteur Belge.
Li scrijhaedje, on n' endè såreut vni mwaisse d' on plin côp.
Gote après gote eyet Mouze afoût [la Meuse déborde].
---
L. Mahin, nén eplaidî so papî.
---
Un regard sur les sociétés littéraires wallonnes
Ene båke so les soces di walons scrijheus
Po si 500inme limero, li rvuwe di Châlerwè (sapinse Van Cau) li "Bourdon" a-st eplaidî on speciå publiya [tirage spécial] so Felicyin Bårî [Barry]. C' est cist ome la, èn imprimeu-publiyeu di si mestî, k' aveu-st enondé li rvuwe e 1949.
Eter les lenes, on-z advene tote li vicåreye del djin, et des cis eyet des ciles ki l' ont-st aspalé, copurade li soce di scrijheus d' après Châlerwè, dj' ô bén: l' ALWAC. Pal loukete [lucarne], on pout, eto, båker [jeter un regard curieux] so ene di ces soces di scrijheus la, ki les djonnes waloneus d' enute lezî rprotchèt tant d' aveur "passé a costé do sudjet d' leu bouye" k' esteut, aprume, di fé viker li walon, nén fok d' el sicrire et l' situdyî.
Al pådje 27 do Bourdon 500-501, li Felicyin Bårî - aveut 74 ans - djåze d' on spitch k' i va fé o mwaisse-raploû des "Bourdoneus" e 1973. I dit cichal: "Cwand dj' a yeu-st oyeu lonmint tuzé et ratuzé, dj' a prin l' parole so on sudjet ki m' tourpene li stoumak. Nos n' avans pupont d' djonnes lapéns dins nosse binde. Cwand gn a onk ki s' advinteure dilé nozôtes po nos deliberåcions, on l' voet on côp, et ttossi rade, fûtt ! i disparexhe. Pocwè ? Pôzer l' kession n' est nén lyi dner ene solucion. C' est po ça k' å dit raploû, dj' a lanci èn apel a tos nos vîs stoumaks. Il ont yeu l' bonté di clatchî dins leus mwins, mins dji garantixh k' il ont rovyî mi dmande ttossi rade, tot vudant li fond di leu vere di bire." Et pus lon: "Il åront simplumint scrît po leu satisfaction personnelle. C' est nén assez."
Por mi, c' est on flåwixhant racourti [un raccourci saisissant] di tot çou k' i fåt dire des soces di scrijheus. Leu bon costé: c' est zels k' ont wårdé li tchinne eter les viyès djermêyes [générations] ki cnoxhént li walon mins n' el årént måy volou disfinde, eyet les djonnes (nozôtes) ki vlèt disfinde li walon mins k' el conoxhént foirt må al comince, et ki s' ont-st amidré å lére [à la lecture] des bokets des walons scrijheus.
Insi, cwand ki Lorint Hendschel, diviè 1988, a vlou "fé ene sacwè pol walon", il a cweri après des soces di waloneus, et si a-t i toumé so les Relîs Namurwès. Cwand Stefane Kertinmont, eviè 1990, a oyou cåzer ses vîs parints a Djerpene, et volou studyî ci lingaedje la, il a tcheyou so l' ALWAC. Mi minme - dit-st i l' fô - cwand dj' a yeu håsse di scrire e walon, e 1981, dj' a-st atôtchi "L' Avenir du Luxembourg" pask' i gn aveut des bokets d' walon ddins. Å réss, cisse coirnêye la [rubrique], k' a skepyî e 1968, esteut-st adjinçnêye eto pa ene soce di scrijheus, les minmes Relîs Namurwès.
Dins les 3 cas, on voet bén ki: (1) ci n' est nén les soces k' ont cweri et cachî après des djonnes, mins (2) ki les djonnes d' enute [aujourd' hui], ki rprezintèt l' espwer do walon did dimwin, n' årént nén yeu stî la s' i n' avént nén trové les scrijhaedjes des soces po les ecoraedjî dins leu-z avuzion ki l' walon esteut-st on vraiy lingaedje. Metans, dins les mots ki dji m' endè sieve ouy, end a nén 50 procints ki dj' a-st oyou amon les djins d' mes djins. Ene grosse mitan, et co hay [au bas mot], c' est des cis k' dj' a-st aprin (u raprin) tot léjhant les scrijhaedjes e walon.
Li troejhinme cocluzion, c' est ki les 3 cas ki dj' avans veyou ciddé padzeu (L.H, S.K. eyet L.M.) n' ont sepou egzister come bouteus pol walon ki pask' il avént oyou et etindou des djins cåzer walon. Cisse situwåcion la n' egzisteye pus ådjourdu. Ca les viyès djins ni djåzèt pus voltî walon avou les djonnes, nén ddja li djåzer divant les djonnes.
Rivnans al codujhance (copoirtumint) des scrijheus ki s' coplaijhèt a scrire et a rlére leus bokets inte di zels, mins: (1) ki cåzèt francès po-z analijhî tecnicmint ces minmes bokets la; eyet (2) ki dvizèt francès avou leus femes (omes) ey efants, et avou les parey-a-zels [leurs collègues] e leu-z ovraedje.
Ene des cossecances, c' est ki c' est råle et råre di vey on scrijheu d' walon ki l' valet ou l' båshele a rprin ["a continué l' entreprise paternelle"]. Dji n' conoxhe k' on cas: c' est Djohan Virou, li valet då Rodjî. Mins cichal: (1) a cåzé walon a ses efants; (2) divize walon dins si soce di scrijheus å Banbwès, li seule soce di scrijheus wice k' on djåze walon do cminçmint al difén.
U çk' i sont, dabôr, les valets et les båsheles da Hôss [Haust], da Rmåke [Remacle], da Linåd [Léonard], da Copens, da Cårlî [Carlier] … et da Felicyin Bårî, poy c' est a li k' on nd a [c'est de lui qu'il s'agit] ?!
Vo nos la co rtcheyous - el vouxhe, nel vouxhe [que l'on le veuille ou non] - sol minme pont, come l' acinsion [jeu de mot, même point, même pont, l'ascension tombe toujours 40 jours après Pâques]: li nén-cåzaedje ås efants, u, co pus foirt: li nén-håsse di fé des efants [non-instinct procréateur]. Avoz ddja tuzé å grand nombe di curés et di vîs djonnes omes (eyet di viyès coméres) k' i gn a emey les waloneus ?
C' est tot djusse come si l' amour do walon sereut-st aloyî, sicolodjicmint, a on enucaedje, [blocage, "nouage"], li minme ki li "coplesse [complexe] do dierin des Mohicans", k' espaitche di fé des efants (po les curés evnd), u, dins tos les cas, k' espaitcheye d' elzî fé passer si amour do walon. "Li walon doet mori avou mi !" Ci rnacaedje la [répugnance] a fé des efants, u a lzî cåzer si vî lingaedje, si rescontere, avou, amon les ptits peupes sipotchîs culturirmint (eskimos, indyins d' Amerike, pitits peupes del Russeye).
Gn a ene ôte bate di dvize [débat] ki sûne [sourdre, transparaître] foû do live: c' est li kesse tecnike: "Fåt i scrire on walon rfrancijhî come li Mwaisse-Bourdon (F.B.) l' a fwait dins les 2000 pådjes di ses memweres, udonbén on walon literire, come l' ôte grand ALWAK-î, Van Cutsem, s' end aveut fwait li tchampion ?"
Por mi, dins tolminme ké [n'importe quel] lingaedje, gn a totès sôres di liveas [niveaux] dins les scrijhaedjes, et tchaeke sicrijheu(se) a si prôpe sôre di léjheu(se)s. L' inglès da Hemingway n' est nén li ci da Michael Jackson paski les 2 sôres di tecses n' ont nén li minme adierça [cible]. Les soces di scrijheus ont motoit yeu li toirt di ni relire [choisir] ki des tecses pol leccion [littérature élitiste] wice ki tos les mots ene miete måhonteus estént schovés-st evoye [balayés, exclus]. Mins nerén, les 35.000 léjheus(es) do Tonia d' Châlerwè, ene gazete populire ki rexheut divant li guere di 14, i n' léjhént nén do Pére Wiyåme [le Père Guillaume, un poète namurois de très haut niveau littéraire]. I léjhént des bounès cråssès fåves nén pikêyes des viers. Sabay a cbén d' egzimplaires k' el Bourdon 500-501 a stî saetchî, ô, lu ? Tot bounmint a cint-z egzimplaires !!!
C' est tos acsegnmints k' i nos fårè aconter dins nosse boutaedje pol rivicance do walon. Fåt-z esse prin po esse aprin.
---
Lucyin Mahin, divins: Li Ranteule l° 7, bontins 1998.
---
Une question technique et philosophique: la création de néologismes
Les noûmots e walon
Claude Hagège, c' est on grand linwincieus dins ene des univ di Paris. Si mestî : situdyî les rovyîs lingaedjes, ki ça lzî pind å nez di disparexhe divant waire. Endè va låvå e l' Afrike, låvå e l' Azeye avou si eredjistreu, ses micros et tot l' sint-fruskin, eyet mete dins l' boesse li vwès des djins ki dvizèt co des formagnîs lingaedjes, u mancîs lingaedjes [langues menacées].
Tos les lingaedjes del bole ont todi edvinté des noveas mots po-z alomer les noûs cayets k' i rescontrént [donner une appellation aux objets neufs]. Inla, cwand Claude Hagège a ristî pol deujhinme côp amon les Bamoun do Cameroun, avou tote si éndjolreye po-z eredjistrer [matériel d' enregistrement], i lyi avént trové on no po ç' bataclan la : li tabeur-azès-cåzaedjes [tambour-à-paroles].
Vo cial pår on modele di çou k' est on noûmot. C' est on mot k' ene sakî dit pol prumî côp, et ki s' sipåde, après, dins tot l' lingaedje.
Mins, si nos vlans vey ene miete pus lon k' el betchete di nos solés, tchaeke mot ki nos nos endè siervans, ça a stî, on djoû, on noûmot. Poy ki [puisque], la 2000 ans did ci, gn aveut nén on fayé mot d' walon u d' francès dins li " Gåle beljike ". Les djins cåzént tertos gayel [celte, gaulois].
Bén dabôrd, nos fårè rastrinde li definixha. Et s' dirans dju : " on noûmot, c' est on mot k' a skepyî e walon eter 1900 et ouy". Mins ça n' vout nén co dire tcherete.
Comint pout on adjinçner on noûmot ?
Gn a, al boune, cwate mwaissès manires po des noûmots skepyî. Po cmincî, vos avoz li stindaedje do sinse. Metans : atôtchî ene sakî, c' est, aprume, adresser la parole à quelqu'un. Si on l' uze dins l' sinse di communiquer, come nosse bon mwaisse Emile Gilliard, on a on novea mot pa stindaedje di sinse. Vloz co ds ôtès egzimpes ? Li mot cawete, ki vout dire petite queue, est pris po tourner a walon li francès suffixe. Del minme manire : betchete, pointe, divént préfixe, bodje, tronc est metou po racine, radical d'un mot.
Li deujhinme manire, c' est l'&nbps;aparintaedje. On pout foirdjî des parints [des dérivés] tot acawant : [en ajoutant un suffixe] : " machine a laver " dene " machinêye " [pile de linge à lessiver]; " tinre " [tendre] baye " tinrûle" [capable d' être tendre] et did la, " tinrûlisté " : [capacité d' être tendre, tendresse]. Ci mot la aveut ddja aspité mon les scrijheus lidjwès del fén des anêyes 1800, come l' a rilvé li mådjuster Morice Piron en on papî : Formation de la langue littéraire des écrivains liégeois.
On pout co fé des noveas mots tot abetchtant [en ajoutant un préfixe]. A pårti di " vey " [voir], dj' alans askepyî " forvey " [voir quelque chose qui n'existe pas], et did la, " forveyou " [virtuel] eyet " forvuzion " [hallucination]. Ci cial est on mot k' on grand scrijheu walon, portant mo wårdiveus, li Bert Maquet, a uze lanawaire pol tite d' ene ramexhnêye di rimas [recueil de poèmes].
Po fini, mins c' est pus råle [rare], on pout scawer [couper un morceau] l' mot, çou k' les sincieus lomèt e francès dérivation régressive, et en inglès : back formation. Metans, " ene racuzete, on racuze-pote " [un enfant rapporteur] pout divni "ene racuze" po un 'indic' [indicateur au service de la police, délateur]. " Des racsegnmints " plèt divni " des racsegnes " [des infos].
Li troejhinme mwaisse-manire di foirdjî des noûmots, c' est l' acolaedje. Gn a pluzieurs sôres d' acolaedje possibes. Po cmincî, èn addjectif et on no : noû + mot va dner " noûmot " po néologisme [come " tinroxh " os tendre = cartilage, u " cronzoxhea " os tordu = vertèbre]. U s' prindrè-t on on viebe et on pronom : radjiver [récolter et faire une liste] + tot va foirdjî " radjive-tot åzès noûmots " [office des néologismes] sol modele di ratind-tot, raploû-tot, broye-tot, mele-tot. Èn ôte acolaedje : ene divancete [préposition] + on viebe : a + lére nos va bayî " alére " : di l' alére [de la lecture, des documents à lire]; di l' avey [des choses à voir, des attractions touristiques] sol tcherpinte di " di l' amagni, di l' aboere, di l' afé " [nourriture, boisson, chose à faire].
On sait co aplaker on viebe avou si coplemint. I ndè pout rexhe " plake-tot-seu " [autocollant], on noûmot dedja bén spårdou dins tote li Walonreye. Al fén, on pout prinde deus nos, et les mete li deujhinme divant l' prumî, come dins les lingaedjes tîxhons [germaniques] et mwints noms d' plaeces et d' djins d' avår ci. Metans " pî-note " po note de pied de page tot ratuzant : pî-scaye, pî-wå, pî-bate, pî-stok [ardoise et botte de seigle du bas du toit, extrémité du fouet, piédestal], tot mots raglenés pa Djan Hôss dins si clapant Dictionnaire liégeois.
Mins li manire li pus åjheye po des noûmots si stitchî en on lingaedje, c' est seur tot estant calkés d' èn ôte lingaedje. Sapinse Lorint Hendschel, les mots sont des grands voyaedjeus. Li calcaedje si pout fé té ké come po pitza, ninja, cargo, corida, maboul. Ucobén les mots seront rwalonijhîs spotanémint [adaptation phonologique spontanée], come po fotbal, metingue [meeting dans le sens de manifestation ouvrière ou électorale], lanchturne [allemand landsturm, surveillant, ange gardien, commis civil des Allemands à la 1e guerre mondiale].
Les djonnes ricåzeus et raprindisses, et co les linwe-ehåyeus, les cis k' etcherpetèt li walon did dimwin, si vont voltî siervi di ci sôre di radaptaedje la po fé leus noûmots : copiutrece [computer, ordinateur]; govienmint [gouvernement]. C'est çou k' on lome el linwyince [en linguistique] l'adaptation phonologique planifiée.
Asteure, riloucans çou ki s' a fwait polbon so les 200 dierinnès anêyes.
Lapalisse åreut bén yeu dit ki, divant l' arivêye do tchmwin d' fier, gn aveut nou mot po cåzer di machine, di beye, di pikeu [locomotive, traverse, poinçonneur de présence]. Parey po les fosses a tcherbon, les schayires [ardoisières] et vos nd åroz. Portant, nos grand-parints si siervént d' ene banslêye di mots walons po djåzer di l' ovraedje tecnike e beur [puits de mine] u dins les cårires. Ça vout dire ki c' est zels k' els ont foirdjî et ki ça si fjheut tot naturelmint.
Les dierins noûmots k' ont askepyî [se sont créés] spotaneymint e walon, ça a dvou esse, dandjreus, inte les deus gueres : fotbalisse, corne [coup de coin, au football], tévé [télévision], plake [disque], siracuze [herse a dents courbées]. Gn a eto ene cåkêye [foison] di noûmots k' ont aspité dins l' francès d' Beljike, et ki sont don ostant walons k' francès : farde, bik, tank, tchén-bessi [collie écossais], spirou [B.D.], mobilofone [téléphone portable], friteure [friterie].
Dispu 1950, les Walons, metous divant l' bouye [tâche] di lomer des noveas cayets e walon, prindèt håynetmint [carrément] les mots francès. On fjheut çoula dispu lontins, mins davance, on les rwalonijhive mo voltî : scançon [caleçon], årmonreye [harmonie], Walonreye [Wallonie]. Les dierins tins, nonna : on n' riwalonijhe pus. Tot fouytant li Diccionaire des Pårlers do Payis d' Bastogne, mins ddja dvant ça, li Scius di Mâmdi, on ndè pout trover des trûlêyes, di mots riprindous todroet do francès. Metans " ecspropriyâcion " n' a nén divnou, divins li boke des temons da Mitchî Francard u da Houbiè Scius, " esprôpriyaedje ", li fôme ki sereut " normåle " ey erîlêye [régulière] e walon.
Dispu 1995, al boune, les djonnes k' ont-st apougnî et bressî dins [prendre à bras le corps] li schapaedje do walon pretchèt tos tchamps tos payis po les djins fé des noveas mots, et s' endè siervi. Des rvowes e walon come " Li Chwès, " " la Dépêche de Wallonie ", " Li Rantoele ", et pus timidmint " Djåzans walon " eyet " Coutcouloudjoû " eployèt co mo [très] sovint on noûmot u l' ôte. Mî : end a sacwants k' ont passé dins li novea live di mots do Payis d' Nameur da Lucyin Somme, portant nén foirt tchôd po tos les candjmints.
Rivnans a nosse mådjuster Hagège. On bon noûmot, erva-t i co, c' est onk ki les djåzeus comincèt a s' endè siervi a tot côp bon, et k' on-z a rovyî kî çki l' aveut edvinté. Vo vs e cial sacwants di ci sôre la pol walon : ploncaedje [sondage], éndjole, djéndjole, agayon, copiutrece [ordinateur], schoûteu(se) [auditeur, trice], mwaisse del djowe, essinneu [metteur en scène], emile, emiler [e-mail, envoyer un courrier électronique], plake lazer [C.D.], deure plake [disque dur], tuzance [culture, identité], schålance [hiérarchie].
Gn a, avou, des mots ki sont rcopyîs tés kés pask' i sont eternåcionås : les medias, on cheke.
Po k' on noûmot polaxhe adiercî si côp, et s' cossemer [diffuser] pattavå, po bén fé, fåt k' i soeye la po nos ahessî [qu' il soit disponible] divant ki li cayet [l'objet] ni divnaxhe kinoxhou pa tertos. Boutans, si on vôreut " lomer walon " li nouve manoye di l' Urope ki rexhrè torade, c' est asteure et sins tårdjî k' i nos fåt cmincî pa spåde on no walon. Pocwè nén uroliård po euro, eyet uroçanse po eurocent ?
Dins vint ans, mes djins, on n' sårè pus ki c' est vozôtes k' a-st enondé ces deus mots la, e 1999.
---
L. Mahin, divins: Qué walon po dmwin, Quorum, Gerpinnes, 1999.
---
A Malmedy, pour un projet de dictionnaire
Ene après-nonne a Mâmdi
Po les djins do Hôt d' l' Aiwe-di-Lesse [Haute-Lesse], l' Årdene, c' est la wice k' i dmorèt [où ils habitent]. Et ça lzi fwait tot drole d' ôre so ene cassete des Mâmdiyins tchanter : " Mâmdi, nosse vî Mâmdi, twè, li pus bele fleur di l' Årdene. "
Paski, di 6890 Transine a 4960 Mâmdi, minme si on n' cwite nén l' Årdene, gn a dedja ene fameuse trote, påzès ptitès voyes, todi. Et co ene rawete di pus si on s' brouye dins les plakes, et k' on s' ritrove so les zigzags di Spå. C' est co pus sbarant cwand on moenne on " mobil-home " di raboctaedje ki s' lome grandiveuzmint " Li Berweteuse " avou on sourtite [sous-titre]: " Djåzans walon " .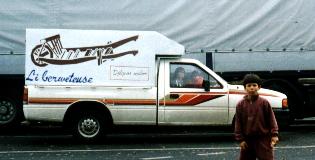 Mågré tot, les djins di Ståvleu trovèt ça mo plaijhant et s' respondèt-i e walon cwand on lzi dmande li tchmwin. Finalmint on-z arive a 3 eures petantes a l' ôtel di Spå a Mâmdi, li raploû-tot do Rweyål Club Walon. Po djåzer did tot, mins co pus rade d' on prodjet di diccionaire francès walon da tertos, li "Franwal", sapinse nozôtes.
Pocwè a Mâmdi ? Paski les Mâmdiyins nos ont mostré l' egzimpe. Po cmincî, gn a l' " Dewier ", ene brike did dipus d' meye pådjes, riloyeyes e cwate gros sillabus. Si dj' åreu dvou bloker çoula cwand dj' esteu-st e l' univ, dji n' åreu seur nén oyou mi rolea [rôlê, rolia; diplôme]. C' est li prumî dico francès-walon ki n' si continte nén di mete å rvier les foyous [fiches] d' èn ôte diccionaire walon francès. Hinri Devier [Henry Dewier], c' est èn ome ki provént del Louviére, mins k' a vnou dmorer tot djonne a Mâmdi. C' est lyi ki, après l' guere, a dispolotijhî li Rweyål Club Walon, po-z e rfé çou k' il esteut dvant: ene soce di scrijheus. Po fé si 'Franwal', Dewier a pårtou d' on vraiy Larousse francès, et ratourner les mots onk dirî l' ôte e walon. On vraiy ovraedje di nûton.
Åddizeu d' çoula, li tåvlotêye diccionaire, [commission dictionnaire], moennêye pa Renêye Boledjî [Renée Boulangier], va co rprinde tos les mots do Scius, li vî diccionaire di Mâmdi di 1890, et do Villers, co cint ans pus vî, li (1780). Et avou l' aidance da Benno Coliene, les mots do ban d' Waime [4950 Waimes], avou ses 8 viyaedjes, et s' vî motî [lexique] di Fêmonveye [4950 Faymonville] da l' abé Bastin, ki rmonte å tins dol Walonreye prûssyinne (1905). Tot çoula, dizo l' ouy do poirtu-pene [sécrétaire] do club, Wili Sefer, k' a rivnou enawaire di Brussele a Mâmdi avou s' cupak, come on dit laddé [avec armes et bagages; radaptaedje e walon di l' almand gepäk].
Ça fwait k' les Mâmdiyins et les nén Mâmdiyins ont fwait cnoxhance, fok [exclusivement] e walon. Li ci ki cåzéve francès payive ene tournêye. On-z a co yeu l' ocåzion, ene feye di pus, di bén vey ki tos les Walons si coprindént, mins ki tchaeconk aveut si acsint. Li ci d' Mâmdi est foirt tchantant, avou des -ong' et des -èng come mon les Marseyès. Les Mâmdiyins, c' est " bèng des Walongs " eto, cabén ki, dins l' esprit des djins, on les a pa des côps cmaxhî avou les ôtes dimoreus [habitants] des cantons redimés, les sprekleus, sapinse Chôze [comme dirait l' autre]. C' est minme les seuls Walons k' ont fwait del rezistance po nosse lingaedje, di pus d' cint ans å long, di 1816 a 1918. Po n' nén k' les Prûssyins ni les meténxhe el prijhon, i n' sinént nén avou leu vraiy nom, mins todi avou on sobricot, ki cmincive pa Fré: Fré Tchedôr, Fré Houbiè, evnd. Ciste uzance la a dmoré disk' a ouy [aujourd' hui].
Après l' raploû, les pus stocaesses s' ont rtrové sol zénk, et taper ene divize avou sacwants vîs Mâmdiyins. Inte di ds ôtès sacwès [entre autres choses], on-z a plaidé des cujhnêyes, on tipike amagnî del coujhene di leu payis [de leur cuisine régionale], avou do haring et des petêyès crompires, ki sont tot bounmint les canadas dins l' buze des Châlerwetîs.
Po continter tos ses candes, li patron di l' ôtel di Spå passe do walon (k' il a aprindou po si mestî) a l' almand, et çoula come i respire. Ci djoû la, gn aveut nou Francès. " Mins cwand i vnèt, on s' esplike bén eto. Nozôtes, les Walons, nos n' estans nén racisses, endè rva-t i avou ene glignete. "
... Dolmint k' les Francès ni vnèt nén po rfé do Bismarck et si rinde mwaisse del Walonreye !!!
---
Lucyin Mahin, li 2 d' nôvimbe 1996, divins: La dépêche de Wallonie, l° 131, djanvî 1997.
---
On l' repete tot costé : li Waloneye va må. Nos pinsans ki li nouk di nos rujhes, c' est aprume li culteure. Ossu lontins ki li culteure walone ni serè nén ricnoxhowe d' å dfoû (påzès institucions etrindjires, beljes, europeyinnes, etc.) come d' å dvins (påzès Walon(e)s zel(e)s minmes), nosse payis serè tofer sitroupyî et ni sårè fé ki clepyî.
Li classe politike walone, come les médias beljikins, stofèt li Waloneye a foice di doter di leye, di si peupe, di si egzistince, di si culteure.
A l' årvier, li prumire bouye di nos politicyins duvreut esse do refoircî li sintumint nåcionål walon, li firté walone, come foice po-z enonder li rnovea del sôcieté walone tote etire.
Li culteure, c'est li moteur d' on peupe. I n' fåt ki rwaitî les payis europeyins k' ont fwait raviker leu culteure, k' i n' s' ont nén leyî spotchî (li Flande, li Catalogne...) et rmete leu-z enondeye economike al distcheyance walone.
Dire ki les Walons n' ont nole culteure da zels, c' est ene minte grosse come li dete del Beljike, c' est niyî l' åme des djins, c' est les rabaxhî. C' est eterer li payis tot etir, economicmint et sociålmint.
Nosse sintumint nåcionålisse
Li mot "nåcionålisse" sint mwais, enute. Ossu volans ns diner ene pitite esplikeye so çou ki nos volans dire avou "nåcionålisse".
L' astcheyance nos a fwait vni å monde so ene certinne coine di tere, a on certin moumint, å mitan di certinnès djins. Nos avans stî aclevés avou des referinces, des rmarkes, des manires di vey ki sont prôpes ås djins ki vikèt so cisse coine di tere la et di ces trevints la. Cisse croejhlåde inte li stindeye et li tins si lome "Waloneye".
Nos n' pinsans nén ki li Waloneye våt mî ou pés k' èn ôte payis ou èn ôte tins. Nos savans seulmint ki nos volans esse citweyins, çou ki vout dire : sayî d' amidrer les afwaires åtoû di nos-ôtes, sayî do fé avancî ci payis la po on mî, waitî ki les djins di dmwin soeyexhe mî ki les cis d' ouy.
Nosse nåcionålisse n' a rén a vey avou li disfinse d' ene "raece". I gn a pont di raece walone. Nos nos di familes, les coleurs di nos vizaedjes mostrèt ki li Waloneye est ene tere pluriéle.
Nosse nåcionålisse n' a rén a vey nerén avou li retroclaedje åtoû di nos clotchîs. Nos volans aprinde des ôtes et lzî ofri çou ki nosse culteure elzî pout apoirter. On payis, come èn åbe, vike di ses raecenes; mins i stofreut s' i n' si laireut nén frexhi des plouves eyet des vints ki vnèt des cwate coines del daegn.
Do côp, nos nos batrans, come Walons, a cåse di nosse culteure walone, conte tos les raecisses et les retrôclés, k' i soeyexhe Walons ou d' ôte påt, et ki vôrént bén fé di nosse payis ene province sins åme ou on tchestea ås spès meurs.
I nos fåt esse, d' on côp, seurs di çou ki nos estans et seurs ki nos volans prinde pårt al vicåreye di l' Europe eyet do monde. Esse citweyins walons, por nos, c' est nosse manire d' esse citweyins do monde.
Nos estans d' acoird avou li "Manifeste pour la culteure wallonne" : s' apinse lu, on-z est walon pask' on vike å payis walon et k' on vike si culteure. Ni pus ni moens.
Nos volans esse citweyin di l' Europe et co do monde. Mins po-z esse citweyin a ces liveas la, i fåt cmincî pa esse citweyin do payis et do tins k' on-z î a vnou å monde. Apoirter çou k' on pout po bati ci payis la å moumint k' on-z î vike. Nén po l' imådje, po ene abstraccion, mins pol bén, po les libertés des djins k' î dmorèt. Nén po s' bate conte des ôtes payis, mins pask' on n' sait vey voltî les ôtes et les prijhî ki s' on sait kî çk' on-z est, k' on n' si rneye nén li-minme. Nos estans å croejhea inte li pårticulî eyet l' univiersel, sins rniyî ene des deus voyes.
Li Waloneye n' a rén di bén e leye-minme : ele n' a di bén ki çou k' elle pout apoirter å monde etir. Po ça, i nos fåt esse nos-minmes, sins pawe et sins grandiveusté.
Sacwants målåjheys mots :
nouk : nœud - rujhe : problème - aprume : surtout, d'abord - å dvins : intérieur - å dfoû : extérieur - s(i)troupyî : handicapé - clepyî : boiter - a l' årvier au contraire - bouye : tâche - enonder : lancer - r(i)novea : renouveau - enondeye : élan - distcheyance : décandence - niyî : nier - noyî : noyer - astcheyance = hazård = atoumance : hasard - coine : coin - r(i)marke : point de repère - croejhlåde : carrefour - s(i)tindeye : espace - amidrer : améliorer - retrôclaedje : repli - vicåreye : vie, destin - s' apinse = sorlon : d'après, selon - prijhî : apprécier - pawe = peu : peur - grandiveusté : orgueil
---
Lorint HENDSCHEL, divins: Source: Li Ranteule n° 4 (esté 1997).
---
On nos bassine mwints côps tot djhant ki tos les måleurs di nosse payis vnèt soeye-t i des Flaminds, soeye-t-i des Bruslers. Nos-ôtes, nos avans les pinses ki li destin del Waloneye est dins les mwins des Walon(e)s zels minmes, aprume ådjourdu, avou li federalijhaedje del Beljike.
Do côp, ni nos brouyans nén d' innmi. Les deus innmis politikes del Waloneye, å djoû d' ådjourdu sont :
1. Les Beljikins ki vôrént bén rivni en erî.
2. Les franskiyons ratachisses, d' acoird avou les beljikins po niyî li Waloneye, noyî li Waloneye.
Li comunåté " francesse " del Beljike (CFdB)
Li peupe walon - å d' triviè di si pårlumint eyet di si govienmint - doet aveur tos les pouvwers k' il a dandjî (economikes, sociåls eyet culturéls) po s' dure a si môde dins l' Europe. Nos n' nos rconxhans nén dins li CFdB, ciste institucion ki n' a nén volou, oizou esse walone. Li CFdB est belje, elle est francesse, elle est tot çou k' on vout, mins ele n' a nén on grame d' åme walone, di volté walone, di politike walone. Ele ni batit nén li nåcion walone, ki do contraire, ele li catche, ele sitofe ses djetons. Ele doet disparete, do moens come elle est ådjourdu.
Aboli li comunåté " francesse " ni vout nén dire k' on n' pout nén sondjî a ovrer d' ene manire ou d' ene ôte avou les Bruselwès mins nén å d' triviè d' ene fåsse comunåté må lomêye ki n' est k' on restant del Beljike avou tos les laids costés del Beljike : disconoxhance del Waloneye, niyaedje di si nom, di si culteure, di si volté d' otonomeye, etc.
A l' årvier di ces eritances la, ki nos n' avans måy volou, li Waloneye doet esse presse a ovrer librumint avou, metans, ses vijhéns (Brussele, Lucsimbork, Rénaneye, Flande, nôrd del France, etc.), les ôtes payis cåzant francès (Brussele, France, Kébec, Romandeye, etc.), les ôtes payis ki s' batèt po costrure leu nåcion ou fé viker leu culteure (des Indyins do Kébec a Timor tot passant pal Kurdistan, li Frize, l' Escosse et vos nd åroz).
Lingaedjes
Li Waloneye doet aveur 2 lingaedjes oficirs :
li francès del Waloneye - nosse francès : li såjhon del " chasse au belgicisme " est hute mes djins. Les mamêyès robetes eyèt les såvadjes singlés polèt bén sôrti foû do bwès do lingaedje !
l' almand dins li comunåté jermanofone
Li Waloneye doet aveur 7 lingaedjes nåcionås : li francès del Waloneye eyèt l' almand, mins ossu : li walon, li picård, li gômet, li tchampinwès eyet li lucsimbordjwès.
Li Waloneye a ossu des lingaedjes comunåtaires a disfinde, a vey voltî et a fé cnoxhe, ça vout dire les lingaedjes des comunåtés abagueyes : itålyin, turk, aråbe, portuguès, etc.
Creyer noste idintité ?
Avou li fiesse del Waloneye 1997, bråmint des omes politikes walons s' ont rindou conte - ene boune novele, po fini ! - k' il esteut tins do cåzer del culteure walone et del riwaitî po çou k' elle est : li screne, li schene del sôcieté. Seulmint... Ni vola-t-i nén k' i cåzèt do creyer ene idintité walone ? A cwè çk' i djouwèt ? I gn a nén a creyer ene idintité walone : elle est la, åtoû di zels. Nos vnans å monde didins. C' est nos. C' est twè, léjheu, ki ti t' lomes Delvå ou Dall'Ava ou Idrissi. Dire k' i fåt creyer l' idintité walone, c' est fé come si li Waloneye sereut ene vude sicafiote, ene institucion k' i fåt rimpli d' idintité. C' est tot li contraire. Les djins d' avår ci si lomèt " Walons " dispu des cints et des cints ans; les djins d' avår ci vikèt avou des odeurs, des cåzaedjes, des bruts, des referinces, des croeyances, des ideyes, des mites ki fjhèt di zels des Walons. Dire k' i fåt creyer tot çoula, c' est dire ki tot çoula n' egzisse nén. C' est rdjouwer li ptit djeu del Beljike, ki s' a bati so l' absince del culteure, sol vude, et ki l' paye tchir asteure. Elle a sayî do niyî di cwè çk' elle esteut fwaite (di Walons eyet di Flaminds), elle a sayî, djustumint, do creyer ene sacwè d' ôte, conte ses djins. Et elle è mourt.
Noste idintité est la. Tot çou k' i lyi fåt, c' est do s' acertiner, di s' refoirci, di trover des institucions - k' arivèt seulmint asteure, et ki n' ont nén a creyer mins a enonder.
Culteure, nåcion, estat...
Si les Walon(e)s, tos costés, sont mî consyints et pus firs di leu culteure (s' on n' les espaitche pus d' end esse mî consyints, s' on les ecoraedje a nd esse mî consyints, s' on s' djoke dels ahonti di leu culteure), i polèt aveur on prodjet. A ci moumint la, i fjhèt ene nåcion. Ci prodjet la skepeye foû di nos ritchesses do passé et d' enute, i s' doet astoker so les valixhances ki les Walons ont todi disfindou : democraceye, adrovaedje, creyativité... Ci prodjet la disclôt ådjourdu.
Donc, nosse prumire bouye doet esse do bati, spåde, refoirci, acertiner, radjonni, rinovler li sintumint del nåcion walone, li volté do fé do novea eshonne. Po ça, i gn a nén mezåjhe di ratinde ki li Waloneye soeye èn Estat. Nos polans cmincî sol côp, sins tårdjî. Ataker sins balziner tos les cis ki nos niyèt (beljikins ou ratachisses, dins li minme banse), mete e valeur nos ritchesses årtistikes, noste istwere sociåle, nos litérateures, nos fiesses, nos croeyances, nos sintumints, nos fåves... nén paski c' est des cayets bén da nos, k' i n' egzistèt nén ôte påt, mins seulmint cwand ces sacwès la apoirtèt ene sacwè po les djins tot avå li monde, cwand nosse culteure aritchit li cene do monde etir.
Pocwè çki dji so Walon ?
Paski dj' a bon !
---
Lorint Hendschel, divins: Li Ranteule l° 5 (erire-såjhon 1997).
---
La promotion (et les revendications) en faveur du wallon: sur la bonne voie ?
Li rclame (eyet li rclamaedje) pol walon: sol boune voye ?
Des ans eyet des razans å lon, les cis (eyet les cines) ki disfindént l' walon el fijhént d' ene drole di manire: elzi faleut ramexhner tos les vîs mots k' on n' dijheut pus, les mete dins des lives di mots, et roister totafwait dins des årmås-ås-lives [bibliothèques]. Les djins k' els avént aidî ni savént nén ddja ki leus rcwerances avént stî eplaideyes [publiées].
Insi, å raploû k' askepia [créa, fonda] li Soce des Rcåzeus d' Walon e 1995 a Transene, Tchåle Delaite, k' aveut, do tins do vî Bon Diè, aspalé Djan Hôss dins ses cachaedjes a Rdû, dimandéve ki l' novele Soce si metaxhe a rnaxher [fureter] dins les sovnances des viyès djins po rtrover les nos walons des harnitchmints des tchvås. Dabôr ki l' Atlas des Lingaedjes del Walonreye (ALW), e si tome 9 rexhou e 1987, dene les ca et les ma [donne un aperçu exhaustif] di tos les wårnixhreyes ["garnisserie" = harnachement] des biesses-ås-sabots.
Portant, gn aveu-st oyeu, sol difén do 19inme sieke, on movmint di rvicance do walon k' aveut stî a deus doets di fé del politike. Insi, sapinse Arnåd Pirote del Måjhon Humblet [Institut Humblet] dins s' live sol movmint walon, èn evoyî [délégué] so cwate å prumî Mwaisse-Raploû [Congrès] walon didvineut d' on movmint di Belès Letes e walon [mouvement littéraire].
Mins, avou l' intrêye e 20inme sieke, li rôlea eyet l' wele [rouleau agricole] sipotcheus do walon si metît-st en erote. Les Beljes franskiyons, ki vnént d' e fé po [perdre] l' Flande, enondît [lancèrent] ene campagne di dzingnaedje ["décimage" = éradication] et di codjåzaedje [dénigrement] do walon, tot waitant d' adierci leu côp [cibler] dé les cis k' avént stî e scole [intellectuels], les femes eyet les efants. Gn aveut pus k' les omes des viyaedjes, les cis ki fjhént des ptits mestîs, k' avént co l' ådjeu [possibilité] d' el djåzer sins s' fé bouxhî so les doets.
Adon, li stratedjeye des disfindeus do walon va dveur candjî. Dins l' parfond d' zels-minmes, ces djins la, k' ont stî e scole avou, ni sont motoit nén siconte del invasion bienfaisante (l' abrocance po nosse bén) do francès. Mins s' voeyèt i eto voltî l' walon. Comint fé po lyi rinde do pî [réhabiliter] ?
Çou k' i rlijhèt [sélectionnent], come tchuze, c' est li cine do diccionairaedje, ki dj' avans dit enawaire, eyet des Belès Letes [littérature]. Et s' fåt i "estetijhî" [rendre esthétique] li walon pal voye d' on produjhaedje di powezeye eyet di proze al copete-leccion [top-niveau].
Cwand k' dji m' renonda dins l' bouye di rmete li walon d' assene [quand je me remis à la tâche de la réhabilitation...], e 1993, dji voeya bén ki ci voye la ni moennéve pus nene påt [nulle part], ca gn aveut pupont d' rezervwer eyet d' batchrêye [pool] di cåzeus naturels, çou k' ahessive [achalandait] les scrijheus do vî tins, etot lzi dnant des léjheus(es) po leus ouves [oeuvres].
Nos faleut ratuzer pår [repenser complètement] li rclame pol walon. El faleut dvizer pattavå, e tos tchamps tos payis, et avou Tibî Meyî [tout le monde]. El faleut raprinde ås efants, eyet sol minme tins faleut k' les politikîs dinénxhe leu-z åjhmince [agrément, facilitation] po l' walon raveur ene bele cåte di vizite emey [parmi, au sein de] li societé walone.
Godferdek, ti ! Fé del politike ! Mins c' esteut petchî mortel po les waloneus del "djermêye 48" [génération], les cis ki disfindént l' walon al viye môde.
Ça n' a nén stî si åjhey ki ça di fé passer l' idêye. Mins dj' avans-st oyeu l' tchance di trover l' voye dedja afroyeye pa des waloneus atipikes (sapinse les "djermêye-48"), come li Rodjî Virou, k' estént la tos presses po nos asployî.
Li raplou di Spå, metou en alaedje pa Djan-Clode Somdjan al difén d' 1998, fourit ene prumire esprouve [fut une première expérience]. Deus pelés et troes tondous del tote nouve askepieye [nouvellement créée] Celure Politike del Ranteule arinnît [interpellèrent] les djins k' estént la e walon. Sbarés, mes omes, mins bén oblidjîs di zels planter balijhe [planter leurs balises = prendre position].
Ylieff, li raloyisse [rattachiste], riclama d' ene trake [déclara tout de go] ki l' walon n' egzistéve nén, veyanmint ki c' est l' lingaedje di Xhoute-si-plout, et come on sait bén ki Xhoute-si-plout est on forveyou [virtuel] viyaedje...
Ôte risdonda [écho] dé Lowi Michel. Li prezidint des Liberås a on bon sintumint pol walon, et s' li cåze-t i bén voltî avou ses deus valets... mins dire tot çoula e francès.
Did la li xhiltante ["sonnante", géniale] idêye da l' Ive Påket, k' aleut divni prezidint del Ranteule, d' ahoukî [appeler, convoquer] les politikis åzès soçnaedjes di Djiblou, des soçnaedjes pår e walon, come di djusse.
Gn a-st oyeu deus sfwaits rabindlaejdes [réunions], onk avou les tiesses des pårtis politikes, et èn ôte avou les rprezintants des veyes eyet comenes.
Li bilan des deus rapoulaedjes a stî discuté enawaire sol djåspinreye éndjolike [forum sur Internet] e walon "Viker", copurade pa Lorint Henschel, Luk Beafayi eyet Djozi Schoovaerts.
Al comince, l' airance [l'ambiance, le ton] esteut pîlåd et breyåd [plaintif, plein de commisération] (mins les Walons sont come ça fwaits, cwè vouss !). Les politikis ni savént djåzer do peur walon, djusse on maxhot a môde di franlon [sabir] (c' est dins-n on messaedje avoyî dins mi e-boesse pa ene sakî ki n' vout nén k' on deye kî).
Tant k' ås relîs [élus] des comenes, i n' fijhît [fît, fijît = firent] ki d' lijhî [lister] les accions passêyes des gropmints walon di leus comenes, sins eplaidî [rendre publique] on pordjet d' novele politike pol walon.
Mins nerén [néanmoins]...
Gn a-st oyeu des tchéns a gros golés [grosses pointures, "dikke nek"] del politike k' ont stî vnous dvant les djins djåzer walon, inte di zels li Lowi Michel eyet li Valmi Féaux.
Gn aveut bråmint des femes - å deujhinme raplou, todi - k' on dit todi k' ele n' ont waire d' agrès, nén pol politike, nén co pol walon.
C' est l' fén prumî côp, pus k' seur [plus que sûr], ki des politikîs et des politicresses d' Ocnî [Ottignie], di Fernelmont, di Bertrès eyet di Mâmdiy s' oyèt dvizer walon n' on l' ôte divant les djins [s'entendent mutuellement parler wallon en public].
I sont revoye mo enondés [très motivés] eviè leus comenes, avou e leus tiesses l' idêye di fé passer sacwants ptits candjmints, des tchitcheyes mins a hôte poirtêye simbolike, come li havtaedje di plakes di rowes e walon.
Tot çoula avou on fel rascoviaedje påzès medias, ostant les tévés do payis [télévision régionale] ki l' posse [radio] et les gazetes.
On (gros) pont di dpus pol veyåvisté [fait d'être visible] do walon.
---
Lucyin Mahin, li 17 di måss 2000.
---
Bilan de la promotion du wallon septembre 1999 - septembre 2000
So èn an
Julos Beaucarne vént d' fé rexhe ene novele plake lazer, pår e walon. I n' aveut pus rén fwait pol walon dispu di pus d' vint ans. Voeyoz bén, mes djins, k' i gn a ene sacwè k' est ki candje, pol moumint, å dfwaite do walon.
Gui Cabay, å raploû d' Djiblou sol tchanson e walon, o moes d' nôvimbe 1999, aveut rilvé l' minme pont, lu eto. Po on côp, gn a åk di novea dizo l' solea, aveut i dit tot nos prezintant si dierinne plake "The biesse tof ".
Si on tape ses ouys en erî, et fé li bilan di l' anêye k' est hoûte, on pinsreut bén ki c' est come si on moteur, ki tournéve å ralinti, s' åreut yeu escoûssi [emballé] d' on plin côp.
Cåzans des gros colés [V.I.P.], po cmincî; dj' ô bén les cis ki c' est leu mestî di fé li rclame pol walon et ki sont ricnoxhous po ça:
Michel Francard a rexhou on ptit live di sinteze so les lingaedjes d' oyi el Walonreye, pol Buro des Formagnîs Lingaedjes [langues menacées] di l' Urope (ki si cinte, c' est a Brussele). Tant k' a Jean-Luc Fauconnier, a priyî des sincieus, des bouteus pol walon et des politikîs a Nameur, po waitî di disfagnî li ricnoxhance, pal Beljike, del Tchåte [charte] des Mancîs Lingaedjes di l' Urope, k' i gn a pus k' sacwantès dictateures linwistikes (aprume li France eyet li Beljike) ki n' l' ont nén co csiné [ratifiée]. Les droets del djin, on les rwaite sovint dins-n on traitoe [entonnoir]: po ls ôtes on voet lådje et po lu-minme on voet stroet.
Do costé do teyåte e walon, les djouweus, et les redjisseus, divnèt des vraiys djins d' mestî [professionnels], veyanmint les troes tropes ki s' ont rtrové al finale del cope do Rwè : les cis d' Ceréxhe, les cis di Serè då Jean-Marie Warnier, et les cis d' Djenrè då René Brialmont. Des djins d' mestî, di dju, ca il amontèt, asteure, des pîces da leur, et nén fok [pas simplement] radapter les cines des ôtes.
Li candjmint, c' est ossu li ricnoxhance pås politikîs di l' ovraedje di ces djins la, nost ovraedje, cwè : les wangneus del Cope do Rwè ont stî rçûs på govierneu del Province do Lussimbork, pol prumî côp, si dj' el tén bén... et po fé come a Lidje.
Si on rlouke do costé des lives : gn a ene peclêye d' eplaidaedjes [publications] k' ont moussi foû so èn an. Dj' aveu, å moes d' may, al riclame a l' Aberteke di mi waibe Etrernete :
Emile Gilliard; Conjugaison et lexique de 5000 verbes wallons; classés en 70 modèles types, d'après l'accent de l'entre-Sambre et Meuse; diffusé par l'auteur, 860 F port compris.
Henry Petrez; Fåves do Baron d' Fleuru;

fables avec traduction française, illustrées par Elisabeth Ivanovsky; 500 F,

Editions du Bourdon
Emile Lempereur Do tcherbon dins les flates;

Souvenirs d'un instituteur; 300 F

Editions du Bourdon
Marcel Hicter; Contes Hesbignons;

contes anectodiques avec de superbes illustrations en couleur de René Hausman, 990 F Editions du Musée de la Hesbaye, rue Maurice Delmotte, 68, 4350 Rmicoû (Remicourt).

Christian Quinet; D' orâdje in ardi

(D'orage en arc-en-ciel); recueil de poèmes, accent de La Louvière, Editions les Scriveus du Cente; 300 F port compris, Contact:

Edmond Taquet
Jean-Jacques Gaziaux Des Gens et des bêtes,

Le wallon de Jauchelette (Jodogne) pour parler du cheval, du porc et d'autres animaux de basse-cour; texte dans le style des thèses de dialectologie (trame en français pour présenter les termes ou les phrases wallonnes); Traditions et parlers populaire Wallonie-Bruxelles, diffusé par l'auteur 450 F + port: Contact:

J.J. Gaziaux
J.M. Lecomte,

Lu Bone Novèle du Nosse Sègneûr Jésus-Christ sèlon Sint Luc, traduction de l' Evangile de Saint-Luc, diffusé par Notre-Dame des Récollets, place du Martyr, 78, 4800 Vervî

Assimil wallon (3e tirage):

à nouveau en librairie.
Vos voeyoz: end a pår po tos les gosses [tous les goûts].
Çou k' est co pu ecoraedjant, c' est k' n a des noveas cayets, [choses] des novelès cdujhances [comportements] ådfwaite do rwaita et d' l' avuzion sol walon.
Po cmincî, ki l' walon ahåyaxhe [convienne à] ene grande måjhon come Assimil. Des djins d' mestî k' on t fwait leu rclame come des djins d' mestî. To sins bén: li walon fouri, ene samwinne å lon, sol prumire pådje di totes les gazetes del Walonreye. La åk, saiss, twè !
Et voci co ene ôte prumire : li coferince da Jean-Pierre Hiernaux eyet Djåkes Market å Noû-Lovin, wice ki les rzultats di rcwerances sincieuses - del sociolodjeye - ont stî prezintés e walon, ene samwinne divant d' l' esse e francès en on raploû eternåcionål.
Après, nos fåt dvizer del ramxhireye [intense activité] k' i gn a do costé del Rantoele Daegnrece (Etrernete). "Viker", li djåspinreye éndjolike [liste de conversation] metowe en erote pa Lorint Hendschel pol Soce Nén Recwårlante [ASBL] "Li Ranteule" toûne mo bén. On-z î cåze pår e walon, minme so des sudjets tecnikes come li scrijhaedje et l' ôrtografeye.
C' est, sapinse nosse Djohan Viroux, ene sacwè d' novea et di foirt pôzutif.
Gn a co ôte tchoi di tot novea : ene gazete éndjolike, ki vos rçujhoz po rén dins vosse boesse ås emiles eyet ki s' lome Rabulets. L' apinse [idée] est nouve, mins eto çou k' gn a ddins : des berdelaedjes so les babuzes di nos politikîs, mins copurade des dessinaedjes et des scrijhaedjes erotikes, et, avou, deus spirous (BD) e walon, onk po les grandès djins, onk po ls efants. Emilez a José Schoovaerts (schoovjose@worldonline.be) po-z awè ene cédérome des 150 prumirès pådjes, pol pris k' ça lyi costeye.

0000000000

Et, come on n' a fok li bén k' on s' fwait, nos fåt cåzer, eto, di l' Aberteke.
Li Walo-Net-Magazine (http://aberteke.walon.org) a rexhou cåzu tos les moes, e 1999-2000. A tchaeke côp, dj' î eplaide [publie] on scrijhaedje di prôze nén racontrece; dj' ô bén èn årtike come dins les gazetes. Vochal çou k' gn a yeu dispu l' moes d' setimbe 1999:
Sins rovyî li waibe da l' Albert Volral, li scrijheu et djouweu d' teyåte e walon do payis d' Tchålerwè, wice k' on pout dmander ses pîces a-z awè pa emilaedje.
Pu, li dierinne codowe, tote tchôde modowe, li waibe di l' UCW (http://ucw.walon.org), wice ki vos ploz awè, so voste éndjole, li gazete Walo + di l' UCW. Proficiåte a Paul Lefin eyet Stéphane Quertinmont.
Gn a eto mes foirdjaedjes di belès letes [créations littéraires], ki parexhèt a fwait so mi waibe (http://aberteke.walon.org). Et dji vs ricmande, po les moes a vni, di shure li roman " Vera ", ene novale egzotico-istorico-erotike ki s' passe el Crimêye.
Sins rovyî des lives k' ont vudî e francès, sol walon, inte di zels li ci so Maurice Piron. Maurice Piron fouri onk des mwaisses del "Djermêye 48 " [génération 48], ene troke di waloneus k' ont fwait tant d' bén pol cwålité do scrît walon, mins tant d' må pol cåzaedje, dabôr po li rvicaedje do walon et si ricnoxhance come ene prumiristé [priorité] po diswalper [développer] nosse tuzance [identité] walone.
Djustumint, les noveas bouteus(es) ki montèt les boûssons del schålance [hiérarchie] des waloneus, i (ele) si fjhèt on foirt di cåzer walon. Dj' end agritchrans cénk å tåvlea d' oneur.
Christine Tombeur, di Djnape [Genapes], e Roman Payis, k' a askepyî [créé] ene soce di rcåzeus, et ene dramatike ki djouwe fok e walon, et ki scrît dins l' Bourdon, et dins les Noveles des Walons Scrijheus d' après l' Ban-bwès. Ele vént d' rascode li Pris del Marlagne po des xhîltants [surprenants] rimas po les ptits efants.
Yves Paquet, di Djiblou, k' a-st adjinçné des soçnaedjes wice k' a assaetchî les tchanteus di tote li Walonreye (nôvimbe 1999), les politikîs des comenes, inte di zels, li minisse Henry Michel et l' govierneu Valmy Feaux (fevrî 2000), et tos les waloneus avou leus efants (may 2000).
Pierre Otjacques, do Tchestea, k' a stî mwaisse-etcherpeteu [producteur] del plake lazer di tchansons e walon " Emacralaedje" wice k' on-z e veyou, eshonne sol minme plactêye [

contenu du CD

], des tchanteus d' après Châlerwè (André Gauditiaubois, Dino Forlane), d' après Nameur (Lorint Hendschel, René Binamé) et di l' Årdene (Bruno Picard, Véronique Malempré)
Chantal Denis, d' Inguezêye et Luc Baufays do Rou, k' ont fwait rexhe ene cédérome pol sicolaedje do walon, ki mes efants djouwèt avou, zels tos seus, foû d' leus scoles di walon. Assaetchî des efants aviè l' walon pol voye di l' odiovizuwire, la åk, la, twè, valet !
C' est damadje ki , do costé d' Lidje, n' a waire di djonnes bouteus ki djåzèt walon a tot côp bon et ki s' acmaxhèt voltî avou les djonnes waloneus des ôtès provinces.
Damadje eto ki les cis ki vlèt eplaidî [publier] do walon avou leus prôpès çanses, ont målåjhey d' adiercî leu côp [d'atteindre leur but]. Insi, li "Et cwè chal ?" des "Noir Dessin" a dvou stater après troes limerôs. Nosse "Calindrî walon" va fé bårete ossu, po 2001.
Do costé des scoles, et do scolaedje oficir do walon, on ratind todi avou.
Li ci ki ratind n' a nén håsse !
---
Lucyin Mahin, divins: Li Ranteule l° 16, erire-såjhon 2000.
---
Fé do walon e 1997: po-z avni a cwè ?
Po responde a ci kesse la, li scrijheu (do tecse e francès vaici) riwaite, po cmincî, pocwè k' on fjheut do walon divant 1997. Motoit bén ki les prumîs diccionairîs, come Forir, avént les pinses di fé skepyî [développer] on walon k' åyaxhe sitî on vraiy lingaedje, come les Slovakes l' avént fwait o minme moumint.
Etur 1816 eyet 1918, on-z a co fwait do walon, a Mâmdiy, po rezister ås Prûsyins ki vlint tîxhondijhî [germaniser] tot ci payis la.
Mins a pårti di 1920, on a pus rade situdyî les "patwès" ki di tuzer a fé on vraiy lingaedje avou li walon. Les scrijhaedjes divént esse d' on si hôt livea, - et çoula sins k' on-z aprindaxhe li walon e scole -, ki les djins ont stî maytés [complexés] avou l' idêye k' il estént trop biesses po scrire li walon sins fåte. Dins ene gazete do Lucimbork, gn a co ci spot cial e tiesse di tchaeke eplaidaedje e walon: cwand dji n' sé rén, dji m' tai !".
Ça fwait k' les djins n' ont pus djåzé ni scrire ki l' francès.
Les dramatikes [troupes de théâtre], miraculeuzmint, ont passé houte di totes ces rascråwes la, et on pout dire ki, noûf côps so dijh, c' est po djouwer sol sicanfår [la scène] ki les djins fjhèt co do walon e 1997. Mins nerén, e 2007, e 2017, et après ???
Si nos vlans po do bon schaper li walon come lingaedje del Walonreye - et nén come djowet po les foclorisses passer leu tins avou -, i nos fåt aler eviè li vraiye såme [dans le vrai filet, vers le vrai but]. Ça vout dire, waitî d' raprinde a des ptits efants di 5 a 12 ans a s' endè rsiervi po s' atôtchî [communiquer] etur zels.
Oyi, mins çoula ni s' pout fé ki dins èn adjinçnaedje mo bén atuzé [une organisation très bien conçue], ki dj' è dnans les mwaissès-vienes [dont nous donnons les grandes lignes] el difén d' nosse papî.
---
Lucyin Mahin, li 4 di nôvimbe 1996, divins La dépêche de Wallonie, l° 132, fevrî 1998.
---
Wallo-locution et renaissance du wallon.
Cåzer do walon e walon
Disk' asteure, les waloneus avént bråmint bouté sol sicrijhaedje. I faleut scrire des powinmes udon del prôze, et fé des rvuwes e walon po les publiyî. Di ces tins chal, gn a ene novele djermêye [génération] di djonnes Walons ki s' ayive [qui perce, qui se développe] ki tuzèt a ene ôte prumiristé. Dji dirè minme: å prumî-d'-tot des prumîs-d'-tot [a la priorité des priorités]: pus tant scrire, eyet bråmint pus: cåzer, djåzer eyet pårler walon. Divins ç' voeyance vola [dans cette optique], li scrijhaedje n' est pus k' ene aidance, èn astoca pol cåzaedje et nén l' gôl la k' i fåt choter, s' apinse li fotbalisse. Ça fwait k' li scrijhaedje divént bråmint pus libe. Sacwants bokets d' letes riçowes påzès Ranteulîs ci moes chal ki mostrèt k' les noûs-waloneus ont ça e trexhe [sont préoccupés par ce sujet].
Do côp, l' acmaxhaedje des walons, k' esteut l' hantize des prumîs waloneus, divént ene cwålité.
---
L. Mahin, li 09/07/1995 , nén eplaidî so papî.
---

(Page des textes en wallon sur les langues) Li pådje des lingaedjes.

(Page des textes sur l'action politique en faveur du wallon) Li pådje del politike pol lingaedje walon.
---

Si des mots difficiles se présentent à vous sur ces pages, allez voir s'ils ne sont pas expliqués dans le Splitchant motî do walon (avec brève traduction française), ou dans le Wikipedia, l'encyclopédie en wallon (suivez: "Pordjet Esplicant Motî").
---

(Index des sujets traités en wallon unifié) Djivêye des sudjets diswalpés e rfondou walon.

(Index des auteurs dont les textes sont disponibles en wallon commun) Djivêye des scrijheus k' ont scrît u k' ont stî rashious e rfondou walon.

(Back homepage) Hay ervoye al mwaisse-pådje

(page menu du wallon commun) Alans rzè eviè l' pådje moennrece do rfondou walon.

(Back liste des articles journalistiques de L. Mahin) Ralans è sol djivêye des scrijhaedjes di papîs d' gazete da Louline Voye
---
Sacwants scrijhaedjes di cisse waibe chal polèt esse dizo abondroets; nos les rsaetchrans foû s' i fåt. Les papîs da Lucyin Mahin polèt esse ricopyîs et ratournés francmint, tot metans l' no do scrijheu et leu-z adresse did so les fyis.
Some texts published on this site may be affected by copyrights and eventually need to be removed in the future. Papers from L. Mahin are free, inluding translations, quoting the author and their URL source.
---