Textes sur des sujets politiques en rapport avec la langue wallonne.

Sicrijhaedjes sol politike a vey avou l' lingaedje walon.
Dressêye:
---
Un redécoupage de la Wallonie ?
Ridiscotaeyî l' Walonreye ?
Sol franke aberteke [forum Internet] "Toudi", ki des bokets sont cobén rprins pal rivowe do minme no, gn a kécfeye des raloyisses ki vnèt dire li leur. Boutans, Monsieu Rodofe Lamy, dins " Toudi " 44.
Por lu, come di djusse, gn a nén a crankyî: i fåt, sins tårdjî, raloyî tote li Walonreye al France (cabén ki l' France, dispu Napoleyon, n' a måy pus rclamé des bokets del Beldjike), et franc come on tigneus, il atåvele les modalités d'applications di si idêye:
hapaedje al Flande do Payis d' Rode [Rhodes-Saint-Genèse], po raloyî les teritweres del Walonreye eyet d' Brussele et les dner eshonne po buskinter l' France.
hapaedje des Forons å Limbork po ndè fé èn ôte coli-bistoke [colis-cadeau].
rindaedje a l' Almagne des noûf comenes cåzant almand di l' arondixhmint d' Vervî.
Gn a deus sôres ki sont pår åjheyes: rifé l' istwere, eyet ridiscotaeyî les payis.
Téns, et pocwè nén ridiscôper l' dorêye d' ene ôte façon: tot shuvant les "frontires linwistikes" ?
Po croyler [tracer (à la craie)] les frontires linwistikes, gn a rén d' pus biesse: gn a k' a loukî dins ké lingaedje ki les nos des plaeces des viyaedjes sont lomêyes: li lingaedje del toponimeye serè rclamé, ipso facto, li lingaedje do payis.
Dabôrd, li prumî cayet a fé, ci sereut k' el France rindaxhe al Walonreye Djivet et tote li bote, ça vout dire les viyaedjes shuvants: Åbruve, Tchårnoe, Tchô, Fepén, Fweche, Fromlene, Fumwè [Fumay], Han-so-Mouze, Arniye, Aibe, Idje, Landritchamp, Montneye-so-Mouze, Ransene, les Vireus et Valran, et motoit Rvin. Les viyaedjes tchampnwès del Walonreye, Suni, Pûsmadje, Bôhan, Mambe, Badjimont et Cou-des-Såts pôrént raler avou l' Tchampagne di France, come i l' ont pacô dmandé. Vocial li mape d' on sfwait ridiscotaeyaedje, ki mostere l' aschate bijhrece do Payis tchampnwès: li roye Cou-des-Såts, Rivin, Suni.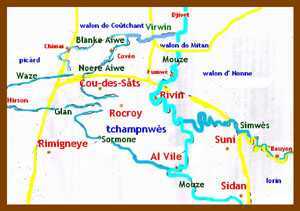 D' èn ôte des costés, li Walonreye rindreut å Lussimbork tos les viyaedjes do Payis d' Årlon ki djåzèt lussimbordjwès: Årlon, et les viyaedjes di s' ban, Atert et les viyaedjes di s' ban; Maessanceye (Miezich, Messanci) avou les viyaedjes di s' ban, et l' comene, nén rebanêye, di Måtlindje (Martel, Martelange). Et eto Hachî (Häerzich) avou li hamtea d' Foûche, rebané avou Habâ et Tîtindje (Tënnen, Tintange) rebané avou Fåvyî .
Li Walonreye råreut djusse al Grande-Dutcheye, Doncô et Sonlé.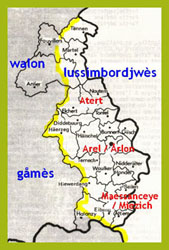 Mape do "Payis d' Årlon", u Payis vî-bedje tîxhon-cåzant (dipus d' detays cial)
Téns, Monsieu Lamy, tins k' vos î estoz, vos pôrîz eto dire a vos soçons francès k' i rindexhe al Grande Dutcheye les bokets k' i lyi ont hapé, come les Almands, åresse.
Mape di l' ancyinne Dutcheye do Lussimbork (cwårtî tîxhon), eyet si disboctaedje (dipus d' detays cial).
Li "rindaedje" a l' Almagne des viyaedjes des Redimés Payis et des ôtes viyaedjes bedjes cåzant des lingaedjes "almands" n' est nén ossu simpe ki nosse camaeråde et drole di monami, Lamy, nel vout bén dire.
Po cmincî, gn a ene pårteye di ces viyaedjes la ki cåze lussimbordjwès, nén almand. C' est l' payis d' Sint-Vi (Zent-Vaït e lussimbordjwès).
Dins on studia k' a ddja divni ene referince, rahoukêye tofer påzès cis ki corwaitèt les lingaedjes tîxhons del Beldjike, li mådjuster P.H. Nelde di l' univ di Wiesbaden a mostré les diferins bokets des contrêyes djermanikes del Beldjike.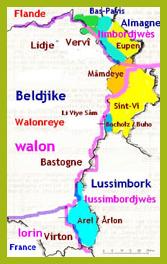 (e lussimbordjwès avou esplikêyes en inglès cial)
Les bokets tchaborés e djaene so nosse mape sont çou k' i lome les "Payis tîxhon-cåzants Noûs-Bedjes" (Neubelgisch), conoxhous e walon dizo l' alomåcion "Redimés Payis", ey e francès "cantons de l' Est". A rilver ki: li payis d' Måmdeye (en orandje) k' esteut, politicmint, dins les Redimés Payis, ni djåze nén tîxhon, mins walon.
E bleuwe coleur, les "Payis tîxhon-cåzants Vîs-Bedjes" (Altbelgisch), k' i gn a troes bokets:
el Bijhe: les intités di Plombire (Bleiberg), Bêloû (Baelen), et Welkenrote (Welkenraedt). Gn a eto Rebievå (Remesdael). C' est a pô près les noûf comenes ki Monsieu Lamy djheut dins s' papî.
å Mitan: li viyaedje di Bhô (Beho), rebané avou Govî, et ses hamteas, apus ki Cmanster.
a Nonne, c' est l' Arelerland, li Payis d' Årlon, ki dj' avans dvizé enawaire.
Tant k' ås Forons, li ptit vete boket sol mape, i cåzèt limbordjwès, dj' ô bén: ni flamind, ni walon, ni lussimbordjwès. Asteure, si vos vloz rmete e Walonreye les teres limbordjwesse di l' ancyinne principåté d' Lidje, vos fårè aler disk' a Tongue, monparan. Mins Vandenbrandt boerleyrè bén ki vs estoz on fameus monami, Lamy, po ndè ponre des sfwaites.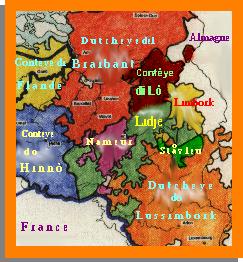 Mape des payis d' avår ci el Moyinådje (diviè 1200): li conteye di Lô eyet l' Limbork alént divni lidjwès waire après.
Tant k' a Brussele, si on rwaite co on côp li no des plaeces (toponimeye), elle est bén lon erî del Walonreye. C' est on payis flamind, k' a divnou asteure on payis eternåcionå.
Et l' droet des peupes a decider d' zels-minmes, dj' ô bén: les Brusselwès ki djåzèt francès, mins ki n' si rclamèt nén Walons ?
Oyi, elzî fåt dmander leu-z idêye. Mins, si on cåze do droet des djins, ni rovyîz nén eto di dmander ås Arabes di Brussele a ké payis k' i vôrént esse raloyîs. Ni rovyîz nén k' èn efant so deus ki skepeye a Brussele est Arabe.
Téns, pocwè n' nén dner Brussele å Marok, et dmander, po discandje, ki n' reclame pus a l' Espagne Ceuta et Melilla, et sacwantès miernowès pires dins l' mer astok ?
Asteure, soeyans serieus come ene poye ki pixhe (so vosse respet), u, dijhans, soeyans serieus come on påpe. Pocwè n' nén fé:
ene kiminålté-redjon avou les payis tîxhon-cåzants, avou l' almand linwe oficire, et troes lingaedjes do payis: lussimbordjwès, ripuwaryin et limbordjwès.
ene kiminålté-redjon avou l' restant del Redjon Walone, avou l' fancès lingaedje oficir, et cwate lingaedjes do payis: walon, picård, lorin (gåmès) eyet tchampnwès.
ene kiminålté-redjon avou Brussele-mwaisse-veye, avou l' fancès et l' neyerlindès langues oficires, et l' marolyin come lingaedje do payis.
Tot wårdant eshonne nosse pôve viye laide Beldjike, avou s' cwatrinme boket:
li cminålté-redjon d' Flande, avou l' neyerlindès come lingaedje oficir, et deus lingaedjes do payis: flamind et limbordjwès.
Nosse pôve viye laide Beldjike, di dju, ki, ç' côp la, si dixhomberreut [se hâter] po siner li Påye des Moens Spårdous Lingaedjes d' Urope [Chartre Européenne des langues moins répandues].
Mins dji di ça et dji n' di rén.
---
Lucyin Mahin, li 4 di setimbe 2002.
---
Initier un débat juridique sur la nature du wallon ?
Enonder ene bate djuridike sol nateure do walon ?
Nosse pa m' a todi dit:
"Si to vous viker pepérmint, waite di ti houwer [s'écarter] erî d' troes cayets: li politike, les bankes po t' pruster des çanses, et les tribunås".
Dji l' a schoûté so les deus prumîs ponts (a l' après di sacwants eprontaedjes po basti ene djîsse el Walonreye, et po m' atchter mi prumire oto), mins nén sol troejhinme.
Dj' a stî ezès tribunås dipus sovint k' a m' toû, puvite po m' disfinde ki po-z ataker, et copurade po raveur des cwårs a des cis ki m' avént ploumé tot profitant del fiyåte ki dj' elzî av' diné. Ça fwait ki, dispu ki dj' m' a metou a m' boûsse e 1985, dji m' a rtrové divant les Noerès Cotes [instances juridiques] po bén ene boune cwénzinne di dossires.
Dj' î a coschirer ene banslêye di liårds, k' årént polou esse mî eployîs ôte påt. Mins dj' a wangnî so deus ponts: po cmincî, li respet des cis ki handlèt avou mi, et ki savèt bén k' i n' fåt nén djouwer avou les pîs da Bibi; adonpwi, on tuza djuridike, k' a divnou come ene deujhinme nateure, et ki m' fwait rwaiti avou des noveas ouys les bretes et les margayes ki dji voe totåtoû d' mi.
Rivnans, èn an après, sol prustaedje di siermint da Clåde Snaps a Bovetchén. Clåde Snaps - k' a divnou enawaire Ranteulî - aveut moussî e Cossey Cominå come consyî di l' opozucion. Å prustaedje di siermint, i djha, e walon "Djë djëre fèdëlté al Constëtucion et schoûte ås lwès del Peupe Belje", estô [au lieu] del minme fråze k' il esteut oblidjî d' dire e francès.

Li mayeur rifuza l' siermint e walon, tot s' astotchant sol pont del liwè ki dit k' a Bovetchén, li siermint doet esse prusté e francès, come ezès ôtès plaeces dizo djuridiccion del cominålté (Francesse) Walonreye-Brussele.
Les cis k' avént, divinltins, prononcî leu siermint e walon, i l' avént fwait al vinvole après leu siermint e francès, come li Rodjî Viroux, a Fosse, la ddja d' ça ene tchoke. Sapinse Pablo Saratxaga, çou k' il ont dit après l' siermint e françès, ça n' a fok ene valeur d' essegne [portée symbolique]. Djuridicmint, c' est do balvint [paroles en l' air]. Come, a Montzen, les shijh conseyîs so ût, ki djhît leu siermint e ripuwaryin (li "walon" d' avår la) après l' aveur dit e hôt almand (vaici).
Clåde Snaps, lu, nel dijha nén e francès standård, et shuvanmint, si fé cayî a l' ouxh del comene di Bovetchén.
Vola don l' kesse po nosse tuzaedje d' enute [réflexion d' aujourd' hui] " Djë djëre fèdëlté al Constëtucion et schoûte ås lwès del Peupe Belje " est i u nén do francès, dins li sins del mwaisse-liwè [constitution] del Beldjike, ki dit å hagnon 38 (si djel tén bén) k' on s' pout siervi di tolminme ké lingaedje el Beldjike, apus k' po les cayets d' police ubén d' djustice. Doet seur gn aveur ene sadju, dins l' coschônêye ["gironnée"] di lwès k' ont rexhou dispus 1830, ene ki dit ki l' siermint po les comenes doet esse, a Bovetchén, dit e francès.
Mins k' est çu, li francès ?
Si on shût li råjhonmint des diyalectolodjisses classikes, sovint metou noer so blanc dins les eplaidaedjes del Société de Langue et de Littérature Wallonne, li walon est on patwès do francès, et gn a ene cotinouwance inte li lingaedje di Måmdey eyet li ci d' Pwetî u d' Clermont-Ferand, k' on n' såreut waire mete di baye eyet d' bårire inte di zels.
Mins si l' walon est on patwès do francès et ki l' patwès c' est ene (laide) manire des ptitès djins di djåzer l' francès, dabôrd, "Djë djëre fèdëlté al Constëtucion et schoûte ås lwès del Peupe Belje ", c' est do francès, må prononcé, mins do francès.
Ça fwait k' l' Clåde Snaps doet esse rimetou el plaece ki lyi rvént e consey do Bovetchén. Et l' mayeur lyi doet payî ene grosse potchtêye di napoleyons di damaedjes ey eteresses.
Èn årgumint des ameteus [partie demanderesse] dins on sfwait procès, ci sereut ki li Beldjike ni vout nén, disk' asteure, siner li "Påye des Moens Sipårdous Lingaedjes di l' Urope" [Charte Européenne des langues moins répandues], çou k' on lome po fé coût, li Påye des Ptits Lingaedjes. "Påye", tot s' rimimbrant li viye Påye di Fexhe, est on vî mot walon po dire charte, traité, çou k' amoenne li påye, dai !
Dabôrd, c' est ki l' Estat bedje, k' a fwait li lwè sol siermint, n' a måy ricnoxhou ene diferince inte li walon eyet l' francès. Ene ôte prouve: ezès rcinsmints del djin, et mågré les dmandes del S.L.L.W., li govienmint bedje n' a måy bén vlou dmander ås djins s' i cåzént walon, rispondant ki l' walon, c' esteut parey å francès. Çou ki dveut esse mostré [CQFD].
Et asteure, si les disfindeus [partie défenderesse] apoirtént des prouves ki l' walon est ene langue tot mostrant metans, li nouzome ovraedje des rfondeus (tapoz èn ouy sol waibe do rfondou walon). Ubén si l' Beldjike, si rapinsant, sene d' on randon li Påye des Ptits Lingaedjes ?
Bén adon, li walon sereu-st on ricnoxhou lingaedje, et s' gn åreut i pus nou ratna por lu aveur si plaece dins tos les hagnons del veye politike el Walonreye, inte di zels li prustaedje di siermint ezès comenes.
C' est ça, la, wai, li tuza djuridike: apontyî s' dossire po k' on s' î rtrove todi, ki l' procès våye sol voye k' i vout.
Djans, trovans nos on bon avocåt ki voye bén bouter prodio.
---
Lucyin Mahin, li 27 di decimbe 2001.
---
2001: Débat à Mons sur l'existence ou non d'une culture wallonne.
Bate di dvizes Fontinne-Govaert sol culteure walone.
Ål difén do moes d' måss 2001, li 20/3, po fé do spepieus, José Fontinne, li mwaisse eplaideu del rivowe "Toudi", aveut rapoûlé a Mon ene pogneye di djins po tuzer å çou-k'-c'-est [nature, essence] del culteure walone.
Li priyî [invité] esteut on gaztî d' Brussele, Serge Govaert, k' aveut scrît on papî dins "le Monde" po dire håynete et platkizak [sans ambage] ki l' culteure walone n' egzistéve nén.
Po cmincî, sapinse José Fontinne, li Payis Walon a on soûmint djeyografike. Li soûmint [base, assise] del Walonreye, c' est l' Årdene, on grand bwès, ki va ahessî [fournir] les industreyes et les minires [mines] ki skepièt di ttåtoû [qui naisseut à sa périphérie]. C' est ça ki l' Walonreye, c' est nén on fortuzaedje [fantasme]; c' est ene sacwè [une réalité].
On deujhinme pont, c' est l' istwere. Dins ls anêyes 1800 et des, li Walonreye fouri li prumire pwissance industriyale del daegn [mondiale].
L' ebagance des Walons eviè l' Suwéde, on pout dire ki ça a stî ene grande wache [vague] di migråcion: 100 a cint céncante meye djins ont cwité l' payis. Les Walons del Suwéde ont stî onk des moteurs po-z escoûssi [démarrer, établir] li tuzance [culture, esprit] suwédwesse. C' est åk [quelque chose] k' on n' dit nén assez.
On treujhinme pont, sapinse a J. Fontinne, c' est l' årt. Li culteure walone rispite dins l' pinteure. Les pondeus [peintures] come Patnî et ds ôtes, c' est ça l' åme walondje.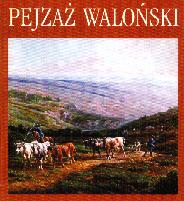 Li Serge Govaert a yeu bel ådjeu [beau jeu] di rplaker José Fontinne so ç' pont la. C' est målåjhey d' aloyî èn årtisse a on teritwere, endala-t i. Dali esteut i Andalou, Catalan u Francès? Kafka est eticté "Tcheke di lingaedje almand", mågré k' gn aveut nole Tchekeye do trevén [à l'époque] k' il a skepyî.
Adon, les cis ki djhèt k' i gn a nole culteure walone sont co sovint des disfindeus del Beldjike.
Li saye d' ahiver [fonder, créer] ene nåcion beldje a stî a make [a eu son apogée] diviè 1920. On vleut rawè li ban indivi di Moresnet, li Limbork Olandès, li Lussimbork, tos payis k' on rclama al Påye [traité] di Versailles. Mins, e 1930, l' atuze [concept] d' ene nåcion flamindje a skepyî et si scréfyî [se fortifier] todi pus foirt. L' idêye d' ene culteure beldje, basteye sol lingaedje francès, aléve pitchote a midjote tourner e cou d' poyon [entrer progressivement en déliquescence].
C' est so ces etrevéns la, el bate di dvize di Mont, ki dj' dijha l' minne [C' est à ce moment là que j'intervins dans le débat à Mons].
Et dj' el dijha e walon. C' esteut l' seule manire ki l' Govaert ni såreut rén dire disconte et lu dmorer reyusse [qui le laissa sans ressources]. Gn a pår ene tuzance walone pask' i gn a on lingaedje walon.
Bråmint des ptits payis k' ont divnou dislaxhîs [indépendants] d' on "grand fré", leu-z idintisté nåcionåle, i l' ont-st enancré [ancré] après on lingaedje nåcionå: Estoneye, Letoneye, Norwedje, Tchekeye, Slovakeye, Oukrinne et hay vos nd åroz.
Por mi, - dit-st i l' fô - li tuzance walone, c' est, aprume, li lingaedje walon.
Eto, [dès lors] ça n' a ni cou ni tiesse di voleur basti ene Walonreye avou l' ministere del culteure eyet d' l' acsegnmint ki n' sont nén dizo l' tchapea do govienmint walon.
Et so s' pont la, les idintitairisses come li José Fontinne, rissont d' acoird avou mi. (I n' el sont nén dtrop sol plaece k' i fåt dner å lingaedje walon sol schålance [hiérarchie] des ponts po-z etcherpeter ene culteure walone).
C' est ddja todi mî k' rén!
---
L. Mahin, li 26 di may 2001.
---
Un problème juridico-culturel.
Pout on pruster siermint e walon ?
Pout on pruster siermint e walon ?
Si vos dmandriz cisse kesse la a Clôde Snaps, li conseyî di Bôvetchén ki vént di s' fé cayî a l' ouxh do consey, i vs direut surmint k' neni.
Cwè çk' i s' a passé å djusse ?
Li Clode Snaps, èn årtisse (po les biesses) di s' mestî, aveut passé avou s' lisse a Bôvetchén, e Roman payis. Il aveut rascodou 475 vwès, çou k' lyi dnéve li 5inme plaece après l' prumî k' end aveut emonçlé 1538 et passer mayeur al tiesse d' on blokea di 13 omes. Å moumint do prustaedje di siermint, nosse Clôde, ki n' est nén a ene kente près, dijha, franc come on tigneu :
Djë djëre fëdëlté a lë rwè, schoûte al constëtëcion, et ås lwès del peupe belje. (e walon dins l' cåzaedje).
Li mayeur a rfuzé li siermint et fote li conseyî Snaps a l' ouxh do consey.
De Standaart, do venrdi 5 di djanvî fouri li prumire gazete a rilver cisse paskeye la. Ces Flamins la, c' est des fels, séss, zels !
Ttossurade, Roger Thijs, on franc batant po les ptits lingaedjes di l' Urope, sipårda li novele sol djåspinreye éndjolike " Viker ". Li londmwin, les gazetes walones riprindént li scoup, inte di zels le Soir, eyet l' novele gazete Metro, ki dna on papî so troes colones, avou on poirtrait då Clode Snaps.

Å lére de cisse novale la, les waloneus del djåspinreye [liste de conversation] "Viker" estént tot foû d' zels, eyet dins tos leus estats.
Cristine Tombeur, ene fele bouteuse do payis di Djnape, sicrijha, sol pî sol tchamp, ene lete di rclamaedje å mayeur di Bôvetchén et ene d' ecoraedjmint a Snaps.
K' on deye çou k' on vout, c' est todi ene sifwaite biestreye d' awè, tot fotant Snaps a l' ouxh, fé dner les foitès loumires [braquer les projecteurs] so on consey wice ki, a 13 conte deus, li mayeur Marc Deconinck n' aveut rén a rcrinde d' ene pitite lisse ki rprezintéve les ptitès djins do cour do Roman Payis.
Ca nos fåt bén coprinde ki, l' abrocance di frankeufeunes nén Walons dins tos les ptits viyaedjes do Walon Braiban pout esse rissintowe come èn evayixhaedje [invasion] påzès djins ki vikèt låvå dispu des djermêyes di ratayons [générations d'ancêtres].
Come di djusse, c' est on tabou k' on n' a nén l' droet di rmouwer, dowô, poy k' i gn a nole diferince, edon, inte les Walons d' on costé, eyet les frankeufeunes nén Walons u les cis k' ont rnoyi leu sto [souche] walon, did l' ôte. Ca c' est ces frankeufeunes la k' ont todi cmandé el Beldjike eyet spotchî u assimiler d' foice les ptits Walons ki n' djowént nén sol minme violon.
Taijhe tu, la, ti ! C' est disfindou di djåzer inla el Cominålté Francesse ! To t' va co fé bouxhî so tes doets, et t' end a co dandjî po scrire.
Iva [O.K.]. C' est l' pus malén ki s' tait.
Rivnans ene miete sol fond del margaye.
Si dj' el tén bén [si mes souvenirs sont bons], l' årtike 8 del Mwaisse-Liwè [constitution] del Beldjike waerantixh li droet d' eployî tolminme ké lingaedje so l' aroyaedje [périmètre] do rweyome, apu ki [sauf] po les rapoirts avou l' police eyet l' djustice. Lavola, nos fåt uzer des lingaedjes oficirs. E 1830, å moumint ki l' mwaisse-liwè a skepyi, ça vleut dire li francès so tote li Beldjike, Walonreye et Flande avou, sins les payis Redîmés, don, adon.
Dins tos les cas c' est li pont di lwè ki Morice Dehousse, e ces trevéns la k' esteut minisse del Ricwerance Sincieuse [recherche scientifique], aveut tapé å né des gaztîs flaminds k' avént criyi herleme [poussé de grands cris] pask' il aveut djåzé en inglès a Zeebrugge pol sitrimaedje d' on batea di hôte tecnolodjeye, la sacwantès anêyes.
Asteure, ezès consey comunås, sabaye ?
Michel Francard a co rbouxhî sol clå dins si ptit live " La Wallonie et ses langues " eplaidî å Buro des Formagnis Lingaedjes d' Urope. E 1920, sorlon l' inkete da Remouchamps, gn aveut 56 åcint des Cossey Comunås ki rclamént [déclaraient] eployî l' walon, al boune did tenawete, ezès deliberåcions.
Mins pol siermint ?
Tofjhant k' on djåze di siermint, gn a ene sacwè d' drole ki dj' a rilvé enawaire å prustaedje di siermint do Grand-Duk do Lussimbork, e moes d' octôbe 2000. Dabôrd ki l' lussimbordjwès est l' lingaedje oficir el Grande Dutcheye, il a prusté s' siermint fok e francès. Et, tot rmouwé, èn ome, il a toumé a stok, et s' n' a-t i nén sepou repeter å djusse les paroles ki l' shofleu lyi dijheut d' dire. Tén ! N' av' nén oyou dire k' on l' a tapé a l' ouxh dispu don ?
Asteure, cwitans li lete del Liwè, sapinse Lorint Hendschel, po-z avni å tuza [esprit] del Liwè. C' est tolminme pår disbåtchant [profondément désespérant] k' on payis ki n' a pont trové d' ardire å cossinaedje pal Beldjike del Påye des moens Spårdous Lingaedjes di l' Urope [Charte européenne des langues moins répandues] admete co des sfwaitès cdujhances [de tels comportements] ki ravalèt l' walon å livea [niveau] di djårgon u d' xhalmådaedje [baragouin].
Asteure gn a-t i nén deus mzeures pol minme pwès ådvins del Walonreye ? Dj' ô bén : gn a-t i nolu, so l' aroyaedje do Payis Walon, k' a måy prusté siermint en èn ôte lingaedje ki l' lingaedje oficir.
O ca siya !
Rodjî Virous, cwand a stî mayeur a Fosse, il a vlou dire si siermint e walon. On n' a nén accepté. Eto l' a-t i dit, po cmincî e francès, après raddimint e walon.
Mins gn a èn ôte pont k' est èn astotcha mo stocaesse [argument très solide] po lûter po fé rawè ses droets å Clôde Snaps. C' est dins l' comene di Lontzen ås dierins strimaedjes des consey comunås.
Vos fåt sawè ki, dins les Cantons Redîmés, c' est l' almand k' est l' lingaedje oficir. Mins il ont-st on lingaedje do payis, li vî-lussimbordjwès do Rin, u ripwaryin [francique ripuaire], ostant diferin d' l' almand ki l' lussimbordjwès.
Ebén, å consey di Lontzen, ciste anêye ci, mes djins, gn a 7 conseyîs so dijh k' ont prusté siermint e ripwaryin eyet en almand et fok troes rén k' en almand.
Po vosse goviene, voci les bokets d' emilaedjes so "Viker"
(Roger Thijs li semdi 6 di djanvî 2001, 10:47:42 +0100).
Je lis dans le "Grenz-Echo" d'Eupen d'aujourd'hui 6 janvier. Il s'agit de la commune de Lontzen. Je cite (en allemand, serment en dialecte ripuarien): ... ob es nicht angebracht sei, dass Gemeindevertreter sich öffentlich zur Mundart bekennen würden, in dem sie iheren Amtseid auch in dieser Sprache ablegen. ... "Ech schwöör der Köneng tröj te zie, de Ferfasong te achte, än de Jezätze van et bäljesch Vook te befolje" erklang es am Donnerstag sieben Mal im Lontzener Gemeindehaus. Lediglich drei der Gewählten begnügten sich mit der Eidesleistung allein in deutscher Sprache.
Donc 7 sur 10 l'ont fait en allemand et en dialecte, 3 seulement en allemand.
(Lorint Hendschel: li dimegne 7 di djanvî 2001 20:44:53 +0100):
Ossi: si dji croe l' dierin messaedje veyou so Viker, bråmint des djins, ezès cantons di l' esse, on passé leu siermint e ripwaryin (diâle m' evole si dji sé çou k' c' est d' ça!) + almand. Douvént sereut ç' valåbe a Lontzen et nén a Bôvetchén ? Bén dabôrd, vike-t on èn on payis wice ki li lwè est l' minme po tertos ?
Mins Pablo Saratxaga, on noû-waloneu ki boute sol ratournaedje e walon des programes po les copiutreces, nos mostere bén l' ahike:
(Pablo Saratxaga, li mierkidi 10 di djanvî 2001 a 21:41:25 +0100)
"Neni. On n' pout nén pruster siermint e francès et e walon, u en almand ey e ripwaryin. On pout seulmint pruster siermint e francès, u en almand. Et poy on pout djåzer et dire çou k' on vout, dins tot l' minme ké lingaedje, mins çoula n' a nole ricnoxhance. On pôreut pruster siermint e francès, et e walon dire k' on est republikin, anarchisse, evnd., ki ci sreut l' minme sacwè. Çou k' on pout dire e walon c' est po des djaeyes.
I fåt dmander l' droet di pruster siermint e walon, dj' ô bén: seulmint e walon, udonbén e francès ey e walon, mins les deus ricnoxhous sol minme pî.
Mi dji pinse k' el Claude Snaps a bén fwait. S' il åreut yeu prusté siermint e francès, bén seur k' il åreut polou après dire ene sacwè e walon, avou li mayeur ki schoûtéve ôte pårt. Mins çoula åreut i candjî ene sacwè ? Po tot l' monde, po les redjisses oficirs,... il åreut yeu prusté siermint e francès, et c' est tot.
Asteure, tot les djins ki léjhèt des gazetes ont polou s' rinde conte ki c' est nén accepté d' eployî l' walon po pruster siermint. Motoit ki dvant, i n' è savént rén, ou n' avît måy tuzé a çoula.
Çou k' est important tot l' minme, c' est ki cist ome la åye yeu ptchî [aie préféré] esse metou foû purade ki rnoncî a fé avancî on po l' walon. Bén seur ki, sorlon l' lwè, li mayeur a yeu råjhon; mins ene lwè, po-z esse candjeye, doet esse contestêye. Et c' est la k' ene accion come çoula est importante; asteure c' est rén k' on conseyî, mins si pol côp ki vént i gn a deus treus mayeurs et ene dijhinne di scabins a dimander di tote foice [exiger] di poleur pruster siermint e walon, minme si on lzî rfuze, ci srè ene sacwè ki frè tuzer a on candjmint del liwè."
Fåt dire li vraiy u çk' il est ! Dj' el a dit eto å mayeur.
---
L. Mahin, li 28 di djanvî 2001.
---
rue Chêniat 2c
1470 Baisy-Thy
067.79 07 01
El 10 dè janviér 2001
Binamé Mossieu Snaps,
Pûsquè nos avons l' chance dawè n' saqui qui comprind l' walon, c'è-st-aveu grand pléji què djè m' pèrmè dè vos scrîre dins no bia lingâdje.
Dj'é li dins l' gazète què vos avîz stî mètu fou du consèye pace què vos avîz voulu prèstér vo sèrmint è walon. Què disse hon ?
I m' chène què vos avéz réson quand vos d'jéz què l' lingâdje d'èd ci è-st-ôstant l' walon què l' françès. Djè sû dins ène soce " Li Ranteule " qui boute pou dèsfinde cès idéyes la. I fôt dîre què si la lwè r'conèt come lingâdje oficièl èl françès, èl nè dit né qu'o n' put né s' chèrvu d'ène langue règionale. Vos n'astéz né l' preumi a prèstér sèrmint in walon èt il a min.me dès places dins l' sud du payis èyû ç' què lès consèyes sè tèn'neut dins l' langue règionale.
Nos nos batons pou fé r'conèche come lingâdje oficièl, a costé du françès, lès lingâdjes dès ôtès régions dèl Walonîye. Djè cwè qu'o-n-âreut p'lu vos lèyî fé vo sèrmint dins lès deûs langues èt pwint final.
Pou disfinde èç-n-idéye la, o s'aspouye dèssus lès décrèts dèl comunôté françèse èt l' résolucion dè l'assimbléye dès régions européyènes què djè vos mè aveu. Djè scrîré dins ç' sins la ô mayeûr mins, pou yèsse seûre dè yèsse li èt compris djè l' f'ré in françès. Djè vos mè ètou l' copîye.
D'èn-ôte costé, vos âréz ètou lès copîyes dès lètes èvouyîes pa nos soces ô mayeûr come al prèsse. Dins l' Roman Payis, ça d'vént malôjîle dè boutér pou l' walon. Djè di toudis qu'il è-st-intré dins l' résistance, adon, i fôt télcôp agni su s' chique pou sawè d'meurér a l' boune place èt fé n' saqwè pou l' walon. Si fôt, ça vôt lès pwènes dè prèstér vo sèrmint in françès pou p'lu yèsse a n' place dè dècision.
Dj'èspère awè l'ocâsion dè vos rèscontrér èt si vos v'léz boutér aveu nous-ôtes vos 'stéz l' bénv'nu.
---
Lucyin Mahin - Louline Vôye - walon scrijheu eyet rcwereu-cacheu. écrivain et chercheur en langue wallonne. Membre fondateur de: Mimbe askepieu di: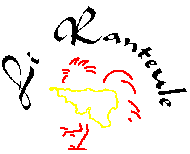 Moncheu Marc Deconinck
mayeur di 1320 Bovetchén (Beauvechain)
Walonreye, Belgique
Moncheu l' mayeur,
Dji vos evoye, ciddé djondant, po vosse goviene, li corwaitaedje [analyse] del paskeye do prustaedje di siermint e vosse comene, ki parexhe a l' Aberteke tins do moes d' fevrî.
Avou mes walons coplumints.
Sidi Smaïl, Marok, li 31 d' djanvî 2001.
---
Mars 2000: le pape s'excuse pour les exactions de l'Eglise; à quand l'État-Belgique pour sa politique éradicationniste du wallon ?
" Mande escuze ås Walons...
... å no di l' Estat Beldjike ki les a espaitchî di djåzer leu lingaedje des ans et des razans d' asto. "
Oyi, saiss, a té pont ki des banslêyes di parints eyet d' grand-parints ont muchyî [dissimulé] a leus efants k' i dvizént bén li lingaedje da Defrecheux. Come Sabine V., 20 ans, k' avént dmoré a Brussele disk' adon, mins ki s' mame a rivnou en on ptit viyaedje di l' Årdene come médieuse d' agaeces [pédicure]; c' est låvå k' el båshele a-st oyou cåzer si mére walon... pol prumî côp.
Tant k' a Dominike M., 40 ans ele m' a conté ki si grand-mére divizéve todi walon avou si mame, mins el coujhene, tins k' les efants n' les oyént nén. Cwand les efants aprotchént, ele ripassént a on francès årtificire.
Les tones et les ratones di sofrances ki les Walons ont la-st adeuré, copurade inte 1920 eyet 1970, ci n' est nén les seuls a nd aveur cnoxhou des sfwaites [de semblables]. Po dire li vraiy, les deuss sipoles [récits] ki dji vén di vs dire, dji les a-st oyou podbon el Walonreye, mins dj' a eto léjhou cåzumint les deuss minmes paskeyes dins l' gazete " Le soir " do 14 d' awousse 1998, dizo titraedje " La Suède demande pardon à ses Lapons ".
Suwede et Norvedje, ki sont si fels po disfinde les minorités pattavå l' daegn, ont colnijhi zels-minmes on peupe di 50.000 djins (k' i gn e dmane asteure), eyet ls oblidji a cåzer suwedwès u norwedjin e scole.
L' apiçaedje culturire di totes foices [assimilation forcée] esteut li mwaisse-rîle, come, å réss, el Finlande ey el Russeye, dins l' cåziyon [péninsule, presqu'île] di Kola. Onk dins l' ôte, c' est 70.000 a 100.000 Samis (Lapons) k' ont stî toutchîs pa ci Kulturkampf la.
Dj' a dit " Sami " et nén " Lapon ". Lapon, ça vout dire e suwedwès " locteu " et ci n' est pus on mot politicmint comifåt [politiquement correct] å djoû d' ouy. C' est come cwand on lome les Djupsyins [Tsiganes] " romanichels " u " barakis ". Les Lapons, si lomèt zels-minmes " Samis ".
Les Samis, dabôrd, vikèt en on payis di 400.000 km², doze côps li Beldjike. Les Suwedwès lezî prindèt leus tundras, po-z î planter des sapéns a-z abate, u po-z î tirer ås minrais d' fier u d' ôr.
Li revintaedje [les revendications] des Lapons n' est nén vî vî. La fok [voilà seulement] ene dijhinne d' anêyes, e 1986, ki les Samis tchoezixhît [choisirent] on drapea et nén ddja 5 ans, e 1993, k' il ont prin ene fiesse po leu nåcion, li shijh di fevri, li djoû di 1917 wice k' i gn a yeu l' prumî grand raplou [congrès] des Lapons di Suwéde eyet d' Norwedje.
" Ci n' est nén l' tot, des escuzes, eva-t i Lars Anders Baers, li mwaisse-cåzeu do consey des Samis del Suwede. Des escuzes, endè fåt ddja bråmint po sogni [alimenter] on tropea d' renes a l' ivier ! Si les Suwedwès cotinuwet a nos haper nos pasteraedjes po-z î planter leus " sapéns do Nôr ", eyet a poujhî [pûji, poûjî, poûhî = puiser] dins nosse fonde tere [sous-sol] sins ratna, nosse peupe n' end a pus po des siekes a viker. Va disparexhe avå les Suwedwès, poy ki nosse lingaedje ni serè pus wårdé, si on nos tchesse evoye foû del Laponreye, u purade del Samilinde. "
L' adire [différence] k' i gn a inte li colnijhaedje culteurire [colonisation culturelle] des Samis eyet li ci des Walons, c' est ki, po les prumîs, li rispåmaedje do cervea eyet li bôraedje do cråne a stî fwait pa èn ôte peupe, ki disfindeut si prôpe lingaedje. Les Walons, zels, ont stî spotchîs dins l' uzaedje di leu pårler pa leus propes fivîs [fîvîs, fiéviers = compatriotes] k' ont prezinté li spotchant lingadje, li francès, come ene ôte langue " naturele " del Walonreye. Et braire e toetea [crier dans la tabatière = crier sur tous les toits] ki li passaedje di onk a l' ôte s' aveut fwait spotanemint, di gaiyté d' cour !
Vos, tos les Walons ki n' oizet ddja djåzer walon e sôcieté, ki n' ont måy peté on mot d' walon a leus efants, ki sont-st enukîs [" noués ", complexés] rén k' d' ôre èn ôte djåzer walon, dijhoz lzi, a ces " Francofones " la ki li spotchaedje do walon fourit on goulag sicolodjike k' end a dzôrnyî eyet disnorté [perturbé, désorienté] ene peclêye, di Walons.
I sereut grand tins ki li sinnariou ki dj' a cmincî mi papî avou (li govienmint bedje ki fwait des escuzes å peupe walon) si passaxhe podbon.
Mî våt tård ki djourmåy, copurade po si [au cas où] l' Estat Beldjike si disshonnréve [se désagrégeait, se désassemblait] dimwin u après.
---
Lucyin Mahin, li 7 di måss 1999.
---
Abeli [intéresser] les politikîs
I gn a pont d' afwaire, li walon n' rexhrè foû del warbire ki s' i zoubele a djonds pîs sol djontî politike [sur l' échiquier politique ]. I lzî fåt mostrer k' on pout minme fé del politike e walon. Douvént - diâle m' ancate ! - ki les prumîs socialisses n' ont nén scrît li Påye di Cargnon [la Charte de Quaregnon] e walon ? I n' est måy trop tård po bén fé.
---
L. Mahin, li 09/07/1995 , nén eplaidî.
---

(Page des textes en wallon sur les langues) Li pådje des lingaedjes.

(Back index par sujet) Alans rzè a l' edesse des sudjets.

(Back homepage) Alans rzè al mwaisse-pådje

(Back textes en wallon commun) Ralans sol pådje des scrijhaedjes e rfondou walon
---