Textes en wallon (normalisé) sur la Palestine

Sicrijhaedjes sol Palestene (e rfondou walon)
dierin rapontiaedje - last update: 2013-12-23
Dressêye:
Journalisme. Gaztaedje.
Textes littéraires. Belès letes.
Massacre de Chatilla: 20ème anniversaire

. Tchatila.
---
Janvier 2009 Le massacre de la bande de Gaza
Mangonreye après Gaza
Si Godfrwè d' Bouyon ariva ene miete fayé a Djeruzalem e 1099, et dedja leyî la ses hozetes e 1100, gn a waire di tchance k' il åye leyî des ptits baståds el Palestene. Mins ses sôdårs, zels ! Copurade ki li Rweyåme crustin d' Djeruzalem dura disk' e 1291. Ki, a dater di 1187, il avént pierdou cåzu tot leu teritwere. Al fén , i n' tinént pus ki Sint-Djhan d' Åke.
Mins, so tot ç' tins la, li colneye crustinne esteut dandjreus recråxheye, ene anêye après l' ôte, pa des moennes et des cavlîs di tote l' Urope do Coûtchant, inte di zels des Walons.
D' èn ôte des costés, gn a dandjreus ene kertinêye di Djwifs walons k' ont-st ebagué eviè Israyel e 1948. Inte di zels, les cis ki des binamêyès djins d' emon nozôtes ont catchî dins des cåves po schaper ås Almands, … et ås Recsisses walons.
Ça fwait ki, co on côp, on-z a do sonk da nozôtes ki court dins les voennes des deus costés.
Mins, s' i nos fåt prinde pårti, ci côp cial, i gn a ni crik ni crak. Po vey kî çki c' est les pus terorisses, n' a nén dandjî di prinde di carculete.
Gn a-t i tant d' adire inte les mwaisses israyelîs d' ouy et les les tchîfs nazis ki dzindjnît leus tayons el guere 1940-1945 ?
Eyet l' Hamasse ?
Bén il a wangnî les vôtaedjes, dins ene eleccion k' a stî ricnoxhowe democratike. On n' l' a nén leyî moenner on govienmint. Pocwè don ? I s' a redivé, come il a polou et s' rinde mwaisse a Gaza. Les Israyelîs ont-st adon resseré l' canton, et leyî crever d' fwin les djins, pitchote a midjote. Les Hamasse n' ont nén rmagnî leu parole, ki ci n' esteut nén possibe d' arindjî les bidons zels tot seus avou Israyel, dabôrd ki les Amerikins, tot hôt, et l' Urope, a basse messe, dinént tos les droets a Israyel.
I vos fåt saveur ki, dispu les " acoirds d' Oslo ", les Palestinîs sont todi pus margougnîs. Les colnijheus israyelîs lezî vnèt prinde di leus teres. Li meur di schåyaedje, 8 metes hôt, rascove des grandès stindêyes di leus viyaedjes, côpés do monde. Leus måjhons a Djeruzalem sont distrûtes ene après l' ôte, et pont d' permis po ndè basti des noveles. C' est les Israyelîs ki prindèt tote l' aiwe et les Palestinîs nén ddja poleur si bagnî on côp l' samwinne.
Adon, on comprind bén ki les berdelaedjes di påye inte les cis do Fatah et Israyel, c' esteut on toû d' rossea tchén po fé accepter li colnijhaedje israyelî. Et les råtchåds da Bush, èn an å long, k' i gn åreut deus estats pol fén di 2008, des mintreyes a môde di råyeu d' dints. Si les Palestinîs årént yeu dit åmen, il årént erité d' on Bantoustan, come çou k' gn aveut e l' Nonne-Afrike do tins l' " aparthjeid ".. Et les 6 miyons d' Palestinîs des camps do Liban, di Djordaneye, evnd, tchessîs d' leus teres e 1948, årént divnou des bribeus sins patreye advitam eternam.
Portant, avou tos les liårds k' on furlêye po les bombes et les calonaedjes, gn åreut moyén di fé viker tos les cis k' ont des abondroets istorikes so ces km cwårés la. Ci n' sereut nén pus peuplé k' a Singapour. Et fé rivni tos les Djwifs k' ont-st ebagué låvå e 1948 et 1967 aviè les payis d' Urope, d' Afrike bijhrece, Somaleye, et d' Amerike la k' i rdjondrént leus cminåltés k' ont dmoré la-minme.
Mins dji di çoula et dji n' di rén...
---
Messe de minuit à Bethléem 2008
Messe di Noyé 2008 a Betleyem
L' eveke catolike di Betleyem, Michel Sabah, a dit messe e meynute al båzleke del Nexhance da Djezu-Cri, a Betleyem. Come d' alaedje, li ceremoneye esteut revoyeye so l' tchinne di tévé palestinyinne, li PBC (Palestine Broadcasting Company).
Dins les prumirès tcheyires, a hintche, les gros colés del Palestene, k' ont vnou rinde bon dvwer, mågré k' c' est des muzulmans : Mahmoud Abbas, li prezidint, Salam Fayad, li prumî minisse, eyet minme li minisse des rlåcions avou les payis d' ådfoû des Emirats Arabes Unis. On djonne here, prince di s' mestî, avou si blanke cote et si rafûlaedje del tiesse avou on ceke dis stofe pol tini. Mins, åresse, c' est l' minme mousseure ki les mayeurs palestinîs, k' estént djusse padrî.
Divant messe, les peres franciskins del Palestene ont léjhou on messaedje e shijh langues. Avou ene clignete sol crijhe economike d' ouy. Ça pind å nez a bråmint des capitalisses, derît i, di ridivni des pôves, asteure. Ça n' les candjrè nén, ca il estént dedja des pôves dins leu-z åme, dispu bele ådje, veyanmint ki tote leu-z exhowe esteut metowe po wangnî todi dpus d' cwårs.
L' eveke di Beteleyem a fwait s' pronne aprume en arabe, adonpwis e francès. I djha ki les djins end avént gros sol petote, avou l' meur ki rind leu veye todi pus målåjheye. Avou les canons et les mitrayetes ki cabouxhèt tofer. Les veves ki tchoûlèt et les efants ki crevnut d' fwin dins l' Binde di Gaza, a cåze di l' essermint des Israyelîs.
Pout on fé l' påye adon k' on mesbridje des enocins, k' on-z evoye des meyes di djins dins les prijhons israyelyinnes, sins ddja pont d' djudjmint ? C' est a schipe 300 pelrins ki Israyel a leyî rexhe foû del binde di Gaza, po-z aler a Betleyem, so les 9000 crustins ki dmornut co dins ç' payis la.
Pocwè, å resse, ki les gros menirs djwifs ni vnèt nén a messe, zels eto ?
So ç' tins la, gn a on gros miyård di crustins ki fwaiynut fricasse, et bouxhî les tchambes totavå l' Daegne. Et nén lever li ptit doet po fé ployî les Siyonisses. Les estrinmisses muzulmans ? Målureus, twè ! On-z evoye des tanks et des avions po les språtchî, ossu lon k' l' Afganistan. Mins les estrinmisses djwifs ki sont-st a leu-z ouxh, i fwaiynut handele avou zels. Et s' fote des djins come li Djôr Bush jr ki djha al fén di 2007 k' i gn åreut påye el Palestene divant l' fén 2008. Tot leyant les deus innmis tirer leu plan leus deus po rarindjî les bidons. Loigne veråt ! Est çki les Almands k' ocupént l' Beldjike e 1942 årént sepou fé l' påye avou les Rezistants walons ? Et årént i levé l' daxhe s' i n' årént nén yeu stî oblidjîs pa pus foirt ki zels ?
Boune fiesse a tertos et tertotes ! Et ki les cis ki furlèt leus 1000 uros so les 8 djoûs di ribote tuzénxhe ås Palestinîs ki, so ç' tins la, crevnut d' fwin.
---
Lucyin Mahin, li 26 di decimbe 2008
---
E moes d' djanvî 2006 : li wangnaedje do Hamasse
Bouxhe sol tåve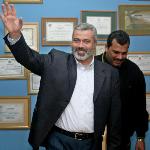 Ismayel Haniya, li tchîf do Hamasse
André Gauditiaubois scrijha li 31 di djanvî 2006:
Ene biesse kession:
Asteure, on dmande å Hamasse di esse djinti, sinon on n' lyi påle pus.
Pocwè n' a-t on nén dmandé å Bush di esse intelidjant après si eleccion...
Response :
Çou k' gn a a rilever : c' est l' prumî côp e l' istwere, dispu kel monde est monde, k' i gn a on vôtaedje pår democratike dins on payis arabe. Vos voeyoz l' rezultat.
Cwand les redjimes di rwè-prezidints et rwès-rwès vont toumer l' cou å hôt, tertos, onk après l' ôte, gn årè k' les islamisses po saveur tini l' pot droet.
Ci n' est nén des djins come on ndè djåze ezès payis do Coûtchant. Li grosse peclêye est disconte des touwaedjes. I volnut tertos saetchî l' abribance evoye (l' abribance, c' est l' sistinme k' i fåt todi ecråxhî l' pate a ene sakî po-z aveur åk; et les gros menirs do redjime poujhî tofer dins les caisses).
Savoz bén k' e l' Arabeye (C'est où, dites ?), gn a nou buddjet d' l' estat. Tos les cwårs del petrole eva al famile do rwè, et on strime les 4500 princes et princesses; çou ki dmeure, on paye les grete-papîs.
E l' Aldjereye, c' est nén des princes, mins des djenerås. I vnèt d' ratchter ene cwarantinne MIG 28 ås Rûsses. Pocwè fé ?
Å Marok, eee, dji so dins l' comiece, don mi !!!
---
Li ci ki n' ôt k' on son n' ôt k' ene clotche.
Nos avans dmandé a Djilali Djabali, on cotuzeu (intelectuwel) d' on payis arabe, ki n' vout nén k' on deye si vraiy no, kimint k' i voeyeut l' govienmint Hamasse.
Dimandeu (Dm.) - Monsieu Djabali, c' est l' veur ki les Hamasse sont des terorisses, sapinse les Amerikins ?
Djilali Djabali (Dj. Dj.) - Li mot terorisse ni vout rén dire. Cwand les Walons alént fé potchî ene lene di tchmin d' fier po rastårdjî les trins almands avou des dinrêyes hapêyes el Walonreye, c' esteut des terorisses ossu. Mins, po le Walons, c' esteut des Rezistants. Après l' guere, ça a divnou des eros. Itzak Rabin, k' a siné les acoirds di Camp David, et esse lomé Pris Nobel del Påye, il esteut catalogué "terorisse" pås Inglès e 1946. Yasser Arafate, deus grossès dijhinnes d' anêyes å long, c' esteut on terorisse. Après, cwand il a divnou Prezidint, on lyi disrôléve li rodje carpete, come ås ôtes.
Li Hamasse esteut dins l' opôzicion : i fjhént leu guere assimetrike conte Israyel. Asteure k' i sont å govienmint, i n' ont pus dandjî do fé sôtler des bombes. Il ont bråmint mî k' ça. Mins, tant k' i gn årè nén ene vraiye påye en Israyel, gn årè todi on pårti el Palestene ki pôrè trover des Rezistants ki s' front peter avou les tchedje d' esplôzifs. Waitîz : asteure, c' est l' Djihad Islamike.
Dm. - C' est cwè, ene guere assimetrike ?
Dj. Dj. - C' est cwand deus s' batnut. Onk a des tanks, des areyoplanes, des meyes di sôdårds et on buddjet po fé l' guere, vôté al Tchambe et å Senat. L' ôte k' a-st ene boune cåze a disfinde, n' a k' des cwårs aråvlés al taxhlete, kékes calachnikofs (u des fals, infin), sacwants kilos d' TNT. Ki vloz vs k' i fjhénxhe d' ôte ki d' fé des "victimes collatérales" ?
Dm. - Mins pocwè n' nén ricnoxhe Israyel, po poleur divizer avou zels ?
Dj. Dj. - I n' ont nén dit k' i nel ricnoxhrént nén. Il ont dit k' el ricnoxhrént bén si Israyel si rsaetchreut ådvins des frontires di 1967, et ricnoxhe ås Palestinîs des camps do Liban et d' Djordaneye, li droet do rivni e payis. I n' fwaiynut ki d' repeter li Rezolucion 448 do Consey di Såvrité d' l' ONU.
Dm. - El ladsu, l' Urope et les Estats-Unis lezî côpèt les amonucions. Et les leyî crever d' fwin, s' il atoume.
Dj. Dj. - Les payis do Coûtchant n' ont nole håsse k' i gn åye des payis arabes ki divnénxhe democratikes. Il ecoraedjèt totavå des dictateurs, ki groujhnut les peupes. I voeyént voltî l' OLP, ces dierins tins, pask' i savént pår bén k' ene grosse pårteye des cwårs k' arivént come aida al Palestene, estént distournés pås gros colés do govienmint, del Police (inte dis zels, li cuzén da Arafate). Et insi, les brokes rarivént dins les bankes avår ci. Dins tolminme ké payis arabe k' i gn årè des vôtaedje pår democratikes, ci serè les Islamisses k' åront l' plouma (k' arivront les prumîs). Paski les ptitès djins sont foirt siconte des Amerikins. Et asteure, les Uropeyins sont todi dpus rsintous come les scalots [serviteurs] des Amerlotches.
Dm. - Mins li pårti Hamasse est bén préjhî des Iranyins, ey eto da Ben Laden ? C' est la l' Aessi do Må [Axe du Mal], sapinse Bush.
Dj. Dj. - Ben Laden, n' è cåzans nén. On n' sait ddja s' i vike co. S' il egzistêye, on n' sait nén po kî çk' i boute. Ça pôreut foirt bén esse po les martchands d' canons amerikins, ki, zels, linwtèt après l' "Kitchocaedje des Civilizåcions", po leu handele si diswalper. Tant k' ås Iranyins, k' elzî pout on rprotchî ? I moennèt leu payis tot scolant leu djonnesse, et tot diswalpant les campagnes. Leus indjenieurs ont cåzu mwaistri l' enerdjeye nawearinne avou leu prôpès rcwerances. Il ont yeu des vôtaedjes a pô près comifåt. Li prezidint, Amadi Nadjaf, tot prezidint k' il est, s' a fwait rfuzer troes côps på pårlumint li minisse do petrole k' il aveut relî. Avoz ddja veyou çoula dins on payis arabe, vos ? Lanawaire on-z a veyou l' ancyin prezidint Rafsandjani, k' a pierdou les eleccions, aler fé ene tournêye å Koweyte ey e l' Arabeye, po-z espliker k' i n' divént nén aveur sogne di l' atomike des Iranyins. Mådjinez, vos, asteure, li Berlusconi aler disfinde foû payis li politike då Romano Prodi ?
Dm. - Li Hamasse sereut pus près des Frés Muzulmans d' Edjipe, sapinse a vos ?
Dj. Dj. - Taiss k' oyi.
Dm. - Mins l' avancêye des Frés Muzulmans e l' Edjipe a bråmint sbaré les Copes (les crustins d' Edjipe, 6 a 10 åcint des 75 miyons d' Edjipsyins). N' avoz nén peu ki li Hamasse n' ewaere eto les Crustins del Palestene ?
Dj. Dj. - C' est l' veur k' i gn a todi moens di crustins palestinîs, a Betleyem, metans. Mins est ç' li Hamasse les cåzes, ubén li seråde des Israyelîs ? Avou leu meur, codåné pal Coû d' djustice del Håye (La Haye), mins k' i gn a nou payis uropeyin ki leve li ptit doet pol fé fé dismantchî.
Les "Hamasse" et les Frés Muzulmans d' Edjipe, leus mwaissès atuzes po govierner vinèt del rilidjon muzulmande. Et dins l' rilidjon muzulmande, les Crustins polèt viker e påye å mitan del Kiminålté des Moslimîs. Dji n' di nén k' i gn a nén des estremisses siconte-crustins dins l' societé edjipsyinne u palestinyinne, come les cis k' ont vnou ataker des eglijhes a Alegzandreye e moes d' avri 2006. Mins çoula, end a dins tos les payis. Ci n' est nén les Islamisses ki vont-st ecoraedjî ces bardouxhaedjes la.
Dm. - Les Islamisses, s' il arivnut al tiesse des payis arabes, vont seur rinde di l' assene al langue arabe, et l' reployî totavå dins l' administråcion, les univiersités, evnd. N' est ç' nén si côper do progrès tecnolodjike, k' est bråmint rashiou so l'uzaedje di l' inglès u do francès ?
Dj. Dj. - Dji n' a nén les pinses ki l' arabe våt moens ki l' inglès u l' francès po fé del syince et del tecnolodjeye.
Kinoxhoz bén l' paskeye da Gargantua ? Rabelais, e 15inme sieke, cwand i vout egadjî on prof privé (on precepteur) po Gargantua, i tchoezixh ene djin ki cnoxhe cénk lingaedjes : li latén po lyi scoler l' droet, li grek pol filozofeye, l' ebreu po li rlidjon, li caldeyin po l' asterlodjeye eyet l' arabe ...pol medcene. Dj' ô bén kel fancès d' adon, ci n' esteut k' on fayé patwès po fé do teyåte comike a môde di Gargantua, mins nén po poleur divizer di sincieusès sacwès.
Ridner do pî al langue arabe, ci serè purade on facteur di raloyance sociåle. Vos avoz, metans tos les payis del Bijhe di l' Afrike (Marok, Aldjereye, Tunizeye). Avår la, tos les gros berdouxhnut l' francès, et studyî e francès, e fé les lwès e francès (ratournêyes hinkeplink e l' arabe après). Tant k' ås ptitès djins, ele tuznut en arabe et fé leus scoles en arabe. Ça fwait k' ele n' ont nén droet ås belès plaeces, veyanmint k' i fåt l' francès po-z ariver.
Dm. - Ça fwait ki, sapinse vos, les islamisses, ci sereut les schapeus do Monde Arabe. Mins on piedrè bråmint del liberté avou zels ?
Dj. Dj. - Mins on wangnrè del djustice.
---
Responda emantchî pa Lucyin Mahin, li 26 d' avri 2006.
---
Messe de minuit 2004 à Bethléem.
Li Messe e meynute 2004 a Betleyem.
Betleyem (Palestene), 24 di decimbe 2004 cénk minutes po meynute. Gn a on moenne, tot brun moussî k' acpagntêye li prezidint pa interim del Palestene (ki dji n' ritoume pus so s' no) po vni sol prumire rindjeye di tcheyires, avou kékes ôtes "gros colés", des consuls des payis crustins, et minmes muzulmans.
Des muzulmans a messe e meynute? Taiss k' åy ! C' est Yasser Arafate, - li Bon Diu si åme (i vént d' mori e moes d' nôvimbe 2004) - k' a-st enondé cisse dujhance la. I fåt dire k' i s' aveut maryî (sol tård, mins on n' est måy foû ådje po çoula) avou ene crustinne ortodosse, ene lomêye Souha, ki n' åreut nén raté messe e meynute, co po ene bleuwe vatche.
Pôve laid vî Arafate ! Dispu troes ans, li gros Sharon lyi aveut espaitchî d' aler a Betleyem, minme po messe e meynute.
Des pôvriteusès messes, ki ça a stî, dabôrd, e 2001, 2002 et 2003. Copurade e 2002, la k' li båzlike aveut stî ocupêye pa des "feddayins" et esserêye pa l' årmêye israyelyinne ki saetchive so tot çki bodjive (loukîz li tecse da Djan-Pire Dumont so ces etrevéns la).
Po-z ariver a Betleyem, co asteure, minme si c' est nén l' Golgota, on voet les set croes. Dispu ciste anêye, li veye est côpêye del Palestene på "meur di l' Apartheid", ût metes hôt.
Li cardinå Michel Sabbah, patriyåtche catolike di Palestene, Israyel, Sireye et Chipe, endè va djåzer dins s' pretchmint. Et dmander k' on l' bouxhaxhe djus, ci-la et l' ôte meur ki s' a basti dins les cours des dmorants del Palestene et d' Israyel, djwifs, muzulmans et crustins.
A hintche: Michel Sabbah après messe e meynute, poite li posturete do ptit Djezus eviè l' grote del Nativté.
Å mitan: li båzlike del Nativté, e moes d' avri 2002 (on voet l' foumire d' on côp d' fizik).
A droete : li meur di beton ki Sharon a fwait basti e 2004 po haper des gros bokets del Cisdjordanreye.
Li båzlike del Nativté, c' est pus grand k' l' eglijhe di Xhoutsiplou. Dipus d' céncwante curés et evekes po dire messe, ti, valet ! Des vîs, des nén si vîs et des djonnes. Ké hiedlêye, vozôtes, mes frés !
L' eglijhe est bôrêye a stritche, to sins bén ! Di totès sôres di djins : des arabes et des ôtes mins moussêyes e civil. Pupont d' Palestinîs crustins avou leu turban ("keffieh"), come i gn aveut co e l' an 2000: i n' sårént pus vni a cåze do meur. Tolminme eto bråmint des macherseurs, di totes les nåcionålités, afrikinnes, aziyatikes, blankes, noeres et cabolêyes.
Dins ké langue k' on va dire messe po tote cisse peclêye la ?
Bén tot biesmint… e latén. Et c' est insi ki dj' a-st oyou des airs et des paroles ki dji n' aveu pus etindou dispu 40ans, cwand dji fjheu d' l' åcolete:
Credo inounoun deyyoum … et in secoula secouloroum… dominous vobiscoum… et coum spiritou touwo… påter noster cwi et in cheli…agnousse deyi, cwi tolisse pecata moundi…
Et pol cougnet, après messe, dins l' cåve del Nativté on "Té-deyoum låwdamous", ki m' a rmimbré li soçon da Toenne Coulot do minme no.
Divant l' an 2000, on n' djåzéve ki latén a messe e meynute a Betleyem. Mins dispu don, on-z a bodjî ene miete, et-z eployî des lingaedjes des djins.
Insi, li prumî lijhaedje, li ci do Tins do vî Bon Diu, a stî fwait en arabe pa on djonne curé d' avår la. Li deujhinme lijhaedje (do sint På, si djel tén bén) a stî dit en inglès. Fåt nén rovyî ki c' est ls Inglès k' ont stî mwaisses di ç' payis la, dispu 1919 disk' e 1948.
Sabaye ké lingaedje po l' evandjîle ?
Cial, on-z a rtcheyou - sins s' fé må - sol latén, mins tchanté, nén léjhou. Ça, dji n' aveu måy oyou di m' veye. Ça, rshonne come deus gotes d' aiwe ås tchantants djhaedjes di l' Alcoran ki les efants et les djonneas aprindnut dins les scoles alcoranikes di l' Afrike bijhrece.
Djoke tu, valet ! La l' monsigneur Mitchî ki s' enonde po s' pretchmint, ci-cial e l' arabe.
Po cmincî, i rprind cåzu testo l' evandjîle da sint Luk k' i vént d' dire e latén, et k' esplike po li rcinsmint da Cezår Ågusse, et po l' Aviedje ki s' acoûtcha dins on ståve (ene grote, djans, mins ki sierveut d' ahoute po les biesses).
Et refaxhî li ptit påpåd k' aléve esse kinoxhou come li blanc leu. Et l' coutchî dins li stamonêye.
Li Prezidint d' Palestene a rçû des papîs avou l' tecse do pretchmint. Eto, cwand l' Michel critike li meur, et plinde li vicåreye des Palestinis, crustins u muzulmans, k' i sont come en ene prijhon, li prezidint fijhant fonccion scheut s' tiesse, come po dire: "To l' as dit, cuzén !"
(C' est l' veur ki l' anêye 2004 n' a waire sitî rglatixhante po les Palestinîs. Vloz des chifes ? Vo vs les la : 4975 noveas prijhnîs, inte did zels 400 efants. Onk so cwate n' a nén ddja stî djudjî, et dmeure reclôs dizo li statut di "prijhnî administratif". Dins les touwaedjes et des ratouwaedjes, gn a yeu 803 moirts palestinîs, siconte di 107 moirts israyelîs (8 côps dpus). Mins l' dierin d' tot : 8.351 måjhons d' distrûtes. Et 700 km di voyes ki les Palestinîs ni plèt pus passer dsu, el Cisdjordanreye; ele sont fok a l' uzaedje des colons. Li Cisdjorndanreye, c' est on rectingue 50 km lådje et 200 km long, come li Walonreye a Bijhe di Sambe et Mouze, c' est so cisse sitindêye la k' i gn a 700 km di voyes disfindowes)
Mins Mgr Michel n' a nén dit tot çoula. Et cwand il a yeu tot pretchî en arabe, il a rataké … e francès.
Ça nos fwait rsovni al guere di Crimêye ki s' aveut enondé a cåze d' ene margaye so les cis ki s' divént ocuper des Sints Leus, soeye-t i les Francès, soeye-t i les Rûsses. C' est les Francès k' avént (teyoricmint) wangnî l' guere di Crimêye et c' est zels k' ont wårdé l' mambornance a Betleyem, dispu l' tins da Godfroed d' Bouyon. (Ki : c' est les Walons, li peupe k' a veyou crexhe li Godfroed et metou l' prumire croejhåde so pîs so fotches, ki dvrént aveur ci oneur la.)
Rilevans, tot passant, k' i gn a des ôtès eglijhes, ene miete pus lon, la k' on dit messe, e rûsse al môde ortodosse, en arabe al môde melkite, u maronite, u caldeyin, u siryin. Kéne kimaxhreye !
Po l' lére des intancions, li Toû d' Babel ricminça.
Li prumire, dji n' a nén bén saizi dins ké lingaedje. Sabaye si ça n' sereut nén d' l' arameyin, li prôpe langue da Djezus-Cri ? Après, ça a stî l' almand, l' inglès, l' itålyin, li francès, l'espagnol et pu l' arabe.
Adonpwis on-z a rapougnî latén, disk' a dvant l' cominion. Adon, l' eveke a stî serer l' mwin des priyîs d' oneur muzulmans, po n' les nén ritni pus lontins.
Il esteut d' kession ! Po dner l' cominion al flouxhe di djins k' estént dins l' båzlike et ådfoû, il a falou cåzu ene dimeye eure.
Et on dnéve l' osteye (el boke u dins les mwins) divant l' åté et dins l' fond d' eglijhe, et co l' poirter dins les djins po les cis (cenes) k' avént målåjhey roter.
Messe foû, ça a stî l' perlinaedje eviè l' Cåve del Nativté, metowe djusse djondant l' båzlike. Et co des påters et des sohaitaedjes dins totes les langues.
Il esteut bén deus eures å matén cwand il ont yeu tot fwait. Les curés. Mins ça a stî å toû des pelrins di fé l' cawêye po passer al Cåve del Nativté.
Les pelrins do Noyé, c' est ene båkene [bouée] po l' economeye di Betleyem, sitronnêye på resseraedje israyelî.
Les ovroes ki rotèt co el veye, c' est des mnujhreyes k' on-z î scultêye, avou les grossès soyetes, des windeas et des taerires electrikes, les posturetes avou l' creche et et les rwès mådjes et tos des ôtes sovnis po les tourisses. Pu les rachever å fén cizea et å coutea schavrece.
Mins on n' såreut fé viker tote ene veye avou l' comiece di beyatiles [objets religieux].
Pôreut vali ki, avou les vôtaedjes di djanvî pol prezidint del Palestene, et l' arivêye des travayisses dins l' novea govienmint en Israyel…
Rafiya måy n' as ???
---
Lucyin Mahin, li 26 di decimbe 2004, voyaedjeu so PSC (Palestine Second Channel) pa antene-eschiele, eplaidî dins Coutcouloudjoû, djanvî 2005.
---
Construction du "mur Sharon": Les Palestiniens, dans la précarité la plus totale, la pire situation depuis 1948.
Sol tins k' on s' bate (po rén) e l' Irak...
Sharon egayole les Palestinîs.
On responda da Layla Shahid, riprezintante des Palestinîs a Paris.
Dimandeu (Dm) - Madame Shahid, vos rivnoz d' ene tournêye dins les teritweres. Kimint çki ça va drola ?
Leyla Shahid (L.S) - Ça n' a måy sitî si må po ces pôvès djins la dispu 50 ans; et dji so lon do criyî foirt.
Dm. - Les Palestinîs si sintèt abandnés come jamwais ?
L.S. - Oyi; les djins s' ocupèt tertos des dispoûslêyes inte l' abrocance [envahisseurs, forces d'occupation] amerikinne et des Rezistants irakyins. So ç' tins la -- come fwait esprès -- Sharon est bastixhant on meur di ût metes di hôt. Nén inte Israyel eyet les teritweres come li mape aveut stî dessinêye e 1948. Neni, hon, neni. Li meur kitaeye li Palestene e troes ptits bokets, ki n' riprezintnut ki 42 åcint do teritwere di l' Estat palestinî.

On passe cobén sins contrôle, mins disk' a cwand ?

Asteure, c' est tot resseré !
Eto, a Djeruzalem, vos avoz tos les coulots palestinîs ki sont côpès di leu campagne. Et les djins n' savèt pus bodjî. I n' savèt pus aler vey des parints 10-15 km lon, ça i toumèt so des controleus israyelîs. Et gn a la des cawêyes di djins ki ratindèt po k' on-z aveurixhe leus papîs. Cwand on-z a s' passe-avant, il est ddja tins d' eraler.
L' anêye 2002, gn a 40 Palestinîs ki sont moirts e ratindant d' poleur passer a ces "check points" la, dabôrd k' i dvént aler a l' ospitå. Minme les femes po s' acoûtchî. Gn a fok cwate femes so dijh ki s' ont-st acoûtchî dins ene clinike e 2002. Les ôtes ont yeu leus efants dins ptitès infimreyes di viyaedje u minme e leu måjhon.
Dm. - Si leu måjhons n' ont nén stî bouxheyes djus dins èn abrocaedje di buldozer !
L.S. - Vos l' dijhoz bén. Gn a asteure des camps come a Ghaffa wice ki les Israyelîs abrokèt totes les nutes avou 30, 40 tanks et cwate cénk buldozers et vni distrure des måjhons. Des måjhons d' civils ! Gn a dipus d' meye måjhons avadjeyes a Ghaffa. C' est parey a Xhaniounesse, a Kalkilia.
Avou l' meur et totes les disvoymints po les colons djwifs poleur ridjonde les colneyes ki sont stramêyes pattavå, les Palestinîs si rtrovèt dins des gayoles, co pé k' les bantoustans do tins d' l' apartheid a l' Afrike do Sud.
Dm. - Mins Sharon n' a-t i nén atåvlé di dismimbridjî sacwantès colneyes ?
L.S. - C' est des tchitcheyes. Des setelmints såvadjes k' i n' sårént disfinde.
Årvierdimint, dins les teres k' il a esseré dins s' meur di "disfinse", gn a totes les poujhåvès aiwes [nappe phréatique]. On toû d' rossea tchén po-z assouwer les dierinnès teres k' i lairont ås Palestinîs.
Dm. - Mins gn a-t i pupont d' rafiya emey les Palestinîs? Cwè çk' on pinse di l' acoird di Djeneve ?
L.S. - L' acoird di Djeneve, c' est on arindjmint oficieus, inte deus ancyins minisses, èn Israyelî, Yossi Belin et on Palestinî, Yasser Abderrabou.
C' est ene påye globåle, ki tuze a tos les ponts d' margaye inte les deus bateus: les colneyes (ki serént tertotes dismantcheyes); li statut di Djeruzalem (ki sereut pårteye e deus, ene mitan po-z esse li mwaisse-veye d' Israyel, l' ôte mitan, li mwaisse-veye del Palestene); li rivnaedje des refudjîs di 1948 et 1967 (les Palestinîs î rnonçrént).
L' acoird a stî bén veyou pa bråmint des djins, mins nén les oficires palestinîs (ki n' vlèt nén rnoncî å droet des refudjîs do rivni); nerén pås oficires israyelîs (ki l' ont traité di måvnowe biestreye). Les sineus ont stî rçûs pa Collin Powel, li vice-prezidint amerikin, k' a cwand minme ridit ki li plan ki l' Amerike disfindeut, c' esteut li "Foye di voye" des cwates "påréns" USA, Russeye, Urope et ONU, et nén l' acoird di Djeneve.
Dm. - ... Ene "foye di voye" ki n' a måy sitî aplikêye pa Sharon.
L.S. - Sharon n' a k' ene idêye el tiesse dispu k' il stî rlomé prezidint: tchessî evoye li pus di Palestinîs possibe. Les cis ki dmorèt: les reclôre dins des gayoles, les bantoustans ki dji vos djheu enawaire, po k' i n' polénxhe måy askepyî leu estat.
Dm. - Sabaye s' i gn è va aveur ene aloyance eternåcionåle po-z apicî Sharon (k' a touwé les djins di s' payis a Sabra et Chatilla come Saddam a macsådé les Kures) et vey s' i gn a des åres di mierdistrujhaedjes come des bombes atomikes en Israyel ?
L.S. - Ça pôreut esse s' i gn åreut ene djustice. Mins ouy, c' est li lwè des deus pwès deus mzeures ki rote. Et, a ç' djeu la, c' est todi li ptit k' on spotche, et l' gros ki fwait kine.
---
Lucyin Mahin, li 22 d' decimbe 2003, å-z ôre del radio Medi 1.
---
L'avenir de la Palestine et d'Israël.
L' apartheid n' est nén moirt.
Neni, ô, neni, dji n' vos va nén djåzer d' Afrike do Sud.
Dji m' va copiner avou vozôtes d' on live da Marwan Bichara "Israël et Palestine. Paix ou Apartheid" k' a vudî lanawaire a l' Eplaideu francès "La Découverte".
L' ome, c' est èn Arabe d' Israyel, et i nos cåze d' ene peclêye di djins ki sont rovyîs ezès grands-messes do "porcessus di påye", les Palestinîs ki dmorént dins l' aroyaedje [périmètre] k' a divnou, e 1948, l' estat d' Israyel.
Gn a les cis k' ont stî tchessîs evoye, et ki vikèt - ki vicotèt purade - dins les refudjioms [camps de réfugiés] e Liban ey el Djordanreye.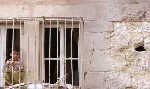 Ki vicotèt, a dju dit. Et eco! "vicoter", c' est on grand mot. Cwand vos tuzoz ki ces djins la n' ont nén l' droet di rexhe di leu bôre [tannière] - dj' ô bén les camps - k' i n' ont pont d' nåcionalité, pont d' paspôrt.
Mins gn a ene deujhinme sôre di rovyîs. C' est les Palestinîs ki vikèt ådvins d' Israyel. Zels, il ont l' nåcionalité israyelyinne. Ça fwait k' i dvrént awè les minmes droets k' els Israyelîs djwifs, dabôr.
Sol papî, ça n' va nén trop må. Il polèt vôter, et i rprezintèt 10 åcint des vôteus. Il ont cwate cénk [4 ou 5] deputés al Kunessete, li Tchambe en Israyel. I n' ont nén l' air k' i fåt k' i clapexhe leu djeve [apparemment pas réduits au silence], ca lanawaire, gn a on deputé arabe israyelyin k' a dmandé ene kesse å pårlumint so l' ekipmint nawearin (nucleyaire) d' Israyel, on sudjet tabou disk' adon.
Gn a waire di payis arabes u muzulmans wice ki l' opozucion - copurade li cine k' a-st ene ôte rilidjon - pout vni fé do herleme inla come on tchén o mitan d' on djeu d' beyes [faire scandale en brisant des tabous]. Dji n' voe nén les Crustins d' Irak u les Djwifs d' Iran, co moens les Indous d' Afganistan awè ostant a dire.
So ç' pont la, li democrasreye d' Israyel est çou ki s' fwait d' mî e tote l' Afrike Bijhrece et l' Moyén-Lvant [Afrique du Nord Moyen-Orient].
Mins nerén... [Mais il y a un "mais"].
Si les "grandès gueuyes" des Arabes Israyelyins, on les leye co bén bawer, les ptitès djins, zeles, sont rwaitêyes come des moens ki rén. Gn a cwate cints viyaedjes k' il î dmorént e 1948, k' ont stî tot bén bounmint bårés des mapes d' Israyel [rayés des cartes]. Les Arabes k' î dmorént fourît tchessîs evoye ådvins d' Israyel, eviè 40 noveas viyaedjes, mins k' Israyel ni ricnoxhe nén nerén. So ç' trevéns la [pendant la même période], Israyel a-st ahivé [fondé] di pus d' 700 veyes et viyaedjes pår po les Djwifs.
Sol tins ki ls Arabes d' Israyel sont rloukîs comes des moens-ki-rén, les colons, zels, ki vikèt e Cisdjordanreye et a Gaza, ont tos les droets. Po cmincî, li ci di s' porminer pattavå l' payis avou leus fiziks et leus pistolets, di fé do handel [commercer] et hay vos nd åroz.
Deus raeces dins l' minme payis, avou tchaeke ses abondroets, ene k' end a bråmint, l' ôte k' end a waire, c' est çoula ki l' Marwan Bichara lome l' apatheid.
On pô come si ls Almands, e 1944 paski l' Walonreye a stî, di pus d' meye ans å lon, on boket di l' Impire Djermanike, il årént leyî avår ci des colonreyes, avou des civils almands, årmés disk' ås dints, ki s' årént yeu porminé avå l' payis et rire å nez des ancyins d' l' Årmêye Blantche. Et cwand èn Almand åreut yeu stî touwé, erclamer k' on pûnixhaxhe les "terorisses" k' avént fwait l' côp.
Et, dismetant [entretemps], dimander azès Walons d' siner on "porcessusse di påye".
Ci n' est nén on porcessusse di påye, les emantcheures di Camp David II, sapinse a Marwan Bichara, c' est on regressusse di påye.
Por lu, n a, lon-veyanmint [à long terme] ki deus rexhowes a l' Aroke Palestene-Israyel".
Prumirmint, l' ahivaedje [fondation] di deus estats dislaxhîs [indépendants]. Deujhinmmint, co bråmint pus lon dins l' avni, l' askepiance [naissance] d' on seul payis avou deus nåcions ådvins, Palestinîs et Israyelîs.
K' i dmandénxhe azès Beljes comint k' ça rote. Nén trop bén, mins avou bråmint moens di moirts k' en Israyel.
Mins li haeyeme [haine] k' a nexhou di cåze des deus gueres (48 et 67) et des deus rvintaedjes ås pires [révolution, soulévement des pierres], les intifada, tot çoula, est çk' on l' pôrè måy rovyî ?
Sûteye risponse da Bichara:
E l' Urope, li guere 40-45 a fwait 12 miyons d' moirts. Et portant, gn a bén skepyî après 15 ans, li "Cmon Martchî" [Marché Commun] k' a divnou, 40 ans pus tård l' Union uropyinne, avou pus nole frontire.
Ben dabôr, sapinse Bichara, pocwè nén nozôtes ?
---
Lucyin Mahin, li 24 di may 2001.
---

(Page sur l'Algérie) Pådje so l' Aldjereye.

(Page sur le Maroc) Pådje sol Marok.
---

Si des mots difficiles se présentent à vous sur ces pages, allez voir s'ils ne sont pas expliqués dans le Splitchant motî do walon (avec brève traduction française), ou dans le Wikipedia, l'encyclopédie en wallon (suivez: "Pordjet Esplicant Motî").
---

(Index des sujets traités en wallon unifié) Djivêye des sudjets diswalpés e rfondou walon.

(Index des auteurs dont les textes sont disponibles en wallon commun) Djivêye des scrijheus k' ont scrît u k' ont stî rashious e rfondou walon.

(Back homepage) Hay ervoye al mwaisse-pådje

(Page menu du wallon commun) Alans rzè eviè l' pådje moennrece do rfondou walon.

(Back liste des articles journalistiques de L. Mahin) Ralans è sol djivêye des scrijhaedjes di papîs d' gazete da Louline Voye
---
Les papîs da Lucyin Mahin polèt esse ricopyîs et ratournés francmint, tot metans l' no do scrijheu et leu-z adresse did so les fyis.
Papers from L. Mahin are free, inluding translations, quoting the author and their URL source.
---