C' est todi l' aiwe ki doime ki neye.

ene novele da Louline Voye.
dierin rapontiaedje - last update: 2004-01-31.
I.
" Prindoz mu so vosse djeron, ô, bobone, et s' mi racontez co ces istweres di viyès sorcires la, come ene vayante. "
Li grand-mere, avou s' vwès ki rôgyive come ene viye tårtele tote sokêye, apougnive - pol cwantrinme côp ? - li conte del Grijhe di Falijhoû, li cile k' on djheut k' aveut paké avou l' diale.
Les djins di Nessimont avént fini pa-z esse hodés d' el vey ripasser o fén mitan d' leu viyaedje tos les mårdis del vesprêye, k' ele rivneut d' awè stî vey si båshele a Vanlè.
Foice ki, li londmwin, c' esteut todi l' arafe: tos les cis k' avént måsgrognî so s' dos li samwinne di dvant atrapént ene mizere u l' ôte. Soeye-t i k' on vexhå lezî vneut stronner leus lapéns, soeye-t i k' leus poyes crevént del pepeye; udon k' leu boure ni saveut vni; ucobén k' leus efants ramassént des pious.
On bea djoû, i nd ont yeu plin l' dos, et po ene vesse må tournêye, il ont houkî les djindårs.
Li vî brigadî, ki cnoxheut bén l' Grijhe, n' esteut nén trop a si åjhe. I n' a rén trové d' mî ki d' diner l' ovraedje di ramasser l' macrale a deus djonneas d' Boyonsåt, ki vnént d' esse sititchîs al brigåde di Falijhoû.
I paret k' i n' avént måy rén fwait d' bon e scole, et k' i n' valént nén ene petale di gade. Mins leus pas, des gros menirs di Boyonsåt, avént des poûssants pus hôt.
I fjhént di leu nez, to sins bén, nos deus zigomårds mågré k' i n' estént nén co rsouwés padrî ls orayes. C' est k' on Boyonsåtî, ça n' si motche nén do pî. Ci n' est nén del djote, sapinse k' on n' dit.
Ça fwait k' il avént stî cmandés di rascode li Grijhe a l' ôrire di Biernåbwès, o reaze del Tchapele Morea.
Por zels, ci n' esteut k' ene pitite kerwêye k' i contént raddimint roister.
I n' si dotént nén di çou ki les ratindeut. "
A ç' moumint ci del sipoûle, li grand-mere aveut l' zine di rprinde alinne. Elle apicie li cocmwår, si vuî ene castêye di tene cafè, et s' goirdjî dvins a ptitès golêyes. Pu ele ratakéve:
" Tot d' on côp, vola l' Grijhe ki s' amoenne piyim piyam, li noer bachlike [châle] so les spales, et s' baston d' todi al mwin. Ele li stitchive divins tere divant leye, di sogne di s' afagnî dvins on frexhea.
Cwand k' elle a yeu stî arivéye djondant les deus djindårs, rouf !, vo les la ki zouplèt djus do hourlea tot boerlant:
- Håwe, li Grijhe ! Dji vnans po t' fote al gayole. To n' nos schaprès nén, saiss, ci côp ci. Bodje d' ene pate et dji t' sipiyans l' ôte ! "
Et il avancèt l' mwin po l' apougnî.
I n' avént nén co yeu l' tins d' drovi l' boke po poûssî ene tchîpe ki zoup ! vola l' viye feme sipitêye dijh metes padvant, et d' cotinouwer si tchmin mo påjhirmint, avou s' baston ki sinteut dvins les ormeures.
La, wai, nos deus gableus dårer a grandès ascôxhêyes po l' ratraper.
Mins tchaeke côp k' el comptént apicî, ele lezî schipéve foû des mwins come ene anweye. I n' l' ont todi måy seu raclôre, la, c' est mi ki t' el dit.
Inocins catoize, va ! I n' conoxhént nén co les set toûs do Malén. I n' î estént nén co, la, al taye ås fraijhes.
Et les djins d' Nessimont ki canlént sol dos del Grijhe ont co todi yeu leu boure ki n' vineut nén, cabén k' il årént yeu tourné tote li shijhe al manike do boûtea.
Et ç' n' esteut on pô ki d' djusse, å raeze, puski les bråvès djins ni hapént måy pont d' mwais sôrts.
- N' ass nén peu des cayets d' macralreye, hê, twè, mi ptit moxhet ?
- Taijhoz k' neni, alez ! Si dj' resconterreu måy ene macrale, dji freu m' sene di croe seyance tinante, et l' diale ni oizreut todi måy m' aduzer.
- Vs estoz todi mo hårdi, la, vozôtes, les zwers d' enute ! Nozôtes, dji schiténs totaleure al marone - såf respet - cwand nosse viye mere - li Bon Diu si åme ! - nos racontéve des paskeyes inla.
Et tchaeke côp. Li grand-mere achevéve si racontaedje insi:
- Mins i gn a cwand minme ene sakî ki to ndè does awè peu : c' est l' Pépé Crotchet.
Ni vas todi måy trinner dé les vuvîs, u åddilong des bîs, u sol boird di tolminme kéne aiwe ki court u ki doime. Minme dé l' vî puss, ca ç' veråt d' godi la s' î vént co bén rmete a l' anuti.
S' i voet des ptits efants avår la, i les apice avou s' crotchet et s' les neye-t i. "

II.
C' est insi ki, dispu estant tot ptit, li Mårtén do Coibjhî aveut oyou cåzer des sorcires et do Pépé Crotchet.
C' esteut on ptit efant come les ôtes. Anfin, cåzu come les ôtes, ca c' est ddja tolminme on pô drole di vey èn efant ki n' a pont d' ådje si plaire a-z ôre totes les shijhes des cayets d' macralreye u des contes di waerleus. Po dire li veur ou çk' il est, si grand-mame, ki lyi racontéve çoula, c' esteut bråmint leye ki l' aveut-st aclivé.
Mardjo do Coibjhî l' aveut yeu estant co cmere. On n' a måy seu trop d' kî, mins on-z aveut l' apinse ki c' esteut d' onk des fådeus k' avént eterprindou l' côpe del Plinne des Minires ciste anêye la.
On bea ome, ma frike, mins pol cåzaedje, on vrai boû d' fagne.
I paret - mins on n' l' a seu k' après - k' i n' droveut l' boke ki cwand k' on cåzéve di femes, et c' esteut todi po rdire li minme sipot:
" Mi dji di k' i fåt sumer cwand ki l' tere est amoreuse. "
C' est nén po ça, l' amour, ça prind come li schite ås veas.
Il aveut beazebén tchôkî des baloujhes al tiesse del Mardjo. Et lyi shofler des pouces a l' oraye...
Mins cwand k' il a seu k' elle aveut stî djondowe, i l' a leyî la hatche et matche, po do poeve et do sé.
Måria Deyi ! Ké veye k' il a moenné, li vî coibjhî, cwand k' il a coprindou ki s' båshele ratindeut !
On dit dvins l' viyaedje ki c' est bråmint ces tourmints la ki s' ont rtapé so s' cour, ca dispu don, on a bén veyou k' c' esteut-st èn oujhea pol tchet.
Et come d' efet, i n' a nén passé l' ivier. Il a nd alé après l' Novel-an, come s' i n' åreut nén yeu vlou vey l' efant do petchî, k' a skepyî on pô après l' Tchandleuse.
Li Mardjo n' a måy veyou foirt voltî si ptit valet. C' est l' viye mere k' a etertinou l' påpåd, et l' refaxhî cwate côps par djoû, et s' rawayî del nute cwand k' i pîléve, et lyi fé des kiloûs dvins s' pitit bîrce cwand k' il aveut l' tins long.
C' est dandjureus po ça k' il inméve si télmint s' aler fé adolmidjî dvins l' schô del grand-mere. I nd aveut d' keure, don, lu, k' ele lyi racontaxhe so les diales et les nûtons, et les deus macrales Magrite et Zabele ki montént a tchvå so leu ramon po ndaler danser a meynute divant l' rotche ki poite co leus nos.
Il esteut dilé s' bobone, bén adolmidjî, et c' esteut tot. I l' schoûtéve et s' si rafyive-t i k' ele li rasseraxhe siconte di s' gavêye avou tote li foice ki dmoréve co dvins ses vîs bresses, setchs come des trikes d' awè trîxhné leu veye durante.

III.
Mårtén aveut ddja ût ans, asteure, et il aveut intré al grande sicole. C' esteut co rén, ca l' mwaisse coprindeut foirt bén ki l' pitit n' è pleut rén d' esse on baståd, sapinse les canleus.
To nd åreus yeu des cis k' i gn a ki l' årént metou tot seu so ene rindjêye et s' lyi disfinde di djouwer avou ls ôtes. C' esteut l' alaedje insi, la, dinltins.
Monsieu l' curé avou, k' aveut stî mo vayåve por zels. Il aveut cåzé pol Mardjo al costire, ki l' aveut bén vlou prinde come aidante. Et i lyi aveut minme diné on ptit wangnaedje di rawete ki lyi fjheut bén do bén. C' esteut ndaler souner a messe et rnetyî l' eglijhe li londi.
Ça fjheut djårgoner kékes magneus d' Bon Diu - savoz bén, don, ci sôre di djin la ki vlèt-z esse pus catolikes ki l' påpe -. Mins l' curé lezî rduléve li poy tenawete tot prêtchant so Mareye Madlinne ki s' aveut rpinti, et ki l' Bon Diu aveut passé l' loke so ses petchîs.
Po dire li veur, ça n' aléve nén trop må, cwè.
Mins so nosse pôve tere, li ci ki n' a pont d' mizeres endè ratind.
Et come d' efet, l' anêye d' après, c' est l' grand-mame ki n' a pus seu hay. Portant, elle aveut co stî reverante, savoz, disk' adon. Dji n' vos a nén co dit k' elle esteut strupieye.
Ayi, elle esteut croufieuse dispu estant tote djonnete d' awè stî poirter so s' dos des saetchêyes di grin pus grosses ki leye disk' å molén d' Wézelvå, deus eures lon.
C' esteut ddja ene sifwaite trote, la, vozôtes.
Et pu ç' côp la, c' est leye k' i faleut co k' î rvåye li sorlondmwin po-z aler rcweri l' mônêye.
Mågré si strupiaedje, di dju, ele vineut co bén a pont el måjhon: elle etertineut l' feu, ele moleut l' cafè, et si l' rime lyi prindeut, ele si meteut a rischurer tos les keuves et cafroyî les assîtes di stin.
Li pôve viye djin esteut ddja maigue come on clå d' avance. Setche come on côp d' trike, sapinse k' on n' dit .
Mins dispu ci ivier la, ci nd esteut puch.
Pôve laide viye djin, k' aveut todi mizéryî tote si veye !
Elle a nd alé tot bea doûçmint, come ene tchandele arivêye å coron ki s' distind tot fjhant ene pitite bleuwe blame. Ene pitite blame ki vout d' tote foice blamtyî disk' å dierin moumint.
Ç' a stî li ptit Mårtén k' end a stî fén dzôrnyî. Il a sayî d' fé l' foirt, li gamén, et ratni ses låmes tot l' etermint durant. Mins cwand k' on-z a stî al cimintire, li pôve efant n' è pleut pus.
Dolmint k' on-z a yeu passé les cingues divins les pougnêyes do waxhea po l' dischinde o trô, i s' a metou a braire a saeyeas et a saeyeas.
Dispu don, ça n' a pus stî do tot l' minme e scole. Il esteut hagnûle come on tchén rtraké.
Al nute, i wachotéve ene munute divins ses bouyes di scole, et pu, hay evoye avå les tchamps et les bwès, la k' i catournéve disk' al noere nutêye.
To n' åreus yeu dit on vî leu mierseu, k' a stî ctchessî foû del hiede, et ki bat les campagnes sins vnance ni alance.

IV.
On bea djoû a l' anuti, ki s' mere vineut d' rariver did mon l' costire avou ene banslêye di mousmints a rakeude u a rassercî del shijhe, vo l' la ki rmousse el måjhon come on fonnet, mitan wîclant, mitan tanflant, mitan tchoûlant: " M...m...momo...moman, moman ! li Pé... Li Pépé... Li Pépé Crotchet ! ".
Li mere avize ses solés-galotches - c' esteut des vîs solés rismelés avou des smeles di bwès - k' estént tot adaglés avou del bôjhe. Ele coprind k' il aveut co stî trinner après l' Fwè u les Fagnes Mariete. " Pitit arnåjhe, dit-st ele, wice ki t' t' as co stî stitchî po-z esse acayté inla ? To m' frès dåner ca to m' frès dåner."
Cwand l' gamén a yeu stî ene miete rapåjhté, i s' a splikî:
" Dj' esteu ki pexhive ås tchacås dvins ene basse padrî les Barakes. Tot d' on côp, al tote vesprêye, dj' a veyou ramxhyî ene sacwè dvins les djonkeas. Dji contéve ki ç' n' esteut k' ene rinne u on cwâctrea. Mins après, ç' côp la, gn a rexhou foû des yebes come ene noere mwin plinne di crawieus doets. Pus k' seur ki c' esteut l' Pépé Crotchet.
Li mere a waitî d' el rapairer come elle a seu. Pus, cwand k' il a ristî on pô coe, elle lyi a co bén ricmandé di n' pus aler rôler dé les bîs, les gofes et les vuvîs.
" On bea djoû, i t' î vénrè apicî. I n' fåt nén rire avou ces cayets la ! "
On moes pus tård, totafwait esteut ddja rovyî. Dispu sacwants djoûs, i gn aveut vnou des grossès walêyes di gurzeas, les bikets d' avri, sapinse k' on les lome. Les hapeus d' aiwe - c' esteut les cis ki vlént di tote foice raiwer leus prés après les lavåsses, et ndaler haper l' aiwe å vijhén tot disbrôlant si astantche -, les hapeus d' aiwe, di dju, estént en erote totes les shijhes. End aveut i ene di bôjhreye, dji n' vos di k' ça, sol dizo des prés del Djerlinne, ki sont foirt etiernés [en pente].
Ça fwait k' l' aiwe ki vneut djus, foû des bîs d' raiwaedje et des bîxhons et k' aveut renaiwé l' pré, ele dimoréve divins des ptitès gofes divant di rwangnî l' mwaisse-bî.
Li ptit Mårtén aveut-st erité d' ene viye pwaire di botes del cinsresse des Batis, ki l' Mardjo î aléve co bén fé kékès kerwêyes dolmint k' el ricwestént.
Kén eplåsse, tolminme, ci ptit Coibjhî la ! I n' aveut rén trové d' mî ki d' aler brexhler dvins les pexhotisses del Djêrlinne, swè-dijhant po vey si ses botes ni poujhént nén.
Il esteut la ki pesteléve flitch flatch divins l' brôlî, et tot d' on côp, i tape ses ouys so des ptits tchinisses, come des trawe-pî, ki grevissént divins l' aiwe. Et pus k' i rlouke après, pus k' i lyi shonne k' i crexhèt, k' il atrapèt des crawieus doets, cwate so tchaeke pate, avou ene noere pea po les repåmer.
Li Mårtén a dmoré on moumint eclawé, come efagnî dvins l' wårbire. I s' åreut bén volou såver voye, mins ses djambes n' el vlént nén schoûter. Il åreut bén volou criyî, mins ndè vleut nén rexhe on såké cwîk foû di s' gårgasson.
Al fén, il a clôs ses ouys, il a boerlé on côp co pire k' on vea k' on stronne, et il a rabizé o viyaedje a grandès hazêyes, etot s' epîtant dvins les hourleas et dvins les roymints des tcheretes.
Il a rarivé pus moirt ki vike, avou les pougnets stokés, les djnos mousdris, li figueure tote coschirêye. Si mame lyi a rsaetchî ses soketes totes frexhes et, po l' reschandi, ele lyi a vudî ene pitite gote di blanc peket, k' il a boevou e trimpant on souke divins.
Adonpu, ele lyi a co stoné l' minme prêtchaedje, di n' si pus aler tchôkî dilé les sourdants, les bîs, les fontinnes et les aiwes.
I gn a rén yeu a fé. On moes pus tård, ci resteut l' minme comedeye. Li gamén esteut ki rwaitive les araegnes d' aiwe, les damjheles et les rognes d' aiwe o Wézemwårin. Ci côp ci, i " l' " aveut veyou rexhe foû d' l' aiwe avou on pexhon eter les dints. Il aveut co todi veyou ses ût crawieus doets avou l' noere pea ki les rdjondeut, et les deus cros dvins s' gueuye.
Li mere, li Mardjo, ni saveut pus cwè. C' est k' ele n' î croeyeut k' a mitan, la, leye, a ces contes di nûtons la, et d' Pépé Crotchet, et d' Mareye u d' Hinri Crotchet. C' est po ça k' ele n' åreut oizou ndaler trover on rbouteu po s' valet ca elle aveut sogne di lyi peter d' rire å nez.
Totafwait n' egzistéve dandjureus ki dvins l' idêye da Mårtén, come ene sôre di sondje k' el prindeut pa côps, cwand k' il esteut addé l' aiwe.
I valeut co mî n' pont fé d' ceremoneyes, et d' djusse disfinde di tote foice å gamén di co ndaler pormoenner divins ces frexhès places la.
Ci djoû la, li mere a moenné on dero d' tos les diales, tot prometant fessêyes, ratournêyes et plouzêyes s' ele li rprindeut co a-z aler baloujhner tot do long des aiwes.
Dj' åreu volou k' vs årîz oyou l' ahoûlreye ki ça a fwait, ci shijhe la...

V.
Sol tins k' si mere boerléve et dedjurer, Mårtén s' sinteut tot drole. I n' breyeut nén; i n' aveut nén peu; i n' rispondeut nén. Gn aveut come ene foice ki lyi montéve divins s' coir et ene vwès ki lyi djeut: " Véns î co mins n' elzî dis pus ".
Dispu ç' djoû la, li råpén a stî pus påjhire. I n' aduzéve pus les ôtes sicolîs po on rén, et s' ni s' måvléve-t i pus cwand k' i l' acwerént. Mins nérén, il esteut bråmint moens a si ovraedje, et todi dvins l' lune, avou des ouys grand å lådje come les bixhes ki vnèt lurter l' blamêye d' on braijhisse a l' anuti.
I n' rispondeut nén cwand k' on l' arinnéve. Cobén d' côps ki s' mame lyi a dvou dire: " Hê, valet, c' est a twè k' dj' end a " po l' haetchî foû d' ses sondjreyes.
Li semdi, sins k' nolu n' el såye - si mere esteut-st al djournéye amon onk u l' ôte -, i skiftéve evoye foû del måjhon pal rayire del cåve ås canadas.
Et hay des guetes eter les håyes do pazea do Rouvro, disk' al Praireye, li coûteure di prés k' est tot do long do rî del Watringue.
Il î balzinéve tote li vesprêye, des côps tot waitant d' atraper des grevîs divins ene botaye, des côps e sayant d' apicî ene trûte al mwin, u d' trover ene grevesse padzo ene pire.
Gn aveut måy pont d' fén k' i s' decidaxhe a rwangnî l' måjhon. C' esteut tot djusse come si ene foice li ratneut li long di ci aiwe la, ki coreut so les doyes des ôneas et rdjibler s' les pires, divant d' moussî dvins l' gargouye del Falwache.
Deus moes å long ki l' manedje a duré. Li gamén n' voeyeut pus l' Pépé Crotchet, mins i lyi shonnéve k' il esteut la, ascwati padrî lu.
Et ça lyi fjheut do bén d' î sondjî, ca l' imådje di s' grand-mere rivneut todi avou.
Çou k' i rvôreut tant li rvey, por lu sinte ses crawieus doets divins s' viye setche mwin.
I gateyrive co, po djouwer, si pea tote rôtêye et ratchitchêye, deure come do cur, mins ki catchive on cour doûs come del låme.
Pocwè n' el nén ndaler rtrover o stoelî, la-hôt o dzeu des noerès noulêyes ?
Il î pleut todi bén vni, saiss, li Pépé Crotchet. Ki ça våye come ça vout, k' i sondjive, li Mårtén, dji n' såreu ddja esse pus målureus k' dji n' so, va.

VI.
Li Batisse do Bochet esteut ki roistéve tot s' forneymint d' pexheu après ene boune longue djournêye. Dj' el vou bén croere: tapez èn ouy sol baxhåve [panier de pecheur] fene plinne a hope: troes cwate belès trûtes, des blancs, des bårbeas, minme ene lamproye, k' on dit k' i nd a pupont.
Si grand-mere, li seule djin k' el voeyeut voltî.
" Waitans d' nos avancî, dit-st i dvins lu-minne; copuvite ki dmwin c' est co l' Floreye Påke et s' si fårè-t i bén rassonrer al nute po esse mo faråd po cwand k' on-z irè rpåcter les tombes. "
Li pexhe sol sipale, li banot o bresse, et l' dossêye di clicoteas dvins s' malete, vo l' la k' ascôxhe li pazea d' Mussi a grandès hazêyes.
Djondant l' Frinne Onea, on live bole foû do hourlea et lyi passe cåzu inte les djambes.
" T' as todi bén del tchance ki dj' n' a nén m' shoflete, la, ti, po on rossea. Dji t' åreu yeu striyî les orayes comifåt.
Tén, vo nos la ddja bén å raeze do Vuvî ås Troes Sås. "
Li plaece si loméve inla a cåze des troes viyès sås k' estént metowes ene dilé l' ôte ki rwaitént l' aiwe. I fjheut dedja on pô brune et i brohinéve.
" Portant, mildju, dji n' a nén l' tchike, dit-st i l' Batisse etot schôpiant ses ouys. Cwè çki c' est d' ça po åk k' est la ki flote inte deus aiwes. On n' direut...
Godferdom di nondidju, ki vos m' fijhoz si må dire ! T i possibe ca t i possibe ! Bén taiss k' åy, jourdidju ! C' est li ptit valet did mon l' Coibjhî, avou s' rodje camizole. Troes cint vint mildju d' nondiguete !... "
Vo l' la ttossu rade rabrouyî å viyaedje åd truviè des tchamps, come on fonnet k' åreut yeu l' schite. Et tot leyant l' cane pexhrece et l' bachålêye di pexhons et tot l' sint-friskin an plan li long do vuvî.
" Pôve laid mvét d' gamén ! T i possibe, bén seur ! !
Abeye amon l' tchampete, pu amon l' mayeur. "

VII.
Ké ramxhireye, divins l' viyaedje, les djoûs d' après ! C' est k' on-z aveut metou l' gamén al môre, et k' l' ouxh aveut stî selé avou do plonk. On djheut k' on dveut fé vni l' parket. Minme li pôve mere, ki n' si saveut rawè del saizene k' el novele lyi aveut fwait, n' aveut nén yeu l' droet d' l' aler vey.
Ca on brutyive pattavå ki c' esteut onk ki l' aveut tchôkî e l' aiwe.
Po dire li vraiy, gn aveut k' les omes k' avént rapexhî l' coir avou ene pitite naçale ki savént cwè å djusse. Mins l' mayeur lezî aveut bén disfindou d' dire åk.
Mins savoz bén comint k' ça va, don, vos. On n' dit rén et on dit tolminme ene sacwè.
" I n' li fåt todi nén repeter, da, mins i paretreut k' on-z a trové l' coir do gamén tot kschirådé, come si ene biesse l' åreut yeu hagnî al figeure, ås mwins et azès djambes. Et mi ome a stî plaidî amon des djins ersè - dji n' vos dirè nén amon kî paski ça n' si doet nén sawè - mins on cåze do ci k' c' esteut dandjureus lu l' pere di l' efant. Sav' bén, don, onk des fådeus k' avént vnou eterprinde li côpe del Plinne des Minires la dijh doze ans.
Après, i s' a maryî avou l' båshele d' on gros cinsî d' après Hinrivå. Ebén, i paretreut - mins dji n' vôreu nén ndè fé on vraiy, da - i paretreut, di dju, ki s' feme n' a pont seu awè d' efants avou lu. Et cwand k' elle a-st aprindou l' fén mot pol Mardjo, elle end a divnou sote araedjeye, et elle a djuré di s' rivindjî so l' Mårtén.
Pôve gamén, come s' il è pôreut åk !
Ele l' åreut yeu fwait shure dispu kékès samwinnes, et å bon moumint, il årént låtchî on tchén dressé ki l' åreut stronné.
Ci n' est k' après, dandjureus, k' on-z a stî hiner l' coir e vuvî ås Troes Sås, po fé acroere k' i s' î aveut neyî. "
Et ça ratakéve d' èn ôte des costés:
" Gn a co des ôtes ki djhèt - mins mi, dji n' î croe k' a mitan, taijhoz - ki c' est on leu warou k' on macrea a-st evoyî po scroter l' gamén.
Pôve pitit, va, il esteut si vayåve.
Mins, s' i gn a del macralreye padzo ça, mi, dj' a idêye ki ça sreut purade li Pépé Crotchet k' el åreut hapé o fond d' l' aiwe. Mi ome raconte k' i voet todi des droles di passêyes divins les broûs, avår la.
C' est des passêyes avou cwate doets avou des grawes et ene pea ki les repåme. "

VIII.
Li mårdi del poenneuse samwinne, gn a-st arivé o viyaedje deus noerès limouzenes avou des beas faråds monsieus plin.
Dins l' prumîre, gn aveut deus djindårs, pu on grand diale d' ome avou ene djaene gabardene k' i lomént " Comissåre ". Pu l' vî docteur di Boclindje, ki travayive do medcén-ledjisse po les tribunås. I n' aveut pus stî vnou o viyaedje dispu l' minêye di plokes did la cénk ans.
Dins l' deujhinme oto, c' esteut l' Baron des Ropetes, ki ses teres vinèt betchî ås prés d' Pierzea, ou çk' i gn a l' vuvî ås Troes Sås.
Il ont stî tertos eshonne amon l' Mardjo, mins l' pôve djin esteut co tote sibarêye, et i n' ont nén polou tirer bén åk di leye.
Li docteur lyi a dné ene botaye di drouke, k' i lyi faleut wachoter cénk munutes, adonpu endè prinde ene kîliye a cafè al nute po s' edoirmi.
Après, il ont stî tertos al môre, pu å vuvî.
Diviè ene eure di l' après-nonne, il ont vnou rmareder amon l' mwaisse di scole.
Après marinde, li mwaisse a dmandé si on pôreut disceler l' môre. I s' ont rwaitî on ptit côp d' bihair, d' onk a l' ôte, pu l' comissåre a dit:
" Ayi, ô ! vos l' ploz bén fé dire å mayeur, et å curé, et k' ça våreut mî d' fé l' etermint dmwin, po n' si nén co ecramyî avou l' djudi-sint. Dji n' avans pont trové d' prouves po dire ki ç' sereut ôte tchoi k' èn accidint.
Li gamén a bén morou neyî, d' awè berôdé dvins l' aiwe. Dj' avans rilvé l' trinnêye di s' bote sol boird do vuvî. Et pu, monsieu l' docteur a trové d' l' aiwe divins les peumons, çou ki n' arive nén cwand k' on tape a l' aiwe ene sakî k' est moirt d' avance.
Li pus drole, c' est k' les schirådes et les kernaxhes [plaies profondes] k' il a plin l' coir ont stî fwaites après l' moirt, ca ele n' ont nén sonné.
Å raeze, ni m' dimandez nén ni cwè ni kesse, ca dji n' î etind rén nérén. "
" Por mi, dit-st i l' Baron des Ropetes, dj' end a trop veyou dvins m' vikereye, des cayets ki n' si plént esplikî, ki dj' n' a nén sogne di vs dire ki dj' croe al macralreye.
Dj' avans ene meskene k' aléve todi fé si bouwêye o rixhea del Pirafin, et ki l' a veyou ossu, ci fåmeus Pépé Crotchet la.
Si ça n' ténreut k' a mi, tos ces fonds la ki sont-st eter mes dominnes et les prés d' Pierzea, ebén, i dvrént esse disfindous po les djins s' î pormoenner. "

IX.
On djoû k' il esteut d' passaedje, li docteur a rivnou vey li Mardjo, et i n' a rén dmandé.
I fjheut co todi s' tournêye divins s' cariole haetcheye pa on blanc tchvå. I n' aveut måy pont vlou d' oto, mågré k' i s' end åreut bén plou payî ene.
Li Mardjo esteut divnowe mwinre come ene foitchete [perce-oreille], et tote siblarêye, k' on åreut yeu dit ene moite.
Avou les rmédes ki l' docteur lyi a dné l' deujhinme côp, elle a rmonté tot doûçmint l' revier.
C' est nén po ça, les djins do viyaedje estént bråmint moens haeyåves ki dvant avou leye. On måleur n' arive måy tot seu, mins leye, elle end aveut yeu di pus ki s' pårt.
Po n' el nén leyî tote seule e s' måjhon, li cinsresse des Batis lyi aveut dné l' tchambe di s' dierinne gamene, ki vneut di s' maryî l' ivier di dvant.
Li cinsresse, c' esteut ene grosse rodjlante djin, ki riyeut et xhaxhler do matén al nute. Ele dijheut todi: " Våt mî rire ki braire, don: li xhinêye est pus bele. " Ele prindeut l' Mardjo po s' båshele, et on pout bén dire ki c' est a cåze di leye k' elle a sti schapêye.
O viyaedje, li vî mwaisse di scole a splikî l' afwaire, ki l' gamén s' aveut neyî mins k' on n' åreut seu dire did wice ki les kirnaches k' il aveut so s' coir vinént.
Adon, les djins ont stî seurs ki c' esteut on toû do Pépé Crotchet. Copurade poy ki l' Baron lu-minme, èn ome ki dnéve todi l' pîce å curé por lu fé do bén dvins l' viyaedje, li Baron, di dju, aveut dit k' ene meskene da sinne l' aveut veyou d' ses prôpes ouys.
Adon, les djins s' ont metou a vinde tos leus bokets do fond d' Pierzea. Mins cwand c' esteut al håsse, i n' alént nén, t' sins bén. Les etrandjîs avént oyou brutyî po l' afwaire do ptit Mårtén do Coibjhî, et gn aveut nolu ki djheut beacôp dsu.
Al fén del passêye, t' aveus todi on ptit ome k' arivéve come avou des féns solés. C' esteut onk k' on n' conoxheut nén avår ci, mins a vey ses mousmints, i vneut surmint del veye.
Il aboirdéve al vinte djusse sol fén, i meteut on pris nén trop mwais, et l' boket lyi rivneut.
Mins, i ndè fjheut rén, et les teres eralént e trîxhe avou des djniesses, des ronxhes et des sizons plin.
Ci n' est k' shijhs set ans pus tård k' on-z a veyou les cis do Tchestea k' î vnént tchessî ås coks di brouyires et ås råleas d' djiniesses.
I paret k' c' esteut l' Baron k' aveut ratchté ttafwait.
Les djins n' savént nén dtrop s' i n' elzî aveut nén djowé cénk royes po-z awè ces teres la.
Mins, djhént i, i gn a on Bon Diu. Si c' est lu l' cåze di tote ciste emantchreye la, i l' ripayrè todi, pa bele u pa laide. Et dvins kékès anêyes, i gn årè pus nolu ki poitrè s' no. Ca:
çou ki vént d' rif erva todi d' raf.

X.
Li djonnete, dandjureus ene situdiante d' univ, s' ascropa so on vî sto, haetcha si ptite calputrece foû del potche di s' saetch a dos, et s' meta a taper.
(Ene calputrece, binamêyès djins, ki ci fourit l' grande môde e 2010, c' esteut l' acmaxhaedje d' on calpin et d' ene copiutrece. C' est come on blok-notes electronike. C' est ossu djinti et ttossu ovrûle k' ene copiutrece di måjhon. C' est bråmint pus foirt ki les prumîs axhlåves, le poirtåves, cwè, k' avént rexhou diviè les anêyes 1980 et des.)
Li båshele sicrijha
" Li vint-shijh di djulete, 2011.
Dj' avans cotinouwé a studyî les passêyes di lote di ç' nute ci. Ele divnèt des niyêyes N3 et N4, ki s' rimetèt ezès bôres B18 et B18'. Nost atuzlêye so l' aire di stramaedje d' ene niyêye si rasgurdit tchaeke côp.
Mins l' pus bea d' tot, divins l' ovraedje d' enute, c' est k' dj' a stî plaider avou on vî ome di Vance, ki m' a raconté des droles di cayets.
Sol cominçmint des anêyes 1900, ki s' grand-pere lyi racontéve todi, i gn a yeu sacwantès djins k' ont morou droldimint divins les teres k' asteure, c' est l' ReWLÊY (li Ressieve pol Wårdaedje del Lote di l' Aiwe-di-Yene).
(Ci ressieve la esteut subzidieye pal Redjon Walone. Li RW, diviè les anêyes 2010, après 20 ans di fel boutaedje des soces di waloneus, aveut decidé di dner ene sifwaite poûssance å lingaedje walon. Tos les cis ki travayént al RW divént passer èn egzåmin d' walon. Tos les pordjets k' ele payive po, i dvént esse situdyîs e walon. C' est ça k' aveut bråmint rmetou l' walon d' asgur.)
Li båshele sicrijha co:
End a bén yeu troes cwate, di droles di moraedjes inla. Mins l' vî ome aveut purade sovnance d' on ptit gamén d' Rancene diviè 1910, et do vî Baron des Ropetes diviè 1920, djusse après l' ôte guere, sapinse zels. On les rtrovéve moirts avou des kirnaches plin l' coir.
Adon, d' après les oxheas rtrovés dvins nos foyaedjes, gn aveut des lotes griblé, divins les fonds d' Pierzea et disk' al Pirafin.
Ç' a stî dandjureus inla disk' al grande guere.
Après, dj' a cåzé avou des vîs pexheus. Et, boutans dispu 1950, i n' s' ont måy plindou po des damaedjes divins les pexhreyes. Ni oyou dire k' ene biesse î åreut vnou ås pexhons.
Et s' n' ont i måy pont veyou d' passêyes li long des vuvîs.
C' est dazård l' anichtaedje des bîs pås aiwes di måjhon k' a espaitchî l' djonnlaedje des lotes. Ca après 1960, les aiwes di måjhon ont divnou plinnes di chimicreyes.
Vs av' yeu ossu li rplantaedje des fagnes k' estént sol pindant des fonds d' Pierzea et k' alént disk' ås troufreyes di Glaireuse: Rebefwè, Nargåfwè, Djerbeafwè, Ronfwè.
Ça fwait ki l' sôre del lote di l' Aiwe-di-Yene - ene sor-sipêce nén come les ôtes, bråmint pus grosse - åreut seur disparexhou po do bon s' i gn åreut nén yeu l' ReWLÊY. "
Et on pô pus lon, sol minme plactêye (li plakete a stî rtrovêye li londmwin dé l' coir del situdiante), on pout co lére:
" Dji vén di rlere on papî do Mådjuster Pastoret divins l' "European Journal of Viral Anthropozoonosis" sol sinsiûlisté des biesses-a-tetes å virusse di l' araedje.
Li lote est ene des sôres di biesses-a-tetes les pus rascråwåves, et ele fwait todi ene fôme sordêvante. Dj' ô bén k' elle est archi-araedjeye. Adon, elle atrape ene foice nouzome, k' ele pout minme touwer des rnåds et des singlés.
Dins tos les cas, cwand k' on rfrè l' avirance des djins k' on-z a dandjî pol deujhinme mitan d' nosse situdiaedje, i n' fårè nén rovyî on studiant d' zolodjince, copurade onk k' est adiercî sol codujhance des magneus d' tchå.
I fåt d' tote foice on spepieus rcweraedje so l' codujhance des lotes.
I fåt waitî d' coprinde tos les pondants et les djondants di leus rapoirts avou les djins; s' ele les atakèt, cwand et pocwè ? Ca dji n' mi sin pus trop seure avår ci, la, mi ! "
---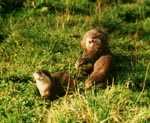 ---

Si des mots difficiles se présentent à vous sur ces pages, allez voir s'il ne sont pas expliqués dans le Splitchant motî do walon (avec brève traduction française).

L' Hinri Crotchet (Paul Siméon).
---

(Back textes Louline Voye) Hay ervoye so l' pådje des scrijhaedjes da Louline Voye. (textes disponibles en wallon normalisé) Sicrijhaedjes e rfondou walon.

(Back homepage Louline Voye) Hay ervoye so l' pådje divantrinne da Louline Voye.

(Back home page) Hay ervoye al mwaisse-pådje.

(homepage wallon commun) Alans rzè eviè l' pådje moennrece do rfondou walon.
---
Sicrijhaedje eplaidî so les fyis avou l' åjhmince do scrijheu. On les pout rcopyî et redjårber tot rahoucant l' adresse did so les fyis.
Édition en ligne explicitement autorisée par l'auteur. Reproduction et adaptations autorisées en citant la source Internet.
---