Page du foot.

Pådje del fotbale e rfondou.
dierin rapontiaedje - last update: 2004-12-18.
Dressêye:
---
Ripoirtaedje do boird do terén.
Djan : "L' ass voeyou ashid dins l' gayole, moussî come on Pére-Noyé, i rshonne a on mårticot egayolé." I s' pout måvler d' tenawete so ses tropes et lancî on geuyaedje mins ça n' va måy ådla."
Luc : "Il lzeu a bén repeté dijh côps k' i faleut passer l' bale purade ki d' sayî d' moussî dins l' gayole avou l' cou dins ses pîs"
Momo : "Cwè vouss, i n' ont nén todi l' schoûte k' i fåt ces råpéns la, c' est l' ådje, paret."
Oufti, ene mwaijhe fåte, onk des nosses est ståré al tere.
Atincion, i n' fåt nén k' onk di ses poyons fouxhe måtraitî, saiss, sinon i zoubele, i potche foû d' ses clicotes et boerler.
Ene mére a l' årbite, ene miete djonne : "I fåt xhufler pus rade, Monsieu, li terén est pezant, ça poreut må tourner".
Anfin, cwè vouss, ça n' est nén e hoûlant dsu k' va aprinde si bezogne, i nos l' fåt respecter, c' est lu k' est mwaisse.
Djan : "Li bale ni rôle nén po nozôtes, troes ocåzions et troes goals po les oursons. Nozôtes ene dimeye dozinne et pont d' tchance.
Balou : "a l' mi-tins, vos alez vey, i vos les va scheure et saetchî so leus aburtales a nos gayårds. Vos les alez vey moussî foû des vestiaires et rivni årdants come des vayants mågré l' troes a zero."
Tot tapant ene divize so l'&nbps;tins del poize, on rcåze del dierinne fiesse do Club. Po l' Sint Nicolai, les gaméns ont stî rletchîs come on vea k' a deus méres : on novea saetch, on trinnigne, des boubounes … "ene fiesse come dj' è sondje et è voleur viker bråmint."
Li Pére Fwetård aveut l' air d' on "angelot", nozé come ene andje o mitan des troes cints djins. Li vî Sint esteut ene miete nåjhi et leyî s' crosse dins les mwins da Nounou kel a tnou tote li shijhe tins k' Michel berdeléve dins l' micro.
Mi dj' esteu adlé m' cama et taper ene divize avou l' Clåde: "on-z est bråmint mî vaici k' ôte påt", ene miete come s' on sereut e l' måjhone cwè, dins on viyaedje d' amon nozôtes endon, amon les djins d' nos djins."
Fåt bén dire ki c' est nosse prumire såjhon avou les vetès et blancs. "Dji nel rigrete nén savoz, vaici dj' a mougnî so tos mes dints et m' bén plaire, vudî sacwants pintes". Di totes manires ki t' wangnes ou ki t' piedes, les pintes dischindnut totes seules al mi-tins et après l' match. Dmandez å Cirile, ti t' aclapes å comptwer et evoye, ele tchaiynut di tos les costés."
Ene bele atelêye, les parints a Bossere!
Luk: "'Tincion, saiss colå", vo les la k' i rmousnut so l' rimouye.
Ene ôte mére : "I n' ont nén l' air strindous", vo les la k' i petnut a rire et raconter des fåves. Li pårteye atake
Djôr: "nom di dju, dji t' l' aveu bén dit, vo l' la l' prumî", nonna li ptit estérieur evoye li cou mori a costé do goal vude.
A ç' moumint la, bardaf, la nosse Djan ki vole e l' air tot ridant so l' pavêye padvant l' buvete. A ces mådits pavés la, i les fåt råyî, saiss, c' est ridant d' l' ivier cwand i plout.
Tén, la rtén, ene passe et gayole, on rvént a 3-1. Ene miete pus tård, c' est l' Tchamaco k' î va tot seu et poum, c' est caisse=papaproton, vo nos la a 3-2.
Li pére : "I n' tuze jamwais ås cwårs del famile, ci meye djus là."
Momo: "Anfin cwè vouss, s' il ont leu plaijhi insi, våt mia çoula ki d' cori les voyes et rén fé."
T' as bea dire, li spôrt c' est èn antidote conte li pwezon, on vaccin conte li mére di tos les vices, on-z î aprind des valeurs come li camaerådreye, li respet d' l' årbite, des cias ki djownut conte, -- po ostant k' les parints cloynuxhe leu betch --."
Li Reverand : "Alez, co onk, i s' batnut come des liyons".
Mins nonna, trop coût. Anfin, gn a rén avou ça. I n' si fåt nén disbåtchî po si waire, il ont bén djouwé et nos avans clatchî dins nos mwins.
Djusk' å côp ki vént mes djins.
---
Yves Paquet, li 29 di decimbe 02, divins Coutcouloudjoû, novimbe decimbe 2002.
---
Asteure, dji m' vos va djåzer d' on vî vî djeu ki s' djowéve dinltins el Walonreye. (Dji vos balteye, dê, vos !) [Je rigole]
Li djeu si djowe a onze siconte di onze, avou on vint-troejhinme di rawete, tot noer moussî, k' on lome l' årbite, u l' referé, infén. Gn a deus gayoles metowes di tchaeke costé do terin. La dvins, gn a on djoweu ki n' est nén moussî djustumint come les ôtes. On l' lome li gôl, ucobén li gayolî, udon li kîp. Si ovraedje est d' waitî d' racassî les balons ki les dijh djoweus di l' ôte ekipe vont sayî di lyi evoyî dins ses pîces [perches].
Cåze ki li såme [but] di ci djeu la, c' est tot bounmint di piter dins l' balon disk' a l' egayoler dins cisse cadje la, djustumint come ene såme [filet de pêche fixe], k' on-z a lomé li gôl.
Cwand gn a on gayolî ki n' sét arester les chotaedjes, et k' on lyi måke deus, troes, cwate gôls al cawêye, on dit k' i s' a fwait trawer. Et s' li traite-t on voltî d' "pasrete". Ôtmint, on dit: louke on pô: ça, c' est on fel racasseu ! Wai k' il a co stî rapicî ene bale dins èn ingue impossibe !
Asteure, les dijh ôtes djoweus (ki l' gôl), comint çk' i s' arindjèt sol rimouye [pelouse] ?
Dins l' tins, on djowéve co pus rade li 5-3-2: cénk omes pa dvant, troes o mitan et deus pa drî. Dins les cénk di dvant, li ci k' est metou o mitan, c' est l' divant-cinte. A costé, t' as l' droet esterieur (u droet foûtrin), li droet eterieur (u droet dvintrin), li gåtche eterieur (u hintche divintrin) et li gåtche esterieur (hintche foûtrin).
O mitan, t' as l' cintralf (u l' mîtrin alf), k' on lome co bén li liberå, pask' il est libe di monter a l' atake u di ridschinde al disfinse. Dilé li, li droet alf et li gåtche alf. Pa drî, al disfinse, vos avoz li droet bak eyet li gåtche bak.
Asteure, voci l' droet do djeu [règles du jeu].
Li ci k' a l' casse (li bale) doet waitî del passer a onk di ses soçons, u di choter direk o gôl. Cwand k' il est trop lon del gayole, i dribele onk, deus, troes bateus [concurrent] di l' ôte ekipe... et a tot côp bon, si fé apicî l' bale. Adon, les ôtes li traitèt di " personel ! ". Ça fwait k' i våt mî waitî di passer l' casse a èn ôte, foûtrinnmint [vers l' extérieur], u eviè l' divant.
Asteure, cwand vos rçujhoz li bale d' èn ôte, cwè nd alez fé ? Po cmincî, vos l' ahotoz d' on sfwait astocaedje. Adonpu, vos l' alez motoit recassî [renvoyer] å minme djoweu: on dit ki vos fjhoz do " ene-deus ". Ôtrumint, sayîz del richoter do côp a èn ekipî k' est mî metou k' vos. Asteme ! Ci-chal ki rçût l' ecassaedje [envoi] ni doet nén esse avancî trop lon sol terin. Dins tos les cas, i n' doet måy esse metou padrî l' dierin bak. Ca adon, l' årbite va xhufler " obseyt ".
Asteure, si vos schoûtez les rwaitant(e)s d' on match di fotbale, vos nd ôroz, des breyaedjes. " Broyîz lzi les pates ! " Et come di djusse, pa des côps, ça bouxhe setch... sol balon et eto dins les djambes des adviersîs.
Si ene sakî vos a coixhî esprès, adon, l' årbite va xhufler " côp-franc " (direk, u nén direk). Li ci k' a fwait l' côp-franc, motoit k' i va rascode ene djaene cåte, u minme ene rodje si c' est nén l' prumî côp. Nén binåjhe, èn ome ! Frè seur aler les bresses et måsgrognî: " Alê, vos, referé, dji n' l' a nén fwait esprès, edon ! "
Li ci k' a stî coixhî, s' il est co d' adrame, i va choter l' côp-franc. Les ôtes vont dandjreus fé on meur eter li choteu eyet l' kîp. Boutans ki c' est vos ki pite li côp-franc. Si vos vloz choter å gôl, i vos fårè lober l' meur... eyet l' gåyolî. Mins si vos fjhoz ene tchandele (ene bale pår trop hôte), les rwaitants vont braire: " Il a hiné l' bale dins les coxhes "; ubén " vouss mete on novea spoutnik so orbite, ti, laid hasse ? "
Si l' bale rexhe foû do terin, on creye " foû " et s' fåt i fé ene rintrêye. Asteure, si l' bale mousse foû do costé del cadje, et ki c' est vosse kîp u on djoweu di voste ekipe ki l' a aduzé l' dierin, adon l' årbite xhufele " coine ". On coine (u coirner), come li no li dit bén, c' est choter a pårti del coine do terin. Les djoweus ki sont-st o mitan waitèt di marker del tiesse. Pa des côps, gn a on fel ecramiaedje divant l' gayole. S' i gn a on disfindeu ki s' fwait pokî [blesser] crapuleuzmint dins l' cwåré, l' årbite va xhufler " penalti ". Si les rloukeus(es) ni sont nén d' acoird, i lyi boerlèt " Ti n' es k' on vindou, ti, l' årbite, on vindou avou ! ".
Si c' est ç' penalti la k' a fwait baculer l' pårt, l' årbite serè dins ses ptits solés al fén del deujhinme mitan. Dins les grands matchs, on lyi dene on cwåtron d' djindårs por lu raler åzès cabenes [vestiaires]. Cåze ki, mo sovint, les ecoraedjeus [supporters] des ekipes di fotbale, ci n' est nén des tchimpions do fierplet. C' est co pus rade des sfwaits baligands [brigand].
On mot k' les Inglès, ki n' coprindèt nén bén l' walon, ont calké d' amon nozôtes tot l' kipitant: des woliganes, djhèt-i.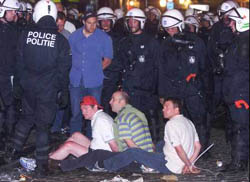 des baligands u woliganes.
---
Lucyin Måhin, li 13 d' avri 1997, divins: Li Ranteule, l° 7, bontins 1999.
---
Cope daegnrece di fotbale 1998.
Des videyos po les referés ?
Mårdi 23 di djun 1998, match Braezi-Norwedje des aclerixhinnes [éliminatoires] del cope daegnrece di fotbale.
Deus munutes divant li fén do 2inme tîme, la, wai, k' i prind bén l' zine å referé amerikin di xhufler penalti po Norwedje. Les Norwedjins, nén nareus, li markèt sins crankyî, fén binåjhes, les omes. So ç' tins la, li Marok est ki djowe ene pårt di tos les diâles siconte di Scôsse [contre l' Ecosse]. I moennèt 3 a 0. Vos sintoz bén k' i zoplèt d' djoye, les cuz'. Si Norwedje piedreut, u fé match nul, i pasrént ezès 8inmes di finåle, come 12 ans dvant, e Mecsike.
Mins Norwédje wangna. Eyet li penalti k' el fijha wangnî, il esteut mo rikerak [très discutable]. Ça fwait k' on-z oya brutyî ki l' referé amerikin Esfandior Baharmant, c' esteut on raecisse ! Et si aveut i fwait wangnî Norwedje po taper li Marok foû, por li si rvindjî des Arabes, veyanmint k' l' Iran aveut pilé les Amerikins sacwants djoûs dvant.
Del raeciveusté siconte des ekipes afrikinnes ? Gn aveut moyén di bouter al tcherete [abonder dans le sens] des cis ki djhént çoula. Deus djoûs dvant, li Camrone [Cameroun] s' aveut fwait canvolantiveuzmint fote a l' ouxh del Daegnrece [Mondial], po on gôl rifuzé pa l' årbite. Et si rsovni del Cope di 1990, e Spagne, wice ki l' Almagne et l' Ostriche s' årént bén yeu metou d' acoird po leyî wangnî l' Ostriche et, sujhanmint [conséquemment], ni nén leyî monter l' Aldjereye.
Des raecisses edon, ces årbites la ?
Dins èn arinna å gaztîs [point de presse] David Will, li mwaisse des referés del Dagnrece, disfind ses djins. So 40 match djowés disk' asteure, dit-st i, l' årbitraedje esteut bon a bon ådla [bon à excellent] dins 37 match. Ça n' fwait k' 3 sakés fayés referés dins l' nindje [dans la bande], mins s' n' a-t i nén volou dire les kés.
Li penalti siconte Braezi, erala-t i co, n' esteut nén hapé [volè]. Junior Baiano, li Braezilî, aveut beazebén haetchî Tore Andre Flo, li Norwedjin, pal tchimijhe, come les rpoirtaedjes videyos l' ont bén mostré. Ene imådje ki les Norwedjins s' ont dixhombré di mete so l' Etrernete.

Adon, pocwè nén leyî les referés riwaiti les videyos on ptit moumint, cwand sont so dotance [quand ils hésitent].
Nonna, respond i li mwaisse-årbite, li fotbale est on djeu ki n' pout nén ratinde. Co ôte tchoi: si l' referé si doet fiyî a ene videyo-bobene [bande vidéo], ci n' est pus lu k' est mwaisse del djowe mins li mwaisse-filmeu des videyos. [superviseur des bandes vidéos].
Dji n' a nén håsse di raetchî e l' air, dit-st i l' mwaisse des årbites, et ki l' raetchon mi rtcheyaxhe sol cabu ! [Je ne vais pas couper la branche sur laquelle je suis assis].
---
Lucyin Mahin, le 25 di djun 1998, divins, Li Ranteule, l° 8 (erire-såjhon 1998).
---
Le début des tacles et du hooliganisme.
Li bodet.
Mi grand-mame k' aveut pierdou si ome al guere et k' esteut dmanowe tote fene seule avou ses deus fis, aveut pris, po-z arondi ses féns d' moes ki n' estént nén todi åjheys, li bouwêye des ekipmints des djoweus d' fotbal di Tîleu, la k' ses fis avént djowé des anêyes å long.
Mi popa esteut onk des cis k' emantchént l' ekipe, et, po fé plaijhi a s' mame, i tcheryive li grand bodet k' esteut rimpli di vint-deus tchmijhes sins panea, vint-deus cous d' tchåsses, vint-deus pwaires di tchåsses, des laecetes, des cales di rcandje po les solés, mårtea, tricwesse et dj' endè passe co toplin ki dj' a rovyî.
Pocwè deus djeus d' ekipmints, m' alez vs dire ?
Pask' il arivéve sovint k' å tîme, cwand i ploveut des coides, les djoweus dmandént co d' tenawete èn ôte panea ou bén èn ôte pantalon po replaecî les prumîs k' estént plins d' broûlî ou bons a stoide. Gn a minme des feyes ki des djoweus - et dji tuze chal, tot mouwé, å ptit Andrî Gomant, a Albert Detournay, a Teyo Kumur -, ki s' divént candjî témint k' leus vareuses estént bounes a stoide del souweur di tot l' ovraedje k' i fjhént so l' terén.
Çoula lzî plakive leus camaedjes so leus oxheas come s' on ls avaxhe trimpés dvins ene tene.
C' est dire ki l' bodet, ki n' esteut nén ledjir cwand end aléve, esteut co seur bén deus côps pus pezant cwand c' est k' i rivneut. Li bodet dveut fé l' voye dispoy li plaece del gåre disk' å pont d' Ougrêye, et, après l' match, dispoy li pont d' Ougrêye disk' a l' plaece del gåre. Tot çoula a pîs, paski l' vete tram nel voleut nén tcherdjî et ossu k' les bounès biesses ki poirtént l' bodet avént eto des bons bresses, des bounès djambes et des bons rins.
Ene sacwè d' drole, c' est k' on djheut di ç' tins la, ki l' voye po rivni esteut pus londjinne ki l' cisse po-z aler. On djheut minme k' i n' aveut k' Victor Muzike (li cåbartî do Cafè Muzike, tot près do pont d' Ougrêye, bén cnoxhou des sopoirteus di Tîleu et do Standård) a cnoxhe li response a cist advina la, mins k' i n' a måy rén volou dvweler a nolu, pa tchårité.
Dji fjheu co bén l' voye so l' bodet. Dji n' pezéve nén di ç' tins la, çou k' dji peze asteure. Dj' el fijheu ossu pus sovint po-z aler ki po rivni. Li dierin côp ki dj' potcha dsu, c' esteut tot rivnant d' on match a Serè wice ki ns avéns pris on clapant 3 - 0 bén merité.
El rowe Chapuis, al coine del plaece di l' eglijhe, on grand hinkeplink, avou si echerpe rodje et noere, breya pa l' finiesse a lådje do café :
Sere bén tes fesses, saiss, mi ptit fi, po rapoirter tes troes prones so t' halaedje.
D' on côp, dji potcha djus do bodet po fé des linwes a l' ome ki riyeut a låmes. Ces djoûs la, li bodet esteut co pus pezant k' d' abutude et les cis k' el poirtént ni riyént nén, zels.
C' est pår li moumint di vs dire on mot so les poirteus d' bodet.
Avou m' popa dedja cité, gn a-st avou, e prumî, Louwis Lucas, li ptit Louwis come on l' loméve. Cwand il apougnént l' bodet, lu et m' popa, vos årîz polou mete on livea d' maçon so s' poirtêye, i n' poleut må do disclimpî. Louwis poirta des anêyes et cwand i tapa djus, c' est l' sorodje da m' popa, Colas Schoits, ki prinda li rlai, mins come il esteut bråmint pus grand k' l' ôte, c' est m' popa ki prindeut tote li tchedje so ses fenès djambes. Et lu k' esteut mimbré come on cizet, i hagnive so s' tchike sins rén leyî vey di s' kinoye.
Li glwere di m' grand-mame c' esteut d' fé si ovraedje al leccion.
Cwand noste ekipe montéve so l' terin, ele ni s' poleut ratni do dire bén hôt: "Mon diu, k' i sont beas, k' i sont prôpes. On lzès magnreut.
Cwand l' bodet rintréve al nute, dji m' tineu padrî m' memére, po mî sinte l' alene et l' souweur des camaedjes et dji breyeu: Ci-la, c' est l' ci da Djôzef, ci-la, c' est l' ci da Albert, da Camile.
Dabôrd, i gn aveut des foirt måssîs, des måssîs, des mås måssîs, et minme, i n aveut des cis ki si ç' n' avaxhe tinou k' a mi, i n' årént nén stî bouwés. Memére, ki n' aveut nén s' linwe e s' potche dijheut sovint : Damadje, hin, mi ptit fi, k' i n' a nén onze Irgel e l' ekipe.
Cwand René, çou k' esteut foirt råle, esteut tapé foû d' l' ekipe, ele brognive avou m' popa tote li samwinne. Les pantalons les pus plakés estént da Buntinx, témint k' i n' arestéve nén di s' fé rider so s' cou tot å long do match.
Après on-z a lomé çoula "tacligne".
Ça fjheut mî e vocabulaire des gaztîs.
Li prumî ekipmint k' aléve al trimpêye, c' esteut l' ci da Versali. A croere k' i fjheut en esprès di s' rôler e broûlî tot å long do match.
Å Standård, on djoû k' il aveut bén ploû, Versali a fwait on tacligne el balustråde del grande tribune. Pår on tacligne a l' eivier. Ci djoû la, so s' vareuse, i gn aveut do bleu, do blanc et do rodje. Nén l' rodje do Standård, neni, li rodje di s' narene k' aveut corou disk' al fén del pårteye.
Dji croe bén ki c' est fåte do bodet ki m' popa a-st atchté s' prumire oto d' ocåzion, mins l' cofe n' esteut nén lådje assez po prinde l' etirté do bodet. Si bén k' memére et mi, nos l' divéns co prinde so nos schôs disk' å pont d' Ougrêye.
Cwand dji divna pus grand, c' est sovint mi et m' binamêye mame ki rapoirtént l' bodet paski m' popa diveut espliker l' tactike do match amon Muzike ou bén amon Pannêye.
Li bodet a rimpli nosse veye des anêyes a long.
Cwand dji m' livéve et k' pa l' finiesse, dji voeyeu tos les ekipmints pindous al håye al bouwêye, dji n' mi poleu espaitchî di m' vey mi-minme divins leus bresses, e trin d' fé on match canon so l' biyård do pont d' Ougrêye.
C' esteut Lidje-Tîleu, li derbi, come on djheut, et l' meur di Tîleu ki valeut bén l' meur di Berlin aveut tnou bon, mågré k' Lidje, k' esteut tchimpion d' Beljike di ç' tins la, aveut dominé tot l' match. Tot ramoennant l' bodet viè noste oto, kékes sopoirteus di Lidje, d' esse måvas, nos l' ont råyî foû des mwins, pus l' ont tot cpité, lyi drovant l' vinte disk' å perkigne. Adon, coraedjeus come tot, il ont spité evoye.
Nos avans rashonné, come nos avans polou, les bokets do bodet et ls ekipmints kissemés totåtoû.
Ci djoû la, po l' prumire feye dipoy ki les Boches avént corou evoye, dj' a coprin ki l' metchansté et l' calinreye estént rintrêyes divins les terins d' fotbal. End ont måy pus vinou foû.
I gn a-st avou des ôtes bodets, bén seur, des ôtes poirteus, des ôtès bouwresses, ossu. Mågré tot çou k' on ndè pout dire, li fotbal est co todi la, et bén la. Les halcotîs d' Rocoû ont språtchî on ptit boket di m' cour tot språtchant m' vî bodet.
Aprinde a viker, çoula n' si fwait måy timpe assez.
---
R. Joelants, divins: "Intrez don", l° 1, bontins 2001.
---

Si des mots difficiles se présentent à vous sur ces pages, allez voir s'il ne sont pas expliqués dans le Splitchant motî do walon (avec brève traduction française), ou dans le Wikipedia, l'encyclopédie en wallon (suivez: "Pordjet Esplicant Motî").
---

(Back) Li pådje des spôrts.
---

(Index des auteurs présentés sous forme pré-normalisée) Djivêye des scrijheus eplaidîs dizo cogne årmonijheye, mins tot wårdant ene miete l' accint. (Index des auteurs dont les textes sont disponibles en wallon commun) Djivêye des scrijheus k' ont scrît u k' ont stî rashious e rfondou walon

(Back index par sujet); Alans rzè a l' edesse des sudjets.

(Back homepage) Alans rzè al mwaisse-pådje

(homepage wallon commun) Alans rzè eviè l' pådje moennrece do rfondou walon.
---
Les scrijhaedjes des rvowes "Intrez don", "Coutcouloudjoû" eyet "Li Ranteule" sont rcopiåves po rén, tot metant l' no do scrijheu, li limero del rivowe, et l' adresse did so les fyis.
Texts published by the walloon-speaking magazines "Intrez don", "Coutcouloudjoû" and "Li Ranteule" are free, quoting the author, the magazine references, and the URL adress.
---