Page des textes en wallon sur les techniques anciennes

Sicrijhaedjes e walon so les viyès tecnikes
dierin rapontiaedje - last update: 2009-06-18.
Dressêye:
---
L'extraction de la tourbe à Sourbrodt
Les troufleus d' Zôrbrôte
A Zôrbrôte, al fén do moes d' avri, les djins djhént : " Ci serè co vite li trouflåjhe [saison de fabrication de la tourbe]. "
S' aprester pol trouflåjhe
Divant d' aler fé les troufes, faleut rvey ses usteyes. Et aprume, li schoupe di troufe. El faleut rschurer, et l' bén rshinmer, ca ele diveut côper come on raezoe. On n' trovéve pont di sfwaite schoupe dins les botikes : c' esteut l' marixhå k' el fabrikéve lu-minme.
Adonpwis, faleut sognî l' berwete, paski c' est leye k' aléve berweter les frexhès troufes. C' est ene simpe berwete, sins costés, mins avou des bresses on pô rlevés, po-z aveur pus åjhey al prinde. Gn av' eto ene plantche di clawêye inte les pîs, po k' i n' foncénxhe nén e tere. Gn a pont d' plantchî : djusse ene pwaire di raiyes metowes so longueur, po k' les troufes ni s' cassexhe nén. Tant k' al rowe di bwès, c' esteut ene å lådje ceke, co todi po n' nén foncî dins tere.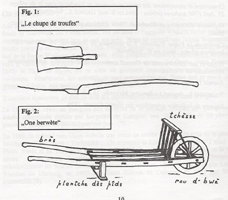 I faleut co-z aprester ene pitite schåle po poleur dischinde dins l' fosse. Sins rovyî l' " cocmwår di fagne ". C' esteut on hôt cocmwår pus stroet do dzo k' on n' rischureut måy : il esteut noer tote si veye !
Sacwants troufleus avént co mezåjhe d' ene få di stiernixhmint [litière] po fåtchî les yebes di troufire.
Po-z ataker l' trouflåjhe, faleut esse seur k' i n' ridjalreut pus. Ca cwand les troufes ki n' sont nén setcheyes et ki n' ont nén del cresse edjalèt, ele poûslèt : ele si cbroyèt a poûssire, et-z epoûsler les manaedjes. Ene edjalêye troufe si louke on pô rossete.
C' est po çoula k' el trouflåjhe ni cmincive k' aviè l' 10 di may.
Divant d' ataker
Po troufler, faleut esse, al boune, deus u troes djins : on troufleu et onk u deus moenneus d' berwete, ome u comere.
Arivé so s' trouflire, li troufleu diveut, po cmincî, arindjî l' fosse comifåt. Avou ene påle [bêche], i rlevéve les gråves [fossés], po n' nén k' l' aiwe di plouve ni rvegne divins. Pu, dins l' fosse minme, i faleut netyî tot çou ki l' plouve, li solea et l' måva tins avént fwait tourner a fraweas. Ça fjheut ene coûtche di 5 a 10 cm sol paroejhe del fosse.
So ç' tins la, èn ôte ovrî arindjive li plaece di setchaedje. I soyive les tiesses [molinies] et çou k' aveut rcrexhou. Adon, i ritapéve les fraweas d' troufe ezès trôs. Et il aplanixheut, afîsse d' aveur ene bele plate aire di setchaedje Cisse-ciale esteut djusse dirî l' troufleu : on l' loméve li " noer lowé " [lieu noir]. C' est la k' on-z aléve toker on ptit feu po fé l' amagnî.
Li trouflaedje lu-minme
Cwand l' fosse esteut bén rassonrêye, on cmincive li trouflaedje, sté pa sté [tranche de découpe]. Tchaeke sité diveut esse " dischovri ". Dj' ô bén : peler l' waezon, pu rsaetchî on deujhinme lét, do waezon ki n' esteut nén co del troufe ; li troejhinme coûtche, c' esteut del boune noere troufe, del haiteye troufe.
Faleut k' el schoupe di troufe côpaxhe come on raezoe, a cåze del " tchå d' troufe " ou des " poyaedjes ". C' est des raecinêyes des plantes di fagne : tchitchoûles [linaigrettes], tiesses [molinies], mosseas ou del tchamossire [polytric].
Po troufler, faleut a tchaeke côp monter sol tera [sol de la tourbière] po côper padrî, d' on betch a l' ôte do sté [d'une extrémité a l'autre de la largeur de la fosse] ene lårdjeur di 30 cm. Po çoula, on-z efoncive li schoupe tote etire divins, emantcheure eto.
Adon-pwis, ridischinde dins l' fosse, et fé les troufes, cwate a cwate. Po çoula, on stitchive shijh côps : on côp a plat pol prumire troufe ; item est i po deujhinme et l' troejhinme ; pu deus côps po côper les costés, et l' shijhinme côp pol cwatrinme troufe. Pu on ndaléve avou tot l' blok so s' schoupe.
Sacwants vîs troufleus avént l' toû po côper l' costé d' on seû côp, tot fjhant verdjer l' schoupe. Li côp d' eschoupe diveut esse franc, po k' ça fouxhe côpé houte, ca s' ele tinèt co eshonne, ele s' abimèt tote. Les cwate troufes côpêyes esshonne si lomént ene côpêye. Gn aveut cénk ou shijh côpêyes e-n on sté. On côp ki l' troufleu aveut ene côpêye so s' schoupe, i s' ritournéve tot poirtant s' blok, et l' mete so cresse padrî lu, sol noer lowé.
Å deujhinme sité, po côper l' dirî, on n' montéve pus sol tera ; on rotéve sol côpe, u griper sol schåle.
Dins sacwantès fosses, cwand on-z aveut tot fwait on sté, on boeveut ene gote ; ça escoraedjive. Sins rovyî les vijhéns.
Mins ça n' aléve nén todi tot seu. Alfeye, gn aveut on stok d' åbe oudon-bén ene grosse coxhe ki vneut mete des xhames el voye. Des ôtes côps, on tchessive cobén s' schoupe e-n ene pire, et schårder l' taeyant. Et pu l' troufe n' esteut nén todi ewale. On trovéve des creveures, ça fwait k' les troufes ni tnént pus eshonne. Gn aveut cobén des potches di poûri come del miere. C' esteut dloujhixhant, saiss, adon.
Les berweteus(es)
Les moenneus d' berwete epoirtént les troufes sol souwaedje. On-z apicive les troufes, deus a deus u cwate a cwate, et les mete e deus léts sol berwete, tot tcherdjant l' moens possibe viè l' dossire, po n' nén efagnî.
I faleut ataker l' plake di troufes (l' aire di souwaedje) bén lon, po-z aveur del plaece po fé.
Po distcherdjî, on prindeut les troufes a deus mwins, sol pitit costé, et lzès claper al tere, po k' ele s' atelénxhe å fond et k' ele ni culbuténxhe nén. Faleut leyî on vû inte tchaeke troufe, po k' ele souwénxhe bén, et po passer s' mwin a plat dissu, pol lisser, et po k' ele ni rprindénxhe nén l' aiwe. Les troufes bén lissêyes riglatixhént. Cwand i voeyént ene plake di troufes bén arindjeyes et bén lissêyes, les cis ki passént djhént del berwetresse : " Vla ene ki sait moenner ås troufes ; c'est ene fire ! "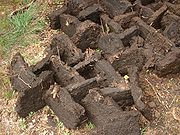 Mågré tot l' alant k' i plént aveur po-z ovrer, les moenneus u moennresses, kécfeye, ni savént shuve li troufleu. Cwand gn aveut tote ene rîlêye di troufes ki ratindént les berweteus, on djheut " on lyi a metou l' tchaplet, al berweteuse. "
Des troufleus k' i gn av', cwand il alént pus vite ki leu moenresse, i n' l' aidént nén. I contént les cåzes å vijhén, et les femes estént måles. Oubén i tchipotént å feu, u foumer l' pupe. Mins ci n' esteut nén bén veyou di mete li tchaplet ås moenneus d' berwete. El fosse, on doet ovrer onk après l' ôte.
Å rvier, les berweteus alént pacô si rade k' alfeye, i louként l' troufleu, d' ashiou sol berwete. Çoula côpéve tote li foice å troufleu.
Padecô, li souwaedje n' estéut nén grand assez. Adon, on rfotéve les troufes dizeu, sol tera. Elle î setchixhént co mî.
Li tins k' i faleut po les rîlêyes di troufes souwer, ça dpindeut do tins. S' i fjheut bon, kékes djoûs u ene samwinne ou deus.
L' amontaedje
Cwand les troufes estént bén setches, on les amontéve cwate a cwate, so li ptit costé ; on djheut : fé des amontrons. Bén sovént, on meteut ene dizeu dsu (ene cénkinme troufe ou on boket, po fé tchape). Ça waerantixheut les cwate-z ôtes. Ci amontaedje la si pleut fé cwand les troufes estént setches assez po lzès prinde pa ene coine e-n ene mwin.
Les setchès anêyes, les amontrons, c' esteut ddja bon. Mins come i ploût co sovint di l' esté, on fjheut des gros monts. Fé on mont, c' esteut lever les troufes. Pus les troufes estént ele setches, pus hôt sereut i l' mont.
Po cmincî on mont, on meteut ene trintinne di troufes e-n on rond, al tere, so li ptit costé. So ç' plantchî la, on etassléve les troufes a plat, tot tournant, et tot les rloyant. Et tot montant, on rastroetixheut tchaeke côp les ronds. On-z atchvéve avou ene setche troufe al copete, come tchapea. Pacô, on rimplixheut l' ådvins avou des bokets ; c' esteut fé on " plin mont ".
Cwand les troufes n' estént nén co bén souwêyes, on n' fijheut pont d' plantchî, et-z ataker a plat al tere, rond so rond. C' esteut on " vû mont ".
Sacwants chifes
Tchaeke berwetêye aveut 24 troufes po èn ome, 16 a 20 po ene comere.
On sté d' 15 metes å Gros Tera poleut dner 2000 a 2500 troufes. Et on bon troufleus avou des felès berwetresses polént abate deus stés so ene djournêye (kiminceye di ttå matén et fineye a l' anuti).
On-z a trouflé a Zôrbrôte dispu l' 17inme s. disk' e 1972. Tchaeke manaedje broûléve di 15.000 a 20.000 troufes tos ls ans.
---
Serge Fontaine, divins l' livret: " Lès Troufleûrs de Zôrbrôt", 2006
Rarindjî pår e walon pa Lucyin Mahin, po: Li Rantoele l° 50, esté 2009
---
Les toets di strin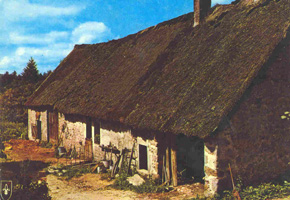 Les toets di strin sont fwaits avou des ptitès djåbes di rgon, k' on lome les wås.
Les dierins toets di strin po les måjhons "normåles" datnut del kimince do 20inme sieke. A Transene, on rifjheut co les toets di strin e 1925, 1930. A Longuiè, metans, li dierin toet di strin a stî dismantchî e 1950, po esse replaecî pa on toet di schayes. Les djins d' mestî ki savént fé les toets di strin ont fwait les dierins po rcovri des bårs u des moyes di four.
On-z a co fwait des toets di strin el Flande et dins les Payis do Nôr disk' ås anêyes 1970. Mins c' esteut po des måjhons d' ritches ki vlént basti come divinltins. Adon on meteut on spès plastik inte les tchvirons et les wås.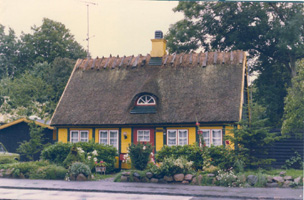 Fijhaedje des wås
Li strin d' swele po fé les wås ni doet nén esse batou å flayea mins sol bok. Å flayea, on bouxhe so li strin et on l' casse. Li bok, c' est come ene gade fwait avou on gros rond bwès å dzeu. On prind l' djåbe di waessin, et on lyi chnike les påtes siconte do bok. Les grinnes toumèt et les strins sont beazè droets, nén ployîs.
Cwand on-z a yeu tot batou, i fåt scheure li strin po li rnetyî l' mî k' on pout. I fåt eto scheure les courts fistous foû. On pleut fé ça avou on seri. On seri, c' est ene plantche avou des grandès pontes clawêyes dissu. Normåldimint, c' est po serijhî l' tchene, mins on l' pleut eployî po scheure les wås. Après, to leyes toumer l' wå a tere, et li rsouker (li rprinde et li rleyî toumer co on côp) po k' i soeye bén droet do cou.
Po fé tos wås les minmes, on coûtchive li cschoyou strin dins on batchea fwait avou troes platches li cene di fond esteut 50 cm lådje. On-z î meteut les pougneyes a fwait k' elle estént pingneyes. Cwand on-z arivéve å raeze des plantchetes on loyive li wå avou deus loyéns, onk ådzeu et onk ådzo po n' nén casser li strin.
Fijhaedje do toet
Po fé on toet di strin on dveut rclawer des pîces di tchinne so les tchvirons, tos les 30 cintimetes, so tote li lårdjeur do toet, del mwaisse-viene disk' al sovronde. Dinltins on n' les clawéve nén: on les loyive avou des håres, ubonbén avou des fåssons di rgon. Des ôtes covreus fjhént tni les pîces après les tchvirons avou ene broke di bwès k' on bråyléve avou ene broke.
Tchaeke rîlêye di pîces di tchinne sierveut po on rang d' wås.
Po cmincî on toet di strin, on fwait l' wimbire: c' est l' boird do toet sol costé, sol volé. C' est totès ptitès toirtchetes di strin ki sont atnowes avou des håres après l' prumî tchviron. Après on les a loyî avou fi d' årca.
On va rapîter sol wimbire avou l' prumire djivêye di strin. (Ene djivêye c' est binde di wås, 70 cm lådje. On dit eto on trait, on djén, ene bate, ene voye, u on wå.) Insi on fwait des voyes do dzo do toet disk' al mwaisse-viene.
Les wås metou ådzo, on les lome les pî-wås. I dvèt esse beazè stocaesses, ca c' est par la ki tote li plouve va tchaire djus do toet. C' est zels ki fjhèt l' paene do toet. Insi cwand l' pî-wå est tot fwait, on disloye dissu. On håynêye si wå todi l' cou al valêye.
Cwand les covreus ont drovi leus wås po fé on djén, el fåt tni astok avou ene baguete k' on mete djusse djondant les pîces di tchinne et k' on loye dissu co todi avou des håres u do fi d' årca. C' esteut des baguetes di så u d' havurna.
Mins divant di tni les wås astok, i fåt k' les cous soeyexhe bén rpikés dins les påtes do djén di dzo. Po ça li covreu a ene usteye k' on lome ene tchesse (on dit eto: on tchesse-paye). C' est tot bounmint on gros boket d' plantche, 60 cm long et 40 cm lådje, avou ene pougneye so li dzeu. Gn aveut eto on pus grand modele, avou on long mantche. Avou l' tchesse-paye, on tchokéve sol cou do wå, po ewaler les traits.
Si on n' rapåméve nén bén les wås, on-z aveut des gotires ki s' metént inte les djivêyes.
Cwand les covreus arivént al copete, al mwaisse-viene, i metént l' dierin wå l' cou e l' air. I n' dimoréve pus k' a fé l' fiesse do toet. On meteut sovint des rtournés waezons al copete, po k' i n' plouve nén.
Tot l' tins do fjhaedje do toet, les mandayes k' estént ådzo arindjént leus wås dressîs sol volé, et les passer onk a onk a fwait k' les covreus avancént.
Adjinçmint d' on toet di strin
Les toets di strins n' ont pont d' atchenå. Eto, on fjheut on ptit royea al tere, ene pitite corote po n' nén aveur ene fagne divant si dvant d' ouxh.
Sol dirî do bastimint li toet aléve cåzu disk' a tere . Gn aveut la on ptit trô k' on loméve li trô do leu, u l' trô lovrin, u l' lovrin (c' esteut, sapinse k' on djheut, po vey s' i gn aveut nén des leus k' arivént ataker l' måjhone pa padrî).
Etertinaedje d' on toet di strin
I faleut tofer etertini on toet di strin, ca gn a rade des gotires. Adon, on houke li covreu ki vént rfé les gotires. Il a des toirtchetes di rgon et endè tchôke la k' gn a des gotires. Après, i rewale li strin, todi avou l' tchesse. Mins t' as bea rapîçter, après kékès anêyes, i fåt rfé l' toet.
Insi, dins les papîs d' louwaedje des måjhons do vî tins, gn aveut sovint ene clawe ki djheut ki c' esteut å cinsî di rfé l' toet, boket pa boket. Metans dins on contrat d' 1750:
"Li prindeu s' oblidjrè a mete deus cints d' wås sol toet, tins di s' bay di troes ans."
---
Målåjheys mots
bår : remises; wå : gerbe de seigle; rgon, swele, waessin : seigle; schaye : ardoise; bok : chevalet pour battre les céréales à la main; flayea : fléau; chniker : frapper sèchement; scheure : secouer; fistou : fêtu, tige. seri : peigne sur planche pour purifier (serijhî) le chanvre, ici, le seigle; rissouker : taper plusieurs fois à terre (la gerbe); cschoyou strin : paille qui a été secouée (et débarrassée des petits brins); batchea : petit bac de bois servant de gabarit; pîce : ici : perche; mwaisse-viene : poutre faîtière; sovronde : poutre reposant sur le long mur; håre : lien végétal (coudrier, osier); fåsson : lien en paille de seigle (normalement pour les gerbes de blé). bråyler : serrer fort par torsion; wimbire sommet du pignon : volé : pignon; toirtchete : poignée de paille tordue; fi d' årca : fil de laiton; rapîter : recouvrir le pied (de la botte précédente); djivêye : rang de bottes. håyner : étaler; tini astok : solidariser, attacher solidement; så : saule; havurna : sorbier; påte : épi; rapåmer : recouvrir une partie de la rangée précédente; atchenå : gouttière, descente d'eau; royea : petit sillon rigole, clawe : clause.
Remantchî pa Lucyin Mahin li 20 di djulete 2005, po-z esse eplaidî dins "Li Rantoele" 36, ivier 2005-2006, a pårti des sourdants cial padrî :
Pierret Jean-Marie, La maison rurale 1972, pp 158-172.
Mahin, Albert: Les toets di strin, ecassetlé responda, 1994.
---
Une vielle méthode de débardage des gros troncs d'arbre respectueuse des jeunes semis forestiers
Li tricbale et l' tricbalaedje
Si vos estoz bokion u taeyeu-å-bwès, vos savoz bén ki, e mwintès plaeces, dins les côpes, i n' fwait nén åjhey di s' cotaper. Cwand gn a ene grosse hesse ki toume o mitan des faweles [petits hêtres], et k' i fåt moenner li tronce a voye [près d' un chemin carossable], gn a co bén sovint des mantches a mete.
Pus tant asteure ki davance. Asteure, vos avoz on gros tracteur forestî ki vént avou on tourniket a cåbe metou padrî. On disbobene li cåbe disk' al tronce, on-z agritchteye li sera, et si saetche-t on so ene coidlete po-z enonder l' agayon. Li tourniket [treuil] si met en alaedje et hirtcher li gros bodje emey les stos et les coxhes. S' i vént pår bouker so on gros stok, et dmorer aroké, li tracteur betche do drî, et si fåt i raddimint disbreyî l' indjole tot rsaetchant on ptit côp sol ficele, e contråve sinse [en sens contraire].
Dinltins, n' avént nén tote cisse djindjolreye la. Et, todi come todi, nos tayons avént foirdjî des ahåyantès usteyes por zels tirer leu plan. Ene di zeles c' est li tricbale.
Dji vos baye si no e vi francès. C' est " éfourceau ". Come ça, si vos årîz li misse [envie] d' aler rcweri dins les vîs diccionaires, vos rtrovroz seur on plan di nost agayon.
C' est tot bounmint on trin d' rowes do drî. Dinltins, les pus vîs, il estént tot di bwès. Asteure, les noveas, di fier, i sont fwait tot bén bounmint avou des aessis d' oto. Mins al plaece d' èn aessi ki va direk d' ene rowe a l' ôte, on a èn årvô [" arc-volute ", demi-cercle] metou dizo l' xhamea.
Asteure, comint çki ces indjoles la alént ?
Vos resculoz vosse tricbale disk' å réss do pî del tronce a hirtcher. Vos passoz ene rowe hute del tronce. Dinltins, avou les tricbales di bwès, faleut kécfeyes dismonter ene rowe po-z atchvaler les grumes. Cwand vost indjole est e plaece, vos levoz l' tamon å hôt, po l' aessi vnou letcher après l' grume [venir frôler le tronc d'arbre] Vos passoz l' sera padzo l' bwès, et l' agritchî, bén splinguêye, di l' ôte des costés. Adon, vos rsaetchîz li tamon djus, et l' loyî après l' tronce. Vos agritchoz l' atelêye après li perone [palonnier, système de traction du cheval]. Adon, vos ateloz deus stocasses tchivås après l' tamon et hay evoye po trinner l' pactêye !
Come di djusse, vos åroz yeu sogne ki li tronce seuyexhe pus longue padrî li tricbale ki padvant, po n' nén vni bouker e tere so les arokes.
Avou cist ekipaedje la, vos alîz wice ki vos volîz, et nén passer ådtriviè d' tot come asteure avou les debardeuses. Paski dinltins, on n' aveut nén li droet di coschurer les djonnès hestreles ki rdjetént. Asteure on n' end a d' keure.
Les tricbaleus trinnént les tronces disk' å tchår des tcherieus. I rwaitént bén a zels, cwand dismantchént l' indjole, ca li tricbale, siplingué, pout rispiter d' on plin côp, et vs atraper.
Cwand li bouk d' åbe esteut disgritchî, el faleut co monter sol tchår. Cor on côp, on dismantchive ene rowe, et mete l' åbe di l' aessi sol moyu del rowe. Après, mete deus coletes (des stocaesses rondins di 1 m et dmey) et si montéve-t on li tronce dissu l' tchår avou ene winne (on crik di bwès).
Asteure les camions vnèt avou ene grosse gruwe avou ene gritche k' apice les tronces et les arindjî ene dilé l' ôte sol camion. I n' fåt pus k' deus omes et cåzu nole foice, et nén co cwatre eures po kerdjî ene camiontêye, k' a li valixhance di totaleure 10 tcherêyes di davance.
C' est k' c' est po ça, tolminme, ki l' progrès, hin !
Si li tricbale a disparexhou, li viebe tricbaler pout dmorer vicant et esse eployî asteure: c' est li vraiy mot walon po " trimballer ". On pout eto uzer des parints, tricbaleu [voyageur, routard], tricbalaedje [expédition] et tricbalinne [tour, ballade visite d'un site internet]. C' est a ça, voeyoz, ki les rcwerances so les viyès usteyes siervèt !
---
Lucyin Mahin, divins: Li Ranteule l° 8, erire-såjhon 1998.
---
Une force hyppomotrice bien particulière
Li manåjhe
Dji n' vos va nén cåzer d' onk ki tént des tchvås et les lower åzès tourisses u ås efants ki vlèt aprinde a-z esse cavlî. Nerén des caroussels avou les tchvås d' bwès k' i gn a so les dicåces.
Çou ki dj' end a après, enute, c' est on vî sistinme po-z aveur ene foice motrece po fé ndaler ene bateuse u on hacseloe [hache-paille].
Si vos n' avoz rén a buziker on djoû del après-nonne, å bontins u a l' esté, alez fé ene djirete o Fornea Sint-Mitchî, a Nåwinne [Fourneau Saint-Michel, Awenne] dins les bwès inte di Sint-Hubert et Forire.
End avoz onk lavola, di manåjhe, et on bea co bén. El Muzêye do Fornea Sint-Mitchî, l' ere a stî rbetonêye. Mins dinltins, c' esteut tot bounmint ene batire bén rewalizêye et metowe a l' uni [aplanie]. O mitan, vos avoz ene cône [une pièce metallique conique] avou des ecrins [crans, dents] po l' fé tourner (1). Gn aveut ene grande båre å dfoû (2), avou å-d dibout, ene rowe avou des fins bindaedjes (3). Gn aveut onk u deus tchvås (4) d' atelés après li ptite rowe et i fjhént tourner l' indjolreye.
Schoûtans Louwis Piron, di 6640 Sibret, nos endè djåzer divins si live " A, c' esteut l' bon tins "
********
... Mins po nd aler pus rade, on batrè å manåjhe.
- Come i vs fårè des djins,
Vos prindroz les vijhéns ?
- Dji n' ans dandjî d' nolu, dj' ans assez d' nosse manaedje
Nosse pere, ashid sol båre, fwait tourner les deus boûs
Dj' agrinne, sins trop-z e mete po n' nén caler les rowes
Ki fjhèt tourner les brotches, ca ça stronnreut l' machine...
********
Voeyoz nosse djindjole comint çk' ele toûne, asteure ? Neni ? Dabôr, nos l' ridmandrans a Jules Brizi, ki vos va respliki ça.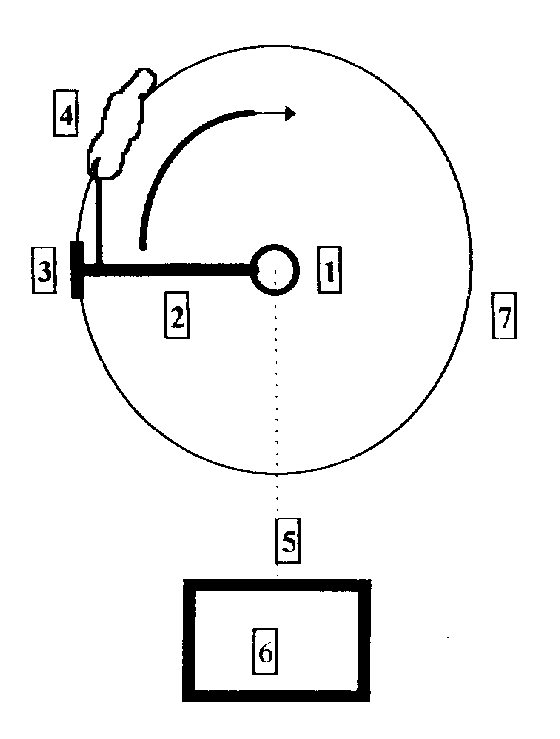 O mitan, vos avoz ene rowe dintêye metowe a plat (avou les dints e l' air). Li deujhinme rowe, avou les dints odzo, agritche les dints del prumire et fé tourner l' åbe. On tamon (2) va ås tchvås. Li transmission u prijhe di foice (5) si fwait sol daegn, et va al machine a bate (6). Cwand les tchvås passèt å réss, i levèt tot bounmint les pîs.
Dinltins on-z ateléve cobén des boûs mins ça n' tourneut nén si roed, adon.
Li tamon aveut 3 metes di long. O dbout, on-z ateléve ene perone (u lamea) [palonnier simple] si on n' aveut k' on tchvå. Si on-z a deus tchvås, on met on landon [palonnier double]. Si c' est des boûs, il ont-st on djeu eter les coines et i saetchèt avou on prô [bois allant du joug à la barre tournante du " manège "]
Èn ome si meteut avou ene sicorijhe po fé roter les tchvås. I s' pleut ashire sol tamon s' il esteut hodé et nåjhi. Li rowe di berwete o dbout do tamon rôléve dins ene pitite goidje (7) po n' nén vni foû avou li foice cintrifudje.
Dinltins, gn aveut on manåjhe dins totes les grossès cinses, ça vout dire les cinses k' avént dijh biesses. Dijh biesses, c' esteut ene grosse cinse, da, a ç' moumint la.
Nos avins dmandé eto a Louwis Baidjot çou k' i cnoxhéve so l' agayon. Voci çou k' i nos scrît :
" Cwand dj' ere gamén, dju m' sovins d' en awè veu onk a 5555 Graide. Li mecanisse n' ere nén aparant. La mwaisse-pîce, ki les deus timons vnént s' emantchî dsu, esteut ene grande ronde coviete di fonte ki rcovreut les agurnaedjes. Ces agurnaedjes la, on n' les åreut seu vey. Foirt a crinde [il est probable] ki dzou, i gn aveut on rang u deus di rowes dintêyes, avou po fini on pignon cônike, et ki siervént a fwaire monter l' nombe di tours di l' åbe ki rexheut di dzou l' tourniket et k' aleut dins la gregne po-z atrinner les machines, bateuse u ôtes. Mins ça pleut ossu atrinner ene transmission a pouliyes ki fjheut roter di pus d' ene machine d' on côp.
Çut åbe la coreut so tere, moenné pa deus troes coussinets ki l' tinént bén a plaece.
D' on fabricant a l' ôte, on pleut rascontrer des variantes dins l' montaedje do manåjhe. Tchaeke onk aveut si pårticularité et d' onk a l' ôte, ça evoluwéve.
N' espaitche ki l' sistinme ere tot simpe, ni costéve k' on pô d' avoenne et c' ere ostant fwaire travayî les tchvås ki d' les laichî a rén sol sitåle.
Mågré ça, cwand l' corant a arivé dins les måjhons, on-z a abandouné l' vî cayet, k' on n' voet pus enute k' o Fournea Sint Michel. "
---
Racsegnmints da Jules Brisy, Louis Baijot ey Albert Mahin, rarindjîs pa Lucyin Mahin, divins Li Ranteule l° 5, erire-såjhon 1998.
---
Réflexions techniques sur la fabrication des roues
Cåzans on pô des rowes
I. Li scussiaedje
Li bzogne ki Lucyin Mahin m' a dmandé d' fé so les mots walons d' nosse coine del Walonreye m' a dné l' ocåzion di rivni so des viyès afwaires, k' ôtmint dji n' åreu jamwais sondjî rilver.
I n' m' aveut måy vinou a l' idêye di m' interesser åzès rowes di tcherete et a leu fabricåcion.
Dj' aveu co veyou ferer des rowes a Dôhan, cwand li Rwè Baudwin eyet l' royinne Fabiola avént vnou pol fiesse des familles nombreuses. C' esteut èn emerviyant spectake, mins ki n' aveut, dins mi ptite tiesse, dimoré k' on sovni avou ls ôtes.
Il a falou ki dj' toume (sins m' fé må) so on mot ki dji n' conoxheu nén po rewoeyî m' curieusté. Si vos vloz bén, dji nos î alans on pô astårdjî.
Divins on live k' a parexhou e 1959 sol walon d' Céle, adlé Dinant, sicrît pa Mutien-Omer Houziaux, et ki cåze des bastimints, des ekipaedjes, des harnixhmints et do goxhurlî [bourrelier], dj' a toumé sol mot scussiaedje et so s' pindant francès, l' écuanteur.
Vitmint, dj' a dåré sol vî Larousse di 1922 po-z aprinde ki l' écuanteur, c' ere li clintchmint k' on dene ås rais des rowes [la pente qu'on donne aux rayons des roues], eneviè l' moyoû.
Nén pus fô ki ls ôtes, dj' aveu todi rmårké k' les rowes di tcherete fjhént ene miete li paraplouve, mins i n' m' aveut jamwais vnou el tiesse di m' dimander pocwè. I faleut tolminme bén k' i gn euxhe ene råjhon, mins l' kéne ?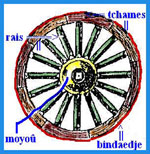 Come, dins m' mestî, dji rescontere tot plin des cinsîs, ç' a stî l' afwaire di kékes djoûs po-z aprinde ki l' fameuse écuanteur, c' esteut li scusse del rowe.
Mins si, di droete et d' hintche, li mot di scusse (u si disfondowe ècusse) erént cnoxhous des pus vîs, li råjhon di ci tecnike la ni skepieut nén å grand djoû et dj' ere todi a m' dimander pocwè c' esteut fwait. Co on côp, mi vî Larousse di 1922 m' a metou sol voye.
Mes rowes estént metowes so èn aessi [essieu]. Les deus dbouts di l' aessi estént des fizêyes [fusée], eyet come totes les fizêyes, elle estént copowes [côniques], edon pus fenes d' on costé ki d' l' ôte. Di cisse manire la, les rowes estént åjheyes a-z emantchî... et a rsaetchî [à placer et à enlever].
Mins, tot tuzant on pô, on pleut adviner k' one rowe so ene copowe fizêye ni s' pleut ki fé tchessî a l' ouxh [chasser par la force centrifuge]. Les vîs l' avént veyou ossu et il ont cweri l' paråde.
Puski les rowes ripoizént so ene fizêye metowe a roye di cir [horizontalement], li pont d' aspoye del rowe aléve e rmontant, c' est çoula ki tchessive li rowe foû del fizêye. I faleut don croker [incliner] l' fizêye po ki l' rowe toûne bén sins aveur håsse di schaper [sans avoir tendance à s' échapper]. C' est çk' on loméve avoyî l' aessi: li travayî po ki l' rowe soeye a voye, et-z emantchî l' fizêye après, avou l' bon clintchaedje.

Mins, tot fjhant ça, il ont veyou ki l' rowe n' esteut pus droete : ele tapéve å lådje do dzeu. Oyi da, seur ki l' åbea [arbre] del fizêye clintchive on pô padzo.
C' est adon ki nos tayons ont sondjî k' i faleut sayî d' raveur [contre-balancer] li clintchmint del fizêye e fjhant ndaler les rais di l' ôte des costés. I vnént d' trover li scusse !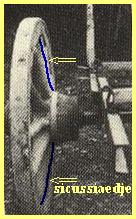 Tchaeke rai ki poizéve sol daegn, fwait a fwait ki nosse rowe tournéve, esteut todi bén droet cwand il arivéve padzo. Inla, tot tournant, les rais arivént di climpe [avec un angle] dizo l' boesse d' aessi. Adon, avént tote leu foice po sotni l' tchedje.
Vola co on côp k' on n' djocrè nén li rowe di tourner. Pôreut nén vali [Le contraire serait étonnant] !
II. Les rowes d' Almands
I sereut bon, ci côp ci, di dire kékes mots so les rowes dås Tîxhons [Allemands].
Après li guere di 14, il a dmoré sol payis on moncea d' cayets d' årmêye, avou bråmint des rowes.
Ces rowes d' årmêye la erént pus ptites ki les nosses, mins refoirceyes di tos costés. Li moyoû [moyeu] esteut e fier, et rshonnéve a deus assîtes ki tnént les rais å mitan.
Åd dibout do rai, i gn aveut ene mwin ki rashonnéve li rai avou li tchame eyet, å mitan, di ttåtoû des assîtes do moyoû, on boulon d' seraedje etur tchaeke rai.
Dji m' a leyî dire pa Djozef Bellot, di Jmele, ki ces rowes la n' estént nén montêyes, ni ferêyes come les nosses.
Li bindlaedje esteut aprusté d' avance; on l' tapéve a plat, adonpwis, on meteut les tchames di ttåtou. Des tchames k' avént stî ployeyes a l' aiwe.
Après, les rais, k' avént stî wårnis di leu mwin, si vnént emantchî, d' on costé so les tchames a leu rapåmaedje [à la jonction des jantes] et di l' ôte costé, so ene des assîtes do moyoû.
Cwand tos les rais erént e plaece, on meteut li deujhinme assîte k' esteut, åddins, ene miete a môde di cône. Tot serant les boulons, on ebridléve totafwait eshonne. Les rais, prins etur les deus assîtes, si rtchôként do mitan eyet bridlént les tchames di ttåtou disconte li bindlaedje.
C' est ça ki fjheut ki leus rowes estént solides, avou ene manire di fé ddja nouve et pus åjheye.
C' ere des djins k' avént ddja veyou åk [qui avaient déjà vu quelque chose = très intelligent]; on s' end a målureuzmint abouxhî [rendu compte].
...Et co pa deus côps !!!
---
Louis Baijot, divins Li Ranteule l° 1 (setimbe 1996) et l° 2 (djanvî 1997)
---
Å marixhå : li feraedje des boûs
Tos les åmaténs, li marixhå bouxheut so l' egloume. C' esteut-st on tchant vigreus ; minme li cok end esteut djalot.
E nosse viyaedje, gn av' deus marixhås ki louként d' awè l' pratike des cinsîs del coine. Po continter Tibî et Wåtî, nosse pa aléve ferer les boûs on côp dé onk, on côp dé l' ôte.
Dji rvoe co l' grande foidje, avou l' fornea et l' gros shoflet d' cur po shofler sol feu. Padzeu, gn aveut ene grande hote. Dipus d' on côp, dj' avans saetchî sol tchinne po fé blamer l' feu.
Dizo l' fornea, gn av' ene pitite tchabote po-z î hiner les cindes.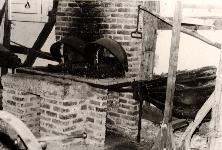 Li marixhå esteut todi moussî d' on grand vantrin d' cur. C' esteut èn ome foirt respecté. Si dj' el tén bén, ene sawice e Scôsse [Ecosse], les hanteus ki les parints n' vlèt nén k' i cortizexhe, alèt å marixhå et c' est lu ki les mareye sins ls abaner [publier les bans].
Li trava diveut esse sitocaesse assez po n' nén toumer e bokets cwand les gros roncins s' redivént [se rebellaient] po n' î nén moussî. Faleut k' il åye on toû dpus ki l' diâle eyet li pacyince d' ene andje, la, lu, li marixhå, po parvini a-z î fé intrer les tchvås, u les gros boûs d' trait, cwand k' i n' avént nén håsse.
Cwand nosse boû esteut dvins, li marixhå lyi meteut les cingues, lyi ployî l' pate di dvant eyet l' loyî avou ene grosse coide so ene bare metowe di livea [horizontalement]; adonpwi, comincî a ferer.
I taeyive les ongletes sol tins k' el fier tchaféve. Cwand k' el fier esteut blanc [chauffé à blanc], i l' meteut so l' onglete ki broûléve avou ene hinêye di foumire ki prindeut al goidje. Li fier, lu, esteut etchassi dins l' coine.
Dilé l' foidje, gn aveut, al tere, li dessin d' ene rowe.
Po ferer les rowes, on-z î meteut li rowe fwaite på tchårlî. C' est l' marixhå k' el feréve, dj' ô bén : lyi mete el bindaedje di fier. Cwand l' bindaedje, bén tchôd, esteut-st e plaece, on vudive des saeyeas d' aiwe dissu, po l' radmint rafroedi.
Asteure gn a pupont d' rowes di bwès. On n' endè voet pus ki po wårni les måjhones. C' est l' dierinne ricnoxhance a l' ovraedje des djins d' mestî k' els avént foirdji.
---
J.V, ratourné d' on tecse francès avou des mots walons, L' Aronde 132, avri 2000.
---
Le drainage des prairies humides
Fé des watringues
Cwand dj' esteu djonne, dj' a cmincî pa casser ås pires li long des voyes. On-z aveut des guetes et des lunetes avou des treyisses. C' esteut po n' nén awè des spitrons dins les ouys. On casséve djusk' a tant k' les pires åyénxhe li mzeure des balasses. (4 – 6 cm.)
Après, dj' a fwait des watringues .
-" Cwè çki c' est d' ça po åk ? "
-" C' est fwait po saiwer des prés trop crous, ou çk' i gn a des djonkeas ".
-" Comint çk' on fwait ? "
-" On foye dins tere et fé des trintchêyes d' årzeye di 10 cintimetes, k' on leyive a on milimete u deus onk di l' ôte. Après, on meteut des balasses so les radjondaedjes pol tere ni nén moussî ddins. Après, on rcatchive avou des strins d' waessin [seigle]. Et pu, on rascovreut avou del tere.
Les djonkeas crevént, foice k' i n' avént pupont d' aiwe.
Et la l' cayet, wai ! "
---
Sovnances da Jules Brisy, ramexhnêyes pa Lucyin Mahin li 5 d' octôbe 2000, eplaidî dins l' Coutcouloudjoû lº 65 & Li Rantoele lº 35.
---

La vie dans un moulin. Mi vicåreye e molén d' Tcherin, di 1938 a 1950.

Tranches de vie, 1930-1950: témoignages. Bokets d' vicåreye, 1930-1950.

Anciens métiers de Wallonie. Vîs mestîs des Walons.
---

Si des mots difficiles se présentent à vous sur ces pages, allez voir s'il ne sont pas expliqués dans le Splitchant motî do walon (avec brève traduction française), ou dans le Wikipedia, l'encyclopédie en wallon (suivez: "Pordjet Esplicant Motî").
---

(Index des sujets traités en wallon unifié) Djivêye des sudjets diswalpés e rfondou walon.

(Index des auteurs dont les textes sont disponibles en wallon commun) Djivêye des scrijheus k' ont scrît u k' ont stî rashious e rfondou walon.

(Back homepage) Hay ervoye al mwaisse-pådje

(page menu du wallon commun) Alans rzè eviè l' pådje moennrece do rfondou walon.

(Back liste des articles journalistiques de L. Mahin) Ralans è sol djivêye des scrijhaedjes di papîs d' gazete da Louline Voye
---
Sacwants scrijhaedjes di cisse waibe cial polèt esse dizo abondroets; nos les rsaetchrans foû s' i fåt. Sacwants bokets scrîts ezès walons coinreces polèt aveur sitî ene miete rassonrés po poleur shuve pus åjheymint les mwaissès-rîles do rfondou walon.
Some texts may be affected by copyrights and eventually need to be removed from this server in the future.
Certains textes peuvent avoir subi des modifications mineures pour faciliter leur insertion dans le projet de langue nationale pan-wallonne.
---