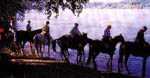 Rweyål Club di pormoennådes a tchvå d' Ifrane.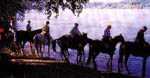 Page de textes en wallon normalisé sur les chevaux.

Ene pådje di scrijhaedjes e rfondou walon so les tchvås.
dierin rapontiaedje - last update: 2004-04-02.
Dressêye:
---
Li tchvå da Guståve
Si dvins mes vîs djoûs, dji m' rimete a scrire, c' est kel moirt do vi fré Lînåd d' mon Ortanse vént do m' fé rapinser ene afwaire sins pareye k' a rmouwé tot l' viyaedje di Henefe, i gn a ene cwénzinne d' anêyes did chal, viè dijh-ût cint saze, åtoû del Notru-Dame d' awousse.
On n' aveut avou nole noveles da sinne dispoy ci djoû la, et, come on bråve sôdård ki l' aveut stî do tins d' nosse grand Impreu, on vint d' aprinde k' il a stî touwé, e moes d' setimbe di l' an passé, a Brussele, divins les Flandes, tot s' batant disconte les Olandès. Nouk ni sait çou k' il a divnou ni wice k' il a rôbalé, cwénze ans å long, tot s' catchant avå l' monde. Kel Bon Diu åye si åme. Ci fourit-st on bon Francès et çou ki s' a passé n'&nbps;est k' on måleur, c' a co stî po rvindjî s' camaeråde.
C' est d' ci chal ki dji vs va djåzer. Vos n' avoz nén cnoxhou ci grand djonne ome la ki vikéve avou s' sour, e li ptite cinse k' est acwateye å boird di l' Yene, padrî troes vîs ôneas tot tchabotés. C' esteut-st on veritåbe adjeyant. Dji n' a måy veyou -- et Diu set si dj' a voyaedjî et rescontré des cadets -- on ossu foirt ome ki lu. Il aveut des mwins come des truveles, avou des gros nuks a ses doets. I vs fjheut xhegnî tot vs dinant l' mwin. On djoû, divant l' foidje do vî Seneu, po-z aidî l' marxhå ki lyi dveut ricecler ene rôle di s' clitchet, i s' acovta dzo d' on côp d' rin, i leva tot l' bazår erî d' tere disk' a çk' on-z avaxhe haetchî l' rôle foû et astiper l' clitchet avou on cou d' åbe.
Il esteut rcrindou d' lådje et d' lon. Portant, il esteut ossu påjhûle k' il esteut vigreus. I n' cwereut nén les margayes, mins ene feye k' esteut dismantchî, il åreut touwé l' vatche et l' martchand. On nel voeyeut måy å plaijhi avou ls ôtes djonnes omes : djamåy al danse, djamåy å cåbaret, djamåy ås crapådes. C' est l' pus fel k' on cnoxhaxhe, mågré k' aveut bén po fé. Cwand on lyi djåzéve di mariaedje, i respondéve k' èn ome ki n' aveut nén co des çanses assez po s' etertini tot seu, ni dveut nén sondjî a s' mete ene feme so les rins. Portant, dj' end a cnoxhou pus d' ene k' åreut stî fire do rçure des avances do djonne cinsî.
Li ptite Båre di mon l' frezé Pacou s' a vnou mete co traze feyes so ses voyes, al vesprêye, ki, l' dierin d' tos, i rivneut del campagne, mins i lyi breyéve "Bonute", djuréve on côp so ses boûs et passéve sins l' aconter. Djamåy nole båshele ni cnoxha l' foice des bresses do grand Djam et n' esprinda l' coleur di ses mashales a s' noere bleuwe båbe.
Et portant, on s' aporçuva e viyaedje ki li ptite Båre aveut stî bouxheye grosse. On cminça-st a ramter et les clapetes rotît disconte do grand Djam k' aveut stronné, djheut on, li poye sins l' fé braire.
Båre dijheut a tot l' monde ki ç' aveut stî on djoû al nute, sol digue do rèw...
Cwand Djam aprinda çou k' on lyi tapéve so les rins, i divna-st araedjî. I bouxha l' freze Pacou l' panse e l' air, ki li rprotchéve d' aveur dizonoré s' feye, porshuva, avou s' fotche, li fi Pêgneu ki sayive del couyoner. Mins, kékes moes pus tård, li gros Linåd d' amon Ortanse, k' esteut rivnou e payis dispoy les måleurs di Fontainebleau, moenna li ptite Båre a l' åté. Tot vnant foû d' l' eglijhe, Båre ataca-st a djemi, a braire ås harins totoute li voye et, dvant d' aveur riwangnî l' Mareansonet, sol tidje, tot près del pire Sinte Matrice, ele abouta foû ene grosse rossete crapåde ki ravizéve Lînåd, s' papa. Troes djoûs après, Båre mora sins aveur kinoxhou les djoyes do mariaedje... C' est di ç' djoû la k' Lînåd et Djam divnît les deus pus grands camaerådes... C' esteut les deus doets del minme mwin.
Mins cwand nost Impreu rivna et ki s' glwere, come on moxhet, plonca dzeu tote li France, å prumî djoû, Lînåd s' egadja. Nos fourîs tos les deus a Waterlô. Nos ndè rivnîs eshonne, après nos aveur ritrové a Tchålerwè, troes djoûs après, par on miråke di Note Signeur. So ç' tins la, c' esteut Djam k' aveut pris l' efant et s' sour Dzirêye ki l' aclevéve.
Ad fwait di s' sour, si Djam esteut tiestou conte do mariaedje por lu, Il esteut co pus por leye. I n' lyi plaijhive nén k' ele hantaxhe. Portant li ptit Pire li Gade tournikéve åtoû d' leye et Dzirêye aveut l' air d' el vey voltî.
On dimegne al nute, Djam les trova tos les deus sol soû do stå d' vatches. I n' dijha rén, mins il apiça Pire li Gade pa l' cou di s' pantalon et i lyi fjha fougnî l' tiesse e l' ancinî. Dzireye ki tronnéve divant lu s' ala catchî dsu l' daegn, e four, et n' oiza dischinde di tote li shijhe.
Faleut k' dji vs racontaxhe tot çoula so Djam, Lînåd et Pire li Gade po vs fé comprinde l' afwaire del teribe shijhe d' awousse 1816.
Djam ovréve avou des boûs. On boû, c' est ene foite biesse, mins ene feye k' i fåt fé des longuès trotes avou, i n' î fåt pus sondji. C' est po cisse råjhon la ki Djam atela-st on djoû li tchvå da Guståve Stasse po-z aler cweri do tchåfaedje sol rivadje. Guståve fijheut li tcheron et il aveut on gros foirt tchivå po moenner ås pires foû des cårires del Målaiwe ou ås voyes di hoye do Maket, a Hologne.
Come on bon tcheron, i flûtéve voltî kekès grandès gotes. Sins esse sô, les deus plats cous k' i houméve divins tchaeke cåbaret k' esteut so s' voye end aveut tot a hipe dijh ou doze esprindént ses ptits bleus ouys et lyi dnént djusse assez d' hardiesse po-z aconcoister so s' voye, kéke båshele ou feme marieye, k' estént divnowes ses meye pratikes. Tos les djoûs, tot rivnant a l' tchedje, i n' passéve nole di ses tchapeles. I s' enondéve insi, al doûce, dijheut-t i po l' grand voyaedje adlé Sint Pire.
Ci djoû la, i lyi fåreut fé troes cints swessante cénk tchapeles so s' djournêye et vni foû d' totes sins s' trebouxhî po wangnî l' Paradis. Si grosse rossete, k' esteut-st ene foirt sûteye biesse, kinoxheut tchaeke pire del levêye et ricnoxheut co mî tchaeke ouxh wårni d' påkî. Tote seule, ele si vneut mete foû del voye divant tchaeke ouxh et s' leyive raveur dijh munutes sol tins k' Guståve prindeut ses rmédes.
Li feme do cåbaret lyi atchôkive co bén ene setche crosse di pan ou on saeyea d' aiwe. I gn a des plaeces k' i gn a, k' ele n' åreut nén passé houte po on saeyea d' avoenne. Et pwis, c' esteut l' ocåzion do rmercyî l' feme tot li raiwant s' pavêye ou d' lyi fé cadô d' on foumant hopea po-z ecråxhî ses fraijhîs.
Li grand Djam ni cnoxheut nén les manires del biesse. Tot nd alant, i n' ava k' a leyî aler l' trin a s' cavale ki touméve tote seule wice k' i faleut.
Mins po rivni ! Signeur Djezus.
A poenne esteut i tcherdjî et aveut i roté deus munutes ki li tchvå cwita l' mitan del pavêye et s' aresta divant li ptit cåbaret d' mon Remoûtchamp, a Golet. Djam haetcha sol lignoûle a deus mwins, breya "Prrr" di s' grosse sipesse vwès, flaxha avou s' corijhe so li screne del Rossete. rén a fé ! Li tchvå aresté n' bodja pus. Djam ataca-st a braire come on diale, a flaxhî avou s' lignoûle d' ene mwin et s' corijhe di l' ôte. Li feme do cåbaret, d' ôre moenner tricbale insi, acora sol soû avou les houyeus k' avént fini leu poize et ele ricnoxha li tchvå da Guståve.
Bén, gn a Guståve k' a stî dner si tchvå a on bea såvadje, la.
N' ess nén honteus do bouxhî insi so ene si bråve biesse ? Vouss dimoner coet, grande biesse ?
Si ti n' ravales nén tot droet t' raetchon, et aler loukî a tes pailetes, båshele, dji t' flaxhe mi corijhe e babetch.
Li feme ataca-st a braire. Totes les djins s' arestît åtoû do clitchet et atakît a kerler. Portant, i n' s' aprepiént nén trop près do grand coir ki hossive a côps d' corijhe et ki sacréve ås meye miyårds di cint meyes miyårds di Sint Houbert.
Grand vårén ! Dmeye cougnî ! Estorné ! hawéve-t ele li feme.
Pice crosse ! Crantchi [avare] ! Moudri insi ene pôve biesse di sogne do vni boere ene gote!
Djam foumive. Totes les femes estént foû, sol soû d' leus ouxhs.
I gn aveut ene floxhe di djins tot åtoû d' lu. Les efants do cazer, ki leus parints escourcixhént, ataként a l' cahouyî a côps d' pires et d' craheas. Tot d' on côp, tot seu, li tchvå foircixha, torna-st a prî, riprinda l' mitan del tchåssêye et gripa l' mitan do tier di Hologne disk' å ptit cåbaret da Françu ki fjheut li cråssî ossu.
De vey li gros Djihan Pire sol soû, avou s' blanc vantrin plin d' sonk et s' coutea e s' mwin, Djam sondja ki ci n' esteut pus l' moumint do rataker l' margaye di pus bas. Mågré lu, tot serant ses dints, i fjha les cwanses do fiesti l' Rossete. I lyi åreut bén flaxhî des côps d' pî el panse si l' aveut stî tot seu.
N' est ç' nén l' Rossete da Guståve ki t' as la, tcheron ? breya Françus. Djam, sins responde, fijha sene k' awè.
Ni mousses tu nén pus lon ? [N' entres tu pas ?]
C' est insi k' Djam boeva-st a ptits côps, tot fjhant des xhegnes, li gote ki lyi broûléve li palå, et k' il alouwa ses prumirès çanses ki lyi bruzixhît les doets cwand i paya.
Pwis ci fourit amon Mareye, å Dierin Patår; et amon Låré, on pô pus lon et amon l' grosse Ferdinande et amon...
Cwan Djam ariva-st a Lexhî, å cåbaret des catoize fesses, i voeyeut tot bablou; les håyes dansént, les coks et les poyes corént-st evoye, e dobe sol voye. Djam si leya globter djus des bresses so ses lådjès skeyes et, moussant dzo l' ouxh del viye måjhone, i souca sol lintea d' l' ouxh et ataca a sacrer ås cint meyes miyårds di cint meyes miyårds di Sint Houbert, broyant di s' gros pôce li crås pourcea k' atakéve a lyi brotchî foû do front. Les set feyes do cåbaret des catoize fesses acorît foû del coû po loukî l' forsôlé ki moennéve l' araedje insi tot-z intrant. Djam elzès mete d' ene riguilite disconte do meur, pwis apiça l' grosse Julie ki xhaxhléve, pa l' minton.
Ces båsheles la s' etindént a fé roter l' comiece, et l' dimegne, di lådje et d' lon, les djonnes huzeas vnént shijhler. Al Gléjhe et a Fexhe, a Doûmartin et a Horion, del samwinne, on s' blaguéve inte djonnes : gn aveut todi deus ou troes d' tchaeke viyaedje ki s' polént vni vanter d' aveur sitî rçûs d' adroet, conte do tonea al gotire ou padrî l' bårire do djårdén.
Djam assaetcha Julie disconte di lu et, po l' prumî côp e s' veye, i nuca ses deus grands bresses åtoû d' on stoumak di feme k' i fjha brotchî foû des corsets, et språtcha ses spessès lepes so deus rodjès mashales. Li båshele tchipta-st on côp et breya k' i lyi fjheut catieus avou s' båbe. Mins Djam kipougntéve totavå et ci n' fourit ki cwand l' viye dame rivna do djårdén et vna hemler a l' ouxh del coujhene tot rtrossant s' grijhe moustatche et tot fjhant halcoter l' porea ki lyi pindéve å minton, kel grosse Julie si saetcha-st evoye padrî l' contwer avou l' air do dire "Asteure, vos patacons, bea cadet !".
Et Djam paya l' gote ås catoize fesses et a leu viye macrale di mere. Li viye låma s' vere come on houzår, mins les crapådes, zeles, trimpît leus lepes e leu plat cou et, tot fjhant les cwanses di rén, el rivudît dvins on traitoe k' esteut catchî el coine do contwer.
Pwis Djam apiça et fjha potchter so ses djnos li cisse k' esteut l' pus près d' lu, pwis dansa avou tertotes, tot candjant cwand il aveut fwait l' toû do cåbaret. I nouméve Dadite Marea et Olga Serafene. C' esteut-st ene tchawreye sins pareye.
Li nute touméve tot doûçmint et, leus troes, leus cwate, tos les cint metes, les ovrîs ataként a rpasser do rivadje. Tot plin d' zels amoussént e cåbaret a l' araedje ki Djam moennéve, et buvént tertos deus gotes so s' conte tot s' leyant raveur. Djam ni voeya nén sol soû on ptit noer djonne ome ki s' rissaetcha tot fjhant sene "motus" ås crapådes et ki s' ploya e deus po passer dvant l' basse finiesse. I s' frotéve ses mwins d' èn air d' onk k' a trové ene fameuse idêye et i recora so Henefe, tot rpassant onk a onk les cåkeas d' ovrîs ki rmontént viè l' Åbe al Croes. C' esteut Pire li Gade, li galant da Dzirêye, ki Djam aveut-st on djoû pris pa l' pea des rins et hiné sol pavêye. Li ptit Pire n' aveut nén rovyî s' bea novea sårot a féns pleus k' aveut stî dåboré d' pissene... I riyeut tot corant inte les schavêyes et il ariva bon prumî a Henefe. I cora conter l' novele a Dzirêye. Si fré poleut bén s' fé si grandiveus et si fir ! I l' aveut veyou, lu, Pire li Gade, fougntant come on crås pourcea å cåbaret des catoize fesses. Dzirêye nel voleut nén croere, pwis, ele si meta-st a plorer, tot rxhorbant ses ouys e s' vantrin d' saetch k' odéve li pûle [pulpe do betterave].
Adon, Pire cora so Hodemont et totavå l' vinåve, i breyeut l' afwaire; on riyeut a ndè påmer et les vîs hossént l' tiesse, tot djhant k' i s' faleut todi dmesfiyî d' ces la k' avént l' air do Bon Diu et k' alént fé leus côps ci n' esteut nén co totafwait l' cas del dire mins cåzu e traite foû do viyaedje, tot contant k' on ndè såreut rén. Tos les djonnes coirs prindént l' arindjmint do soper al hapete et do vni å pî do tier passer les swerinne tot ratindant l' grand Djam, ki remoennrént tertos eshonne tot l' baltant. Guståve Stasse riyeut ås låmes del keure di [souci cåze par] si tchvå et fjheut tronner s' gros vinte tot sayant do s' rischaper.
Li nute esteut toumêye cwand Djam, sins pus nole çanse e s' potche, si fjha herer foû do cåbaret. On l' tchôca pa l' cou sol clitchet et l' vî Rossete riprinda tote seule li voye k' ele aveut shuvou si sovint.
Li grand Djam tchantéve come on råskignoû et on dveut etinde si grosse vwès disk' e fond d' Hozemont, trawer l' påye del nuteye et dispierter les oujheas dvins les håyes. Des tchéns, d' ene måjhone a l' ôte lyi respondént et hawént a moirt. Li Beaté s' eleva tot doûçmint foû des teres, padrî les bwès des hôteurs di Mouze et, cwand Djam ariva-st a l' Åbe al Croes, ele li rloukive di face, di ses grands ouys ewaerés et avou l' air do rire di lu.
Mins, d' esse kischoyou sol tchåfaedje et d' esse pris di raedje après aveur tûtle pus k' el aveut måy fwait e s' veye, li grand Djam si sinta divni tot malåde. Si djoye touma sol côp et i s' meta-st a rnåder so s' båbe et so s' sårot. I rsouwéve si boke avou ses mwins ki flerént l' surisse. Tot rôcant, i s' sitåra so les grossès hoyes ki lyi moussént e li screne et i s' essocta. Li viye baye, pate a pate, shuveut li voye, prindeut tote seule a hintche et a droete.
Cwand l' sôleye si dispierta, il arivéve ås deus cinses del croejhete disseulêye divins les teres.
Li vî Batisse, ki houméve l' air tot foumant s' Djåcob, ricnoxha l' clitchet da Guståve. I lyi breya "Bonute" et fourit tot ewaeré d' etinde ene grosse vwès k' i n' ricnoxha nén po cmincî, el traitî d' vî coirnou et d' må emantchî.
Li clitchet adschindeut asteure, tot doûçmint, sol viyaedje, inte les dierinnès hôtès schavêyes. Li ptite sokete aveut fwait do bén et nosse camaeråde s' rimeta-st a tchanter:
"Dj' a veyou, dj' a veyou pa l' trô do ferou

On ptit mårticot ki djouwéve avou s' cou

Dj' a veyou, dj' a veyou pa l' trô del clitchete

On ptit mårticot ki djouwéve avou s' kete."
Li dierin mot li dmona e fond del boke. Djam ravala s' raetchon, s' agripa-st a l' ouxhlet. I fjheut les ouys da Sint Djîle ! A vint metes divant lu, regolinant di drî les vîs sås do tidje, ene pitite blanke feme traviersa l' voye, rigripa sol hôte hourêye et s' pierda dvins les bouxhons. Ene tchawe sori lyi vna raezer s' calote. Ene houlote, sol piket do pré Roland, tchawa...
Li grand Djam fruzixha et dna-st on côp d' corijhe al Rossete po lyi fé wangnî å pus abeye li måjhinete do vî Pagna. Mins li ptite blanke feme, e clair di lune, ledjire come ene loumrote, raspita foû des bouxhons, s' acovta sol voye et s' meta a fé des couperous dvant l' atelêye. Li grand Djam mouwa tot, et braire on côp come on pierdou : "Mame !!" Et s' corijhe coixha so li screne do tchvå ki prinda l' assôt. Et Djam breyeut et flaxhive. Li ptite blanke feme, k' aveut passé sol tidje po leyî passer l' atelêye, si meta-st a cori a s' cou tot tchawant come èn oujhea d' måleur. Li viye Rossete end aléve les cwate pates eshonne a tchaeke côp d' corijhe et, ci fourit-st å grand galop kel pezante atelêye ariva-st å tournant wice kel tier dischind come on tidje.
I gn aveut, å pî do tier, pus d' cint djins ki rawårdént tot blaguant. Cwand on-z oya roudiner ene sacwè so les hôteurs, on s' meta-st a braire et a rire. On apoirta les djåbes di strin ki blamrént come a on banket.
Guståve Stasse esteut fiesti : li keure [blague, ekipee] di si tchvå, c' esteut on pô s' keure; on lyi aveut payî des gotes totoute do vinåve...
Pwis, on-z oya braire Djam.
Tot l' monde, les cis ki djåzént dressîs dzo l' tiyou da Javier, les cis acovtés disconte do meur del cinse då molén, les cis did la tot près k' avént apoirté des passetes, tertos broként å mitan del voye. On-z aléve rire ene shijhe k' on ndè djåzreut co dvins céncwante ans.
Cwand l' clitchet ariva-st al copete do vî tier, ci fourit ene braireye sins pareye. On levéve ses calotes, ses norets d' potche, ses lantienes; on bouta l' feu dvin les djåbes.
Mins èn vola-t i nén k' el plinne clårté del Beaté, adon ki comptént vey li clitchet kischoyou å pas del påjhûle Rossete Djam esteut cnoxhou come on prumî tcheron. Li vî tchvå abroca-st å galop, tchôkî å cou på clitchet trop pezant. Et, dressî sol timon, on grand diale hoûléve et flaxhive avou s' corijhe, come ene biesse.
Ci fourit fwait sol côp. Li tchvå trebouxha e li dschindêye, li galiot di troes meyes kilos, xhiné come ene pire, el bouxha djus. Li grand diale hoûla-st on côp ki fjha fruzi tot l' monde et, dvant tos les djonnes rapoûlés, li clitchet s' sipråtcha, tot mesbrudjant l' viye cavale. Li grand Djam potcha come si l' dandjî lyi avaxhe rindou l' sintimint. Si pî s' ecoidla e l' lignoûle [corde pour conduire le cheval]. Djam, les deus bresses en avant, fougna l' tiesse e tere divant l' rôle [roue] do clitchet.
E vinåve, torade si djoyeus, on n' etinda pus nou brut, nole vwès. Li moirt passéve.
Pwis ci fourit "li panike". Les pus gayårds des gueuyåds di torade corît evoye, tot tchawant come des pierdous.
Guståve Stasse, ossu blanc k' on lénçoû, si froya ene voye inte les omes. Ses dints caként. I s' leya toumer a djnos divant s' viye Rossete, sitåreye inte les grossès hoyes. On bresse do clitchet hotchî [casse net] e deus, aveut trawé l' panse del biesse ki rôgyive. Guståve passa s' mwin so les doûs poyaedjes del gueuye, et s' leya toumer dsu tot hictant.
Nolu n' oizeut s' aprepyî. Lînåd adon, ki n' s' ewaeréve pus po on tchvå, k' on nd aveut trawé troes dzor lu, broca dvins. I haetcha foû di dzo l' clitchet li grand coir tot disfligoté do grand Djam, si camaeråde. El sitinda sol costé del voye, tapa s' paltot dsu po catchî l' tiesse sipråtcheye et l' vinte å lådje.
Tos les ôtes estént clawés so plaece. Les djåbes si distindént ene a ene, sipitant des longuès royes di sonk sol voye, so les vizaedjes, so les meurs del Cinse do Molén.
Cwand Lînåd s' ritourna po tcherdjî Djam so si spale, i voeya, conte del håye, on ptit noer ome ki sayive do catchî on blanc lénçoû dvins on bouxhon. Et il advina l' afwaire.
I l' apiça pa l' hanete, et sins rén dire, mins, tot fjhant crîner ses dints, strinda, strinda disk' a çou kel linwe li pindaxhe foû di s' boke plinne di same. Cwand Lînåd el låtcha, Pire li Gade touma-st en erî sol lénçoû del blanke feme.
I n' si rleva pus.
Li leddimwin, Lînåd esteut lon do viyaedje, après aveur rabressî si efant adle Dzirêye ki n' si poléve raveur.
Et c' est insi k' i rprinda s' vî trawé pantalon et k' i fourit touwé l' anêye passêye disconte des Olandès.
---
Ballade équestre dans les Cévennes, France.
A dadaye.
Mi, c' est Dona. Dji so gaiye et wespiante, tenawete a m' môde. Des grands tchveas tchaiynut so m' vizaedje et catchî mes ouys. Fene blanke del tiesse disk' å dbout del cawe, dji so ene bele pitite cavale camarguesse.
Nos esténs sol difén do moes d' djulete et, avou mes camaerådes, nos fjhéns payeye, bén påjjirmint, dins nosse sitåve. Tot d' on côp, l' ouxh s' a tape å lådje et nosse mwaisse a moussî avou ene cawêye di djins. Il estént bén a ene cwénzinne, bråmint des djonnes et sacwants pus vîs. Padrî, dj' end a treveyou deus, en ome et ene pitite comére, k' avént l' air d' aveur li cou stroet.
L' ome a stî adlé m' soçon Blues, on bea grand bayåd tchvå, et li ptite comére, leye, a solvé mes tchveas et m' riwaitî inte cwate-z ouys :
" Est çki ns etindrans, hin, nos deus, mi ptite feye ? "
Et c' est insi k' dj' a aprin l' walon !
Ele m' a candozé, rabressî et m' diner on boket d' souke. A vosse shonnance, k' årîz fwait e m' pleace ? Mi, dji l' a veyou voltî, d' on randon. Dji n' a måy påpyî cwand elle a djondou mes pîs, mete li sele, les sacoches... Hê la ! c' est mi ki poite li pinard, sapinse les djins d' amon nozôtes !
Nos nd avans fwait des paskeyes eshonne ! Dji n' esteu nén a rpaxhe po lyi mostrer m' bea payis.
Aviè doze eures, nos tårdjéns. Ele mi trouvéve todi on bea cwén a l' ombreye, avou l' coide djusse a mezeure por mi scroter sacwants bounès yebes. Ele m' apoirteut on ptit boket d' pwin ou d' peme. Cwè vôrîz d' ôte, ô, vos, å pris ki l' boure est ?
Cwand l' voye esteut pår trop e pindisse, tot l' monde dischindeut djus des tchvås, et roter. Avou mi, pont d' rujhes a-z aveur; gn aveut k' a loyî les rinnes al sele et dji shuveu come on ptit tchén.
S' on passéve on ruxhot, ele tchoezixheut todi l' plaece ki l' aiwe esteut bén claire por mi boere a mi åjhe. Al vesprêye, a l' etape, dj' esteu al fiesse. Sins loyén, miernowe, dji coreu o paxhi e zoublant come ene sote, et m' rôler dins les yebes a tot spiyî. La dj' esteu m' mwaisse, et nouk a m' rastini.
So c' tins la, i s' alént laver, magnî, boere li bon ptit vén d' l' Ardeche. I dvizént lontins. Kecfeye bén k' i pinsént rifé l' monde, les enocins ! I tchantént et dj' els a minme veyou danser ! Portant, enawaire, n' ont i nén dit k' il estént drincîs ? I parexhe k' i vennut do payis d' Nameur : n' est c' nén vaila k' i gn a des bôreus d' crakes ?
C' est å matén ki dj' mostere mi caractere. Mi djeu est åjhey : dji coreu li pus lon possibe, tot å dbout do paxhi. Adon, djel veyeu ariver avou s' coide. Elle esteut tote foû d' alene, li pôve pitite djin.
- Ti m' as co yeu, hin, canaye !
Dji riyeu tot bas, dismetant k' ele mi meteut m' loye-cô, pu djel shuveu sins frapyî.
A ! nos nd avans yeu do plaijhi, nozôtes deus ! " A dadaye ", dijheut ele. Ça vleut dire k' i s' faleut dispaitchî ; adon, dji gretéve di totes mes foices po l' emoenner dins on galop d' sacwants kilometes.
Vaici, savoz, m' feye, i gn a del plaece et on pout trevåtchî ådtruviè d' tot. Cwand nos nos rtrovént tertos eshonne, elle esteut si témint binåjhe k' ele si coûtchive so mi hanete et m' rabressî dins m' crinire. Mins dji n' tén nén k' on fwaiye åtoû d' mi dvant tot l' monde ; adon, dji mi schoyeu ene miete po lyi fé comprinde k' ele si dveut codure a môde di djin.
Vénrdi, ns avans manké d' aveur èn accidint : i gn a des tchéns k' ont avoré foû d' ene cinse, tot bawant, et mi soçone Bérénice, ene ôte cavale, a stî témint sbarêye k' elle a baké s' cavlire dins les djniesses, sins må, lacobén ! Ci n' est nén mi k' end åreut fwait ene pareye ; dj' åreus pité on bon côp et-z evoyî ces rosses la å diâle.
Après aveur berôlé ene samwinne å long, pa tchamps payis, nos avans rivnou o ståve. Mi, dj' esteu bén binåjhe. Ces tourisses la, paret, i n' si rindnut nén conte ki, pa côps, c' est deur di roter insi tos les djoûs.
Mins cwand elle m' a vnou dire arvey e gretant doucetmint dins mes soeyes, dj' a bén sintou k' elle aveut del poenne :
" Disk' a l' anêye ki vént, sabaye, binamêye Dona ! "
Mi, dj' a schoyou m' tiesse ; elle a bén comprin çou ki dj' vleu dire !
---
Christiane Binamé, divins: Cahiers Wallons, 60 (2), 1997.
---

(Back homepage) Alans rzè al mwaisse-pådje.

Si des mots difficiles se présentent à vous sur ces pages, allez voir s'il ne sont pas expliqués dans le Splitchant motî do walon (avec brève traduction française).
---

(Back index par sujet); Alans rzè a l' indecse des sudjets.

(Index des auteurs présentés sous forme pré-normalisée) Djivêye des scrijheus eplaidîs dizo cogne årmonijheye, mins tot wårdant ene miete l' accint. (Index des auteurs dont les textes sont disponibles en wallon commun) Djivêye des scrijheus k' ont scrît u k' ont stî rashious e rfondou walon

(Back textes en wallon commun) Erdalans sol pådje des scrijhaedjes e rfondou walon.

(Back homepage) Alans rzè el mwaisse-pådje

(homepage wallon commun) Alans rzè eviè l' pådje moennrece do rfondou walon.
---
Sacwants scrijhaedjes di cisse waibe chal polèt esse dizo abondroets; nos les rsaetchrans foû s' i fåt. Sacwants bokets scrîts ezès walons coinreces polèt aveur sitî ene miete rassonrés po poleur shuve pus åjheymint les mwaissès-rîles do rfondou walon.
Certains textes peuvent avoir subi des modifications mineures pour faciliter leur insertion dans le projet de langue nationale pan-wallonne.
Some texts may be affected by copyrights and eventually need to be removed from this server in the future.
---