Chicago-en-Wallonie

Tchicago-el-Walonreye

(ewaerantès noveles da Lucyin Mahin, ki s' pasnut après Tchålerwè (on boket, todi), sicrîtes di 2010 a 2016)
dierin rapontiaedje - last update: 2020-10-15
Dressêye:
Ces paskeyes cial ont parexhou so papî dizo l' tite "Moudes a rvinde", eplaidêyes do Muzé do Pårlaedje e l' Årdene. Ele si rpasnut asteure el Province do Lussimbork. Li strimaedje s' a passé li 15 di may 2019, a Sint-Houbert, avou on spectåke e walon pa les efants des scoles.
---
Sacrée frousse pour une mère qui va récupérer ses enfants à une "boum" à 1 h. du mat.
Cardjakigne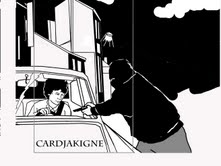 Dji raléve cweri mes djonneas, k' estént-st evoye a ene boume avou des pareys a zels, après Dårmè. Il esteut sol côp d' ene eure å matén. Dj' aveu leyî l' ome dins s' lét, fornåjhi k' il esteut d' aveur bouté disk' a tård del shijhe. Fåt dire k' il avént deus grossès pratikes a-z ahessî, dins si imprimreye. Et nén cwand cwand, ca c' esteut des afitches po les votaedjes.
N' aveut nén grand djin avå les voyes. Come a mi åbitude, dji n' rôléve nén pôvite. Mins c' est bén dazår k' i gn ouxhe on radar a des pareyès eures, taiss, dandjreus !
******************************
Des gableus, neni, mins des otomaboulisses, oyi. Waite on pô ci halcotî la, dins s' grosse Volvo, ki frinne des cwate pates et do muzea sol bele droete lene del Pasturåstrêye. Portant, li feu-rodje ki vént est co vete. Mins i va bén fini pa-z î passer, å rodje. Eto, dji boute eto come ene waeraxhe so l' erayoe. Mi Audi dsicapotåve ni rabresse nén voltî on gros cou d' Volvo. Nonna, ele n' est nén raecisse… Djusse bén aclevêye.
Mins, so rén do monde di tins, wôrs del grosse tcherete suwedwesse, come des cacafougnas foû d' leu boesse, i gn è rexhe troes måbelairs, avou des noerès cabounetes so leu tiesse. Li prumî a-z arivé dé m' poirtire mi dit, avou on accint nén d' avår ci : "Les clefs ou on te bute !"
Dji n' piede nén m' froed sonk. C' est don çoula, on cardjakigne. Et c' est des ptits canvolants d' Francès ki m' volnut haper mi oto, a mi, ene Årdinwesse ki s' popa a fwait l' Ofinsive da Van Rouchtete avou l' Årmêye da Montgomery.
Dji n' fwai ni ene ni deus, dj' eclitche prumire, deujhinme et troejhinme, et vo m' la a do cint a l' eure sol tårmak do Grand Tchålerwè. Dji n' m' a nén ddja abaiti ki les deus bouxhaedjes k' on-z a etindou enawaire, c' esteut des côps d' fizik saetchîs après mi. Asteure, dins l' erî-muroe, dji voe ki l' finiesse did padrî est tote kipetêye. Ci n' est nén pår des coråls, nos cardjakeus !
Et asteure, les gros fåres ki m' shuvèt, la å lon, c' est dandjreus zels, paret. Dj' a ene u deus munutes d' avance. Dji n' so nén cråsse avou ça.
Lacobén ki m' tiesse va bén, leye. Nén disbrôlêye del vessete ! Djusse astok, so Mårciene, dji cnoxhe on restorant avou on grand parkigne. Dj' årè l' tins d' î moussî, et di m' maxhî åzès djins.
Come dit, come fwait. Såf ki l' ouxh d' intrêye est seré. Come di djusse. Dispu deus troes ans, les polices do tote li Picårdeye francesse ont rhåssî leu livea di straegnté. Swè-dijhant po sayî di dzindjner les grands bandîs ki rôbalént so leu triyaedje. Ene coûsse-porshûte, et i mitrayént les saiwantès tcheretes, sins si rtourner k' i gn aveut des (nén enocinnès) åmes divins. Avou l' benediccion des sarcozisses.
Dabôrd, les brakeus et ls atakeus di totes les tires ont-st aploû sol payis d' Tchålerwè, la k' il avént ddja mwints frés d' mestî. Cial, el Walonreye, cwand on bandî s' fwait acsure d' ene bale pierdowe, c' est tos les policîs porshuveus ki sont dins leus ptits solés. On sotént l' calinreye, vos di dj'.
Mins rivnans drî rinne.
******************************
Vo m' la don divant èn ouxh di bwès, å prôpe et a l' imådjrece. Li tins di håspler po fé vni on sierveu, et la les lampes di l' oto des shuveus ki loumeynut l' noereur, a l' intrêye do parkigne. Pus l' tins d' rén do tot, ki di m' sititchî dizo l' prumire oto gårêye djondant.
Les målairs n' ont nén metou lontins po s' abaiti di m' catchete. On côp d' fizik a co peté. "Lebon, tchipete ! Ti n' ti vas tolminme nén fé dischinde po on hopea d' fiermints. Tape lezî les seroûles di l' oto, et k' on n' è cåze pus."
Dj' elzî a hiné.
Po m' rimerciyî, il ont co saetchî deus troes côps avou leus pistolets. E l' air, come on tire des maryîs ? Dji n' vos l' såreu dire. Dji n' veyeu rén : dj' esteu co padzo mi oto.
Cwand les voleus ont yeu stî petés å diale, les ouxhs do restorant s' ont disclapé. T' aveus la ene flouxhe di båyåds ki vlént saveur les ca et les ma. Mi telefone axhlåve aveut stî riscroté avou l' oto. Tolminme, onk des magneus, on pô pus midone k' els ôtes, mi prusta l' sinne. Li gårçon, lu, m' aveut vnou siervi on vere di maxheure di djus d' fruts, avou des ptits cwårés d' froumaedje. Dji n' sai nén si c' esteut d' pitieusté, oudonbén k' il aveut sovnance ki dj' esteu ene pratike del måjhon.
******************************
C' est cwand on-z a dandjî d' zels k' on ricnoxhe ses vraiys soçons, dit-st i l' rebusse.
A cist egzamin la di relijhaedje des vraiys amisses, mi ome åreut seur sitî buzé. Vo l' la ki s' dispiertêye grigneuzmint. Cwand dji lyi conte mi paskeye di cardjakigne, et k' il ôt les vwès des djins did tåtoû d' mi, il a l' acertinance ki dji so ki lyi djowe ene kénte. Ene kénte å rvier, sapinse a lu. Aprume ki djel vou fé lever et prinde si oto po-z aler rcweri les crapåds et l' crapåde (nos deus djonneas et onk di leus cousses). Djonneas ki doevnut aveur li tins long, a des pareyès eures, a l' ouxh di leu dancigne, la k' on lzî aveut dné radjoû al dimeye di deus. Ey il est ddja l' cwårt a deus ! Ey i brouhene, et fé ene crouweur ki vs amousse disk' ås oxheas. Dji l' a bén sepou cwand dj' esteu dvant l' ouxh, racafougneye dizo ene oto.
Il a falou k' ene pratike do restorant prinde li schoûtrece, et aveuri a m' mwetî tot çou ki dji lyi aveut dit. "On vout co bén aler rcweri vos djonnes a leu dancigne, dijha-t i tot s' måvlant, mins soeyoz don binamé di vni rascode vosse feme droci. Après l' saizene k' ele vént d' aveur, vos avoz ene fire tchance k' ele est co mwaisse di leye et n' vos nén dire ene volêye di påters di bourike."
Cwand i s' a-st apwinté, ene grosse eure pus tård, les sopeus avént tertos dzarté, et les sierveus avou. Gn aveut pus ki l' boss do restorant, et les policîs k' avént ddja cåzu tot scrît leu rapoirt. Li brigadî n' a rén dit, mins il a mostré, sol tancea di s' mwin, les deus vudès cartoxhes k' on-z aveut rtrové sol parkigne. Des Bronigne 15-10, onk des pus traites des pistolets d' atake.
C' est mi ome k' a toumé dins les cropecindes, et c' est co mi k' a dvou rmoenner l' oto po-z eraler al måjhon.
Vlacobén ki l' Audi discapotåve esteut assurêye disconte do scrotaedje.
Ça co stî on bea côp dé on laid.
---
Lucyin Mahin, li 11 d' avri 2010, so ene sovnance da Brigitte Mahin.
Eplaidî divins "Li Rantoele Belès Letes", Rantoele-gazete l° 54, esté 2010.
---
Peut-on vraiment s'intégrer à la vie wallonne moderne quand on est fille de réfugié pakistanais ?
Moude d' oneur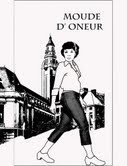 Dj' åreu polou esse Fadila Laanan…
Oyi, saiss ! Moussî å PS di Tchålerwè et, après l' dislaxhaedje del Walonreye, divni li prumire minisse del culteure do Payis Walon. Ki dj' loméve dedja, a môde d' après mon nozôtes, Walonistan.
Mi prumire bouye, dj' î aveu ddja tuzé, ci sereut di ricnoxhe, dilé les cénk lingaedjes nåcionås endogènes - do payis - sacwants lingaedjes nåcionås exogènes - did foû payis. Il årént les minmes waerantixhants droets. Dj' ô bén ki, come pol walon, li picård, li gåmès eyet l' lussimbordjwès, les efants des abagants et les ôtes les pôrént aprinde - po rén - dins les scoles del Walonreye, tins des eures normåles di cours. Et avou des ponts ki contrént po les bultins, ostant k' les cis do flamind et d' l' inglès.
Tot passant pa Nameur, la sacwants samwinnes, dj' aveu mådjiné m' buro, dins ene tour modiene basteye sol Grognon. Dji m' veyeu a relére li djivêye des "lingaedjes redjonås foû payis" ki serént ricnoxhous dins les lwès walones. Dj' aveu la scrît so ene foye, dins l' ôre alfabetike : amazir, arabe marokin, kicongo, kiniarwanda, kiswahili, lingala, ourdou, trouk.
Ci n' aveut nén stî åjhey di stitchî l' ourdou. N' aveut nén des meyes di Pakistanès ki dmorént dins l' cotoû. Les sacwants come mi pa, k' estént la dispu ene tchoke, c' esteut des broûleus k' avént cwité po l' Inglutere, mins dmorer a stok a Ostinde u a Calais. Adon-pwis, rabroker on pô e-n erî sol Nonne del Beldjike, foiravant sol payis d' Tchålerwè.
Mins cwand dj' årè l' ådje d' esse minisse, les Rikins et leus copleus d' l' OTAN åront ramassé leu petêye e l' Afganistan. So ces etrevéns la, li Pakistan serè divnou islamiveus. Ça fwait k' tos les cis k' åront dné on côp di spale ås "crustins" po tiper des bombletes so li screne des rezistants do Baloutchistan, ces-la, di dj', åront dvou saiwer å pus abeye. Et l' Urope bén oblidjeye d' elzès rascode.
******************************
Tot çoula, c' est des boignes contes ki Kevin mi tchante tins des foûzeures, al cantene del sicole, la k' on-z s' dene radjoû a tot côp bon.
Kevin, c' esteut m' prof d' istwere-djeyo di l' anêye passêye.
Cwand dj' a moussî dins s' classe pol prumî côp, la on pô dpus d' èn an e moes d' setimbe, nos ouys si rescontrît d' atoumance la k' i dmandéve ene kesse sol Mîtrinne Azeye. I rodjixha come ene cressôte. Mi avou, mins ça n' si voet nén so m' morete pea. Dji låtcha "Tachken, Douchambé u Alma Ata" - i s' adjixheut del mwaisse veye d' on payis d' avår la - tot baxhant honteuzmint mes iys. Mins dandjreus aspita-t i so mes lepes on ptit soriya ki dj' n' aveu polou mwaistri.
Dispu don, pitchote a midjote, nos nos avéns raprepyî a môde di rén. Dji lyi dmandéve des kesses et des messes so tot çou k' i nos contéve tins des scoles. Lu s' meta a studyî les pondants et les djondants di l' istwere do Pakistan. Et shuve al tévé et sol Daegntoele tos les corwaitaedje politikes so cisse coine la del Daegne, k' i n' î fjheut nén trop påjhire pol moumint.
******************************
Pocwè nosse pa s' a-t i måvlé araedjî sot sor mi å mitan d' l' anêye ? Dire ki dji m' moussive come ene sins-oneur, avou mes marones-djines todi pus splincantes. K' i gn aveut pont d' avance di wårder mi noret d' tiesse po-z aler avå les voyes, si c' esteut po s' abiyî, padzo l' tiesse, avou des foufes ki mostrént totes les rondeurs di m' coir. Des mousseures di disbåtcheye.
Disbåtcheye, dji l' esteu, mins dins l' ôte sinse do mot : diloujheye, discatibulêye come ene covresse ki l' vexhåd lyi a scroté tos ses poyons.
C' est l' veur ki dji meteu des coûtès tayes et des marones basse cingue. Mins todi avou ene flanele padzo, afîsse k' on n' voeye nén m' botroûle. Ni m' dos, ni l' roye do drî… come on les veyeut, a tot côp, ås ôtès scolresses k' estént nipêyes come mi. K' ele li fjhént cåzu esprès. Dji n' pleu tolminme nén passer po moens k' ene ôte ! Et c' est moman ki m' rabiyive. Et s' n' aveut ele nén l' air di esse disconte di ces cayets la.
******************************
Mins onk k' esteut disconte djamåy parey, c' esteut m' fré Perwez. Djalot, va, dandjreus, lu. Foice k' il aveut volou schoûter nosse pere, et s' aler maryî å payis avou ene båbimene di 15 ans k' i sayive asteure di fé rivni el Walonreye. Et dire ki, co l' anêye passêye, i hantéve a stok avou ene glawene di nosse coulot a Lodlinsåt. K' i continouwe di courtizer, åré, mins catchetmint.
Dji n' sai nén si c' est nosse monpere u nosse monfrere k' î aveut tuzé l' prumî, mins i fourit decidé - dirî m' dos - ki, ezès grandès vacances, dj' erireu å Pakistan. Nén dandjî di m' fé on dessin. C' esteut purmint po m' î maryî, sins dmander mi idêye, avou on cuzén u on ptit-cuzén. Onk k' åreut ene miete sitî a scole, et ki profitreut do mariaedje po-z aveur ses papîs, lu eto, po ravoler sol Beldjike.
Nosse pa aveut ddja atchté les deus biyets "Areyoflote" Zavemtem Islamabad pa Moscou. Dji touma d' astcheyance so les foyous do vol, tot rnaxhant dins les letes do facteur, on djoû del difén do moes d' djun.
******************************
Cisse nute la, dji prinda ene grande decizion dins mi ptite caboche di refoirceye gamene di 17 ans. Dimwin, dji n' rinterreu nén a nosse måjhone. Et-z aler passer totes mes vacances dé ene camaeråde di Gochliye ki s' pa boute a l' areyopôrt, et k' a des biyets d' avion po deus côps rén.
Nos avans stî so tchamps so voyes les deus moes å long. Londe, Malaga, Hamamate, Rimini, Prague.
******************************
Mins, e moes d' setimbe, i fala bén rintrer e scole. Rola, gn aveut m' pa et m' fré k' avént vnou trover l' directeur. El pôve målureus Kevin, ki n' aveut portant rén a vir avou tot çoula, s' aveut fwait barboter d' astok. Et on-z aveut dedja stî rcweri des grands mots : distoûmint d' mineurs, et dji n' ti sai d' tot cwè. Mins nos avéns po fé po nosse disfinde. Dji n' veyeu Kevin ki inte mes voyaedjes avou Gwena (li cene di Gochliye). Et lu aveut stî fé tchîf po les Scoutes do Rou k' avént campé e l' Ovegne, e l' France, cåzu on moes å long. Nos avéns des alibis d' acî.
Les parints da Gwena m' avént bayî l' djîsse e leu måjhon, et fé vni ene assistante sociåle del proteccion del djonnesse po lyi conter l' paskeye. Li Comene avént ahoukî nosse pa et nosse mame. Dji m' aveu leyî dire ki popa esteut fén dismonté, come do bolant laecea k' efoût d' on cantea, cwand il aveut vudî d' drola. Avou m' fré, come di djusse; Sint Rok n' eva djamåy sins s' tchén.
Mins nosse pere ni m' åreut djamåy oizou vni trover, ni e li scole, ni amon mes mwaisses lodjeus. Co on côp, Perwez sereut s' messaedjî.
Li prumî côp k' i m' vina ratinde al rexhowe di l' atenêye, i saya di m' ehertchî d' foice på bresse. Mins mes soçons d' classe n' estént nén bén lon. I saya bén d' elzès mancî et dire ki ça n' les competéve nén. ki c' esteut des afwaires di famile. Mins dji breya k' i m' låtchaxhe. Les deus troes pus castårds di reto ont yeu rade fwait di l' tini astok et lyi mete li mwin so s' gargasson. Il a bén dvou leyî la hatche et matche, e veyant k' il aveut a fé a pus foirt ki lu.
Il a rivnou ene cwénzinne di djoûs après, tot fjhant bebele, ci côp ci. Et m' prinde al doûce, tot djhant ki moman aveut l' tins long après mi, et k' ele si tchoûléve moite cåzu totes les shijhes. Et dmorer dispiertêye tins d' parnute. Ki si ça continouwéve, elle aléve souwer so pîs. K' i n' mi foircixhrént pus a spozer m' cuzén do Pakistan. K' i dji m' diveu racmoirder avou nosse pa, k' esteut presse a m' pardoner tafwait.
Kevin, li bon Kevin ki n' veyeut l' må nene pårt, m' a-st ecoraedjî.
Gwena, leye esteut bråmint pus dmefiyante, Ele voleut vni avou mi mins dji n' a nén accepté. C' esteut des mannetès lokes, des cayets ki s' bouwnut divins famile.
Dj' elzî a dné radjoû on vénrdi a nonne, po mareder avou on bon couscousse cwand popa rvénreut del moskêye. Ci n' est nén ene eurêye pakistanesse, mins moman aveut-st aprins a l' fé comifåt avou ene vijhene marokinne.
******************************
Dj' åreu dvou schoûter Gwena.
Asteure, il est l' dimeye di deus. N' a pont d' venêye di couscousse dins l' måjhone. Moman n' est nén ddja la, evoye amon ene conoxhance après Lidje.
Tant k' a mi, waitîz dins kén estat ki dj' so. Dj' a deus côps d' coutea inte les coisses. Dji so ki s' forsonne. Dji nd a pus po on cwårt d' eure a viker. Perwez est la ki brait come on påpåd, avou s' crin-d'-aresse plin d' sonk e s' mwin. Popa ramxheye dins l' bele plaece. Dji l' ô co ki cåze å telefone avou les djindåres. Portant mes ouys sont clôs et dji n' bodje pus.
"Oyi, c' est po on moude å 10, rowe des teris a Lodlinsåt. K' i vegnnuxhe do côp !"
******************************
Dj' åreu polou esse Fadila Laanan. Al difén, dj' årè tolminme mi ptite gloriyole : dji serè l' prumî moude d' oneur di l' istwere del Walonreye.
Peneus rconsolaedje !
---
Lucyin Mahin, li 24 di djulete 2010.
Eplaidî divins "Li Rantoele Belès Letes", Rantoele-gazete l° 55, waeyén-tins 2010.
---
Camicazresse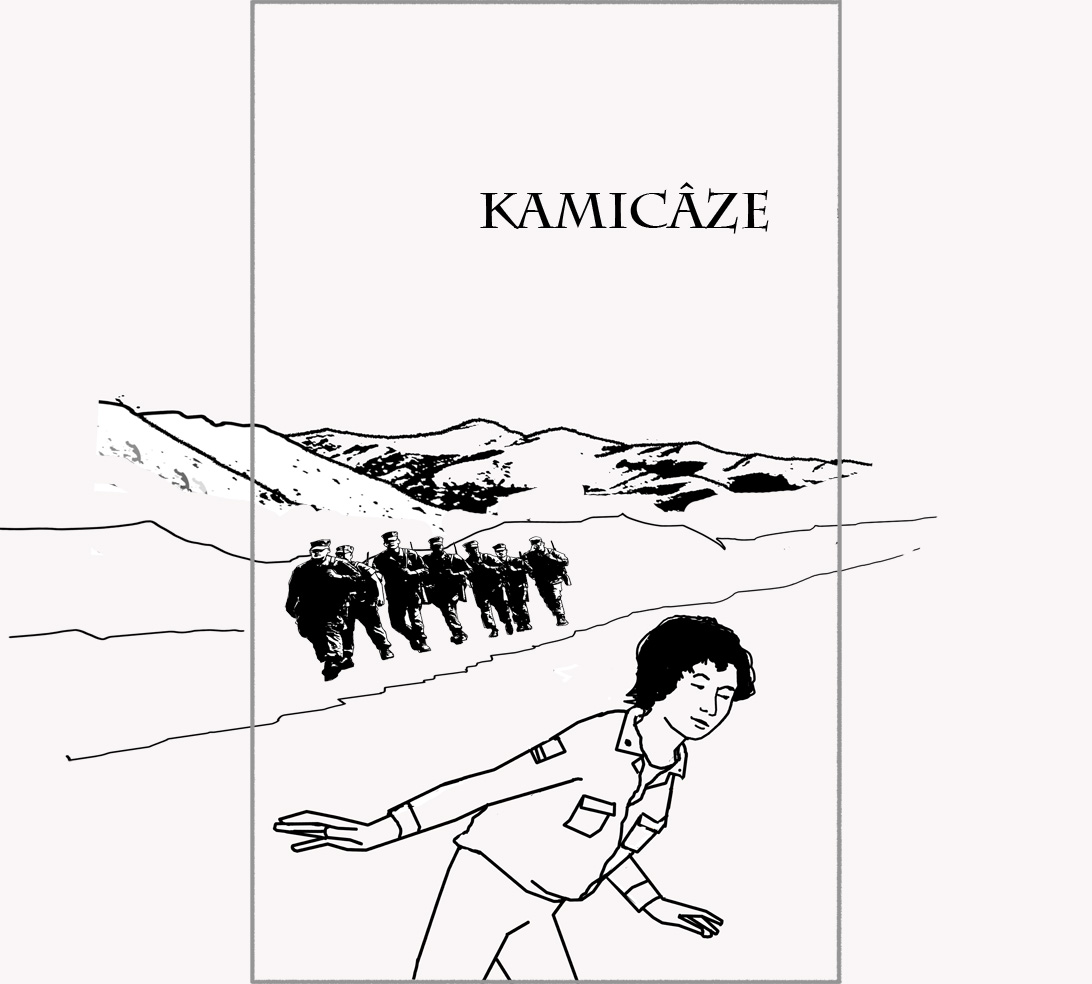 Dj' åreu polou esse li bele-feye Ben Laden.
Oyi, cwand dj' a rescontré si fi, Djamel, a Nadjaf, divant ki dji n' m' evåye po m' prumire et dierinne mission po l' Cayida.
Ké bea valet, Djezuss Maria !
Djel rivoe co nos pretchî, do hôt d' ene pitite pirlodje di Sint-Nicolai. Dji m' a dit dins mi-minme : "Muriele, si l' Bon Diu t' evoye, di ces djoûs ci, diner t' veye po nosse guere pol djustice, pôreut vali k' i soeye touwé e minme tins k' twè, dins ene atake d' on drome amerikin. Insi, on s' ritrovreut nozôtes deus eshonne al poite do Paradis, et fé cnoxhance."
Po s' maryî dins l' veye d' après ?
Hê, valet, båshele ! Ti n' es pus amon les Boudisses, la, vaici. Ti sovénss co li prumî côp ki t' popa t' a moenné dins leu timpe, a Tcheslinea ? Ti n' esteus co k' ene dine di doze traze ans. C' est zels ki croeynut a çou k' i lomnut li restchårnaedje. Ki ti åme ripasse dins èn ôte coir après t' moirt. Pus bea, pus peur si t' as fwait des bounès accions. Pus laid, pus måssî, si ti t' as må codût.
Mins asteure, dispu deus ans, ti shûs les islamisses. Li mwaisse pretcheu del moskêye di Couyet ti l' a ratchawté co traze côps. Ti coir eva po todi al moirt, magnî des viers. Ti åme eva e Paradis u e l' infier, a l' assulon di t' vicaedje et del mizericôre do Bon Diu. Si to ravikes, coirzenoxh, ci n' serè k' å djoû do dierin djudjmint.
Ki swete ! Mins mi, Muriele Dograf, dji sai pår bén ki, docô k' on mourt, on rprind èn ôte coir, et rviker ene tote novele veye. Et dji so-st a pô près seure ki, dins ene veye di dvant, dj' a spozé Djamel Ben Laden, li bea napea ki nos a-st arinné enawaire.
Mins si t' es seure ki c' est lu k' a stî ti ome dins ene ôte veye – et k' il risserè co –, pocwè nel nén aler trover sol pî sol tchamp ? Divant k' i n' revole – sai dju pa kéne voye – so l' Afganistan u l' Pakistan, ritrover les tchîfs del Cayida. Vos n' avoz k' a vos maryî, pu steper evoye e-n on payis k' i n' a nole guere inte crustins et muzulmans. Et-z î viker mo påjhirmint disk' a vos vîs djoûs, tot-z aclevant ene peclêye d' efants. I n' a k' di poujhî sacwants potchtêyes di dolårs dins l' casse del Cayida po payî l' voyaedje, et vos setler låvå vozôtes deus.
Mon Diu todi, Louwis ! Bén ti n' î pinses nén, taiss ! Traeyi si cåze ! N' a rén d' pus pire po ridischinde dins l' schåle del valixhance di l' åme. C' est on plan po s' ritrover come coloûte ou come clouctrê dins l' veye d' après. Diale m' ancate !
******************************
Muriele, mi feye, djoke tu do cåzer tote seule. Astampe tu raddimint sins t' epîter dins t' grande noere cote et va s' ritrover les kékès cmeres – ene shijhinne pol moumint – k' ont tchoezi come twè di sacrifyî leu veye pol guere djusse disconte des crustins.
******************************
Les crustins ! Pocwè end ass tant siconte di zels ? Portant, ti viye mårene, ki t' a-st aclevé après ki t' mame åye peté å diale, ti grand-moman, di dj', c' end esteut ene, leye avou, di crustinne. Batijheye, todi, ca ele n' aléve nén a messe tos les dimegnes.
To l' as dit ! Nenene ! Pôve viye åme ! Ki n' s' a-t ele nén plindou des curés ! Onk ki lyi aveut rtrossî ses cotes, et rsaetchî si ptite coulote, po fé les cwanses di lyi fote ene ratournêye po ene loignreye u l' ôte. Ci n' esteut ki po lyi candôzer les fesses, li laid vicieus godi.
Et kés toursiveus, ces curés la ! Li minme apôte ki margougnive les efants, il esteut straegne ca todi po çou k' est des penitinces a cfesse. L' alaedje, di ç' tins la, c' esteut di raconter e cofessionå tot çou k' on t' aveus mårtoké el tiesse ki c' esteut petchî. Minme d' aveur sitî danser. Et t' aveus sacwants priyesses ki n' vlént nén minme diner l' absolucion pol dansaedje, trovant ki l' petchî esteut trop grand. Et rclaper l' plantchete åzès crapådes ki s' end avént acuzé.
Fås-pilåtes ! Fås-pilåtes, avou !
Ça fwait ki l' viye djin n' a waire bouté al tcherete po k' ses fis alénxhe co a l' eglijhe cwand il ont yeu fwait leu comunion. Li pa Muriele, åré, a divnou on critikeu d' curé djamåy parey. I n' aveut nén ddja volou fé batijhî s' feye. Et s' dispetroner fer avou s' feme a cåze di çoula.
Di çoula et di toplin d' ôtès sacwès, ca c' esteut on mariaedje k' aléve a schî-fesse dispu l' tot cminçmint.
Mins si feme ses djins, c' esteut des magneus d' Bon Diu. Il ont tant fwait ki les parints da Muriele ont dvoircî. Portant on n' divoirceye nén mon les grands catolikes. Bawaite, i fåt viker avou s' tins. Les bea-parints ont fwait des pîs et des mwins po-z aveur li wåde del glawene. Mins, al fén des féns, li djudje, on socialisse siconte-PSC, l' a dné al tayone do costé di l' ome.
C' est dandjreus tote ciste haeyime la disconte des catolikes k' a fwait ki, on bea côp, li pa Muriele a decidé di fé moussî s' feye amon les boudisses.
******************************
Boudisses u islamisses, c' est todi l' minme diale, dit-st i l' martchand d' bondius.
A 16 ans, l' ådje k' on s' revinte siconte di tot çou ki vos a strindou dispu estant tot ptit, on n' dimeure nén voltî a rén. Ca po les boudisses di Djumet, i s' faleut tuzer moirt tot lijhant li Tawo-teu-kign, li live da Lao Tseu. Et viker al Tawo-tchiaw : cachî di n' nén mori, tot shuvant li "Voye" eyet l' "Viertu", tot rapinsant co meey côps les deus atuzes do "nén-fé", li Wou-wey et di l' eralaedje e-n erî, li Fou.
A saze ans, ti vous d' l' accion, del margaye, des batreyes et do touwaedje. Come dins les djeus videyos.
C' est çou ki les islamisses ofrixhént, dins leu lûte disconte des Amerikins. Foiravant dispu k' ces-ci avént-st enondé li nouvinme croejhåde, e l' Irak ey e l' Afganistan. Do côp, ça a stî cohigne cohagne avou les muzulmans di tot tchamp payis. Minme les doûs ki veyént evi les gueres. Et copurade dins l' payis d' Tchålerwè, la k' les djins, avou leu mintalité socialisse, haeyixhnut les gros ki vont spotchî les ptits.
On djoû, d' astcheyance, Muriel aveut rescontré Abdel, on Marokin k' aveut stî a scole avou leye dinltins. I l' aveut etrinné dins ene soce ki sayive d' egadjî des camicazes po l' Irak.
I n' avént nén stî spepieus so ses cnoxhances di l' islam. I n' lyi avént nén dmandé di fé ses cénk priyires tot les djoûs, et co moens di djuner on moes d' astok e cwareme moslimî. Ele ni dveut nén ddja aler al moskêye. Ki do contråve ! Leu moskêye esteut awaitêye pal police siconte-terorisse. Valeut mî k' ele ni berlôre nén avår la.
I l' avént rashiou dins des såles po fé totes sôres di spôrts. I lyi avént dné a magnî del tchå deus côps par djoû. Pask' ele esteut mwinre come on tchet d' après l' Sint-Djhan, après ses cénk anêyes di redjime ås verdeures d' amon les boudisses.
******************************
Après deus troes ans di ç' sognaedje la, Muriele aveut divnou ene bele grande foite comere. Avou ses bleus ouys et ses clairs tchviveas, mousseye a sôdårresse amerikinne, les Djankîsses ni s' dimefiyrént nén d' leye, cwand ele s' aprepeyreut d' zels po fé s' "mission".
Målureuzmint, i n' lyi avént nén seu fé aprinde l' inglès come il åreut falou.
Muriele, li walon, ça lyi aléve å pair do pôce. Li francès, faleut ddja bén tot. Mins l' inglès, elle esteut a l' åjhe avou ça come on pexhon e mitan d' on bouxhon di spenes.
Damaedje ! Ôtmint, on l' åreut fwait aprepyî on gros menir amerikin (come gaztresse u ôte tchoi), et l' fé potchî avou leye.
Bawaite, on l' frè såtler å fén mitan d' ene patrouye US a Bagdad u a Mossoul. Ele n' årè nén a djåzer avou zels.
Po aveur on meyeu rindaedje – dischafioter li pus di marînes possibe – on montreut on pantomene. Ele serè mousseye a sôdårresse amerikinne, come dj' avans dit, et fé les cwanses d' esse porshuvowe pa des rezistants. Ele creyrè djusse "Help ! Help !" Ele n' årè k' a repeter cint et cint côp ci fayé mot la. Nén Mouze et les vås !
******************************
Enute, c' est l' grand djoû. Elle est presse. Ele dit hinkeplink si ake di contricion e-n on cpité arabe. Ses copleus è fwaiynut ostant, ca el vont porshure podbon, tot saetchant après leye avou des bales a blanc. Mins i pôrént totsu bén è rçure ene vraiye, di bale, cwand les Amerikins les vont awè a lugnî…
Coraedje, båshele ! Motoit k' ouy al vesprêye, ti rtrovrès Djamel Ben Laden al poite do paradis.
Çou k' ene comere vout, li Bon Diu el vout.
---
Lucyin Mahin, li 29 di setimbe 2010.
nén co eplaidî so papî.
---
Lisbete di Lavervå
Dj' åreu polou esse djudje del djonnesse.
C' est çou ki dji tuzéve, todi, di ci esté la, e deus meye toubak, cwand tos mes soçons et soçones di scole aplouvént divant nosse måjhon.
Nos aléns rfé l' monde, avou noste exhowe di grandès crapådes et di rafoircis gaméns, tertos cwénze saze ans vîs.
Onk aléve baguer pol Braezi, et-z amonter des soces nén recwårlantes, dins tos les viyaedjes di l' Amazoneye, po k' les Indyins ni s' fijhénxhe pus groujhî påzès distrujheus d' grands bwès.
Ene ôte aléve adjinçner des scoles dins les ospices, po les catîs aveur todi del djonnesse åtoû d' zels. Et n' si nén sinti dins on moroe, on pî so tere et l' ôte dins l' waxhea.
Tant k' a mi, come djudje del djonnesse, dj aléve mete so på so fotches les tos des cintes di distreyance po les efants disgurmeteus. Estô do fé araedjî leurs prints, les djonnes sins rasta s' î vénrént fornåjhi e djouwant å baskete, tot fjhant del plantche ås rôletes, u e gripant so des hôts meurs come les alpinisses.
---------
Mi, c' est Lisbete di Lavervå; c' est insi k' on m' a spoté, todi.
Saze ans et tot si alant !
On cinte po distreyî les djonnes harlakes, djel lomrè on "spåce a Lisbete".
---------
I fåt k' dj' endè cåze å vijhén, di l' ôte costé del voye. Cwand i rintere di si ovraedje diviè cénk eures et dmey, i vént cobén taper ene copene avou nozôtes.
Ki, a ciste eure la, nosse pitite soce s' a ddja beazebén scramé. I n' dimeure pus ki deus pelés et troes tondowes.
Come Florant - c' est l' no do vijhén - n' end a k' por mi, et cåzu nén aconter les ôtes, i stepnut evoye sins tårdjî.
Oyi, taiss, i m' fåt dvizer avou lu di m' pordjet des Espåces a Lisbete. Lu, il est electrizyin. I pôreut ddja tuzer a tot l' loumiraedje po k' on voeye bén çk' on dit disk' å pus ptit racwén. Nén kession ki ces ravacholes la s' alénxhe muchî dins les peurès coines do bastimint et-z î esse a damaedje catchiveuzmint.
A way, ça! S' i m' rinvite co on côp e s' tchambe, come djudi passé, dji lyi dmandrè cwè et kesse, sins manke.
******************************
Bondjoû, vozôtes. Diè wåde li bénfjhant. Diale evole li måfiyant !
Way ! C' est mi, Rita, el moman Lisbete. Ki l' Bon Dieu meta e s' saloe la ddja dijh ans d' çoula. Et k' i gn a nou Sint Nicolai po vni fé raviker.
Cwè çki dj' fwai droci, po ene infirmire ? Bén vos l' veyoz bén. Dj' aprind a saetchî å pistolet. Douvént ? I n' vos fåt nén fé on dessén, tolminme !
Èm popa, k' a 85 ans l' a dit et repeté. « Cwand ç' canvolant la k' a touwé m' pitite-feye vudrè del gayole, dji lyi stitchrè ene bale inte les deus iys. A mi ådje, cwè çk' i ca m' pout fé k' on m' codåne a perpete ! I n' mi dmeurrè todi k' èn an ou deus a croper å yoyo… divant d' endè rexhe inte cwate plantches ! »
Mins – c' est Rita ki rdjåze – s' i ratreut s' côp, li pôve viye åme ! I tronne dedja tot cwand i boet si djate di sope. I fåt ene sakî padrî lu po ratchever l' bezogne… po si e cas.
Bén ça serè mi, ô, vos !
******************************
Fredi d' Lavervå li papa da Lisbete !
Bén binåjhe di vos cnoxhe !
Dji rvén d' aveur sitî trover li directeur del prijhon. Lyi dmander di vey Florant Taramin inte cwate-z iys, divant k' i n' åye si condicionele. Li raloukî å pus parfond d' ses ouys, inte les cwate meurs del prijhon. Paski, si djel rescontere avå les voyes, pus tård, dji n' respond pus did rén.
Sav bén k' on m' a rbouté, låvå. « Les prijhnîs n' sont nén la po vosse boune volté. Zels eto, il ont leus abondroets. »
Leus abondroets ! Çoula m' fijha potchî foû d' mes clicotes. Ça fwait k' on moudreu a dipus d' droets k' èn ome oniesse, k' on lyi a waraexhmint distrût s' feye, li seul efant do manaedje !
Gn a k' mi ki n' a pont d' abondroet, dins tote cisse paskeye ci.
---------
Li docteur k' aveut-st arivé ki l' dîne vikéve co motoit, cwand il a veyou l' tåvlea, i n' a rén vlou fé divant l' arivêye des djindåres.
Les djindåres paret ! Si dji vs di cwè, vos pinsroz k' c' est ene kénte å rivier. Gn a ene djindåmreye dins nosse coulot. Mins, po des sfwaitès afwaires, i fåt houkî li criminele, a Twin. C' est çou k' il ont fwait, k' il esteut 10 munutes po dijh eures å niût.
Mins drola, l' addjudant d' gåre aveut tot fwait s' siervice a dijh eures.
« Bawaite ! Dji n' mi va nén anuti disk' a des meynute meyzeure, et ki m' djonne feme est ki m' ratind – les djonnès femes et les viyès otos, i fåt todi esse dissu –. Ki m' shuveu s' ocupe di l' afwaire ! »
Cist albran la, il avaut l' droet d' nos fé ratinde, lu. Li droet di piter dins l' dierinne tchance ki l' glawene fouxhe eco vicante ! Taiss k' oyi k' il aveut l' droet ! Pår k' il a minme monté e gråde, aprume shijh moes pus tård.
---------
Cwand dj' a stî trover li Bon Diu et ses sints po fé dmander des contes ås cis ki n' avént nén fwait leu dvwer, mi, dj' a sintou ki dj' n' aveu nol abondroet.
Dj' a dvou tcherper po les awè mins dj' els a prins, mes droets.
Dj' a splitchî tos les tecses di lwè. Dji sai çou k' i n' mi polèt rfuzer. Mins cwand onk di zels a metou on pî sol costé, i s' etind avou s' dizeutrin come deus lives dins ene avoenne. Et s' fé racwiter.
Mins dji n' mi discoraedje nén po ça…
I m ont fotou a l ouxh di mi ovraedje sins boune råjhon. Dji lezî a fwait payî tchir et vilin. Cåzu ostant ki les anêyes k i m' dimorént disk' al pinsion.
Dji n' lairè djamåy ouve ! Et dji n' mi lairè måy djus.
******************************
I va trop lon, Florant. Dji lyi a dit cint côps k' on n' esteut ki des vijhéns ki s' inmént bén. Mins dji n' a k' cwénze ans, mi. Saze ans dins ene samwinne, li 22 d' nôvimbe. Nén ene ådje po fé des sekelreyes avou on djonnea cåzu dijh ans pus vî k' mi ! Dji lyi a repeté co traze côps. Mins lu, i m' vout, rén k' por lu. Rastrin, la, valet !
---------
Adjourdu, i m' a houkî a s' tchambe po m' diner ene lete d' aniviersaire. K' i m' a dit, todi. Dj' î va mins c' est l' dierin côp. Dji passe dilé l' plaece-bas tot fjhant on ptit sene bondjoû a s' grand-mame. Pu monter les montêye eviè l' la-hôt.
I m' ratind. I m' fwait ashir sol lét. I m' apoite on coca. Mins dji n' lyi a rén dmandé a boere, mi. Cwand dji n' î vou nén toutchî, i s' mwaijhit. Pu rfé bebele. Mi tinde li fameuse lete po mes ans. Tossu rade, i rexhe del tchambe et mete li clitchot di l' ôte des costés. Oyi, l' ouxh est seré. Dji cmince a transi. Dji drove li lete. Gn a ene tchandele dessinêye dissu, ene aloumete å fond d' l' ewalpeure. On tecse: « Dji t' voe voltî; ti m' voes evi. Mete li feu a cisse lete ci : elle si va cbroûler et fini ossu rade ki t' veye. »
Dji tronne come ene foye. Dji n' a pont d' axhlåve po houkî popa u moman, u mes cousses. Dji n' såreu rboerler. Mi goidje est serêye. Dji n' sai avaler m' toursion.
Dji n' vos såreu raconter çou ki va shuve. C' est trop tchôcmwårrece. Et portant, ci n' esteut nén on tchôcmwår, poy ki, ene dimeye eure pus tård, dji serè roede moite, sitindowe sol plantchî, forsonnêye…
******************************
Nouk ni sait å djusse çou ki s' a passé, soçon Lucyin. Al riconstitucion, li moudreu a rabroké dins l' tchambe dijh munutes après awè cwité. Tot noer moussî, come dins "Scream II".
On disguijhmint k' i vneut d' atchter po l' alowine, cwénze djoûs pus timpe. On grand coutea al mwin. I l' a planté dins l' pwetrene da Lisbete. Elle a bén sayî di s' disfinde. Elle a hagnî l' atakeu å bresse. Mins il esteut pus foirt ki leye. I l' a rtourné su l' lét et lyi planter l' coutea cénk shijh côps dins s' dos.
Adon-pwis, li moudreu a tapé la l' coutea et aler a pî, trankile come Batisse, amon on camaeråde di s' pa, on policî al pinsion. Et raconter cwè et come.
L' ôte a houkî l' police di Tchålerwè, ki n' l' ont nén creyou, paski lu esteut gableu après Nameur. C' est po ça k' il a falou dispu d' deus eures po l' bon côp d' telefone ariver ås djindåres di Twin, les cis ki ça lzî competéve.
So tot ç' tins la, mi, dj' esteu ki telefonéve pattavå po saveur wice ki nosse Lisbete s' aveut-st acalourdé. Cwand dj' a-st oyou ene ambulance hoûler å tournant, dj' a comprins ttafwait…
---
Lucyin Mahin, Caza, li 27 di decimbe 2010.
nén co eplaidî so papî.
Politesses entre parachutistes femmes.
Paratcheyisses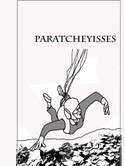 Dj åreu polou esse tchampione do monde di libe tcheyaedje.
Ene tchampione do monde a Boufiou ! On n' åreut djamåy co veyou çoula. Les cenes k' î vegnnut po s' î fé rfonde, elle årént on clapant modele po l' potlî les redjårber.
Tot cåzant d' modele, dj' ô bén : ene copete-modele.
Kî, sobayî ? Mi. Taiss k' oyi ki dj' cåze di mi : Påla Cerami. Des longs noers tchiveas, et des spitants ouys. A fé dåner on moenne.
Ki dji m' vante ? Si waire ! C'est Yonel Delfoidje, li moniteur do ceke di paratchutisses di Gochliye, ki m' l' a-st acertiné lanawaire. On gåy napea, ci-la ! Grand bea foirt ome, lådje di spales. Droet come èn î cwand i nos fwait scole teyorike so les areyoplanes, les paratchutes et les hôtrins corants d' air, "Jet stream" sapinse les Inglès. Nozôtes, on dit les HCA. Po Hôtrins Corants d' Air.
Ki, mimne e s' leyant toumer di 10.000 metes hôt et fé do libe tcheyaedje disk' a 1.000 metes, on n' pout må, cabén k' on resconterreut on HCA. Djusse, i n' fåreut nén ki vos vénrîz a toumer dsu cwand k' vosse paratchute si drove. Ca, alfeye, ces måssîs corants d'air la ridischindut so tere et esse li cåze di nouzomès timpesses. Mins å djoû d' ouy, avou tote lis pouxhance des éndjins po-z anoncî l' tins, on n' riskêye pus di planeter on sôtaedje e paratchute si l' meteyo divize di grande air.
Dins nosse mestî – dji di "nosse mestî", mins c'est djusse on pasmint d' tins por mi k' est eployeye di banke – dins nosse mestî, di dj', li prumire sacwè k' on aprind, c' est kimint drovi s' paratchute. Cwè fé s' i n' si disploye nén, s' i s' toirtcheye so ses coides di sotnaedje, s' i tourbeye a môde di tourpene, et tchik et tchak.
Adon, si vos ndè vnoz nén mwaisse, gn a todi li rcours do "vintrå", li paratchute di scours metou so vosse vinte.
Et si l' vintrå ni s' drove nén nén pus ? Adon, cloyoz vos ouys et conter disk' a vint-ey-onk. Après ça, c' est fini. Vos n' sintroz pus rén.
Sote mivêye, li Veerle Vlaemingue ! C 'est nén l' tot k' ele a on no a vos fé atraper on må d' goidje. Mins ele vos dbite des biestreyes cwand ele nos scole so çoula. Des boignes messaedjes come : « Cwand vos arivez al dierinne hôteur – 700 metes – la k' il est tins ki vosse paratchute si drove, s' i n' si drove nén, i våt mî conter e flamind. Vos wangnoz ene dimeye sigonde a "zeven", "negen" "dertien" "vijftien" "zestien" "zeventien" et "negentien", tos mots k' ont on pî dpus ki "set", "nouv", "traze", "cwénze", "saze", "dî-set", "dijh-ût" et "dijh-nouv". En flamind, li contaedje fwait vormint ene sigonde. Insi, a "tweeëntwintig", vos estoz snazé… u snazêye." Et ele mi rwaita tot djhant ces dierins mots la.
Sote mivêye ! Sote mivêye, avou ! Ki çki lyi metrè ahote a s' "Kulturkampf" po nos stitchî do flamind el miyôle, voye non voye ?
Nén todi Yonel ! Kéne ideye, po on nozé cokea come lu, di s' awè stî aclaper avou ç' laidron la d' Veerle Vlaemingue. Cråxholete, dobe minton eto. Et on papadrî d' matrone itålyinne ! « Ça amoirtixh cwand on s' riçût må, eva-t ele, a môde di baltreye. Et on dit todi ene bele grosse, djamåy ene bele maigue. »
C 'est l' monde a l' evier. Mi, ene feye di Tchitcholyin, dji dvreu esse bén poirtante et leye, ene blanke Flamindje des Polderses, setche come on côp d' trike.
Mi po-z aler disconte si spreclaedje, ses "tweeëntwintig" et hay vos nd åroz, dji di sacwants mots walons ki dji tén d' nosse pa, k' a corou a velo avou les efants des corons divant di letchî l' rowe a des Jacques Anquetil, Raymond Poulidor, Rik Van Looy et li cpagneye.
Djustumint dj' elzî a dit enawaire di nos rbatijhî. Ca « paratchutisse », c' est do francès po dire « parer la chute ». Et walon, gn a pont d' « chute », c' est on « tcheyaedje ». Ça fwait ki, dispu don, on s' a rlomé inte di nozôtes : « Club des paratcheyisses ». Veerle Vlaemingue a yeu ses poretes ritaeyeyes.
Eyet Påla l' paratcheyisse – c' est mi – a divnou pitchote a midjote li rinne do libe tcheyaedje do club di Gochliye. Et tchampione di Beldjike – ki : come c' est evoye avou les margayes Flaminds-Walons, c' est on tite ki serè bénrade a mete e-n on muzé.
Et s' etrinner pol tchampionat do monde, todi dpus racovêye pa on lomé Yonel Delfoidje.
Si bén racovêye k' elle a divnou si amresse.
Mins, bon valet, i n' a nén leyî Veerle Vlaemingue po do poeve et do sé. Tchaeke a s' toû come a cfesse. Les moslimîs end on bén cwate, et maryîs å grand sacrumint !
Pacyince, poyete ! Ti finixhrès bén po l' awè po twè tote seule.
******************************
Li prezidint del coû d' ashijhes di Mont :
- Veerle Vlaemingue, les prouves disconte di vos sont mierpezantes. Li nute do 25 d' avri, vos arivez amon Yonel Delfoidje åtoû d' 7 eures al nute. Vos eployîz on dobe di clé ki vos avoz fwait fé å serlî sins l' avouwer a vost amrê. Ci-cial vos aveut dmandé li samwinne di dvant di lyi rinde totes les seres di si cwårtî. Poy k' i n' vout pus viker aclapé – såf vosse respet – avou vos, mins motoit avou li cene ki s' va touwer sacwants djoûs pus tård, Påla Cerami. A ciste eure la, Yonel Delfoidje n' est nén la, poy k' il est evoye ricweri Påla a l' areyopôrt di Zaventem. El savîz ?
- Nonna, vost oneur ! Les tchampionats do monde di libe tcheyaedje di Camcoun estént li 24 d' avri. Et li rmetaedje des pris li 25. Ele n' åreut dvou rivni ki l' 26. Dj a stî trover Yonel di boune chôze. Come i n' est nén malwè, dj' esteu po lyi propôzer d' aler ascoyî Påla avou lu. Li Påla, c' esteut cwand minme mi scolresse. Si elle a rascodou ene medaye di bronze a Cancoun, c' est ene miete a cåze di mi.
- Cwand çki nos deus djins ont ravivé ?
- Aviè onze eures al nute, vost omeur. Ene miete berzinques, doe dju dire. Il avént fwait rinchinchote po fiesti l' medaye da Påla.
- Ça fwait ki vos avoz yeu tot l' tins di disvôtyî li paratchute da Påla, et di soyî a mitan les aburtales do docså et do vintrå. N' a k' vos k' aveut l' sepiance po-z aler côper li doblaedje dirîtrin del costeure, tantea k' on n' î voeye rén d' on prumî côp d' ouy. Åresse, n' avîz nén espliké çoula å cours ? Et dire, avou on riya do gros des dints : « Asteure dji vos va mostrer kimint vos mete cwite di vost ome, u di vosse feme, ki sereut pår trop hodisse si lu u leye est paratchutisse. » Et k' on n' si dotaxhe di rèn." Tos vos scolîs ont temognî di cisse fråze la dins l' rapoirt d' inkete.
Li pårlî del disfinse si stampa d' on randon.
- Vost oneur, èm cliyinne est fene eployeuse del noere riyotreye, sapinse k' on dit. Ci n' est nén po çoula k' ele si laireut adire a pratiker des pareyès faitindjes. Årè d' ça, les labos n' ont pont rtové di markes di ses doets so les paratchutes. Ni rovians nén ki l' Påla – li Bon Dieu l' åye e s' paradis – aveut atchté des tot noveas paratchutes po les tchampionats do monde. Et ki c' est bén d' astcheyance k' elle a reployî ses vîs agayons, ene feye k' on s' a abaiti do disparexhaedje podbon des noveas paratchutes. Dandjreus hapés avou ses bagaedjes å candjmint d' avion a Mecsico.
Li procureu do rwè dimanda l' parole :
- Vost oneur, l' ametowe aveut des kinoxhances assez emey les djins k' estént so les tchampionats do monde po fé haper les noveas paratchutes dal Påla pal mafia mecsikinne.
Mins l' pårlî da Veerle nel leya nén porshuve so cisse glimounante voye la :
- Obdjeccion, vost oneur. N' a nou documint dins tos les corîs avou l' police mecsikinne u avou l' voyaedjisse k' apoite li pus tene astoca a cist acuzaedje la. Dji dmande ki tot cist årgouwaedje la soeye rissaetchî do dossî ki les djurés åront dvant leus ouys.
******************************
Nouvès longuès seyanses å long, les noerès cotes, atakeus et disfindeus del Veerle Vlaemingue avént schouté, les orayes grand å lådje. Mins n' avént i nén ene idêye tote fwaite, dedja divant d' edåmer l' procès?
C' est l' veur ki tot a fwait esteut conte li Veerle. Li mobile, po comincî. Clair come di l'aiwe di rotche : si rivindjî del cene ki lyi aveut scroté si galant. Vindjince k' elle aveut yeu l' tins di fé meuri cisse nute la, k' elle aveut coûtchî so ene carpete dins l' bele plaece, dabôrd ki Yonel et Påla båjhént come des såvaedjès biesses å prumî plantchî.
L' åre do moude n' aveut nén stî prezintêye mins tolminme kéne lame d' on ptit coutea d' taxhe ki n' fouxhe nén ene lambozete, åreut convnou. Oudon-bén on flîme di cérudjin. Ene lame di razoe côpêye e deus, tén, po onk k' a del pacyince. Gn aveut k' a crinner les costeures al boune plaece, fyi après fyi.
Pont d' alibi pol Veerle. Tot l' contråve pusk' elle aveut polou esse mierseule a forguiner amon Yonel ey a tchicter sol paratchute dal Påla cwénzes djoûs å lon divant l' touwaedje. Elle aveut les clés d' l' ouxh d' intrêye et kinoxheut totes les naxhes. Si aveut ele seur yeu sogne di mete des wants po catchî si måle keure.
Pu gn aveut li temognaedje des djins do club di Gochliye. C'est la k' elle esteut cwand on-z a-st aprins li moirt da Påla, spotchêye dins on tchamp d' golzå a deus kilometes did la. On trô on mete fond dins l' fråle tere do Hinnot. Les cis do club dijhît k' i l' avént veyou sorire. Et dire k' ele vleut leye-minme raveur li paratchute del touwêye… po studyî les cåzes di mwais fonccionmint, sapinse a leye.
Mins çou ki l' a-st efoncî kécfeye li pus, c' est k' elle a dmoré froede tot l' tins do procès. On vizaedje di scroufier. Sins nou pleu. Elle a todi noyî ki c' esteut leye. Mins n' a måy valou låtchî des ôtes nos as inketeus. Des nos di des cis k' avént l' sawè-fé po côper les bons fyis al boune plaece.
Elle a djusse recassî, on côp, a on kessioneu : « Tos les potcheus e paratchute di Gochliye arént sepou soyî les cingues, poy ki dji lzî aveu mostré kimint fé. »
---------
Cwand on-z anonça li vierdik do djuri – dijh ans d' prijhon, inte di zels, ût ans nén rastrindåve –, n a yeu a schipe deus låmes k' ont tchichî foû d' ses iys. Mins les cis k' estént djusse astok l' ont-st oyou maltoner « On djoû, vos såroz cwè ! Et ç' djoû la, n årè des ploraedjes et des groumtaedjes. »
---
Lucyin Mahin, Asfi, li 23 d' fevrî 2011
nén co eplaidî so papî
---
Son fils aurait pu être un futur Nadal
Li pa do tenismane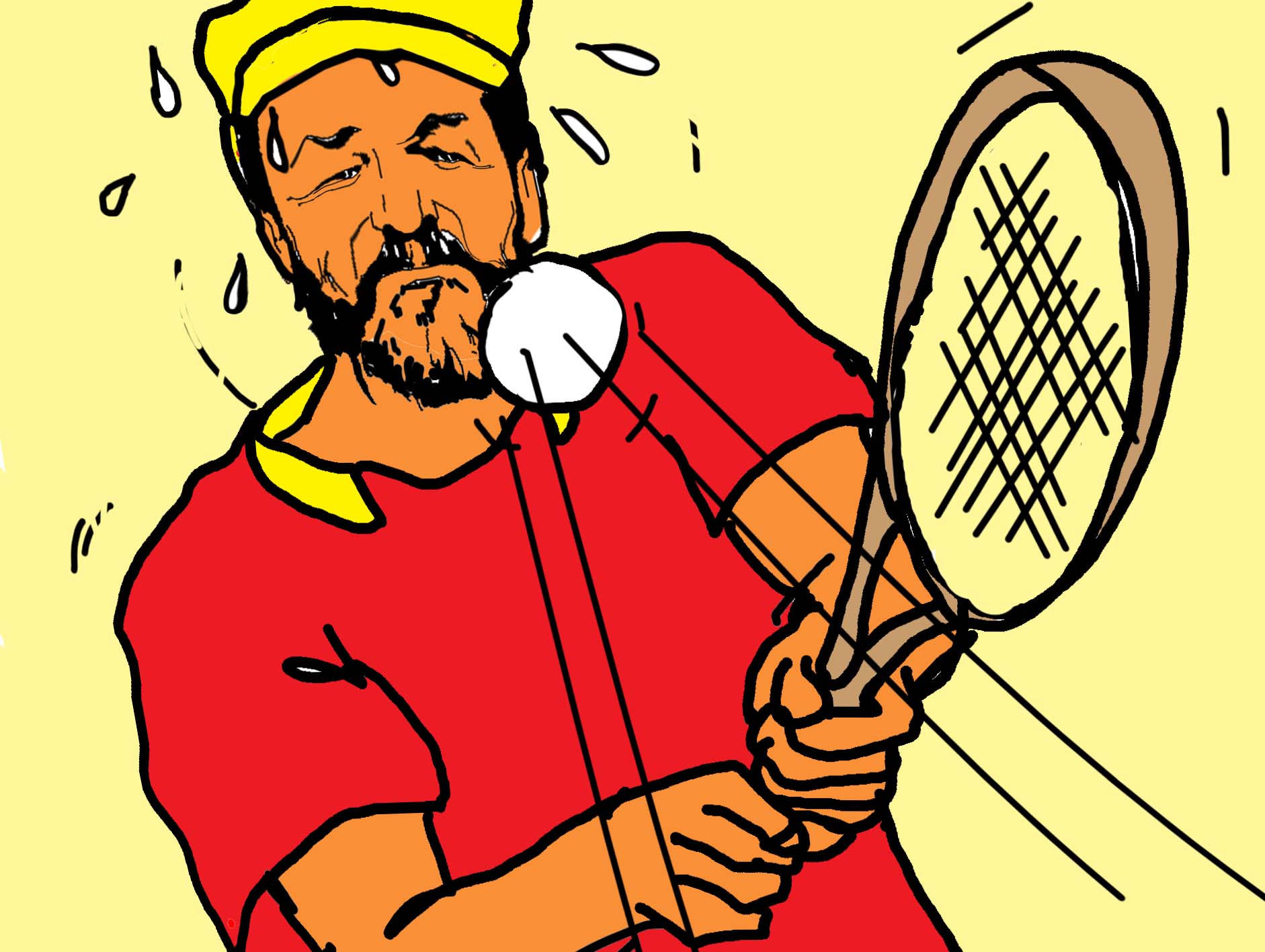 (dessén da Djozé Schoovaerts)
Il åreut polou divni Rafayel Nadal.
Lu, c' est m' djonne afronteu et copleu, sol terén d' tenisse di Lere. Ki pôreut bénrade divni tenismane di mestî. Dji m' ricrestêye, sav, cwand i m' dit :
- Ti, t' es m' cousse, saiss, twè, Ludo. Dins les vîs, gn a k' twè po saveur revoyî mes livrêyes, et ki dj' so tot emayî po t' les recassî. Les ôtes djouweus d' droci, avou zels, dji wangne li grosse mitan d' mes ponts so mes siervaedjes.
Dins les vîs… Oyi, ca avou mes 30 ans, dj' esteu ddja on vî por lu, k' end aveut aprume cwénze.
Nos esténs la a fé co sacwants bales po rire tot dvizant di traze et d' catoize. Dj' aveu pierdou m' pårt, mins nén cwand mimne avou ene deguzine : 5 a 3.
Dji n' sai nén si dj' åreu co bråmint l' ocåzion di fé des bales avou lu, ca les etrinneus di s' club di pros, a Nameur, pîlént po k' i våye dimorer al veye-capitåle po s' poleur etrinner pus roed et pus sovint.
Tén ! la nosse mame k' arive po mi rcweri, avou s' novele pitite Datchiyia. Cåzu djusse padrî, avou on crînaedje di frins, li pa Ervé, avou ene Mercedesse discapotåve.
- Hê Ervé, 'l est tins d' aler å disbotoe. La les otorités ki s' apontnut.
Moman, pitit taeyeur di cur, noerès spessès tchåsses-nilon et botkenes ås firlokes, ni fwait nén ses 55 ans. C' est l' veur ki, pol djoû d' ouy, les comeres volnut todi parexhe come a vint ans. Li pa Ervé, èn ome bén moussî, sportivmint frénguet, a li ptite cwarantinne. I nos fwaiynut tchaeke on ptit sene bondjoû et s' winner eviè l' boevete do club.
Nos vîs s' etindnut come deus lives e l' avoenne. C' est l' vraiy k' i sont cåzu do minme livea d' societé. Mins popa, avou les deus ovrîs di si ptite imprimreye ni peze nén pår come Monsieu Delbressene, avou si ovroe di standes dismontåves k' eploye ene grosse dijhinne di djins.
Sereut i djalot, nosse pa, ki moman dmeure sovint ene longue hapêye a copiner avou Delbressene al candjlete do tenisse ? I n' a nole råjhon. Bén seur, li pa Ervé n' est pus avou s' feme. Mins bea napea come il est, et les senes di ritchesse håynés po kî les vout adouyî, i doet aveur des crapådes vint ans pus djonnes ki nosse mame, et co hay, sins må sins rujhe. Dabôrd, l' amisté inte lu et moman, leye, c' est sins må sins malice. Di dj', mi.
Leu ptite bate di dvizes å contwer, ça nos permete, nozôtes deus avou l' Ervé, d' aler prinde eto on coca-zero et fé on kiker. Cåzer d' marayes avou lu ? Ça n' lyi dit diåldimint rén. I n' a ki l' tenisse e s' tiesse. Djans ! I fåt d' tot po fé on monde.
Mins la l' mere ki s' amoenne :
- Alez Ludo, m' poyon ! Tins d' eraler, tins d' eraler : vos savoz bén k' les omes sont droles…
- A vos ôres, tchîftinne ! Disca, Ervé !
******************************
Li prumî boket nos mostréve deus djonneas ki djouwént å tenisse : Ludo, li conteu-cåzeu, 30 ans, et s' copleu Ervé, ki pôreut divni on rlomé djouweu d' tenisse. Avou l' pa da Ervé et l' mame da Ludo ki vont boere on vere al boevete do tenisse di Lere [Leers-et-Fosteau]. Li deujhinme boket, cial å dzo, ni shonne rén awè a vey avou l' prumî. Sabaye ?
Li ptite céncwantinne, c' est Djenifer Lamboriau, ene doctoresse ki cnoxhe bén s' mestî. Drole di mestî, årésse. Medcén ledjisse. Tote li sinte anêye a discopecî des curêyes [cadavres] di djins touwêyes ou rtrovêyes moites. Kécfeye di moirt naturele, kécfeye des cis ki s' ont metou a fén [se sont suicidés].
Li curêye k' elle a dvant les ouys, gn a nén moyén d' endè saetchî grand tchoi. Broûlé å shijhinme digré (s' end areut onk, di shijhinme digré). Djusse vey ki l' dos est pus broûlé ki l' vinte. Les dints : kékes plombaedjes so les gros dints et on rplanta so on dint di dvant. Si on dene fwè ås radios del schene, gn a on ptit spotchaedje L4-L5. Mins avou l' foice do broûlaedje, kécfeye ki l' tinroxh des plakes etercronzoxhires [disques intervertébral] a polou rayi [calciner], et li spotchaedje esse poss-moirtem.
- Après què qu' ètt cache sur ein crayau insi ?
C' est l' gableu mwaisse inketeu del Pédjî, Abdel Belyasmine, on peur prodût do teroe do costé di s' mame, ki vént d' l' arinner insi e picård. Ki, leye, mågré deus parints avou des nos d' avår la, n' etind nén bråmint l' lingaedje do payis d' Valinchinne. Ele vos lyi recasse li seule fråze k' elle a-st aprins po s' saetchî foû di spexheur dins des sfwaits cas :
- Abdel, si t' es d' ichi, pale come ichi. Ôrse, dins l' prezint çmintire e l' air libe, on sprekele li francès.
- K' avoz discovrou d' bea so l' binamé macabêye ki ravize pus on boket d' tcherbon ki l' coir sins åme d' on ptit-fi d' Adan ?
Ele lyi dene les tenes rizultats.
- Et adon, vos deduccions, toubib ?
- Èn ome co djonne, li grosse cwarantinne. Il esteut ki stepéve evoye del plaece di l' esplôzion. Tipe uropeyin, sorlon çou ki dmeure do cråne. Dj' a rtrové des tchås ki n' estént nén trop rayeyes do costé des årteas, çou ki dvreut permete di fé des analijhes di Seur Dezocsiribo-Nawearike, li Diyenaiy sapinse les Inglès. ADN, e picård. Come ça, si ti troves dins ti inkete des cis ki serént del parintêye, dji t' pôrè dire les ca et les ma.
******************************
Dårmè [Dampremy], li sorlondmwin do match (on mårdi).
Cwand m' cousse Ervé ès dispierta ç' djoû la, i ddjuna lu tot seu, come d' alaedje. Mins å cwårt a ût, si pa n' esteut nén co la. Et c' est lu k' el diveut moenner a scole ci djoû la. Ervé vore dins l' tchambe di s' pere. Pont d' popa ! Brosse di gade ! Rade houkî ses deus limeros d' axhlåve. Li sûtifone soune sins responde. Li vî mobilofone Nokia del guere di Corêye – i l' a todi volou wårder, ca c' esteut s' prumî – a l' air ni pus egzister.
- Si dji houke moman, ele mi va retchiner. Ci n' est nén si samwinne di wåde, ey adon, elle est todi so tchamps so voyes, sovint lon erî do Payis-Noer. Come d' efet : si telefone est so môde eredjistrumint. N' a pus k' ene sôre a fé : aler rcwester Ludo. I n' intere a si ovraedje k' al dimeye di nouv.
Mins mi, ût eures, dji n' a pus ki l' tins di mete mi paltot di drovi et rclôre li poite di gåraedje, et avou les feus-rodjes, ariver a l' ovraedje a cénk munutes divant l' dimeye di nouv [8h.30].
- Mande escuze, Ervé. Dj' a ddja stî tårdou ayir, et l' boss a grignî des dints. Mins dji t' evoye popa, s' i vout bén. Douwê, nosse pa ?
Li pere Terwagne – nosse pa, dabôrd - a l' cour so l' mwin. Il a dné ses ôres å mwaisse ovrî d' l' imprimreye, et aler code Ervé e s' måjhone. A 9 eures moens ene, il esteut divant l' grande poite des Djezwites, mågré les boutchons d' l' åmatén el « Vile-Hôte ».
Popa a co solåcyî Ervé, ki s' diloujhive ki s' pa n' aveut nén stî la a tins – ça n' lyi arivéve måy, mins si, po ses afwaires, i trawéve li shijhe.
- Èn t' emaye nén po si waire, èm fi. Cwand dji trovrè on parkigne, dji houcrè li tchîf di tchantî so les travos di t' pa. Zels, do moens, doevnut sawè cwè.
Ké sbarmint, nosse pa, cwand il aprinda k' on n' aveut nén oyou djåzer d' Delbressene ni å buro d' l' eterprijhe, ni so les deus tchantîs k' il ont pol moumint, ni al pirire di Loyi, ni – on n' sait djamåy - å tenisse di Lere. « Bawaite, al nute, pinsa-t i, s' i n' l' ont nén co rtrové, dji dmandrè a m' feme et a m' fi di bate leus lisses di cnoxhances foû. »
C' est mi k' il a vnou trover l' prumî å niût, e m' cwårtî, ki dj' esteu a schipe rintré d' cénk munutes. Et c' est mi k' a falou ki louke so les contes Fesse-bok k' on-z î a les minmes soçons. Dj' a rôbalé ene céncwantinne di pådjes foû. Li pa Ervé n' aveut rén scrît dispu dvant-z-ir do dvant-l'-dinner. Divant nosse match di tenisse avou Ervé, dabôrd. « Çou ki vout dire ki, motoit, c' est moman k' åreut stî l' dierinne djin a-z aveur cåzé avou lu. Tén ! asteure, ele divreut esse rarivêye. Dji potche al måjhon popa (dj' î va a pî, c' est djusse li coulot astok di droci). »
******************************
Rascourti : Ludovik Terwagne, 30 ans djowe voltî å tenisse avou Ervé Delbressene, 15 ans, ene grinne di tchampion. Les deus familes sont foirt camaerådes. Mins, ci djoû la, li pa da Ervé n' esteut nén la å matén pol moenner s' fi a scole. Après si ovraedje, Ludovik a sayî d' arinner l' pere so Fesse-bok et å telefone, mins brosse di gade ! Pont d' pa Ervé ! I va dire cwè a ses parints, et vey çou k' i doet fé.
Popa esteut loucant les noveles al tévé. I n' aveut nén oyou moman ki vneut d' rintrer et ki fristouyive a soper. Dji doe dire ki popa est ddja d' ådje, et k' i n' ôt pus foirt bén clair. Cwand i m' veya :
- Waite on pô, m' fi. I gn a nén k' Tchålerwè k' on pôrè lomer Tchicago. Les Francès do Nôr nos vont ttaleure disdjoker. Estin ti oraye !
Li prezinteu del TévéWal :
« Do tchôd modou dins l' afwaire di l' atake do forgon del posse d' Avinne. Li police di Valinchinne a rtrové l' curêye d' èn ome, griyeuzmint broûlé, dins on bouxhnisse metou a 500 metes di l' esplôzion. Elle (li curêye, djans!) a stî moennêye al môre del Police syintifike di Valinchinne. C' est tot çk' on sait disk' asteure. Li comissaire tcherdjî d' l' inkete ni vout rén dire ås gaztîs. I dinrè ene conferince respondrece cwand on sårè des sacwès podbon. C' est tot çk' on-z a pol moumint.
Po les cis ki vegnnut d' drovi l' bawete, ridjhans lzî ki l' forgon del posse a stî ratindou diviè dijh eures dins on ptit bwès inte Avinne et l' Glenreye. Li tchedje d' esplôzant ki les calins ont-st eployî a stî trop foite, ca tos les biyets d' banke – 5 miyons d' uros -, ont stî rayis, et adon, i n' estént pus volåves. Les bandiys les ont leyî la. Li coir do tchåfeu a stî tcherbonijhî dins l' esplôzion, mins on-z a rtrové troes bales dins l' coir. C' est k' les målairs l' avént dischindou di froed sonk divant d' fé potchî li rôlant cofe-foirt.
Sorlon des adjåzias ki les gaztîs di « Nôr-Aloumire » ont polou racassî, l' esplôzant eployî sereut do Zemtek. Nos avans dmandé cwè a Djan-Francis Domont, professeur di tchimeye ås facultés d' Mont. »
Li prof a splitchî les butants et les royants sol Zemtek. C' est on plastik foirt pouxhant, et k' edeure li tcholeur et l' crouweur. Les gansters atakeus d' banke l' alèt haper el Tchekeye, la k' on l' prodût pol dismolixhaedje des vîs bastimints. Dins l' distrujhaedje di l' avion del Panam a Lokerbî, e 1978, gn åreut yeu dandjî ki di 312 grames di Zemtek po råyî l' fuzlaedje do Bowigne 747 k' a potchî e l' air. Si les atakeus do forgon d' Valinchinne end ont metou 25 grames estô d' 5 grames, ça n' li sbare nén, nosse professeur, k' i gn åye yeu on sfwait distrujhaedje. Et l' ome di syince di mostrer deus ptitès boles di plasticene. So s' droete mwin, i tneut ene kinike come ene purnale : c' esteut l' groxheur k' åreut djusse råyî l' tacaedje do forgon, sins broûler l' tchedje di biyets. Dins s' pawene, i tneut ene bolete come ene djaeye. Ostant d' Zemtek åreut tot rayi, forgon et forgonêye, et l' foice di l' esplôzaedje touwer ene djin co a 25 metes did la.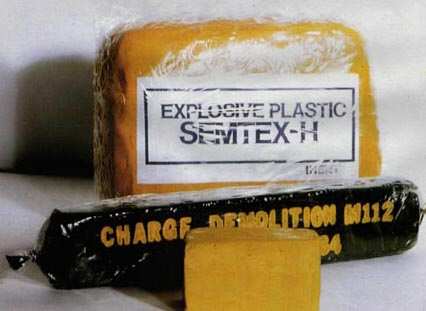 (foto do dominne publik)
Li prof del tévé esteut co dins ses esplikêyes cwand gn a ene nodeur di broûlé k' amoussa dins l' bele plaece. Les deus omes si rtournît. Li mame esteut coûtcheye al tere, flåweye dins l' adroveure di l' ouxh inte li coujhene et l' bele plaece. Et l' soper ki rayixheut so les plakes del sitouve electrike !
******************************
Deus djoûs pus tård, el Pédjî d' Valinchinne.
- Adon, cwè, adjint Belyasmine ? Et l' inkete so l' atacaedje do forgon d' Avinne ? Ça tchereye ou ça fwait do so-plaece ?
- Do costé des vicants, moncomsaire, i shonne bén ki ça soeye des omes di mwin bulgåres, si on-z aconte les plakes do Lîchtestinne k' on-z a trové so les fitchîs di ç' djoû la des cameras d' awaitance do pårkigne do grand botike Åtchamp. C' est todi l' minme djeu. C' est des rexhous d' gayole, nén todi les minmes, oudon-bén des sins-papîs trouks, siryins ou tchetchenes. On mwaisse bandiy d' avår ci les egadje po fé l' laide ovraedje (dischinde les wårdeus, les adjints d' surté ou come cial, li tchåfeu). C' est zels eto k' amoennèt les åres, les amonucions, et les esplôzants, s' il astchait. Vaici, li Tchekeye, po-z aller fé leu coûsse å Zemtek, c' esteut so leu voye. I s' tinèt presse avou ls otos po rpeter evoye, ca i sont payîs d' avance. C' est l' mafia rûsse k waerantixh leu serieus. Et c' est l' mwaisse operateur d' avår ci ki rascod l' gros do macsåd, après awè fwait les pårts avou ses aidants d' låvå. Roci, come il ont fwait berwete, on n' a waire di tchance di les rtrover dins l' cotoû.
- Vos av li mådjinåcion d' on fjheu d' roman, Belyasmine. Kénès prouves av di tos ces ragadlaedjes la ? Gn a dpus d' on tchvå ki s' lome Baron. Dj' ô bén : gn a kécfeye des vraiys tourisses do Lîchtestinne ki vnèt fé leus coûsses a Åtchamp. Av dimandé cwè po les limeros d' plake ?
- Rén a rilever d' çoula, moncomsaire ! Å no d' ene societé d' siervices avou on sidje sociå a Vadouz. Ça pout esse tertos et nolu.
- Et do costé do rayi, lu ?
- Dj' a pinsé k' c' esteut lu l' mwaisse adjinçneu do côp. I fåt esse kinoxheu po tchaspougnî les esplôzifs. Ki, mi ome, il åreut bén fwait di s' aler riscoler sol Zemtek. Dj' a fwait l' lisse des djins poirtêyes disparexhowes ces djoûs ci dins tote li France. Rén ki clope avou çou k' on cwirt.
- Li France ! Li France ! Avinne, c' est a ene pixheye del Beldjike. Et del Beldjike, vos estoz ttossurade el Holande ou e l' Almagne. Pår el Daenmåtche ou el Pologne. Vz årîz dvou rôbaler totes les polices d' avår la foû. Tinoz, mi, po on vî-paltot come vos djhoz, dji vén d' aveur li dierinne djivêye des disparexhous d' Walonreye. Et dj' a on calande ki pôreut esse nost ome. Minme trintche d' ådje, minme djoû di dzartaedje. Avou ça k' i sont mwaisse pirixheus dins l' famile. Saetchî ås pires ? Bate mene ? Boumbouboum so li spirea ! Ça n' vos rapinse rén, çoula, Belyasmine ? Dimandez ene rogatwere åzès Bedjes. Et nén cwand cwand ! Et-z aler s' prinde des analijhes di raetchon di s' fi – mi, k' a cachî a vosse plaece, dji sai dedja bén k' end a onk -, et on raguidrè cwè avou l' ADN do rosti.
******************************
El londi d' après, a nouv eures å matén…
Li djudje del djonnesse Bonavinteure Caguerouga est ki pestele dins s' buro å palå d' djustice di Tchålerwè. Diplomé d' ene sicole inglesse di Campala, i n' s' a måy adû a çki les djins k' ont prins radjoû avou lu arivénxhe après l' eure. Ey eco ! C' est des Francès. Des cis ki les Walorwandès ni poirtèt nén dins leu cour, dispu les margayes so l' swè-dijhante aide francesse ås peupe-sipateus do djinnocide di 1994. Mins, britichmint, i saye di wårder froed sonk.
Tolminme après ene pitite dimeye eure, li ptite djin del riçuvinne abize :
- Monsieu l' djudje, les djins del comission respondrece del Pédjî d' Valinchinne sont la.
- N' a ddja nou må. Våt mî tård ki måy. K' il intrexhe roci !
L' inketeu Belyasmine ni s' a nén ddja escuzé d' esse tårdou. Caguerouga moleut dins ses dints, mins n' a rén dit. Djusse, pontieuzmint, il a fwait respliker co traze côps a Belyasmine les pondants et les djondants di l' afwaire d' Avinne. Li cadåve dilé l' forgon del posse k' aveut stî ataké. Li Zemtek, li disparexhaedje da Flipe Delbressene li djoû do bracaedje. Li SDN do touwé ki doet esse rimetou å Seur Dezocsiribonawearike do fi Delbressene po-z awè ene prouve, s' il astchait, ki c' est Delbressene l' atakeu d' forgon.
Ça, c' esteut s' bouye da lu, Belyasmine. N' aveut-st eto dins l' minme comission rogatwere onk del brigåde financire ki dveut splitchî les contes el banke del famile Delbressene, et d' leus soçons, inte di zels, ene lomêye Djenvire Nixhoûle, k' on-z a trové toplin des mouvmints d' tchetés [capitaux] inte ses contes et les cis då Flipe Delbressene.
Af fén di totes les esplikêyes, les Francès ont rçû bénvayanmint ene djate di té (il esteut cåzu 11 eures, mins l' ci del brigåde financire aveut ndalé dvant). Adon, Caguerouga a decidé çouci :
- Èm tcher, come vos l' savoz, c' est èn interogatwere di mineur ki vs alez la moenner. On mineur, di dj', ki va esse tot catibulé pal novele, si vos avoz fwait kine. Minme si vos tuzaedjes ont fortchî, ci serè on tchok sicolodjike po l' efant ki n' a pus rveyou s' pa dispu ût djoûs. I m' fåt don trover èn assistant sociå – u ene assistante sociåle – por lu u leye endaler avou vos. Dj' aveu ene sakî d' presse a 9 eures, mins come vos n' arivîz nén, on l' a tcherdjî d' ene ôte mission, po tote el djournêye. Vos fårè don rivni dmwin, et a nouv eures petantes, s' i vs plait. I m' fåt co riprinde contak avou l' mame Delbressene po k' ele soeye co la dmwin po sotni s' fi.
Mins soeyoz coe ! Gn a des bons otels a Tchålerwè, et l' manneye air do Payis-noer n' est pus k' ene sovnance, asteure ki cåzu totes les oujhenes ont tapé l' ouxh sol beur. Sovint ratchtêyes pa des Francès, pu dislouwêyes [délocalisées] pol Roumaneye, el Chine ou l' Marok, metans !
Et avou ene clignete a Belyasmine, k' il aveut bén oyou a si accint k' i djåzéve voltî picård.
- Mins c' n' est nén des Picårds les racateus. Les Picårds sont lodjîs al minme essegne ki nozôtes, si ça vs pout rapåjhter. Alez, et bons rcweraedjes !
******************************
Deus moes après.
Po vs dire li veur, Djenvire Nixhoûle, ki l' adjint del brigåde financire aveut vnou fé responde ci londi la al fén do dvant-l'-dinner, et tote l' après-nonne, c' est l' no d' djonne feye da moman. Ele l' a todi wårdé dins tote si cårire al banke. Måy si fé lomer « Madame Terwagne ».
C' est ç' no la, Djenvire Nixhoûle dabôrd, ki dji so ki dmande pol moumint å pårloe del prijhon d' Andene, k' elle î fwait del previntive po blankixhaedje di mannets cwårs. Dj' î vénrè co semdi ki vént, et totes les samwinnes disk' å procès.
Neni, dji n' djowe pus å tenisse avou Ervé. Lu nerén, åresse, li pôve mivé, i n' djowe pus. Gn aveut pont d' terén al clinike sikiåtrike di Sougniye, la k' il a stu shuvou on gros moes, après aveur sitî stoné pal novele ki s' pa esteut on brakeu.
Mins dimwin, dji va sayî del ratourner po k' i s' î rmete… I pôreut divni on novea Nadal. Dijhans todi kécfeye !
---
Lucyin Mahin, kimincî a Transene, li 5 di måss 2014; porshû sol batea Tarifa-Tandjî, li 6 d' avri 2014; Scrît foû a Feddala, li 26 di djun 2014
Novele plaideye dins Li Rantoele (Belès Letes), l° 70 (I), 71 (II) et 72 (III) e 2014.
---
Li måtourné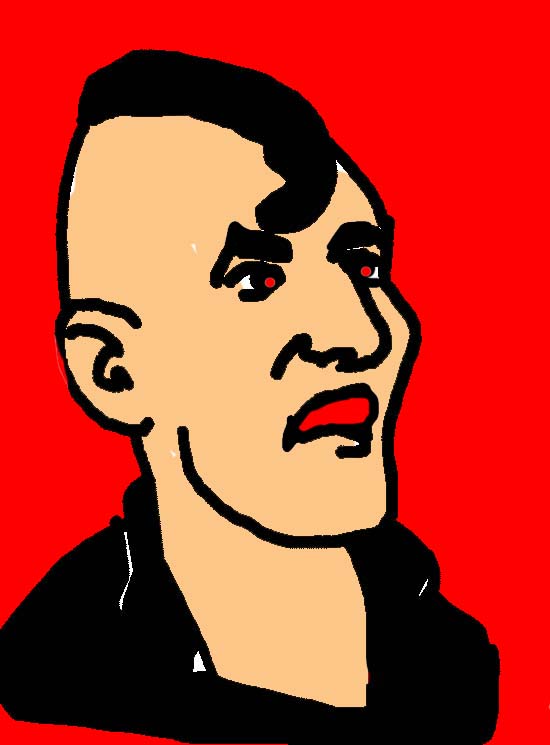 (dessén da Djozé Schoovaerts)
Dj' åreu polou-z esse rilomé Spidermane.
Taiss k' åy, va ! Potchî do deujhinme astaedje et si rtrover vicant dins les bouxhons do corti. A dijh ans. Ci n' esteut nén on djeu d' tirlibibi ki dj' åreu la djouwé. Dirî mi, el måjhon esteut tote e blames. Dji contéve ki popa, moman et nenene m' avént rovyî dins m' tchambe, et k' dj' els aléve ritrover a l' ospitå, la k' dji so asteure, avou des blanc-moussîs totåtoû d' mi.
Li vî professeur, la, avou ses grossès rondès berikes eyet s' båbe a môde d' on Fidel Castro, cwè çk' i ramtêye la a ses studiants et studiantes, ratroplés åtour lu ? Come des moxhes so on stron, aléve dju dire, mins i paret ki cisse dijhêye la n' est nén trop comifåt. I lzî passe des radios d' mes djambes. Mes pôvès skeyes ki sont recloyowes dins deus stocaesses plåstraedjes.
Dji n' etin gote di rén a çou k' i berdelnut so m' conte. C' est k' i vont rcweri des grands mots, ces albrans la. Et des tournures al shijh-cwate-deus : « fraiteure å lådje », « spiyaedje do hatrea coxhrece », et tchik et tchak.
Si dj' comprind bén, dj' a dmoré ene hapêye sol biyård, edoirmou, divant d' avni drocial.
Cwand k' il ont yeu tofwait avou mes oxheas, la k' i m' escarwaitnut l' pea, louke, asteure. Mi dmander di rsaetchî mi tchmijhe di nute, foirt lådje et sins mantches. Èm sorlever mes bindlaedjes. Ouxh, ti ! Ça m' fwait må, la, ça, vozôtes, binde di bôreateus ! Ca les tchås do dos sont-st a vif, broûlêyes å cénkinme digré. Cobén ki m' vizaedje n' a nén grand tchoi – dji m' a treveyou dins on miroe al raiwire enawaire. Dj' åreu yeu stî disfiguré pol restant di m' veye. Ké pûne, ti, valet !
Kimint k' tot çoula a stî ? Kî çk' a bouté l' feu a nosse måjhon ? Wice sont i, les minmes ? Divins èn ôte ospitå ? Co å blok operrece ? Kî çki m' dirè cwè ?
Dji n' oize arinner les docteurs ni les sognantes ki xhamtêynut dins l' cotoû. Mi, on tchirliket, nén co pår rissouwé padrî les orayes ! C' est çou ki matante Minike, ene viye grigneuse potince, mi djheut cwand dji lyi dmandéve des kesses et des messes.
Kî çki m' racontrè cwè, dabôrd ?
Avou ça ki, cwand les vete-mousseyes pasnut divant l' tchambe, ele boirgneynut di m' costé avou des airs di deus airs. Ça sint l' agnon, çoula, Djemfi, m' fi. Vouss wadjî ki…
******************************
Ci n' est k' diviè les troes eures di l' après-nonne ki dj' a yeu del vizite. Matante Minike, cobén ! Gn a ddja nou må ! Dji va sawè cwè, al fene fén des féns.
Mins pocwè k' ele tchoûle come ene madlinne, leye ? Po ene matante di poeve, todi rtchinante come on tchén d' barakî, ça n' lyi rshonne waire, çoula. Et kî çki c' est, li ptite comere « e civil » k' el shût come on ptit tchén, tot enaxhlant [tenir sous le bras] ene sipesse dossire ås papîs ?
******************************
Mi veye a-st eviertourné, ci djoû la, a l' ospitå d' Mont-dlé-Gôdene. Maria mame ! Ké disdut, après ça, ki dj' î rpinse, asteure, dijh ans pus tård !
Mi, pouri gåté d' ene mame racovresse, d' on popa ås dringueles nén spoujhåves, et d' ene bobone di souke.
So on nuk di fistou, dj' a dvou avaler come on tchacossea d' coloûtes, ki nosse måjhon esteut pår rayeye. Pu…, pu…
Cwand dj' î rtuze asteure, ça a stî pår li rifjhaedje del tchanson francesse « tout va très bien, madame la marquise ». Dj' el kinoxhe bén, ca on l' aveut tchanté on côp a ene fiesse di rindaedje des pris a scole.
L' assistante sociåle a cmincî pa m' dire k' on n' aveut rén polou schaper, ni d' mes djouwets ni d' mes lives d' estant ptit. « Et m' tåvlete éndjolike avou totes mes muzikes et les fotos des soçons, et mes adresses internete » a dju dmandé. Elle a hossî s' tiesse d' on costé a l' ôte po dire ki nonna. Dj' end a stî pår disbåtchî. Dji tuzéve a tot çou k' dj' aveu la aberweté, totes les videyos, metans.
Dji n' l' oyeu pus, li ptite djin ås stroetès berikes, k' esteut ki tournéve åtoû do pot. Nenene åreut stî foirt broûlêye ; on n' saveut nén si l' viye djin end aléve rexhe saive.
Dji veyeu djusse, a l' adroet do m' lét, matante Minike avou on grand noret d' nez, ki ploréve todi dpus, avou des grands somadjons inte les waclêyes di låmes.
Cwand l' assistante sociåle m' a yeu tot pretchî s' messaedje, sins dire platezak ki m' mame et m' pa et m' grand-mame avént stou stofés dins l' feu, dj' a co dmandé å Bon Diu k' i rwerixhe raddimint mes parints di leus laidès rayixheures.
Ci n' est k' deus djoûs pus tård, cwand matante Minike m' a djåzé d' etermint ki dj' a dvou mete mes ouys a l' adroet des trôs. Dj' esteu on tripe orfulin. Èm seul parintaedje, pol djoû d' ouy, c' esteut ç' vî djindåre la di matante Minike.
Èm seul parintaedje, … po nén lontins, åresse. Èn an après l' feu, cåzu djoû po djoû, ele sôrtixheut di « nosse måjhon » – sapinse a leye – inte cwate plantches et les pîs padvant. Foû splawnêye d' on magnant må « aloumirrece » [foudroyant], derît i ses médes. Ses médes k' ele revoya ene samwinne divant d' mori, po-z endaler, tote seule di djin, divins « si » måjhon.
Lest vraiy eto ki dji nnî a fwait vey des vetes et des maweures, so l' anêye ki dj' a dmoré avou leye. Ele ni m' leyive nén loukî l' tévé. Ni rexhe avå les voyes po rtrover mes cousses. Ni dmorer dipus d' ene eure divant m' copiutrece (k' ele m' aveut acaté tot grignant des dints, cåzu oblidjeye pås Siervices sociås).
Adon, po on ptit laidådjisse [adolescent] ki dj' esteu, dji fjheu tot l' contråve di çou k' ele mi cmandéve. N' esse nén la a l' eure po magnî, aler haper des gåte-li-fwin e frigo, et n' pupont aveur d' apetit ås eurêyes. Tantea k' elle aveut metou ene sere sol frigo… ki dj' aveu asprové d' foirci avou on toûne-visse, divant d' trover la k' ele muchive li clé.
******************************
Dji n' a pus waire di sovnances des moumints passés adon divant les djudjes del famile, ki dvént lomer les mambors [tuteurs]. Nouk del parintêye, cuzéns et cuzenes al deujhinme botnire, ni m' a volou rascode dizo ses penas. Cwand on scoçon d' popa – ki dj' aveu veyou a schipe ene troejhinne di feyes – s' a prezinté, fén binåjhes, les noerès cotes, di mel tchôkî po mambor.
Djan-Mareye Lambiermont, k' i s' houkive. Dji l' loméve « nonke Djanmår ». Lu m' arinnéve « Djemfi », dji n' sai ddja pocwè. Mi, mi ptit no, c' est Djan-Flipe.
I m' vineut cweri a l' internat a Djilî li vénrdi al nute, et dji dmoréve avou lu tote li fén d' samwinne. A Hodimont.
Po dire li veur, la, dj' a fwait camaeråde avou toplin des clapants plankets. Tertos des efants d' Arabes. On djouwéve al fousbale – come i djhèt låvå. On dischindeut a Vervî et cori après les crapådes. Fok les « blankes », les « rominnes » sapinse zels, ca leus sours, zeles, les « moretes » elle estént recloyowes e leu måjhon, et n' vini foû k' avou on noret d' tiesse.
I m' ont-st eto aprins a foumer del « tchedinne » (des djwins). Pår a houmer del « brune ». Come nonke Djanmår mi dnéve des bounès dringueles tot les wekenes, dji pleu minme payî l' cene des soçons. Paski, zels, leus parints lodjént å pus sovint l' diåle e leu boûsse.
Nonke Djanmår veyeut evi les Arabes. Pé k' ene alerdjeye ås hagneures di wesses ! Dji n' aveu nén l' droet di ramoenner mes cousses e s' måjhone. « Fote mu l' camp avou ces harlakes la. Des måssîs vexhoes, k' i sont tertos. I flairèt ki l' diåle », dijheut i.
I saveut bén ki dj' fouméve avou zels, mins i n' dijheut rén ladsu. Lu-minme – dji n' l' a sepou k' après – vikéve d' on biznesse nén trop catolike inte Måstraik et Lidje. Et, dins s' gurnî seré al clé, il ahivéve di ces plantes la ki dinnut do hachich. Pår ene yebe bråmint pus foite ki l' cene di mes camas marokins. Zels, c' esteut del doûce, k' i fjhént rivni frawtineuzmint d' emon leu cuzéns dimorés dvins des montinnes do Rif. Minme cwand dj' a stî pus grand, a 16 17 ans, i n' m' a måy volou dner del sinne.
C' est adon k' i m' a raconté li spoûle di m' popa. C' esteut ene pratike da sinne. I fouméve di ç' tchene di gurnî la, bråmint pus foite ki l' hachich naturel, et ki fwait tourner l' tiesse. Moman eto endè sayive voltî ene ou deus haetcheyes, dijha-t i. On pô divant l' broûlaedje di nosse måjhon, nosse pa aveut espliké a Nonke Djanmår k' il oyeut des vwès del nute. Ele lyi cmandént di « fé on feu d' infier », por lu les vni rtrover, e l' infier, la k' on boeveut et moenner bacanåle do matén al nute, sins måy sofri do froed. Fåt dire ki l' dierinne anêye, popa aveut fwait des mwaijhès afwaires, et-z esse cåzu rwiné. Li dierin ivier, on n' aveut ddja polou atchter do mazoute assez po tchåfer nosse måjhon. On dmoreut ådvins avou les gros texhous et les anoraks di skiyeus.
C' est motoit bén popa, dins s' foleye kiminçante, k' a bouté l' feu a nosse cassene. Oudon-bén dimorer edoirmou dins s' fåtûle di plastike, avou ene cigarete aloumêye poizêye so l' askeute.
******************************
Dji n' aveu måy parvinou a rachever mes scoles. Dj' a stî cayî a l' ouxh di Djilî, paski dji vindeu del tchedinne [chanvre indien ås ôtes sicolîs. Tchance avou, li direccion ni m' a nén racuzé ås gableus. Ôtrumint, dj' esteu bon po èn IPPJ [[séjour en Institut public de Ptotection de la Jeunesse] å penitincî d' Sint-Houbert.
Sins diplome, kimint vouss trover d' l' ovraedje, hê, ti, mcoye ? Nonke Djanmår ni sereut nén todi padrî mi po m' recwårler. Copurade ki, dipus ki dj' håbitéve mes cousses arabes, dji cmincive a shuve leus idêyes. Onk di zels, on sûti verå, m' esplica les pondants et les djondants del rilidjon muzulmande. Foirt åjhey a comprinde : on grand Bon Diu k' a evoyî totès sôres di messaedjîs, dispu nosse vî pere Adam et l' påtriyåtche Noyé di l' Åtche do minme no, disk' a Mawoumet, el dierin des dierins. Cwand ti djheus l' no d' Mawoumet, ti dveus todi radjouter « ki l' Bon Diu lyi amoenne li glwere ». Djezus l' fi da Mareye, c' esteut – sapinse a zels – li « shofla do Bon Diu » intré dins l' vinte di s' mame. Ci n' esteut nén on « boket do Bon Diu », remantchî avou l' Sint-Spér po fé ene deyisté ås troes tiesses, come l' avént edvinté les crustins. Djezus åreut ddja anoncî l' arivêye da Mawoumet : Djezus åreut ddja anoncî l' arivêye di Mawoumet : « Et dji vos evoyrè l' Paraclet, ki vos acsegnrè tot çou k' i vos fåt saveur. » Por zels, li Paraclet di l' Evandjîle, c' est Mawoumet. C' est les trafikeus d' tecse di Rome k' årént rtchôkî l' Sint-Spér ladvins, po-z ariver a leu såme di Bon Diu e troes bokets.
Cwand dj' ala rdire çoula a Nonke Djanmår, ci n' k' ça k' i n' m' åreut yeu stronné. Portant, i n' esteut catolike ki do bateme, pol mariaedje et po ls etermints (les eglijhes, c' est les pus bonmartcheyes des såles po rçure ene masse di djins). Et l' mononke discåzer les muzulmans ki tchiyèt les efants a peclêyes, et nos vni ehaler d' zels. Et leu profete k' a bén yeu ût femes.
Dj' a trinné mes savates lontins avou mes soçons arabes di Hodîmont. Tantea ki dj' a fini pa-z abaguer dins ene di leus « måjhon d' kiminålté ». I m' î ont spani do foumaedje di hachich, et pår del cigarete. Aprinde a fé leu priyire, ki dj' n' a måy sepou ritni les paroles, ki dj' maltonéve do dbout des lepes.
Nonke Djanmår a-st aprins ki, cwand dji discoûtchive, dj' esteu avou zels. Adon, i m' a fotou cråndimint a l' ouxh. Come on stron so ene palete !
Bawaite ! dji m' foteu d' lu come di m' prumire marone. I m' aveut rascoyî come orfulin, c' est l' veur. Mins al fén, on n' si saveut pus gote blairer. Pé k' tchén et tchet. Come coirnaye et miyot.
I m' fijheut sogne, cwand i montéve e sminces so l' islam et les moslimîs. I m' åreut ttaleure touwé cwand dji cåzéve por zels. Et mi, si dj' l' åreu yeu stî racuzer a mes cousses del kiminålté, c' est calfeye zels ki l' årént yeu vnou dischinde par nute. Dire des påters di bourike so leu profete, c' est cåzu s' codåner a moirt, saiss, çoula.
Valeut mî nedjî tchaeke dins si aiwe, Djanmår et mi. Onk d' on costé et l' ôte di l' ôte.
******************************
Après deus ans d' catrucimaedje avou l' kiminålté, dj' esteu bon po esse on « sôdår do grand Bon Diu », sapinse a zels. I n' m' ont djamåy dit « Ala » come les professeurs catolikes di Djilî ki m' tchantént ki c' esteut l' no do Bon Diu des muzulmans, li concurint do Bon Diu des crustins. Ene teyoreye ki n' mi shonnéve nén trop catolike, åresse.
E nosse kiminålté, on djåzéve walon. Cwand to voes ki l' walon aveut cåzu disparexhou des lepes des Vervîtwès après les anêyes 1970, ti t' dimandes kimint k' ces djonnes la, sovint des efants d' Trouks ou d' Marokins, mwaistrixhént si bén l' lingaedje da Dofrexhoe. C' est k' cwand l' industreye del linne a dcweli, les efants des grands scrijheus vervîtwès, sovint des mwaisses linneus avént stepé å diåle a Brussele ou co pus lon. Les dierins ovrîs, c' esteut beacôp des abagués. Il avént aprins l' walon ovou les ptitès djins d' avår ci. Leus zwers n' avént waire yeu d' instruk, zels. Il alént coûtchî a meynute meyzeure, et s' fordoirmi å matén, et fé l' tchet dipus k' a leu toû. Dabôrd ki les efants des Walons di stok avént stî aclevés al deure, et fé tot po monter di leus pus roeds dins l' schålance sociåle. Et po çoula fé, rinoyî l' walon. Ki vouss ! C' esteut l' mwaisse rîle del societé, di ces trevéns la.
Cwand i m' volît evoyî etrinner e Yemen, dji lzî dmanda kimint k' on s' aléve comprinde, avou ls ôtes pioupious djihadisses. « Ni ti speye nén l' tiesse avou ça. Ns avans dipus d' 70 nåcionålités ki vikèt eshonne lavola. On a trové on sistinme di messaedjes mitan arabe, mitan pa djesses, po s' fé comprinde. »
******************************
Ça fwait k' vo m' la e Yemen, divins on pitit batayon d' piyotes, e fén mitan di montinnes, ossu setches ki Setchri. Li Yemen, c' ere on payis pår cou dzeu cou dzo, après l' prétins arabe.
Et hay et boute ! Faleut cori tote djoû dins des plenaesses di såvlon, po s' aduri les djambes, dijheut i l' etrinneu. Pu potchî djus d' falijhes di deus troes metes – pu ç' a stou cwate et cénk. Dins on bassén d' aiwe ki divneut todi pus schate.
Mi ki n' aveut måy sitî on fel del djimlastike, dj' esteu la ahessî. Après deus moes di ç' redjime la, il ont bén veyou ki dji n' shuvreu måy li mouvmint, et dji passa dins les coujhenes, po lzî fristouyî leu marmindje.
Dj' î a-st aprins a boldjî a môde did par la. Prusti l' påsse al mwin po fé des ronds pwins d' totes les cognes. Wårder l' lewin d' ene cûtêye a l'ôte e-n ene frisse plaece, bén recloyowe - ca c' esteut målåjhey di trover des yesses di botike. Eforner avou ene longowe efornoûle di bwès d' acåcia, avou on crawieus mantche di dji n' ti sais kéne indje d' åbe. Do tamarisse, dijhèt i. On cujheut dins on for å mazoute ritcherdjî avou del petrole di fråde ki veut d' Arabeye sawoudite. Gn aveut eto ene sitouve å gåz, mins les bonbones vinént d' Aden. Ça fwait ki, cwand les bindes di Houtîs ont-st abroké sol veye et disbrôler tot l' handele des martchands sunites, on bea djoû, gn a pus yeu ni gåz ni ravitaymint ki nos avneut did par la. Dj' avans bén dvou rployî l' haerna, voye non voye. Et ns avans yeu l' ôre di tertos wangnî l' « front », les etraityîs guerîs tot come les nén-co-rsouwés-padrî-les-orayes, come mi.
***********************
« I nd avént gros so leu cazake, les blancs ! Deus d' nos sôdårs vinént d' ataker ene di leu pus afrontêye des gazetes. Des cis ki n' creyént ni a Diu ni a Diåle. Et ki n' avént d' respet po rén ni po nolu. Nos deus omes ont scroté tos les gaztîs, leus tchîfs et leus dessineus.
Kî çki lzî aveut dit les ca et les ma so l' eure do mwaisse raploû des gaztîs, la k' i serént tertos eshonne e l' minme plaece, si åjhey a dischafioter ? Dj n' tel såreu dire, micoye. Kécfeye des ôtes blancs, les cis ki vindèt les fiziks et tote l' éndjolreye al police. Ou des co pus hôts, ki tegnnut les gros botikes ås avions d' guere et ås bombletes teleguidêyes. Tot çoula lezî amoennreut do boure dins leus spinasses, sins manke.
Li londmwin, kitchessîs come des biesses di tos les gableus del coine, nos djins ont leyî la leus hozetes. A deus conte deus cints, ki freuss bén, hê, ti ?
Li dimegne d' après, come prins d' on må tertos eshonne, i s' rapoûlît, les blancs, des meyes et des meyes di djins, dins leu veye capitåle. Avou des banires dijhant k' nos mårtirs, c' esteut des terorisses. Et k' il avént ctrawé d' bale des enocins.
Les cis ki djouwnut avou l' cervea des djins, ci n' est seur nén des enocins. Nos omes ont fwait èn ake di guere. Il ont touwé des mwaisses tuzeus innmis. Gn a ni crik ni crak.
Mins li ptit harlake k' a stî macsåder des djwifs dins on botike cachair li londmwin, po lzî fé abotner l' semdi avou l' dimegne, ås blancs, ey ecramyî les messaedjes, ça, c' esteut on terorisse. Et les touwés, des enocins. Gn a pont d' toirt a magnî cachair. Li cachair est mimne loukî come halal pa nos mwaisses tuzeus. Si n' fåt i nén comaxhî djwifs et siyonisses. Les vraiys bons djwifs, m' a-t on dit, ni sont nén po les faitindjes des colnijheus d' Israyel. M' etinss, valet ? »
Dji lyi fjha sene k' oyi, a m' vijhene di sidje, minme si dji n' saizixheu nén l' mitan di çk' ele mi ravådéve. Dj' esteu fén hode di deus djoûs d' voyaedje po rivni do Yemen, tot passant pa des forvoyes e l' Etiopeye ey e l' Itåleye. Et låvå, a l' etrinnmint, on n' aveut pus nole novele d' ådfoû. Dj' el leya pirlodjî, ca ça aveut l' air di lyi fé do bén di s' disbotner, come s' elle åreut yeu on gros pwès so si stoumak.
« Il ont rovyî, les blancs, ki, dispoy dipus d' 20 ans, i nos fjhèt ploure des barotêyes di bombes so co traze contrêyes avou des djins d' nos djins. Sins awè d' keure des femes, des efants et des viyès djins k' il ont-st insi speté. Irak, Afganistan, Pakistan, Libeye, Rhaza, Mali, Sireye. Nos moirts, da nozôtes vaici, ci n' est nén troes ou cwate cénkinnes k' i gn a yeu. C' est des cints et des meyes et des dijhinnes di meyes. Bawaite ! On moirt cabolé [brun de peau], ça n' a nole valixhance. Endè fåt bén on cint po rinde li manoye po on moirt blanc.
Et les terorisses blancs, zels, cwand i rtoumèt e hapåd avou leus areyoplanes, d' aveur cossemé leus tchaplets d' bombe so les djins d' nos djins, i s' rahaimtèt [rentrent chez eux] bén påjhûlmint, boere leu VAT 69, divant d' aler coûtchî avou leu feme.
Leu feme ? Nonna, taiss ! Leu-z aclapêye do moumint. Ca i n' si marièt pus dispu dedja bele ådje. Li mariaedje ni va nén avou l' Liberté. Ca l' Liberté, c' est leu novea Bon Diu, dispu k' il ont rtouwé l' Vî Hinri, docô après leu guere di 40, paret i.
Veyanmint k' i l' adornut, leu Liberté, i n' fwaiynut pupont d' efants. Ou adon onk mierdidjuseu so deus troes manaedjes. Bén taisse ki nonna, va, twè : on påpåd ki dvénrè roufion pu on rafoirci gamén, adon-pwis on djonnea pu on grand djonne ome, c' est cénk côps ene tchedje. Et totès costindjes, poy k' el fåt aclever disk' a ttaleure vint-cénk ans. Et po ndè fé on tchômeu, ca gn a pupont d' ovraedje, diynut i, les blancs.
Ebén, dji tel di, la, mi, fré Mehedi Roumi, dji les rårans sins cori, les blancs. Nozôtes, di ç' costé ci del bårire, on-z a co des cmeres ki fjhèt des hierdulêyes d' efants. Ki tchaeconk trovrè s' vicaedje avou l' åjhmince do Bon Diu. C' est scrît insi dins les Lives. Mi ki t' cåze, voess, dj' end a yeu troes, ki sont pol moumint å payis avou leu mårene. Si leu pa n' åreut nén yeu stî touwé, di l' esté, après Ramadi, dji sereu co motoit ki radindreut famile.
Mins les blancs, zels, ki rnakèt so les efants, on bea côp, i seront djus d' djins. Et gn årè pus k' a evoyî nos fis et nos feyes po fé li rpeuplåcion d' leus payis. Sins må sint rujhe, k' on les rårè, mes cousses. Çou ki ndè dmorrè, todi, des grandiveus potinces, des fis-a-popa sins exhowe, ki n' si såront ddja disfinde. »
Mi efoufeye di vijhene a dvou stater la ses pretchmints. L' areyoplane dischindeut so Antakiya. Antiyotche, k' on djheut a Vervî. C' est la ki dji dveu rtrover m' pårén, ki m' aléve moenner pus lon, houte del frontire.
Mins mi, dj' end esteu onk, di blanc. Ni l' aveut ele nén veyou, mi grande cwaye di vijhene, a cåze di m' longowe båbe et d' mes noerès berikes. Et c' est ki, avou deus moes d' etrinnmint å solea, mi pea aveut cråndimint rayi. Et mi heure di Siyou di mes djonnès anêyes, dji l' aveu discandjî po des poyaedjes d' ancyin Bedje.
Disk' asteure, dj' aveu todi stî bén decidé a divni on bateu po les Dayech – ou les Nosra, dji n' ti sai ddja discopler deus gades dins totes leus cofrereyes. Mins dispu l' pirlodjaedje di m' vijhene d' avion ki cdjåzéve mi raece et lzî promete l' apocalipe, dji cmincive a-z awè des dotances.
******************************
Mi mambor islamisse m' aveut dné on limero d' telefone a houkî a Antakiya po trover on passeu d' frontire. Dji m' diveu prezinter insi : « dji so Tchårlî ». I paret ki c' esteut l' fråze k' on ramtéve li pus so les fyis telefonikes pattavå l' Daegne. Les awaiteus éndjolikes de siervices sicrets amerikins ni s' endè sårént dimesfiyî.
L' ome ki dj' aveu yeu å telefone, djel rescontra dins on ptit staminea (sins bire ni sins gote). Prinde on taessî cafè trouk, pu aler atchter ene grosse sipesse brune djelaba, et on blanc turban, po s' diguijhî a payizan do cotoû.
« Ass dedja monté on moulet ? » « Nonna, bén seur. » Å Yemen, inte les teréns d' etrinnmint (ene novele plaece tos les djoûs) et les viyaedjes la k' on lodjive – kissemés amon diferinnès djins, po n' nén awè des bombes des drônes sol cazake, tertos eshonne – on voyaedjive avou des grossès djipes cwate-cwate. . Mi, pus sovint dins l' camionete-coujhene, ene grosse Toyota avou ene mitrayeuse dizeu l' cabene.
« I t' fårè don tni azès coxhes, po waiti di n' nén vni djus, ca on va griper des pazeas so des rwesses tienes. Po ridschinde so l' ôte pindant, i t' fårè clintchî e-n erî po n' nén voler so t' panse. »
I n' a nén dit « såf vosse respet » come mononke Djanmår mi djheut todi d' dire, cwand dji dveu låtchî des måhonteus mots come « panse » ou « gueuye » ou « pixhî » ou « tchire ». Bawaite ! c' est k' on nel dit nén e lingaedje trouk d' avår la.
Li djonne di både – esteut ç' ene moule ou on moulet ? - n' esteut nén foû k' por mi. Ezès deus bassas ki pindént so les costés, gn aveut totès sôres di martchandeyes ki m' passeu-martchand aléve vinde el Sireye. Après cwatre ans d' guere civile, i n' ont pus mirabiliå ezès botikes, mes omes.
On côp avnou a Salqine, li prumî gros viyaedje siryin après l' frontire – sins nou dwanî -, dji waitive a coirnete, cwand il a distcherdjî l' tchentêye. N aveut des boesses di pexhon, do boure di coxhe, des saetchots d' poude po fé del limonåde tchimike, do riz, del farene, et minme kékès boesses di cartoxhes po les fiziks di guere. Pu les bidons d' mazoute, ca totes les ståcions sont dins l' payis des « lweyålisses ».
Mi ome n' esteut nén ddja sclintchire po håyner tote si fråde divant mes ouys. Fåt dire ki cial, i gn a nou djindåre, nole police. Ni militaire, ni diåle di rén. Les omes da Bachar, il î vnént djusse avou des elicopteres, et c' esteut po fé aploure sol dos des djins des baris d' poure k' esplozént tot djondant tere, tot kistramant on moncea d' fiermints d' totes les cognes. A môde des robots da Hitler cwand i toumént so Lidje, sapinse a Nonke Djanmår.
Dinltins, gn aveut des prodûts tchimikes avou, ki vos rayixhént l' vizaedje et tot l' coir. Mins dispu la deus ans, po-z espaitchî èn abrocaedje des Amerikins, les « lweyålisses » ont dvou mete ahote a ces tchinistreyes – et tchimistreyes – la.
Cwand m' passeu m' a cwité, dj' a stî ascoyî pa èn ome di m' catiba, et-z aler rdjonde mi batayon, dins l' campagne di Cobané. Divins l' begnon d' ene bele camionete Toyota, ci côp cial, avou ene mitrayeuse sol divant.
Al fén do voyaedje di nute – ki dj' a doirmou el mitan do tins, tant k' dj' esteu scran -, on-z avna dins ene cinse abandnêye. On lodjive dins l' poytreye – ene grande poytreye come mon les Flaminds.
Après l' priyire di l' åmatén, ås aireurs do djoû, on-z aléve a l' etrinnmint. Foirt diferin do Yemen, la k' t' esteus troes cwårts do tins e plin solea, ki t' broûléve li cabu. Cial, todi å rcoe dins les olivîs, pol djimlastike, pu les egzercices di tiraedje et d' atacaedje. A onze eures et dmey, on fjheut toubak – sins toubak, ca l' foumaedje, minme d' ene fayêye cigarete, esteut disfindou – et dmorer pa trocletes di troes cwate-z omes. C' est la k' on djheut s' priyire di nonne.
A schipe aveut on dit « salamalek » tot tournant s' tiesse a droete pu a hintche – c' est çoula l' coron del priyire - k' on rçuveut si marinde låvå. Ene tailêye di verdeures – raecenes, poevrons, crompires, naveas - avou on ptit boket d' tchå d' polet å mitan. Des côps k' i gn a, avou on ptit potiket di påsse d' åberdjenes. Et deus ronds pwins par djin, k' on trimpéve dins l' såce a l' ôle d' olive. Magnî al mwin, come di djusse. Todi pus ragostant k' å Yemen, la k' on n' aveut k' on rondea di souwêye tchå d' gade ou d' chamo, avou ene djatlêye di riz å curi. Et dji n' sai nén si dj' elzî fristouyive çoula a môde di djin. I n' ont todi måy trové a rdire, c' est ddja ça.
Esse sipani d' cigarete, ça n' m' aléve dedja k' a mitan. Mins çou ki m' mankéve li pus, don, mi, c' esteut l' tchoco so mes tåtes po ddjuner et po soper. Dj' åreu bén rvindou mes deus calachnicofs po nd aveur kékes bocås.
Mins al guere, fåt fé come al guere, dit-st on. Copurade k' asteure, dj' esteu dins ene « batante unité », et pus on biesse cwistot.
Fåt ki dj' vos rdjåze di nosse novea fizik, li « fal », ki dj' a trové a l' etrinnmint vaici. Vinant des stoks di l' årmêye da Bachår. Avou ene plakete di keuve dissu « made in Hesta ». On fal, c' est bén pus apougnåve ki les calachnicofs k' on aveut å Yemen. Bén seur, ti n' l' åreus seu catchî dins l' såvlon et l' ritrover tirant-bouxhant èn an après, come li ci des Rûsses. Mins e l' årmêye siryinne, il avént des årsunås militaires dins les regues. Pont d' poûssire, pont d' crouweur. Et mi, fir come ene poye k' a trové on vier, di vey ki, si lon di m' payis, dji fjheu tourner les oujhenes del Walonreye, et dner d' l' ovraedje ås Hestatîs et co ås Lidjwès.
Rivnans drî rinne sol vicåreye did par ci.
Après solea-djus, inte li priyire di l' anuti et l' soper, on dmoréve e l' moskêye, et schoûter les pretchmints di l' åmonî do batayon.
Les prumirès samwinnes, c' esteut èn ome do payis d' Idlepe. Bon k' i cnoxheut pår li francès, i nos catruciméve mitan arabe mitan parizyin. Gn aveut dins nosse binde des Francès, on Swisse, deus Kebecwès, sacwants Tunizyins, des Malyins et des Ivweryins, tertos comprindant bén l' lingaedje di Brussele. I n' esteut nén contråve, mi ome. I nos splikéve k' i faleut esse lådje, dins les rlidjons. Minme l' acceptance des Djwifs. Mawoumet lu-minme – li påye sor lu – aveut-st on vijhén djwif al Medîne ki vneut hiner ses mannestés tos les djoûs al nute divant l' måjhon do profete. Ci-cial n' a måy yeu d' brete avou lu po ça. Mins on bea djoû å matén, la k' i gn aveut nole måssîsté sol divant d' l' ouxh. Mawoumet si sbare, et aler toker å vijhén po vey s' i n' esteut nén malåde.
Nosse guere, end aléve-t i co nosse « curé », c' est ene guere djusse, paski Bachar si pa – Hafid el Assad – aveut macsådé, måjhon pa måjhon, dijh a vint meye frés muzulmans a Homesse e 1986. S' end apicive onk k' esteut disconte di lu, i l' dischindeut froedmint dins ene di ses gayoles, sovint après l' awè bôreaté sins ratna. Nén contin d' çoula, il aléve eto ramasser ses frés et sours, feme et efants et vîs parints, mine s' i n' avént rén a vey avou les idêyes politikes do codåné. Insi, n' åreut pus nouk po vni rvindjî l' prijhnî, pinséve-t i.
Mins après sacwants moes, on n' l' a pus veyou, nost åmonî. Il åreut stî evoyî a Alepe. E s' plaece, on a veu ariver on grand bårbou ki pirlodjive e boerlant. I cåzéve do peur arabe del Gofe, mi djha-t i m' soçon tunizyin. Avou mes deus troes sakés mots d' arabe marokin, et mi arabe classike d' etrinnmint å Yemen, dji n' î etindeut gote di rén dins ses oremusses, å grand epatlé. Mins mi cousse mi resplikéve après. C' esteut tofer des påters di pourcea so les djwifs, les crustins, les chiyites, et disk' ås ôtes coxhes des sunites ki n' dansént nén come si muzike djouwéve. Il åreut voltî fwait des camicåzes avou tchaeke di nozôtes, et nos revoyî å pus abeye nos fé potchî vicants dins nos ancyinnès patreyes.
Ci n' est k' après ki dj' a-st aprins ki c' esteut pa cisse voye la ki les Dayechs sayént d' amoussî li Libe Årmêye del Sireye. Li LAS ki dji m' bateu droci por zels, et k' dji n' è saveu ddja rén.
I va co bén ki nosse leutnant, lu, çou k' il aveut e s' tiesse, c' esteut di rprinde Alepe e-n etir. Et c' est la k' dj' aléve awè mi batijhaedje do feu.
******************************
Divant d' nos evoyî bate, dj' avans yeu droet droet a on brifigne dins les regues. Li leutnant nos rapoûla dins on grand bår di cinse. Å fond, gn aveut on vî tracteur belarûsse do tins d' Matîssalé, ene piteuse tote aruneye, on semoe å batch et dji n' ti sai tos kés vîs rahisses. Mins a l' ôte dibout, dilé l' poite d' intrêye, ene moye di boteas di strin k' avént co l' air novea fåtchîs. Portant, li cinse alintoû aveut l' air abandnêye dispu ddja ene tchoke.
Li leutnant cåza après on « bismillah » d' intrêye di djeu.
Li såme di l' atake esteut di neutrålijhî on caenon longue poirtêye des lweyålisses ki nos raiwive tenawete d' ene plouve d' oûs d' Påke ki nos årént bén fwait sins. Tot distrujhant ci posse innmi la, on droveut l' voye d' Alepe. Cisse-ciale afrankeye, nos pôrént evoyî des camionêyes di sôdårs et d' amonucions vinowes di Tourkeye a nos frés ki tnént on grand schård dins les forbots del veye.
On s' diveut ratropler a Maarate, on bork enawaire plantiveus metou a sacwants côps d' fizik – å prumî sinse po nozôtes – do posse avancî des Bachårisses. Po n' si nén fé rmarker, on s' î rindreut plik plok, tchaeke cénkinne d' omes dins des otos banåvlijheyes. On lodjreut tchaeke troplete amon ene famile did la. Aler coûtchî a ût eures, sins ddja fé l' priyire del nutêye. Ratroplaedje a troes eures å matén so voylete ki moenne al båze des lweyålisses. Atake ås aireurs do djoû.
Sorlon nosse mwaisse sôdår, nos sereut aspoyîs pa des omes des Nosras, k' atacrént d' l' ôte des costés, ou fé shonnance, todi. Asteme di n' nén fé feu sor zels.
I nos a berdelé totès sôres di racsegnes po-z acertiner leu pôzucion. Dji n' î a etindou kendal. Paski pocwè  ? Å cminçmint do brifigne, il aveut djåzé e çou k' on lome li « franrabe » ; dj' ô bén : mitan francès, mitan arabe. On spitch po nozôtes, les piyotes etrindjirs. Adon-pwis, il aveut porshuvou e-n arabe siryin, po k' les djins do payis – nos sordjants – comprindénxhe mî les ca et les ma. Et kécfeye po lzî spliker des sacwès k' on n' pleut nén comprinde, come : « metoz les etrindjirs e prumire lene, et vozôtes dimorer et des pus coeyès plaeces. » Mins dji di ça et dji n' di rén.
Come dit, come fwait.
A troes eures di l' après-nonne, nosse tchedje di combatants esteut ddja amon s' mwaisse lodjeu. On s' disroedixha ene miete – ene pitite dimeye eure di djimlastike come e l' etrinnmint – pu fé nosse priyire di l' après-nonne. Bén dmander å Bon Diu di beni noste espedicion do leddimwin, et d' nos fé wangnî. Gn a nén k' les omes do Kaizer k' ont droet å « Gott mit uns ».
Adon-pwis, nosse mwaisse lodjeu nos fjha ashire e s' bele plaece, so des doûciveus divans, et nos apoirter ene cråsse eurêye, ki s' feme nos atåvla coirzenoxh. Ça shonnéve drole ås ôtes Siryins ca, di leu costé, les comeres ni s' mosternut måy divant les omes. Mins i n' ont yeu wåde di rlever l' cayet divant l' mwaisse del måjhon, ca il ont tertos magnî come des råyeus. C' esteut do polet ås agnons, avou des bokets d' påsse di pwin sins lewin, et des lintiles. Tot ça assåjhné ås spéces d' avår la. Fidodju ! – dji di ça a môde d' avå nozôtes divinltins, ca dins m' novele rilidjon, li Bon Diu n' a pont d' fi. Djezuss Maria ! – ça, djel pou dire, ca les djins cial creyèt tertos a Djezus d' Nazarete, li fi da Mareye. Bref a dire, ci plat la, dji m' è rassapene co asteure cwand dj' î rpinse.
Il ont dit l' no do plat e lingaedje d' avår la – l' arameyin ou dji n' ti sai cwè – mins dji n' l' a nén ritnou.
Li boss nos a mostré nosse tchambe, å prumî plantchî del grande måjhon avou ene schayeye å mitan. Et nozôtes s' î aler stinde tot ratindant l' anuti.
C' est la k' dj' a veyou ene sacwè d' drole dins les palonaedjes di nosse tchambe – c' esteut co des meurs di payrou avou des sômîs d' bwès d' pålmî, m' a-t on dit. Li paroe di nosse tchambe riwaitive so Nonne, ca l' solea del vesprêye dinéve di droete so ene pitite potale a môde di fniesse. Ebén, li bwejhreye esteut arindjeye po dessiner ene grande croes ki rsôrtixheut clairmint foû do fessaedje.
Curieus come on djonne d' agaesse, dji rdischinda el coû dvintrinne – li schayeye ki dji djheu enawaire, et taper ene divize avou nosse riçujheu. I m' end aprinda ene boune !
Vaici, il estént tertos crustins, enawaire. Et les tcherpetîs, dispu ossu vî ki l' tins, emantchént todi ene croes dins l' paroe ki waitive Djeruzalem. Cwand les Dayechs ont prins l' veye la ddja deus ans, il ont cmincî pa fé prijhnîs li curé et troes macherseurs ki fjhént scole ås efants. Et ls evoyî a Raqaa, leu mwaisse veye.
« Pôves mivés !, dit-st i co l' raconteu. Dins les bombårdumints francès del samwinne passêye, il î ont leyî les hozetes. Ene bombe toumêye tot droet so leu prijhon. Pouris Francès ! I n' valèt nén mî k' les Amerloches. S' on nnî towe on cint, i t' è dvèt rtouwer on meye. Sins djudjmint, sins åjhmince di l' ONU, amoussî l' cir d' on dislaxhî payis, et bombårder ses djins. Sont i biesses assez po croere ki les mwaisses des Dayech si vont ratropler dins leu cwårtî djenerå po s' î fé saetchî come des robetes ? I sont tertos dins des tchambes sitramlêye dins l' veye, a costé di djins ordinaires. Donbén minme revoyes å rcoe el Libeye. Fåt-st araedjî !
Cwand les Dayechs ont prins l' veye, di dj', il ont rashonné les djins sol grand bati et lzî atåvler çouci. Oudon-bén, i dmorént crustins et-z esse evoyîs come esclåves dins les payis sunites « liberés » di Sireye et d' Irak. Oudon-bén, i s' kiviersént a l' islam et aidî les sôdårs do Dayech. Et ls ahessî avou on batayon d' djonnes combatants ki serént evoyîs dins l' dezert di Palmire po leu-z instruccion.
C' est çki l' mayeur et l' consey di comene a decidé d' fé. Gn a bén yeu kékes vîs magneus d' Bon Diu ki n' ont nén volou shuve, mins on ls a leyî e påye. Ki freuss co bén avou des vîs-paltots et des ratchitcheyès counetes, hê, ti ?
Ça fwait k' il ont passé tertos al vinvole divant les mouftis, et dire « dji ricnoxhe k' i gn a k' on Bon Diu, et k' Mawoumet est s' messaedjî. » Fåt waire dipus d' ceremoneyes ki ça, et t' es muzulman. Nén po s' fé des mås d' tiesse. Por zels, i priyént ddja l' Bon Diu « crustin » tot l' lomant e-n arabe avou l' minme no, Ala. Rimete on profete al cawêye d' Adam, Noyé, Abråm, Moyisse, Salomon et ds ôtes, ci n' esteut nén Mouze et les vås. Ça rabaxheut ene miete l' gråde da Djezus, mins on li rmetreut bén pus tård come fi do Bon Diu, cwand les Dayechs årént saiwé.
Sins fé ni mezåmenes ni hihåhås, il ont vitmint rarindjî les eglijhes po-z è fé des moskêyes. Fåt djusse baguer li cfessionå el plaece di l' åté, po divni l' mirhab, li pirlodje al tere des pretcheus muzulmans. Zels, leus åtés estént ddja metous do costé d' Djeruzalem… et k' El Meke est on pô pus lon a Nonne.
Ça fwait k' il ont stî « a messe » li vénrdi estô do dimegne. Les cis k' avént des roumatisses avént minme droet a ene tcheyire e fond, et nén esse oblidjî di s' lever et s' abaxhî po les priyires, k' i shuvént tot fjhant aler leu ptit doet.
Nén pus rujhûle ki çoula. Ça n' valeut nén les poennes di fé des mariminces, et s' aler fé ctchiner avou leus ôtes « esclåves » chiyite et yazidis dins les wastenes [déserts] d' après Dayrozôre.
Eto, les botikîs d' Maarate porshuvît leu vindince avou Alepe, et pår avou Damasse. Amon les grossisses alawites et sunites. Et ls ahessî di fruts et d' verdeures des campagnes d' alintoû. Gn aveut djusse li déme k' i faleut livrer å ravitaymint des Dayechs. Mins bawitch ! Dinltins, c' esteut les contribucions po Bachår a Damasse, et c' esteut co pus salé. C' est todi l' minme diåle, sapinse li martchand d' bondius.
Les cålices di l' eglijhe, schapés do mårlî, les cruçfis et les posteures di sints des måjhones et des tchapeles avént stî eterêyes e mwintès diferinnès plaeces. Tchaeke etereu si rmimberreut si prôpe plaece, et n' è rén moti a nolu, k' a ene seule ôte djin ki wådreut li scret, po si e cas. On måleur est si vite arivé.
Les Dayechs n' estént nén zels tant po oizeur awaitî les djins djoû et nute. Et i n' plént rexhe po patrouyî k' estant leu cénk shijh. Åresse, i fourît todi moens al dilongue des moes, veyanmint k' Maarate esteut ddja lon d' leu mwaisse teritwere, et k' gn aveut des ôtes tropes di bateus avår la. Nozôtes, les LAS - dj' aveu-st aprins asteure po kî k' dji m' bateu - les Nosras, et co des ôtes « catibas » ki disfindént tchaeconk leu triyaedje. Des gåres d' otodisfinse, dijheut i nosse copleu aldjeryin, k' aveut cnoxhou ç' sistinme la ossu dins s' payis.
******************************
Si les ptits Siryins di 2050 aprindèt l' istwere del guere civile, i n' åront seur nén ene pådje etire sol « batreye do caenon d' Maarate ».
On s' a rashonné sol voye moennant å posse des Bachårisses on pô dvant les aireurs. Nos esténs nos céncwante swessante. Fé l' priyire des aireurs e silince d' ene nute sins bele, pu s' ristramer pa bindes di dijh omes. Divins tchaeke brigåde, gn aveut èn ome do « djenî » ki dveut accioner des tchedjes metowes dizo les meurs - ou nén lon, todi - pa ene ôte ekipe, par nute. Fé ostant d' schårds k' on pleut, po-z intrer come divins on molén.
Cwand les tchedjes k' on-z a dit ont potchî, gn a yeu do cabouxhaedje tocosté. Kékes brigådes des nosses parvinît a-z intrer dins l' båze. Mins les ôtes moussît foû avou ene grosse otomitrayeuse ki cminça a petaråder aviè nosse trope.
Pu, pus rén. Por mi, todi.
Ci n' est k' pus tård ki dj' a-st aprins ki l' atake do caenon d' Maarate aveut fwait berwete. On s' aveut fwait rbouter come des strons so ene palete. Il estént a bråmint dpus ladvins ki çou k' on nos aveut dit. Les combatants k' avént moussî dins l' plaece-foite avént stî fwait prijhnîs, et evoyîs dins les pioles da Bachar. Les pôves micoyes ! Metans k' il î åront stî bôreatés a moirt. On n' a todi måy rén rsepou d' zels.
Les djostés d' ådfoû avént stî ramassés pa ene ekipe d' ambulancîs des Nosras. Les pus griyeus des coixhîs si rtrovît å trô-ospitå, la k' dji m' dispierta après deus troes djoûs dins l' coma.
******************************
Dj' esteu dins ene bedire d' ospitå avou des blancs linçoûs, et on drapea avou on baster ki pindeut après, raloyî a mes voennes do bresse. Et m' vinte ki tinkyive djamåy parey. Cwand dj' ouri l' foice di sorlever l' linçoû, dji veya ene costeure come ene botnire di vatche Blanc Bleu Walone ki m' trevåtchive li bodene do droet costé.
Dji tapa mes ouys e l' air. Nou plafon, mins des plastikes tindous ådzeu d' nozôtes, k' on veyeut a mitan houte. Inte deus pîces di ç' plastike la, dj' aporçuveu la come on grand noer trô, avou ene tene loumire å toet, deus troes metes pus hôt. Et des tchandeles di rotches ki dischindént come ezès grotes di Rmoûtchamp. Wice m' aveut on vnou muchyî po m' discopecyî l' bodene ?
Nén l' tins d' sondjî foirt lon. Mi kernaxhe el bodene k' on a dit mi rifheut on må d' tchén.
Tot tuzant « tchén », gn a ene fråze e walon k' a-st aspité foû di m' tiesse, et k' dj' a repeté tot hôt, sins pinser. « Pôve nozôtes et les tchéns d' tcherete ! »
Ké saizene, vozôtes, cwand on blanc-moussî ki dj' n' aveu nén veyou pask' il esteut padrî mi, m' a respondou d' ene trake : « …et les couméres a biciclete ! »
Dj' aveu dvant mi li cérudjin ki m' aveut-st operé. On grand maigurlet avou ene brune båbe. Et pår on Walon ! Diåle m' arawe ! Dji m' aveu vindou. On nos av todi bén ricmandé, si on esteut ramassé, di n' nén dire si provnance, et n' nén cåzer di s' louwea d' etrinnmint, et des ôtes soçons di s' batayon.
Pa ké sint k' dj' aveu on docteur walon-cåzant ? Et wice esteu dj' ? Si ç' sereut a li çtadele a Lidje, ou a Bavire, dji sereu retouré di beas blancs meurs. Et-z awè d' l' air climatijhî, et nén ene tchôde mateur come tocial. On s' croereut dins ene sere ås roejhéns a Overiche.
- Ça fwait k' on dvize bén walon, èm colåd ?
Il aveut èn accint come après Djilî, mins nén co pår do tchålerwetwès. Bawaite ! Dji dveu bén loukî a çou k' dji djheu po n' si nén vinde, ene sakî !
Portant, après deus troes djoûs, tot m' atôtchant tenawete e walon, i m' aveut saetchî tos les viers do nez, nosse pitit docteur di Nivele - c' est did la k' i divneut.
Cwand i m' a yeu tchanté « Li ptite gayole », dji m' a pår dislaxhî. Et lyi dire les pondants et les djondants sins k' i doeye hertchî l' begnon a foice.
Tchance eto ! Ca l' leddimwin, i n' riyeut pus, nosse walon toubib. I m' a vnou dire, gråvmint, ki nost ospitå, cåvlé dins on nouzome trô d' rotche, aléve diveur esse evacouwé. - Tot cåzant d' « nouzome », c' est on mot k' dj' a aprins avou lu. Nozôtes, après Djilî, on åreut dit « on demoné trô dins l' rotche ». Et mes plankets d' Vervî : « èn abominåbe trô e l' rotche. Ene teribe grote, cwè ! »
Mins ci n' est nén l' moumint di fé scole di walon so les Piron-pareys. Cwè çk' i dit, nosse docteur, tot djåzant francès a tertos, ey on ratourneu translater e-n arabe ?
«  Li fotou caenon longue poirtêye aveut rprins ses cabouxhaedjes. A s' dimander s' i n' avént nén louwijhî nosse pôzucion, dispu ki ns avéns ospitålijhî droci toplin des djostés del « batreye di Maarate » (dji di çoula ene miete mocreçmint; ci fourit purade : li coraedje-evoye di Maarate »).
Oyida ! Lanawaire, gn aveut des obus k' avént tcheyou nén lon d' nosse trô d' rotche. Les MSF, li soce nén recwårlante des medcéns k' avént metou so pî l' ospitå, avént fwait vni èn oficî trouk do djenî. I lzî aveut dit platkizak ki l' toet del grote ni ténreut nén s' il atouméve e plin dsu onk di ces obus la.
Adon, li docteur Mårtén Tchåforea (c' esteut s' no), dandjreus l' pus hôt gradé del pekêye, aveut decidé çouci. Les blanc-moussîs et malådes siryins si rployrént dins ene novele clinike di campagne, foû poirtêye do caenon k' on dit. Les deus troes Bachårisses – ca il avént parvinou, nén sins rujhe, a fé admete ås revinteus k' i n' faleut nén touwer les coixhîs innmis – serént rilivrés å Rodje Crexhant siryin. Tant k' ås docteurs et infirmires etrindjirs et sacwants pacyins nén siryins, il alént baguer viè èn ospitå militaire el Tourkeye, k' els aveut bén vlou rprinde, gråces ås rlåcions des MSFs.
Mins l' docteur Mårtén esteut dzôrné por mi. S' i dclåréve ki dj' esteu on djiyadisse, dj' aléve esse sins manke riprins pås Amerikins, et calfeye revoyî dins ene båze di l' OTAN. Ey ene feye riweri, gn a foirt a crinde ki ci sereut « destinåcion Gwantanamo », avou des waeraxhes bôreas come wårdeus d' gayole.
« Vos m' avoz dit ki vos vs batîz po li leutnant Driss Dimachqi. Schoûtez m' bén : ridijhoz lzeu todi ç' no la. Il est ricnoxhou come mwaisse sôdår del Libe Årmêye del Sireye. Et les LAS ont todi stî spalés, dizo mwin, pa ls Amerikins. Tot l' restant do tins, cåzez lzeu e walon. I n' î etindront gote di rén, et vos åroz ene tchance d' esse revoyî el Walonreye, fén rweri.
K' Ala vos cdujhe ! Ou l' Bon Diu, djans. C' est todi l' minme diåle, åreut i dit Djan d' Nivele. »
I m' baltéve, mins i riyeut do gros des dints. I m' dina ene pitite tape so li spale. Ses ouys estént frexhs.
******************************
Li bagaedje-evoye foû d' l' ospitå si fjha e fén mitan del nute. C' esteut tinre lune, li prumî djoû do moes d' chinbinne, d' après nosse contaedje di moslimîs. Dins on moes, ci sereut l' cwareme. El freu dj', come les deus anêyes di dvant ? Tot mesbridjî come dj' esteu, end åreu dju l' foice ? Et mes creyances estént ele si foite ki ça, bon k' asteure, dj' esteu dseulé, lon d' ene kiminålté ki vos racovéve, come ene covresse ses poyons ?
On aveut dismonté tos les eclôsteas del clinike di nosse trô d' nûtons, ey asteure i parexheut co pus demonêymint grand. Ns esténs la ki ratindént les camions vinant d' Tourkeye. On nos aveut bén dit di prinde pacyince. On n' endireut nén tertos eshonne. Mins totes les eures, gn åreut on camion ki vénreut prinde ene tchedje di djins et d' ahesses. Tot dispårtixhant insi l' convwè, on baxhive les risses di s' fé ratinde. Bén seur, on esteut divins ene « contrêye liberêye » (dj' ô bén : des omes di Bachår). Mins va vey, la, twè ! avou les tropes di totes les cognes ki berôlént dins l' cotoû. Sins conter les ratindeus d' mestî et les smocleus å mazoute ey ås fiziks. I n' serént nén sclintchires di haper les camions, et leyî les voyaedjeus dins l' noeristé.
Gn aveut cwate combatants stocaesmint årmés – leu bea ptit fal so li spale, et pistolet et gurnåde al cingue - avou tchaeke des prumîs camions. Dandjreus des LAS, avou leu costume caki. Mins li nosse, onk des dierins, c' esteut des bårbous moussîs a bedwins, avou des grossès calachnicofs, zels. Des Nosras, metans, poy k' on aveut l' air d' aveur fwait aloyance avou zels. Il ont djoké l' atelêye a cwatre eures å matén po fé leus påters. Did dissu m' civire, dj' a påterniké avou zels. Assez hôt por zels m' ôre comifåt, tot fjhant aler l' erî-doet a môde d' adjnolaedje et d' rastampaedje. C' est come çoula ki les stroupyîs fwaiynut leus priyires.
******************************
Dji m' ragrawia dins èn ospitå trouk. Cwénze djoûs å lon, sins rujhes et sins mehins. Dji n' etindeu gote a çou k' i ravådént laddé. Nén on fayé mot d' arabe, di walon ou d' francès.
Cwand dji m' pola ene miete rastamper, dj' ava l' vizite d' on grand diåle-e-coir ki cåzéve inglich, dijheut I, lu.
I m' a splitchî ene grosse eure avou des kesses et des messes. Å-z ôre li son di s' vwès, I sayive di m' fé sogne. Po m' fé cåzer, i m' mostréve des desséns d' amagnîs ou d' fiziks. Lu, dji n' plau bén må di lyi vanter les produjhaedjes di Hesta. I m' håyna eto des mapes di djeyografeye ki dji n' î comprindeu rén. Siya, gn aveut des côps les mots « Sireye », « Irak », « Yemen » dissu. Après, des fotos di l' ospitå dins tere, des ptitès måjhons d' Maarate, et d' ôtes veyes ki dji n' rimeta nén. Des fotos d' djins, avou. Gn a ki l' leutnant Driss ki dj' a fwait sene ki dj' el kinoxheu. Mågré k' i gn aveut eto des portraits di des ôtes combatants, ki dj' aveu rescontré el Sireye ou å Yemen. Ey eto l' pretcheu sawoudyin, li dierin d' nos catrucimeus.
Come prometou å docteur Mårtén, dj' a todi respondou e walon. Mins metans k' dj' a leyî schiper sacwants mots d' arabe po totès sacwès ki dji n' saveu lomer ôtrumint.
Co cwénze djoû pus tård, li prumî djoû do cwareme - i djunént tertos a l' ospitå, et dj' a dvou shuve li mouvmint… ci djoû la, di dj', ene miete divant l' disdjunaedje - dji cmincive a crever d' fwin - on m' a fwait aler dins on buro foû des såles ås malådes. Avou on ptit drapea - trouk dandjreus - sol tåve, et on grand portrait å meur d' on moustatchou avou scrît padzo : Kemal Atatürk.
C' est la k' pol deujhinme côp dispu lontins, dj' a royou dvizer walon.
C' esteut on ptit rabodjou ome avou ene grosse bodene et des rodjès tchifes. I cåzéve avou èn accint ki dji n' a nén rmetou did dou, avou toplin des « e » et des « R » foirt rôlés. Portant, dji comprindeu totafwaitmint tot çou k' i djheut.
« Dji voe ki ti waites mi grosse panse - i djheut ci måhonteus mot la sins djinne, etot prononçant « djë vwè kë të wétes më grosse panse » -. Et t' es sbaré ki dji t' cåze bedje - bèlch dijheut i -. Aschoûte mu ene miete, colåd. dji va taper totes mes atotes sol tåve, d' on plin côp. Dji vén del Wisconsene, e mitan des « Younaytët Stêysses » - ça, i l' prononcive mo droldimint. N a ene di nos copiutreces ricnoxheuse di langues k' a studyî ti responda a l' adjint del « Cihayê«  k' a vnou l' côp passé. On-z a veyou noer so blanc ki t' cåzives bedje - « walon », ki l' machine dijheut. Mins elle a rilévé eto des mots d' arabe d' Afrike bijhrece - Northern Africa, djans.
Mi djob, mi, vaici, c' est d' trover ti peure idintité. Si ti n' ti cfesses nén a mi, on t' clasrè come terorisse marokin ou tunizyin. Ti pasrès des laids cwårts d' eure, dji n' ti di k' ça ! Avou, come aperitif, on prumî stadje dins les prijhons speciåles ki ns avans par la. Gn a nouk ki sait ddja k' elle egzistêynut, et ti n' årès nou rprezintant des abondroets del djin - ces dmey cougnîs la d' « Amnesty International » ou ds ôtes, por zels criyî barabasse por twè, cwand on t' årè ctaeyî tes bounès tchås. Ti serès margougnî come les ôtes terorisses arabes. Des dints råyîs a froed, des broûlantès brocales dizo les ongues. Ns avans minme des bôreas pédés ki t' fortchôcront l' cou.
Asteure, si ti m' dis t' vraiy no et t'  provnance, on t' rimetrè l' pus rade possibe al police militaire del Beldjike, et ti serès djudjî vaila. Oniestrumint. T' irès cénk a dijh ans a l' amigo, kécfeye moens, poy ki ti n' as pont touwé d' blancs. Nouri, lodjî, bouwé. Et minme riscolé si ti vous aprinde on mestî. C' est les ptits Bedjes ki payront. Ôtrumint, ti serès co ås coirdeles d' Obama po lontins -.on binamé, lu, mins l' ôte ki shût pôreut esse on vergougneus potince. Mi, ça, dji n' î tén nén. Po on prumî, dji voe voltî les cis ki cåznut bedje, come mes parints, et tayons k' ont vnou did la. Avou ça ki, - et ci n' est nén on fayé rafiymint - dj' årè ene dringuele di tos les diåles, et motoit esse rihåssî, si dji parvén a les dihaler d' twè. Ti pårlaedje walon, ki dj' va acertiner, serè l' miere prouve po les wangnî, avou m' rapoirt come cwè t' es-st on sudjet di Si mådjusté Flipe prumî, li Rwè des Bedjes. Li pårler bedje, c' est èn årtike di rcognicion, sins dandjî d' etikete po dire l' alomåcion.
Fwai ça por mi, mvé ! Tuze ki mi, dji n' årè nole pinsion dins mes vîs djoûs. I m' fåt bén fé on ptit niyå asteure. Mete des ploumes e m' ni - feathern my nest come on dit après mon nozôtes. »
K' åreuss respondou a ça, hê, ti. Co on côp, pal voye do pårlaedje e walon, dji m' a leyî adire. Et m' ritrover, shijh moes et on rade procès pus tård, el prijhon d' Sint-Djîle-dilé-Brussele.
Mi cårire di djiyadisse esteut hoûte. Mins nén m' vicaedje a môde di « Spidermane ». Ca cidlé, dj' aléve aprinde a divni ene dandjreuse araegne. Et on fougnant e minme tins. Mins çoula, c' est ene ôte istwere.
---
Lucyin Mahin, scrît e 2014 a 2015; tot fwait pol bate del kiminålté Walonreye-Brussele li 15 di decimbe 2015
Novele eplaideye dins Li Rantoele (Belès Letes), l° 74 (I), 75 (II), 76 (III), 77 (IV) et 78 (V) 2015 & 2016.
---
Li bénrtourné
Dji n' aveu djamåy moussî e prijhon d' Måtche. Del voye di Lidje, i rshonne a on grand rectingue di beton avou des meurs cwate metes hôt. Vos frinnez do cint et dijh – ki vos estîz dispu foû do grand grand Lidje – a do septante, po poleur prinde li burtale d' intrêye. Arester l' oto; passer les controles, tot mostrant blanke pate: mi cwåte del DST. Passer ås ricnoxheus d' pôce et d' miyôle ouyrece. Tot ça sins vey on tchén avou on tchapea.
Pu la ene grand poite ki s' drove a môde di rôlant volet. Diri, deus wårdeus, leu ptit Fal court canon ki pind après leu spale. Et m' arinner e walon: «Diewåde, monsieu Hansinet !».
Dji n' m'a måy lomé Hansinet – Abdel Hansinet – ki dispu deus ans, cwand les Federås m' ont tchôkî des baloujhes e m' tiesse por mi bouter avou zels. Il estént ki rcwerént les atakeus do Bataclan, et sawè k' i gn aveut dvins des Marokins lodjîs a Molénbek. Djî m' a leyî adire, après deus anêyes el pote a Foresse. Et po dire li veur, dji n' aveu pus håsse di dmorer co a ût ans dpus. C' est çou k' les djudjes m' avent bistoké po mes deus ans passé avou les terorisses – sapinse a zels – di Vervî, do Yemen eyet del Sireye.
Come dji n' aveu nou copleu «blanc» el piole, dj' aveu co rfwait camaeråde avou des Arabes, ki l' prijhon nd esteut plin. Onk di zels, Rik Bahrawi, esteut on mitan-mitan – pére marokin, mame flamindje – ki s' aveut fwait reclôre po hacnaedje infôrmatike. On sûti ki l' Diåle. C' est lu ki m' aveut riscolé e-n arabe – classike et marokin – ki dji cminceu a djåzer come on vraiy efant d' Rifin d' Brussele. I m' avent ossu a acsegnî sacwants versets d' Alcoran, et a fé mes ralavaedjes et mes priyires come zels. Dinltins, minme el Sireye et å Yemen, dji fjheu aler les lepes, et muzer les troes cwårts des mots.
C' est mononke Djanmår, ki m' vineut apoirter do tchoco tos les cwénze djoûs, ki m' aveut «vindou» å directeur. Todi po fé aler s' grande gueuye a m' vanter, come cwè dji sereu on bon racuze-potêye, veyanmint ki dj' kinoxheu l' arabe et tote li rlidjon nuzulmande. Portant dinltins, i m' åreut cåzu touwé cwant dji håbitéve li cminåltédes Bårbous d' Vervî.
Todi est i ki vo m' la disbatijhî avou m' novele cwåte d' idintité, ricopeye sol manaedje di m' soçon Bahrawi (ki dji n'a pus yeu l' droet di rvey dispu don). Pere walon, mere marokinne, vinou å monde a Måbon-pré, e fén fond d' l' Årdene, k' i gn a nol Arabe k' î åye metou les pîs.
Et mi, i m' î ont louwé on djîsse e viyaedje shijh moes å long, po cnoxhe a mitan les naxhes di cisse rescoulêye coine la del Walonreye. Les fôs veråts! I m' ont reclôs låvå do moes d' octôbe å moes d' måss. E plin ivier. Mi ki n' aveu pus veyou l' nive dispu des ans et des razans.
E moes d' fevrî, tot-z alant rcweri des comissions amon Magali – ene binamêye båshele k' aléve fé mes coûsses a Bastogne –, dj a ridé sol waerglaece. Mi toide li keute ki s' ritrova foû scwere a 45 digrés sol costé. Ni ene ni deus: dji rapiça m' mespassêye mwin – ki dji n' sinteu pus – avou l' haiteye, et l' rimete dins l' alinmint do gros do bresse. Pu, li bresse pindant, djurvi disk' amon Magali. Leye, mi veyant ariver insi halcrosse, creya aprume ki dji fjheu les cwanses. Pu cwand dji lyi ridjha, pa deus côps ki dj aveu l' bresse esketé, ele candja d' coleur et manca d' toumer dins les cropecindes. (Fåt croere k' elle atakéve dedja a m' vey voltî di ces trevens la.)
A cénk eures del vesprêye, i fjheut ddja brune et les voyes rilujhént ås fåres d' ene oto ki passa. I rdjaléve dedja. Mi soçone ni s' åreut oizou rimete å volant dins ces condicions la. Ele saya d' houkî les strapances di Bastogne mins gn aveut pont d' tchåfeu d' wåde a ces eures la. Ci n' est k' a nouv eures al nute k' i m'avoyît ene ambulance del clinike di Libråmont. Magali travayive li londmwin et i gn aveut nolu pol ramoenner. Ele si fjheut må d' mi, mins djha k' avou l' infirmî et l' tchåfeu, dji n' pleu må.
Pout-må a toumé a l' aiwe et s' a neyî!
Dj' a ben creu k' on n' arivreut måy a bon pôrt. Foice ki l' otovoye enteut clôse, a cåze di camions k' avént ridé sol waerglace et si rtrover triviè del voye. Et les ptits tchmins d' viyaedje n' avént nén stî salés. Pus d' vint côps ki l' tcherete a boulé sol costé et s' ritrover buker so des hourêyes di nive acopurnêyes so li dlé del voye. Mins l' tchåfeu – on prumî moenneu, saiss, twè – parvineut todi a contrubratchî et si rmete droet.
Al Bårire Hink on rpassa del cwate-bindes al grand-rote d' Oufalijhe. Il aveut shoflé felùint et n aveut des sconcires d' on mete et co hay. Pont d' rujhes po nost ome ki bôra dvins avou s' zénk, et passer houte. Oufti! Dji m' åreut rcreyou e Yemen cwand nos cwate-cwates fijhént parey avon des bancs d' såvlons. Djusse, vaici, mågré l' aburtale di sidje, cwand dji vneut buker conte li poirtire, ça m' lancive dins m' sitoclé bresse.
Stoirdou mins nén sketé! C' esteut l' londmwin ås aireurs. Gn aveut on radioloke dins l' bastimint – on l' aveut dispierté del nute po on cas pus strapant k' mi: ene kimere k' aveut tchai d' on cina cwate metes djus. I m' ont fwait passer après leye. Tos les oxheas do keute sont-st el boune plaece, dijha-t i l' méde. Portant, mi, dji crevéve di må, asteure. Dji n' aveut ddja seu mete mi bresse sol tåve del radio. I l' aveut falou abaxhî (dji djåze del tåvlete del djéndjole) et rmonter pitchote a midjote, tot m' sotnant li spale po n' nén rtoide li keute co pus roed.
Co on bea côp dé on laid! Dji n' åreu k' on plåsse drovou so li dzeu – ene goidje, sapinse zels – a rsaetchî ût djous pus tård. Po l' mespassêye djonteure èn si nén aroedi.
Ci n' est k' on gros moes pus tård, k' i rifjheut a mitan, ki dj a polou rmoenner ene oto – evoyeye pa mes påréns do DST – po fé m' bouye al prijhon d' Måtche.
Adon, i m' ont rlodjî dins ene gayolire ki waitive Mouze, a Lidje. Sins ddja aveur li droet di dire årvey a Magali. Ni, bén seur, di lyi dner m' novele adresse. Sins sawè s' elle a brai ses ouys foû ou si elle end a radmint rtrové èn ôte.
*********************
Mi bouye oficire, al prijhon d' Måtche, c' esteut d' adrovi mes prijhnîs al tuzance walone. Gn aveut totes sôres di psis k' avént passé des longuès eures avou zels divant mi, et il avént ponou cisse ricete la, po les ancyins egayolés ritrover ene plaece pus åjheymint dins l' societé walone. Et n' si nén todi aler racalandyî avou des pareys a zels.
Tuzance walone ! Åjhey a dire, çoula ! Mi, dji n' aveu måy sitî ås hôtès scoles po-z aprinde a tuzer. Et co moens po-z acsegnî l' tuzance, ki dji n' ti saveu ddja çou k' ça vleut dire å djusse. Onk dijheut: c' est l' culteure. Dji nelzî aléve tolminme nén aprinde a coûtiver del tchene. Il è savént seur ostant k' mi ladsu. (Mågré ki dj' n' esteu pus on båbô dins ç' dominne la, dispu ki mononke Djanmår, al fén des féns, m' aveut-st espliké si ptite handele. Et m' fé viziter ses plantisses dins les tchetoeres al tchene, so s' hôt plantchî.)
Li tuzance, dabôrd, cwè est ç' po ene biesse ? Èn ôte endaléve: «c' est çou ki dmeure cwand t' as rovyî ttafwait.» Adon, por mi, ci sereut magnî des tåtes å tchoco.
Mi seule foice – et la, n' aveut nouk a mel prinde – c' esteut ki dji saveu bén l' walon, et ndè comprinde cåzu tos les accints. Veyanmint ki, divant d' divni mi-minme on terorisse, dji l' aveu flamté avou totes sôres di plankets, ki vnént d' Ôvîfa a Couvén, et d' Ricsinsåt a Leglijhe.
Mes scolîs al pote di Måtche, ci sereut les prijhnîs muzulmans. Po on prumî, des Marokins, mins ossu des Aldjeryins et des Tunizyins. Et pår deus Edjipsyins – mins gn aveut onk k' esteut crustin – troes Siryins, deus Tchetchenes, kékes Trouks ey èn Afgan.
Dj' aveu cmincî a relére – avou des féns solés – les cis k' estént pus «magneus d' Bon Diu» k' les ôtes. C' esteut avou zels ki, pol DST, dji doereu fé camaeråde houte di mes eures di scolaedje. Eyet lzî saetchî les viers do nez, po vey s' i les fårè co tni a gogne cwand c' est k' i seront foû do yoyo. Et pår s' i n' aprestént nén des laids côps, minme d' estant reclôs.
Bén seur, i n' avént nén droet a-z awè on sûtifone. Et n' aveut nou raloyaedje al Daegntoele al bibioteke del grande måjhon. Mins il avént cwand minme droet ås vizites.
C' esteut la k' i faleut djouwer l' gros djeu. Po les pus traites did zels (dedja etictés «_terorisses_») lezî fé des bons rapoirts, po lzî diner l' droet d' awè leus vizites azès tåves. Ca ces-la ki sont pûnis dipus ki ls ôtes, i n' polnut riçure leus parints et soçons ki dirî ene sipesse glaece, troes metes hôte. Les paroles doevnut rdjibler sol plafon.
Ey eco: lezî dire kimint s' kidure avou les ôtes epsis, po k' tos les shuveus soeyexhe del minme advize.
Après shijh bon moes d' ovraedje låvå, dj' end aveu relî ene pitite dijhinne ki m' parexhént les pus nén trop catolikes. Todi a påterniker a tinzayeure. Foirt sitroets dins tot çou ki tént al rilidjon u ås dujhances sociåles.
Å cmince, cwand dj' aveu vlou sayî di fé kékes verset d' Alcoran e walon – dj' aveu trové çoula sol Daegntoele –, c' esteut les cis k' avént rnigté schåynete. Minme l' Afgan del binde, ki ç' n' esteut nén s' lingaedje, il ont tertos dit ki l' Alcoran ni s' ratournéve nén. Dj' a leyî l' cayet po ene bounete a Matî, mins dj' aveu trové çou ki m' faleut: li deur nawea di mes prijhnîs muzulmans. C' est zels k' i faleut waitî d' etraityî.
*********************
(des moes et des ramoes pus tård)
Serè-t ele dins l' areyoplane del Rayanair k' est la k' avole aviè l' djive d' aterissaedje di l' areyopôrt d' Agadir ?
Leye, c' est Magali, ki dj' aveu cnoxhou a Måbon-pré li fameus ivier ki dj' m' aveu forpassé m' keute. Dji l' a rtrové so Fesbok lanawaire, et m' rimete e hant avou leye, après cåzu deus ans d' taijhance-radio.
El ricnoxhrè dju, åresse ? So l' foto d' intrêye di s' waibe, ele n' a waire candjî. Mins les crapådes, saiss, twè ! Todi a s' wåkî, si diswåkî, si rwåkî eyet s' ridiswåkî. Et s' elle åreut rcôpé ses grands tchveas et fé des capoules. Ci sereut çoula li « grande sorprijhe » k' ele m' anonce dins s' dierin twite.
Et mi, serè dju capåbe di dmorer ses dijh djoûs d' condjî avou leye sins esse on boû d' fagne ? Mins eto sins m' vinde. Ca po sawè çou k' dji sai, gn a bråmint des siervices sicrets ki dinrént ene gade d' ôr. (Dji n' di nén ene bleuwe vatche ou on blanc tchvå ca, pol djoû d' ouy, ci n' est pus merveye. Gn a des vatches blanc-bleu walones dins tos les ståves. Et des blancs tchvås d' pormoenneus divins tos les paxhis.)
Ki va dj' poleur edvinter cwand ele mi dmandrè les ca et les ma di m' vicåreye ? A Måbon-pré, cwand dj' aléve kimander u rcweri mes coûsses, dji nel fijheu måy longue. C' esteut djåzer do tins, di traze et d' catoize, et dire kékès loignreyes. Mins asteure, dijh djoûs e-n erote, inte cwate-z iys ! Aléve faleur låtchî des brimbådes di vraiy. Mins copurade muchî ene banse di sacwès, come mes patrons d' Brussele mi pirlodjèt tofer. Et nén maxhî li discatchåve et l' nén-discovråve. Eyet c' est ki : fåt-z esse malén po fé l' biesse.
Bawaite ! Dji lyi racontrè l' veur so mi efance, li handele da nosse pa, li målfeu ki distrujha nosse måjhon, et k' i gn a k' mi k' è schapa. Mononke Djanmår, et ses ahivaedjes e s' gurnî.
Oyi mins nonna ! Avou les egurniyaedjes di gazete sol Daegntoele, asteure, ele pôreut rtrover m' vraiye idintité. Et mes papîs sont todi dizo l' no da Abdel Hansinet, mere marokinne, pere walon. Fårè rbrosder tote mi djonnesse so ci stin la. Et pår bén loukî di n' rén dire so tote li trintche di m' vicåreye ki va di mes håbitaedjes del kiminålté salafisse di Vervî, disca m' metaedje e long condjî på DST, lanawaire.
Shijh anêyes a fé fonde come del nivaye å solea. Deus come terorisse. Sapinse a zels, ca nozôtes, el Sireye et å Yemen, on s' houkive 
« rezistants ». Rezistant disconte les colnijheus capitalisses. Les blancs ki, dispu ki l' pere Bouch a-st abroké so l' Irak ki dj' n' esteu nén co å monde, ont macsådé cåzu deus cint meye moslimîs et moslimresses. Et çoula, låtchmint, avou leus demonés bombardîs, et canons, et roketes, et missiles, et dji n' ti sai d' tot cwè. Touwé des bateus innmis, bén seur, mins co bråmint dpus d' civils. Kimeres, viyès djins, efants.
Terorisse u rezistant ? C' est todi come todi. C' est a l' assulon. Sorlon l' ci ki wangne li guere, t' es-st on hero u on traite, tot-z avant fwait les minmès faitindjes. Waite tins del guere di 40. Cwand on schoûtéve mononke Djanmår, l' Årmêye-blantche, c' esteut l' Rezistance. Minme cwand il alént assaziner des Recsisses. Ou dischinde des vîs lanchtoûnes almands metous dins les viyaedjes po tni les djins a gogne, mins ki n' årént pont fwait d' må a ene moxhe.
Årvierdimint, po l' pa da Sigfrid – on waloneu del Rubiveye ki dj' av kinoxhou a Vervî, et k' esteut, lu, oficî al Vermaxh –, l' Årmêye-blantche, c' esteut des terorisses.
Shijh anêyes a fé fonde come del nivaye å solea. Deus come terorisse. Sapinse a zels, ca nozôtes, el Sireye et å Yemen, on s' houkive « rezistants ». Rezistant disconte les colnijheus capitalisses. Les blancs ki, dispu ki l' pere Bouch a-st abroké so l' Irak ki dj' n' esteu nén co å monde, ont macsådé cåzu deus cint meye moslimîs et moslimresses. Et çoula, låtchmint, avou leus demonés bombardîs, et canons, et roketes, et missiles, et dji n' ti sai d' tot cwè. Touwé des bateus innmis, bén seur, mins co bråmint dpus d' civils. Kimeres, viyès djins, efants.
Co ene ôte kesse : lyi aléve dju mostrer ki dji tiréve mi plan avou l' cåzaedje arabe marokin ? Lyi catchî ? Mins on ptit mot ki schipe par ci (come « inchalla», « bismilla » u « s-salinme »), et ele si dotreut d' åk. On schoûtaedje di deus dvizeus – et leye vey ki dj' les comprind –, et dj' esteu cût.
Miere ! Dji rovyive. Li mame da Abdel Hansinet est marokinne. Adon, ele m' a hossî dins ç' lingaedje la. Pont d' rujhes po-z espliker mi marokicåzaedje, dabôrd. (Podbon, dji l' a-st aprins tot chamårdant avou mes copleus a Vervî, pu å Yemen ey el Sireye. Adon-pwis l' aparfondi å prijhon d' Sint-Djîle avou m' soçon Rik Bahrawi).
Vocial çou k' dj' aléve edvinter. Dj' aveu bén skepyî a Måbon-pré, mins dj' avéns bagué direk a Scaerbek. C' est la k' dj' aveu crexhou. Dji m' aveu maryî a vint-et-yèn ans avou ene neveuse al cwatrinme botnire da nosse mame. Et vni dmorer dé ses parints ciddé e Marok. Li pere sereut on bas oficî cazerné å Såra, wice k' i sont come on djheut so on RPP. Li RPP, c' est l' « rafoirci pî d' påye ». C' est djusse ådzo do « pî d' guere ».
Dji dveu dmorer avou m' feme eyet m' bele-mame. Elzès pormoenner a môde di gåre di coir.
Ene anêye, dj' aveu stî rivnou el Beldjike po m' fé operer (dji lyi mosterreu les kernaxhes di m' vinte shûte al batreye di Maarate). Et, après l' operåcion, mi voleur aler rpoizer a Måbon-pré, la k' dj' aveu skepyî. Vola, dji n' lyi a rén raconté did tot çoula, pask' on aveut frawtiné avou les ospitås et les moutouweles.
Ey asteure ? Neni, dji n' esteu pus avou m' feme. Dj' end aveu yeu m' sô di fé ene payele di mandaye, a pormoenner deus cmeres k' estént todi cohigne kihagne. Et dji m' aveu divoircî.
Mete on militaire dins m' fåsse famile, c' esteut po rtoumer so mes pates si dj' aveu des reyaccions d' sôdår. Ey ossu po poleur dire k' i gn aveut des sacwès k' on n' pleut nén raconter. Dji lyi esplicreu ki les Marokins estént foirt efoufyîs po wårder l' Såra coûtchantrece. C' est leus provinces nonnreces, riclamèt i tofer. Adon, çou ki s' passéve drola, so l' cazere di m' swè-dijhant bea-pere, c' esteut sicret-disfinse.
Godferdom ! Ké mixhe-maxhe. Dj' åreu dvou repeter m' role sacwants djoûs d' avance. Et n' nén etcherpeter mes boudes al dierinne broke.
Fåt dire, avou, k' elle aveut avancî ses dates di ût djoûs, po-z awè des meyeumartchîs pris. Dj' end aveu yeu mes poretes ritaeyeyes.
*********************
« Mins, mordiene, cwè çki ti m' fotes ladrî, a Agadir ? », m' alez vs dimander, vozôtes, binamêyès lijheuses, tchers lijheus. 
« Pår ki les Bedjes ni savèt pus oder les Arabes, paret, dispu les atacaedjes di Brussele et Zaventem. Djel sepans bén, nozôtes, ki t' esteus on spioneu d' prijhnîs å yoyo d' Måtche. Nos t' avans veyou k' atakéve a sayî d' saetchî les viers del narene ås egayolés muzulmans les pus a l' aschate. Ass adiercî t' côp ou ass fwait berwete ? Et pocwè ki l' DST t' a dné on condjî londurant. »
« Bén leyîz m' cåzer, taiss ! Vos n' avoz pont d' misse, vormint ! »
Av co sovnance ki dj' aveu asprové di fé passer deus des pus dandjreus prijhnîs å sistinme des vizites al tåve ? Mi shijhinme sinse mi djheut k' i n' estént nén å rpintant d' awè fwait leus calinreyes. Et k' il aprestént ene novele måle keure.
Onk, on Marokin, aveut stî codåné po l' atake do muzé djwif di Brussele. L' ôte, on Tunizyin, po-z awè imprimé des fås papîs po les touweus del pladje di Sousse.
Dj' els a catrucimé deus troes moes po les fé divni des agneas. Divant les psis, todi. Pu, dj' a dmandé l' aspalaedje d' ene sicoloke måtchresse (nonna, nén må-tchîte, ki do contråve). Leye esteut bén – et kécfeye foirt bén – avou l' directeur del « grande cinse ». Ki, al fén des féns dina s' benediccion.
Adon, il a falou djuwer seré, avou onk di nos adjints, stitchî emey les coulots marokins d' Molenbek, dirî l' Tchenå Brussele-Anverse.
Les soçons k' alént vni vey mi prijhnî lyi alént apoirter on sûtifone, k' il aduzreut catchetmint tot l' tins des vizites. Tot fjhant les cwanses di djåzer avou ses deus viziteus.
Come gn a djusse on sorwoeyant (pacô deus) po ene cwarantinne di prijhnîs eyet pol moens ene cintinne di viziteus, i n' î vierént k' do feu.
Nost awaitî prijhnî, lu, pôreut houkî ses cousses totavå l' Daegne, et rôbaler sol Daegntoele, aprume sol mape Gogueule. Insi, s' il esteut co e hant avou ene rantoele terorisse, i ls aléve arinner on djoû u l' ôte.
Çou k' i n' savént nén, ni lu ni ses plankets, c' est k' on aveut des micros tchôkîs dins les pates del tåve. Et ki nost amoussî copleu d' Molenbek nos aveut dné l' limero do sûtifone des vizites.
Mi, dins mes scolaedjes di tuzance walone, dj' aveu espliké l' interesse di cnoxhe on ptit lingaedje po poleur atôtchî des pareys a vos sins k' les ôtes vos compurdénxhe. Dji rhazixheu l' clå tchaeke côp ki dj' poleu. Par egzimpe, les Siyous d' l' årmêye amerikinne ki djårgonént inte zels al radio po les spions schoûteus Djaponès èn rén etinde des plans d' vol.
Dji saveu pår ki, dins les familes di Molenbek k' estént poirtêyes sol Salafisse, end aveut sacwants ki l' mame esteut walone, et k' les efants etindént l' lingaedje Defrexheu.
Li pexhon betcha. Après on moes u deus, gn aveut kékes mots walons k' arivént dins les bates di dvizes e-n arabe. Et dins les messaedjes telefonikes u les mailetes.
Å siervice, a Brussele, dj' elzî aveu spliké mi stratedjeye, et dire k' i gn aveut on cminçmint d' rzultat. D' après des telefonaedjes k' i gn av, mes cousses di Måtche arinnént des limeros so Brussele et so Lile, el France. Inte di zels, deus troes pistolets k' avént ddja stî rindjîs come 
«  a tni a gogne ». Et i shonnéve ki, dins leu nindje, mes prijhnîs estént purade des cis ki dnént des ôres ki des mandayes schoûtants. Dayeur, on mandaye k' est å yoyo, ça n' conte ki po do poeve et do sé.
Portant, les boss del DST n' avént nén l' air di m' prinde å serieus. Fåt dire ki c' esteut puvite des grandiveus ki petént l' francès come des Parizyins. Por zels, li walon, c' esteut on patwès ki n' valeut nén les cwate fiers d' on tchén. A cwè k' ça pleut bén siervi del fé aprinde a des etrindjirs. 

« Avou l' walon, ti n' vas nole pårt ! », mi plaként i å nez a tot côp bon. Dj' elzî recassive sol pî sol tchamp : 
« avou l' francès nerén; cwand t' es a Overiche, i t' fåt ddja ratourner ! Et loukîz bén a vosse sogne, vozôtes, di n' nén esse retchessîs d' Brussele dimwin u après. »
Cwand dji djheu ça, les Flaminds del binde avént bon, la, zels. Nén rovyî k' å federå, end aveut sacwants. Deus dins noste ekipe. Et, sovint, dji m' etindeu co mî avou zels k' avou les « frankeufeunes ».
Dji saveu ki mi stratedjeye payreut. Djel sinteu.
Dj' end ava l' prouve li djoû ki dji cminça a vey des droles di bokets e walon dins les emilaedjes des Måtchîs. « Aprestez l' aiwe po cure les raecenes ! » « Gn årè del walêye, et c' est po dabôrd ». Pu des ôtès droles di fråzes e l' arabe marokin « el guerâa ghad tfergâe » (li peturon va peter).
Gn av ene laide keure ki s' aprestéve, mins wice ?
Cwand dji djha l' minne ås patrons d' Brussele, et k' i dvrént kécfeye rimonter l' digré d' awaitance terorisse, i m' riplakît co pus setchmint k' dabitude. Dji n' tchoûla nén, mins dj' end ava gros sol petote.
On djoû a cwatre eures, dji hape ci messaedje cial so m' purnea « Måtchicalins » di m' sûtifone. C' esteut nosse cama d' Måtche k' emiléve, et li rçuveu esteut a Vilvôr. Il esteut scrît mitan e marokin, mitan e walon : « les raecenes sont cûtes; li cabolêye si spurrè dizo l' Rubîplaece ».
Dji tuze et racatuzer. C' est l' prumî côp k' on av on mançaedje si pressant, et avou ene dinêye djeyografike. Dji houke li cintrå. « Plaece des rubis : n' a nole sifwaite adresse ni el Beldjike, ni el France. Co onk di tes boignes messaedjes. C' est motoit twè k' i vlèt fé cori araedjî. Fé tourner a noerès biesses. »
Portant dj' esteu seur – todi m' shijhinme sinse – ki l' messadje mostréve l' adierça la k' ene bombe aléve peter. Rubîplaece... plaece ås rubis ? Nonna c' est on long « i », sicrît « î » avou s' toetea ki n' est nén la po des biyokes. Metans k' « rubî » åreut èn ôte sinse e walon. Gn a-t i des mots a môde di « Rubî-åk » ? Gn a k' a cweri divins les motîs walons. End a assez so les fyis…
Bén oyi, taiss ! N' a « El Rubiveye », li viyaedje di m' soçon waloneu. Eyet l' « i » est long, poy k' i vént divant on « v » ki l' ralonguit. C' est çou k' on m' a-st aprins a mes scolaedjes a Nameur, divant k' mi-minme dji divnaxhe prof di walon.
Mins l' « Rubî-vèye », c' est « Robertville » e francès. Adon, ci Rubîplaece la sereut ene « plaece Robert ».
Loucans vey so ene ricwirrece. Plaece Robiet, Brussele. N' a rén dins les dijh prumîs. Sayans les cis d' après, on n' sait djamåy. Tén ! toci : sicole Robert Schumann. Nodidjo ! Gn a eto ene Plaece Schumann. Oyi, taiss, divant l' bastimint d' l' Urope. C' est on clapant louwé po on terorisse fé caberdouxhî ses tchedjes.
Rissouner ås federås ? Åy, hê, ti ! Po s' co fé rplaker come enawaire. Pu, plaece Schumann, dimwin, ci serè griblé d' policîs, poy k' i gn a consey uropeyin. On poirteu d' bombe ni sårè fé dijh metes sins dmorer å trô-djoke-tu.
Mins vize bén a åk, la, twè ! Ci n' est nén so l' Rubîplaece ki l' cabolêye serè vudêye, mins dizo. Dins les cåves do bastimint uropeyin ? Fåreut vey s' i gn a la des wårdeus. I n' mi vont tolminme nén fé potchî ç' bildigne la come Bouch a fwait croûler les Tours djermales, tot metant des abominåbès tchedjes d' esplôzif dizo. Ci n' est tolminme nén des sôdårs do Djenî.
Tot d' on côp, mi cervea s' asclairixha. Taiss k' oyi, biesse di gregne ki t' es.
« Dizo l' Rubîplaece », ça vout dire dins l' metro. A li ståcion Choumane. I n' aveut k' a monter dins l' metro a ene pitite eståcion. Al pikete do djoû, minme avou on gros bagaedje, nouk ni si rtoûnrè d' ça. N a totes sôres d' ovrîs ki vont ovrer e prindant l' metro avou des grossès saetcheyes d' usteyes. Adon-pwis, metans, tot rexhant del rame a Choumane, fé sôtler l' cayet.
La on bon plan, mi shonne-t i ! Oyi, c' est çoula l' sinse do messaedje.
Dj' a trové, åreut i dit, l' Årtchimede. Mins vo t' la crås avou ça, ti, asteure, a passé onze eures al nute. Åy, hê, ti ! puvite li dmeye di doze. Si t' vas dispierter t' tchîf a Brussele po lyi spliker tes apinses, i t' va co recassî ki ç' n' est k' des galguizoudes. Et t' recdure avou des påters di pourcea. Cwè fé ?
C' est adon k' aspita e m' tiesse li pus crawieus des plans ki dj' euxhe måy ponou po m' saetchî foû di spexheur.
*********************
Magali est ki passe li dwane : djel voe d' å lon, ki ratind deus metes divant l' bawete do gableu, avou s' paspôrt al mwin. Si c' est leye, todi, ca dji nel såreu co pår acertiner, did si lon, et åd triviè del vite k' est brouyeye des traeces di doet des rawårdeus.
Mins ké sôre di rlåcion ki ns alans awè eshonne, dijh djoûs å long ? Al fén des féns, dji n' sai cåzu rén sor leye. Et a Måbon-pré, dji n' esténs djusse ki des vijhéns. Et leye mi dner binamêymint on côp di spale. Sins må sins malice.
Mins so onk di ses dierins emiles, ele mi scrijheut : « dj' a yeu l' tins long après vos ! ». Dji n' m' î cnoxhe nén foirt dins les crapådes, mins por mi, çoula vout dire : « dji t' voe voltî, et cwand nos serans eshonne, nos hantrans al tchå. »
Dijhans todi kécfeye !
Waite ki vo m' la dins les strinses. Lyi va dju raconter çou k' i s' a passé cisse fameuse nute la, cwand dj' a distourné l' atake terorisse do metro Chouman ? Dji broûle di lyi dire, po m' fé vali. Mins, voess ! les crapådes ont pus k' a leu toû des linwes a talus. Ki totafwait ride djus. Si ele li va rtchanter ezès toeteas, ci sereut å pus riskeus po m' cårire mon les federås. Et motoit po m' veye, si les Dayech si vlèt rvindjî, d' elzî aveur fwait fé a mitan berwete.
*********************
Dji so a m' casser l' hanete, dins mi cwårtî do onzinme plantchî di m' gayolire did dé l' pont Sint-Linåd a Lidje. Drovi li fniesse. N a-st ene fene brouheur ki rafûle Mouze. Ene houfêye di frisse air ashofele dins l' tchambe, et vni catyî mes narenes.
Sol boulvård, li convoye des otos a ene miete discrexhou. Asteure, leus fåres si spotchèt dins l' brouyård k' a rascovrou l' rivlinne. Gn a do ramdam dins l' bildigne d' a costé. Ene cope ki s' dispetrone, mins dji n' ti sai dins ké lingaedje. Do rûsse u do polonès, a tot côp bon. Dji n' vos såreu dire çou k' i ravådèt inla, mins ci n' est nén des mots al gosse di låme, bén seur.
Pocwè a dj' rituzé a Rik Bahrawi, a ç' metou moumint la ? Va-z è vey ! Ey on mascråwé plan assûner dins m' tiesse, so cist etrevén la.
Abeye rihoukî Djan, mi vî soçon wårdeu d' prijhon a Sint-Djîle. Lyi dire d' emantchî ene VFA (vizite foû awaitance) avou Rik Bahrawi. (Pôreut vali k' i soeye co å prijhon, et n' nén awè stî rlåtchî divant s' tins !
Ene vizite VFA, c' est po les prijhnîs maryîs (å grand u å ptit sacramint) poleur coûtchî avou leus femes u leu mayon. On lzî prustêye des tchambes esprès po ça. E plinne nute ? Oyi, Rik n' esteut ni maryî ni aplaké. Teyoricmint, i coûtchreut avou ene poufiasse del gåre do Nôr, ki lyi åreut fwait on bon pris. Paski : après ses eures.
Po dire li veur, li viziteuse, ci sereut mi avou mes sûtifones et mi éndjole raloyeye a l' Etrernete pa tévéspoutnik, avou totes ses ahesses.
Kimint fé avaler ene téle coloûte å wårdeu d' nute Tchayescou ? U puvite, lu, a s' directeur s' i raprind l' paskeye ? C' est la ki deus biyets d' cint-z uros vont vni bén a pont. Tchance eto, dj' aveu co do buddjet des federås po çoula. Des noerès cagnotes, k' on n' diveut nén minme dire a cwè k' elle avént siervou.
Li wårdeu s' a leyî stoker l' pougn. Fåt dire ki c' esteut on Roumin di Scaerbek, k' aveut bén cénk efants. Et k' i meteut dins les meyeusès scoles, les deus pus vîs a Sint-Louwis. Et ça lyi costéve tchir et vilin.
Dji n' a nén dit tos les butants et les royants a Bahrawi. Åresse, i n' m' els a nén dmandé. Il esteut fén binåjhe di m' rivey. Et d' poleur rifé do hacneu, copurade al taxhlete, e fén mitan del prijhon.
I s' adjixheut di moussî dins l' axhlåve di m' prijhnî mwaisse terorisse di Måtche. On n' saveut nén s' i l' aveut rprins avou lu et l' muchî dins s' cåzî e s' gayole. Ou s' il esteut co amon onk di ses soçons viziteus. La, gn aveut on ptit risse. Ca si li rçuveu do messaedje saveut ki ça n' pleut nén esse nost ome l' evoyeu, nos seréns reyusses. Mins li ci ki n' riskêye nén n' a rén.
« Tådje ! », dit-st i l' Rik, k' esteut amidjôlé pa tote l' éndjolreye la håynêye divant ses ouys. « Si l' telefone n' est nén seré, on l' pout louwijhî avou on cir-moenneu. Gn a-t i dpus d' cénk kilometes inte li yoyo d' Måtche et l' manaedje do viziteu ? » Taiss k' oyi ! C' est onk di Vierset, dilé Hu.
« K' i våye, dabôrd ! »
Et vla nost éndjolisse k' arnicote so ses éndjoles. Et somadjî des « o ! nonna, saiss ! » cwand ça n' va nén. Et des « mondiu todi ! » cwand il arive a ene fotche di decidaedje, la k' i n' sait kéne voye eponter. Pu des « djô ! djô ! djô !» cwand il arive, après on cwårt d' eure di tchictaedje a trover li pôzucion do sûtifone.
« Vos estoz segnî do påcolet, Djemfi ! » (Lu cnoxheut mi såvaedje no, ki mononke Djanmår mi djheut tofer cwand i m' vineut vey ki dj' esteu s' copleu come prijhnî roci). « L' axhlåve est a Måtche u dins l' cotoû. Nén a Hu, todi ». Et i n' est nén esprindou pår. Ni clôs nerén. Djusse edoirmou.
« Asteure, on n' î est nén co, al taeye ås fraijhes. Fåt cmincî pa trover li (u les) scret(s). Sayî d' disclitchî l' sounreye et l' kihosreye, kéccô k' i gn åreut èn ôte ki nozôtes ki l' atôtchreut par nute. Ki di dju ! Espaitchî tot intrant messaedje. Rén k' po tot ça, gn a ddja des mantches a mete. »
Rik kiminça a souwer des gotes. C' esteut on telefone ki nost amoussî adjint d' Molenbek aveut reyussi a mete des tchvås d' Trwè dsu. Mins zels s' ont doté dandjreus d' ene sacwè. Il avént rcandjî l' betchteu, et l' rimete so èn ôte sistinme d' operance (on Linusse, dandjreus, dit-st i Rik). Mins des Linusse, end a d' trinte-shijh sôres : Oubantou, Mandrake, Suse... Tchaeke a si prôpe etcherpetaedje. On n' î esteut nén co, la k' li ptit boulome s' aveut rispoizé.
- Vouss ene djate di cafè, twè, Rik ?
- Oyi, ci n' est nén di rfus.
Vo m' rila dilé m' soçon roumin a briber deus potikets d' cafè. Tot esprindant l' rampono, i m' fwait comprinde k' i n' pôreut nén fé inscrire li dmande di vizite foû awaitance da Rik dins l' redjisse al date d' ayir. Trop målåjhey. Les lives sont mon ene penleuse... k' on pôreut kécfeye abriber ossu. Pår k' ele divreut xhiner l' siné do directeur. Lu est a mitan alzemerieus. I n' si rapinse pus çou k' il a siné. Mins por leye, fårè mete ene boune dringuele dizo l' tåve.
Vla co cint-z ôtes uros pol diåle. Mins fåt çk' i fåt.
Cwand dj' rariva dé Rik, il esteut so des tchôdès braijhes. I vneut di moussî dins l' boesse ås emiles do Måtchî, mins il esteut a stok. I lyi faleut on troejhinme ordinateur po trover des racsegnes tecnikes so les djåspinreyes Linusse.
Ri-voyaedje amon l' wårdeu.
« Oyi, end aveut onk dins l' buro d' intrêye. Mins l' håjhlî voereut motoit bén k' on lyi a scarweké si osti. Come c' est on curieus boket, i dmandreut cwè et come. Dji lyi dirè ki dj' anoyive, et ki dji vleu loukî des videyos so VoBuze. Avou 50 pitits uros, i pasrè co ladsu, et clôre les ouys. »
K' i rvåye ! A cisse felesse la, li boestea del DST rirè bénrade å gayet !
Cwand nosse Rik ourit cisse troejhinme copiutrece la, il ala bén pus rade. Il esteut cwatre eures å matén. I strindeut a nos guetes. I faleut ki l' messaedje arive mon l' terorisse divant li priyire des aireurs. C' est dandjreus a ç' moumint la k' i tchedjrè ses potchantès ahesses. Pu, mi, i m' faleut esse evoye del prijhon divant l' arivêye des prumirès overresses, les coujhnires k' aprestèt a ddjuner.
Al dimeye di cénk, Rik manca d' boerler come on vexhåd k' on lyi a roté so s' cawe. Vacobén k' i s' ritna al dierinne broke. Il aveut prins l' controle do fameus sûtifone k' evoyive les ôres å terorisse. I m' atôtcha : « C' est twè k' a l' bale, asteure. T' as dijh munutes po scrire ene mailete a ç' halcotî la ki s' fwait lomer Abdeliket. »
Tot-z oyant ci spotaedje la, dji manca d' toumer dins les cropecindes. Mi, i m' avént lomé Abdel. Et lu s' fijheut lomer « Pitit Abdel. » Ça sinteut l' agnon.
Mins il esteut trop tård po rescouler. Adon dji scrijha, todi mitan arabe, mitan walon, come les ôtes messaedjes : « Rubîplaece we3er bzaf; tleq kolchi a Målrixhea. ». I dvreut comprinde « Li metro Chouman, c' est trop riské; låtche totafwait a Målbek ».
Paski pocwè ? Dji saveu på ki, dins leu nindje, end aveut onk ki cnoxheut a fond li toponimeye walone. Li ci k' aveut trové « Rubîplaece », surmint. Ci n' sereut nén målåjhey por lu di trover l' cwacwa di « Målrixhea ». « måle », c' est on vî bodje tîxhon ki mostere come on grand ståve po les tchvås. Il egzistêye e walon dins « Flemåle », « Hermåle », evnd. On « rixhea », c' est on ptit ri, e flamind, ça s' dit on « bek ». Si tos mes advinaedjes estént bons, Målrixhea sereut discôdé e « Målbek ». Et li caberdouxheu î freut bråmint moens di damaedje k' a Choumane, ca Målbek, c' est ene bén pus ptite eståcion. Et l' bastimint di l' Urope sereut insi al coete, a sopoizer ki l' tchedje soeye vormint nouzome.
Asteure, po mostrer a mes tchîfs di Brussele ki dj' esteu dins l' bon, dj' elzî evoya ossu on messaedje telefonike a pårti di l' axhlåve da « Abdeliket ». I djheut çouci : « vos årîz dvou schoûter m' grand fré. »
Insi, di onk, si tote mes refleccions estént des fortuzaedjes, et k' i n' si passéve rén dmwin, les federås n' compudrént rén å messaedje. Tot å pus vont i afougnî li dmorance do lomé Abdeliket, mins sins mete li mwin so åk di disfindou. Les messaedjes inte lu et l' Måtchî n' åront stî k' on djeu. Li scrijhaedje walimarokin, c' esteut kécfeye po m' mostrer k' i savént mo bén ki dj' aveu hacné leu telefone. Dji dvreu djusse trovrer ene esplikêye si on m' dimandéve cwè po les trôs dins l' cagnote. Mins, come dji vos l' a dit, on a l' droet di n' nén responde a çoula, si c' est trop riské po les racuzeus ki vos ont dné on côp di spale conte ene pitite dringuele.
Di deus, s' i gn aveut ene atake a Målbek dimwin, dj' aveu tot djusse. Dijh so dijh, et les proficiates do djuri. Adon, dji rireu al DST avou totes les prouves. Dj' esperéve monter pus hôt dins l' schålance del måjhon (on n' kinoxheu nolu pus hôt ki ses copleus et ses dzeutrins direks). Et fé taper so les doets ås deus harlakes « frankeufeunes » di m'-n ekipe, ki m' avént tofer fwait passer po èn eriré payizan vinant d' on retrôclé hamea. Et rabaxhî l' uzaedje do walon.
C' est l' pont « deus » k' esteut bon. Dj' aveu veyou djusse. Ene bombe potcha al sitåcion Målbek li londmwin a nouv eures å matén. Cwénze moirts.
Cwand dji rala al DST, ki dj' î aveu stî ahoukî éndjolicmint, dji n' veya nole djin coirzenoxh. Dji fouri rçû pa des robots ki m' fijhît schouter èn eredjistrumint, fwait pa cåzaedje årtificiel. Ey e walon, cobén !
On m' meteut e londurants condjîs tot ratindant des novelès instruccions. Les rîles do mestî (clôre si djaive, evnd.) dimorént d' aplicåcion. Dji candjreu d' limero d' telefone, mins co wårder mi fåsse idintité. Dji pleu dmorer el Beldjike ou voyaedjî foû payis, mins todi esse atôtchåve.
Å coron do messaedje, gn ourit on ridant ki s' drova, et dj' î trova on novea sûtifone, et l' prumî paspôrt å no da Abdel Hansinet. (Paski, tot l' tins k' dj' aveu dmoré el Beldjike, dj' a veu djusse yeu droet a ene cwåte d' idintité).
Et la l' cayet, la, mes djins.
*********************
Vola pocwè ki dj' so asteure a Agadir, a ascoyî li ptite binamêye djin ki vos cnoxhoz cåzu ostant k' mi (dj' ô bén : foirt waire). Magali. Magali comint ? Louke tu lådje : ti n' sai ddja s' no d' famile ! Ele nel mete nén so s' pådje Fesbok.
Magali k' est la dvant mi. Ki mi stind s' mwin, ki sere li minne, mins sins efoufiaedje. Ki m' rabresse come al dicåce, troes côps so les tchifes, al môde walone. Pu si rtourner viè deus comeres k' el shuvèt : « vocial Abdel, on vî soçon, ki nos va fé discovri l' Marok come nou tourisse n' î a måy rôbalé. Et on cråne coujhnî, paret. Abdel, dji vs prezinte mi sour Djuliye, et m' bele-sour Djowele. »
Diåle m' evole ! Deus marayes di rawete po vni tni l' tchandele ! Si bele-sour ? Li sour di si ome, u l' feme di s' fré ? Por mi, ça candjive totafwait.
C' esteut çoula l' sorprijhe !
---
Lucyin Mahin, scrît e 2017
Novele nén eplaideye
---
Le remariage sera-t-il heureux ?
Rimariaedje
Dj' åreu polou esse Djone Fidzeråd Kenedi…
Mins èm deujhinme mariaedje, c' esteut purade li ci da Djåclene et Onassisse. Sintoz bén ! Dins onk des pus beas otels di Djete. Li noice kiminçant a ût eures al nute, et nén co tote houte ås aireurs do djoû. Zûnant come trawêye shijhe !
Djusse li nute di noices, c' esteut purade èn åmatén. Mins a 45 ans, hodé nåjhi et ene miete berzinke, ti n' as pus tant håsse d' onorer t' novelmint feme troes cwate côps d' erote, come dji m' rapele a m' prumî mariaedje. Mins adon, a onze eures, les maryîs avént l' droet di saiwer evoye. Et les ôtes houkîs estént priyîs d' endaler a ene eure å matén, ca l' famile diveut co rarindjî li ptite såle del pårotche di Montniye, prustêye pol ceremoneye.
Copuvite ki, ci côp cial, dj' aveu ddja stî vizité l' naxhlote di m' crapåde dipus d' ene feye divant. Dj' ô bén ki l' årmå aveut ddja stî bén edåmé dvant cwatre eures.
Leye eto, do hôt d' ses 35 ans, ele loukive l' årtike come on cougnet, mins a vni djusse divant di dveur baguer del tchambe a nonne, après on bon soume.
Mins si nos fréns ene miete les prezintåjhes.
Mi, c' est Pierot. Awè  ! Binåjhe di vs conoxhe  ! Pitit diplome di tecnikes comierçåles, mins grande apriyesse come ahesseu des grands botikes. Des pris imbatåves, mins al condicion ki dj' poye vini mi-minme arindjî les martchandeyes dins les raiyes do vindeu. Dj' atchtêye mes prodûts ås zivercôfes. Tourkeye, Honconk, Nonne-Afrike. Dinltins, todi. Po l' eure d' ådjourdu, cåzu ttafwait el Chine. Mins nén del tchinisreye. Dji va mi-minme viziter les fabricants. Et lzî amôdurer leu prodjuhaedje, s' il astchait.
Dicwè ki dj' vin  ? Tolminme cwè. Des scançons amerikins ås djouwets d' efant, e passant pa les sint-bon et les payeles ås restons. Mins djusse deus troes ans po on metou prodût. Ca adon, gn a des ôtes k' ont sayî l' minme wangnaedje. Mi, dj' elzès lai cmagnî inte zels et avou les grands botikes po co fé baxhî les pris. Tant k' a mi, dji passe a ôte tchoi. Martchî cnoxhou, martchî fotou.
Mi mayon – mi feme e plin mariaedje asteure - : ene påstaedjresse di s' mestî. Mins avou on don po l' decoråcion. Ene årtisse dins çou k' ele prustixh eyet prezinter. Ele vént d' Tunizeye. Elle end est ossu a s' deujhinme ome. Dji l' a rescontré a l' espo d' Sevile. Ele tineut on stande e paviyon tunizyin. Responsåve des dresses di wasteas et d' biscûtes di ladrî. Ele m' a fotou l' côp d' cote. Deus troes radjoûs, ey on coûtchive eshonne.
Mins après, ç' côp la, faleut raler tchaeconk di s' costé, ey arindjî tchaeke ses papîs po les deus divoirçaedjes. Mi, ça aléve co. Dj' esteu ddja oficirmint e « schåymint d' coirs ». Mins leye, si ome ni lyi vleut nén dner l' divoice. Nén k' i tneut a leye, shonne-t i – i nd aveut ddja des banslêyes del gåtche mwin. Mins c' esteut ene maneuve po l' oblidjî di dmander on divoirçaedje « xhoulaayî ». Dji t' lai divoircî disconte mi volté, mins adon, dji n' ti doe nén ene crombe mastoke. Ni mitan del måjhon, ni pårt dins l' påstaedjreye, ni pinsion amagnrece.
Come dji lyi aveu ddja monté on botike di mitchotreyes avnowe Louwisse a Brussele, ele ni pierdeut nén tant. Copuvite ki les tourisses si houwént do payis, après les disduts do pretins arabe. Foiravant les Francès, k' estént må veyous d' aveur volou avoyî des sôdårds po disfinde li prezidint hapeu Benali, å cminçmint del revintreye. Zarzisse, la k' il avént leu biznisse, esteut divnowe ene moite veye. Les otels estént vudes ; adon, pupont d' grossès cmandes di påstaedjreyes di lucse. Et c' est nén tot vindant do pwin å pris rastrindou do govienmint k' il alént poleur wårder leu trén d' veye come divant.
Dabôrd k' a Brussele…
Zahiya – c' est s' pitit no – a-st accepté l' martchî. Et aboirder avou s' kipak a Zaventem. Pu enonder li boledjreye del rowe Louwisse – k' esteut co a m' no, adon.
Mins après les troes moes di s' viza, i faleut tuzer ôte tchoi por leye aveur si cwåte di dmorance. Adon, on s' a metou « oficirmint aplakés », poy ki mi, dji vneu d' aveur mes papîs d' dismariaedje.
Insi, on viereut bén si l' vicaedje eshonne aléve roter. L' amour ça prind come li schite ås veas. Mins l' mariaedje, c' est sovint on begnon d' troyreyes saetchî pa deus grossès biesses. Bataye di topets et acaimaedjes di rawete.
Portant, nozôtes deus, totafwait ala å pair des ponces. Nole djalotreye, come c' esteut sovint l' cas avou l' Birdjite, mi ecse. Dji pleu aler po cwénze djoûs el Taylande po-z î fé handele, n' aveut ni kesses ni messes cwand dji raboirdéve. Tot do contråve. Elle esteut å setinme cir di m' vey rariver. Et les nutes d' après, c' esteut mî ki l' camassoutra.
Totès rôzes et totès viyoletes, dabôrd ?
Tådje vir ene miete divant d' cåzer.
***************
Dedja, ås noices, dj' aveu trové k' elle aveut passé mo do tins avou les djins d' ses djins, sins prinde asteme a mes invités. Tos cuzéns et cuzenes. Sacwants vinous d' Tunizeye esprès. Mins co pus di Paridjots. Ki n' avént ki l' gueuye. Avou nozôtes, les Walons, peter l' francès come n' a nouk ki l' såreut tchamårder, ni a Brussele, ni a Tchålerwè. Mins, inte di zels, todi flamter dins leu langue. Et ti, nén ddja saveur s' i t' préjhént ou s' i t' discåzént. Ou t' dire des påters di bourike !
Po dire li veur, dji n' a nén yeu l' tins di pinser la si lon, li swerêye des noices. Elzès fåt shuve, hin, ces djins la, cwand fwaiynut leus ceremoneyes. Cénk côps d' erote ki l' marieye a candjî d' cote. Et tchaeke côp fé ene rintrêye dins l' såle do banket avou l' orkesse ki boerléve les muzikes d' avår la. Pu s' aler ashire so on trône, et ratinde ki totes les djins di s' costé vegnnuxhe fé tirer leu portrait avou les maryîs. Tantea k' mes houkîs s' prindît eto å djeu, et ça fjha l' dobe di fotos. Pu avou tchaeke novele rôbe, gn aveut on novea plat, apoirté pa cénk gårçons d' såle, moussîs come les sierveus da Solimane li Mirlifike, li grand zultan del viye Tourkeye.
Après aveur betchté les plats, totes les djonnès feyes – nén tant les valets – si levént po des dansaedjes ki n' è finixhént nén.
Pu ridiscandjaedje, pu ri-djoyeuse-intrêye, pu rissawraedje d' èn ôte plat. Pu ridansaedje.
Å restorant k' elle aveut volou louwer a Djulénrou, gn aveut troes astaedjes rén k' po nozôtes. Li såle di mindjaedje et d' dansaedje des priyîs, c' esteut å ré-d'-flaxhe. Ki, cwand il ont-st amoenné li bedot rosti, avou des blamantès tchandeles plantêyes sol plat, ki spitént leus vivetes eviè l' plafon, dj' a yeu l' hisse di m' veye. Ca après les aparexhants sômîs pindént tos vwelaedjes ki Zahiya î aveut fwait agritchî, a môde do trô d' Alibaba. Les blawetes alént aduzer ces firlotchaedjes la, et dj' aveu bén sogne k' on n' fotaxhe li feu al cambuze.
Våt mî aveur li feu al buze k' al cambuze !
Li feu al buze, gn a bråmint des priyîs ki l' ont-st avou cwand il ont monté å troejhinme astaedje al fén del shijhe, inte li mechwi eyet l' dessert. Gn aveut la des hosseuses do vinte tunizyinnes. Dj' åreu volou k' t' åreus veu leus belès grossès coxhes vini briker foû d' leu long cotrê, avou ene plinne findaxhe sol costé. Et leu vinte tot nou ki hoskiyive come totåtoû d' leu botroûle. Avou leu coir clintchî lanwoureuzmint e-n erî, et leus bresses ki bloncént londjinnmint, come ene feme-sirinne ki naiveyreut so s' dos.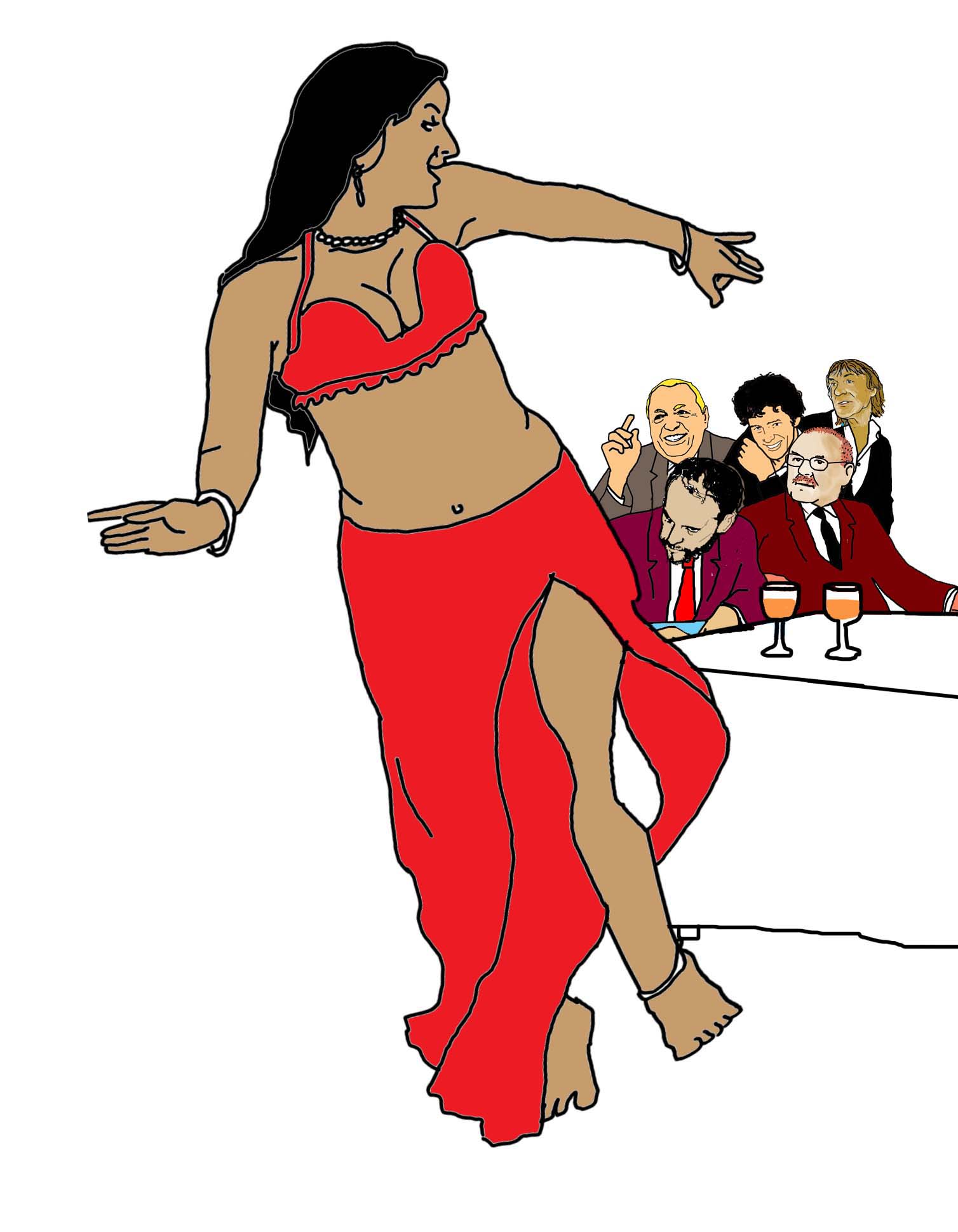 (dessén da Djozé Schoovaerts)
So ç' tins la, les comeres, zeles, estént å deujhinme plantchî, ki s' rassapinént avou totès sôres di ptits wasteas, biscûtes et gougouyreyes å souke, a môde des payis d' Afrike bijhrece.
Gn aveut rén d' walon dins vos noices, m' alez dire. A siya, ça ! Al comene, di l' après-nonne, c' esteut mes djins k' estént les amuzeus. Al rexhowe del såle des mariaedjes, ene trope di djîles d' El Lovire nos ascoyît avou leus taburins et leus ploumas, k' arlochént come e-n on vraiy djoû d' cwarmea – di carnaval, dit-st on, nozôtes. Et les cmeres fijhént les mascarådes padrî, et taper des belès flotchêyes di soukes di bateme ås efants, ås vijhéns et a tos les rwaitants.
Ey après, si rapoûler å cåbaret « Å vî Dårmè », inte plankets, sins les femes, po rbroûler m' marone. Ribroûler, di dj', ca dji l' aveu ddja broûlé a m' prumî mariaedje. Ci côp ci, dji l' a abaxhî podbon, et l' hiner d' on lan dins l' feu e l' aisse, k' on aveut resprindou po l' ocåzion. Li ceremoneye bén ramouyeye al « bire di Såjhon », ene cuvêye a pårt ki dj' aveu cmandé al bressene di Djanmiou, avou ene etikete especiåle « Pierot eyet Zahiya; bounès noices ! ». E walon sol papî, come di djusse. Ey avou on foete inte nos deus vizaedjes. Pocwè on foete et nén on cour ? Paski m' binamêye mi bassinéve ki, addé zels, li cinte di l' amour, ci n' esteut nén l' cour, mins l' foete. A on veyou-voltî – ou ene veyowe-voltî -, on dit « mi ptit foete » et nén « mi ptit cour di boure ».
Mins wice vass cweri les brokes, hê, ti, po fé des sfwaitès noices ? Ele t' åront costé tchir et vilin, sins manke.
Dji vos a ddja dit ki dj' esteu li rwè del vindince. Dj' a cmincî m' cårire avou les soucrådes po ls efants. Dj' esteu co tchîf di raiye å « Côrete », mins la ddja ene hapêye ki dj' aveu les pinses di m' mete a m' boûsse. Li dimegne, estô d' aler djouwer å tenisse avou mes cousses, dj' epontéve les otovoyes, disk' a Mondjoye, Djulé et Cologne. Et-z aler fé martchî avou des fabricants d' boubounes. Des djonnes k' ataként dins l' mestî come mi, et ki boutént l' dimegne tot parey di del samwnine. I m' shoflît des pouces e mi oraye, et m' consyî di mete des distribouweus otomatikes dins les scoles et les buvetes des plinnes di djeu. Dj' î radjouta les clubs di spôrt ki cmincént a-z awè del djin, di ces trevéns la.
Tantea ki, shijh moes pus tård – dj' aveu-st a schipe 21 ans -, dji divneu patron di mi Soce di Mierdjin al Rastrindowe Responsåvté, SMRR. Vos cnoxhoz mî li sike e francès, SPURL, si djel tén bén.
Après deus ans, come dedja dit, dj' a leyî a ds ôtes ci naxhe la di machine ås soucrådes. Et-z atchter des gougouyes di foirt pitite cogne, bén ewalpêyes, a mete divant les ridoes-caisses dins les grands botikes. Et les efants pîler « Moman, dji vôreu bén on Minimåsse ». Ou ene boeslete di troes tchicletes. Po-z awè l' påye, li mame les tchôkive dins l' tcherete. Pierdowes å mitan del djivêye di l' addicion, les mini-boubounes ni mostrént nén k' ele costént troes côp pus tchir ki les minmes, atchtêyes dins les reyons. Et mi s' rimpli l' taxhe, et vey houzer si conte el banke.
Cwand des ôtes avît l' minme idêye ki mi, dji candja d' prodût, avou des ptitès botayes di gote, atchtêyes direk a l' alambikî, el Grande Dutcheye. Avou co des distribouweus di ptits pakets d' cigaretes. C' esteut li cmince do zûna « foumer vos pout touwer, rastrindoz vos ! ». Tot çoula, todi a l' intrêye des caisses ezès grands bazårs.
Dj' esteu ddja maryî avou Birdjite – mi prumire feme -, et nos deus valets divnous des refoircîs gaméns, cwand dj' ataca avou mi atuze di plaecî les martchandijhes mi-minme ezès raiyes. Dj' ahavta on contrat mirlifike avou l' tchinne di grands botikes « Delhesse ». Pu avou les « Côrete ». Tantea ki, li djoû di m' rimariaedje avou Zahiya, dj' aveu ene vintinne d' eployîs k' ovrént por mi djouremåy.
Come eterprijhe-djermon, dj' elzès pleu payî å mwinre salåre. Et co awè des aprindisses mitan sol conte di l' ONEM. Li gros des wangnes, c' esteut co po bibi. Tot fjhant pårt di fré avou les Contribucions, ca dji n' a måy frawtiné d' on cene d' uro avou ces djins la.
« Trop oniesse ! C' est ça ki t' piedrè », mi pirlodjive-t ele, Zahiya. « Bon et biesse, ça cmince pal minme lete. »
Leye, avou s' boledjreye a Brussele, ele fijheut do noer a crever – såf vosse respet. Mins zels, come novea comiece, il avént troes ans d' bon divant d' esse ricontrolés. Après 35 moes et 25 djoûs, ele rivindeut tot l' handele a èn ôte Tunizyin, k' åreut eto troes ans d' bon sins fougnaedje fiscå. Et hay ervoye, tofer, al ribolete. C' est l' pus malén k' atrape l' l' ôte.
***************
Li djoû k' dj' aveu rbroûlé m' marone a Dårmè, mes cousses m' avént balté assez å dfwait del cogne di mi scançon. « Al viye môde come les cis da bon-popa Tur », aveut i dit onk. Dji m' è rapelrè todi.
Les prumirès anêyes di m' deujhinme lîtêye, Zahiya, po m' ristombyî cwand dj' rarivéve nåjhi-scran d' mes voyaedjes, si prezintéve a mi avou del lindjreye di coir a fé tinkyî on moirt. Cwand ele rivinda si påstaedjreye a Brussele, ene crawieuse idêye m' aspita el tiesse. Pocwè n' nén fé ene coleccion d' fene lindjreye avou ene marke da nosse ?
So ene samwinne di casmint d' hanete – les Inglès diynut do « brain-storming »- ; après 7 djoûs di timpesse di cervea, dabôrd, li pordjet esteut mier-ebridlé. Nosse marke si lomreut « Dorsaf-Mayot ». Di « Dorsaf », on ptit no pårmint tunizyin ki vout dire « djowion ». Po continter m' feme. Tant k' a mi, dji tuzéve dedja å martchî almand, la ki « Saft » – li djus, li seuve - freut pinser al seuve k' assûne foû des bôlîs å bontins. Ås åbes ki boutnut, al veye ki djete. Li seuve ki stritche del schoice di l' åbe, téle on coir di cmere codou a tinrijhon. Et nosse « mayot », po ls Almands, ci sereut respliké pa l' iye di Mayote, on paradis des tropikes.
Po schaper ås contribucions – ki m' rihapèt on gros tîce di mes wangnaedjes dins m' handele avou les grands bazårs – on freut des vintes ezès måjhons. Zahiya trovreut deus båsheles mankins, des sins-papî, ki serént payeyes al pîce vindowe. Ele kinoxheut ddja ene djonne Moldåve ki tchåsreut les coleurs di sotént-goidje po complaire åzès blondes. Des Walones di stok, bråmint avou des nos flaminds, portant. L' ôte, ene pitite Marokinne, dureut azès pus noeres di tchveas. Ca gn aveut toplin des familes itålyinnes, et des harkis aldjeryins, dins nosse vijhnåve, et co pus lon après l' Borinaedje. Ci sereut cesses-lale nosse prumî adierça. Les prumîs « pexhåves », k' on aprind a dire å cours di marcutigne.
Les sayaedjes et vindaedjes divins les måjhons si frént inte kimeres. L' ome did la et mi, on-z ireut boere on vere å cåbaret del coine. Ou s' rastrinde dins ene tchambe å prumî plantchî, cwand c' esteut des manaedjes grands assez po ça. Ki : pus d' on côp, les omes alént båcter pa on trô d' sere po-z adouyî l' defilé des donzeles cåzu miernowes. End a minme onk k' aveut metou ene camera guigne-djin et ki s' a abuvré les ouys – et pårti l' plaijhi avou mi – tote li shijhe å long.
Cwand on a yeu nosse marke, on a fwait fé l' imådjete pa des studiants d' Sint-Luk a Tournai. Li prof, on vî copleu d' umanités, lezî aveut dné çoula come divwer di vacances. On n' a yeu k' a relére li meyeuse.
Po les modeles, on a bén dvou payî ene estilisse di mestî. Mins c' esteut ene ki dnéve sicole a l' Univiersité do Travay del rowe di Cossoû a Wandjniye. Leye eto les a adiercî avou des nouvès idêyes di ses scolresses. Ey ele ni nos a nén conté des pris foû-mzeure come ene k' åreut yeu stî a s' crosse.
Nosse dossire industriyele fene presse, dji m' rinda el Chine po trover ene oujhene di costuraedje. Et naxhî après l' cene ki m' dinreut l' meyeu rapoirt cwålité-pris. Ça a stî l' pus rujhûle di mes martchotaedjes avou les Chinwès. Bråmint pus målåjhey ki tos les prodûts ki dj' aveu ddja fwait rivni po les « Delhesse » ou les « Côrete ». T' end aveus des bonmartchîs, mins k' alént toumer a firlotches al prumire bouwêye. Et des hôts d' game, mins k' alént rivni trop tchir po ene novele marke come li nosse.
Po nozôtes fé baxhî les pris, dji dva fé fabriker on plin contneu d' pîces, cint meyes å totå. Tot m' sint-Friskin î aléve passer, ca Zahiya ni vleut mete ki 50 åcint di s' tcheté, rascodou al vinte di s' påstaedjreye. Swè-dijhant k' ses parints estént malådes, et k' ele diveut wårder ene peme pol soe.
Li contneu ås cint meye pîces, on l' a rçû a Anverse. Payî les dwanes eyet l' TRV, li Taeye sol Radjoutêye Valixhance, djans. Adon, on pola distcherdjî. Dj' aveu louwé deus grands gurnîs di stocaedje a Fleuru. Il estént bôgyîs a stritche cwand les deus gros camions d' tcheriaedje ont yeu stî vudîs.
Vos m' alez dire ki dj' esteu franc come on tigneus di m' ehaler d' on hopea d' martchandijhes inla, et k' dji n' saveu ddja si ça s' vindreut. Oyi, mins gn a ça d' bea avou des ptitès coulotes, sotént-goidje et nedjetes : gn a pont d' date di forpassaedje. Et nole AFSCA po vey si l' prodût n' est nén trop vî ou plin d' måhaitîs prodûts tchimikes.
Al fén des féns, so deus troes ans d' tins, on a likidé les deus tîces do moncea. Et trover des comeres ki rvindént zeles-minmes a leus soçones – ene miete pus tchir ki nozôtes – et mete li ptit benefice e leu taxhe. Et les soçones k' on-z a dit, pa des côps ossu a des cuzenes did pus lon. Et hay vos nd åroz. Li vindåjhe piramidåle, k' on lome çoula. Nosse mame fijheut ddja çoula avou les « Touperwair », dinltins.
***************
Totafwait aléve come so do papî al muzike. Dji raveu mes måyes; mi feme aveut rtrové si prôpe cagnote. Avou l' TRV, dj' aveu fwait bouf tot djouwant so les pris des facteures. Nén Mouze et les vås, ca c' esteut cåzu totès pratikes nén assudjeteyes.
Les prumirès eguegnes avnît cwand on n' pola pus shuve tos les mostras-vintes coirzenoxh. C' esteut les båsheles-mankins k' epoirtént l' martchandijhe et ramoenner les nén-vindous å depot. Eyet s' siervi sol voye, po ls aler rvinde zeles-minmes et mete les liårds dins leu taxhlete.
On a cayî les sins-papî a l' ouxh, et regadjî deus ôtes glawenes. Ene Bulgåre, ey ene Rouminne di stok djupsyin - li blonde eyet l' brune, come di djusse. Avou les novelès lwès sol martchî d' l' ovraedje e l' Urope, on lzî pleut ofri on contrat dins le regues, siné pa emile dins leu payis, la k' gn a bråmint moens di lwès sociåles. Après shijh moes, on lzès revoyive et fé rivni des ôtes, a môde des ovrîs al såjhon.
Zeles, ele vinént d' ene sicole di comiece. Ele parafént les bons d' rexhowe, et Zahiya aléve aveuri leye-minme les rintrêyes e magazin. Et lzès mancî ki, s' i gn aveut li pus ptit trô dins les stoks, on lzî dnéve leus ût djoûs, et lzès mete å tribunå dins leu payis. Dj' esténs schapés di ç' costé la. Djamåy li mwinde aroke.
Mins, sapinse a Hinri Måltchance, li ci ki n' a pus nou mehin è ratind.
***************
So tot ç' tins la, mi ovraedje avou mes dijh, cwénze eployîs et l' tchinne Delhesse continouwéve. Dj' aveu leyî ouve avou les « Côrete », ca i m' dimandént trop di rvént di rva po raloukî tchaeke côp les raiyes. Gn aveut les concurints ki rpassént après mi, rarindjî l' raiynaedje, et rplaecî leus prodûts åzès meyeusès plaeces.
Mins, après cénk ans d' traeyin, dji n' aveu pus droet ås advintaedjes des cminçants. Mes ovrîs estént tertos avou des contrats normås. Li wangnaedje n' esteut pus si fel, mins gn aveut co po fé. Dji n' mi plindeu nén.
Ariva l' djoû ki n' åreut måy divou ariver.
***************
Nos esténs e vacances a Sint-Domingue, mi feme et mi. Vos fåt dire k' ele vleut tofer aler e condjî å solo, ca ele si plindeut di roumatisses totavå. Et d' on må a s' dos djamåy parey cwand c' est k' ele dimoréve tot l' ivier el Walonreye.
On bea djoû å matén – dji di « bea », c' est afwaire di djåzer, ca c' esteut pår on noer djoû -; èn åmatén, di dj', les botikes « Delhesse » m' anoncèt platezak dins ene mailete k' i metnut fén a nosse contrat d' ahessaedje-metaedje-ezès-raiyes. Èn acoird, vint ans vî, foirt advintaedjeus por zels. Et ki dj' n' aveu måy fwait riscrire, biesse di gregne, ene sakî. Li lete ricmandêye oficire aveut ddja stî evoyeye a m' måjhone et sinêye dins les regues pa m' pus vî des fis, responsåve pol societé.
Dj' a manké d' toumer d' ene astårdjeye. Mins mi, mes doze raiyneus k' dj' aveu e plin contrat, dj' elzî dveu dner leu C4. Et les payî tote al dilongue di leu preyavis. Ene grosse anêye durant po les pus ancyins. On tiene di liårds dispinsés a målvåt.
Biesse di gregne, di dj', ki dj' a stî, cwand dj' a-st arindjî l' contrat avou les Delhesse. Fô veråt, mi, di n' nén awè tuzé a ene clawe di fén d' boutaedje-eshonne. Biesse, ca biesse ! Biesse a magnî do four ! Mins dj' esteu djonne adon, a poenne 25 ans, et dji n' veyeu k' rôzes et viyoletes tocosté. Dj' aveu yeu-st a fé a onk di mes ancyins soçon, ki m' veyeut foirt voltî. Mins dins l' biznisse, i gn a pont d' camaeråde ki tegne ! Asteure, tel sais bén. Mins vo t' la crås avou ça !
Dins m' paradis des tropikes, dj' esteu fén disbåtchî. Dji racatuzéve tote djoû. Dji n' doirmeu pus. Dj' a tûtlé sacwants côps ene plinne botaye di wiski del shijhe, ey awè må mes tchveas li londmwin å matén.
C' est adon ki Zahiya ava-st ene cråne idêye. I nos dmoréve ene pitite samwinne a passer a Sint-Dominke. Pocwè n' nén monter on botike di mayots d' bagn ciddé ? Il î fwait bråmint pus haitî k' el Walonreye. Avou l' tchôd solea, mi mwetî n' åreut nén tofer må s' dos. Pinséve-t ele, leye.
Come vos l' savoz ddja, dji n' so nén djin a leyî tchamossî les cayets. Nos dierins djoûs d' vacances, estô di tchåfer ses warbeas å solea, nos avans fwait l' toû des botikes ås nedjetes po vey cwè po les pris. Et scarwaitî les modeles k' il avént ddja.
Kinoxhant mes ahesseus chinwès, d' après mes carculaedjes al vinvole, ça dveut poleur aler come livea d' benefices.
Sol pî sol tchamp, nos alîs trover on notåre – ki c' esteut ene notårrese - et lyi prezinter nosse pordjet d' askepyî ene societé lomêye « Dorsaf-Sindo ». « Sindo » po « Sint-Dominke ». Mins, inte di nozôtes soeye-t i dit, eto po « sins må l' dos ». Ene clignete al croke da Zahiya.
E rarivant a Gochliye avou l' avion d' Sint-Dominke, dji raveu ene miete d' ahé. Ca on aléve revoyî ene pårt des stoks did vaici a Sint-Domingue, copurade tos les costumes di bagn. Dji di « costume » po dire åk, ca ces stroets bikinis la ni raviznut waire les costumes k' on aléve atchter ezès botikes di mousmints cwand on s' rabiyive po fé ses påkes ou pol dicåce.
Oufti ! Viker on gros boket d' l' anêye å slo des tropikes, a môde di « dolce vita », lon del crouweur do Payis Noer. Lon des plouves ki nel låtchnut pus, minme e l' esté. Lon des brouheurs di l' erî-såjhon. Lon des nives et des brexhlaedjes å rlén. Lon des gurzeas – veas d' måss et bikets d' avri – tins d' çou k' i oiznut lomer « bontins ».
Li sorlondmwin, li notårresse dominikinne m' emiléve les statuts del « Dorsaf-Sindo ». Gn aveut k' a ls imprimer, les siner et les revoyî pal posse, ca li lwè vaila vout des documints avou ene vraiye sinateure å bik. Houte di çoula, li directeur di l' otel, la k' nos avéns stî e vacance, nos av prometou on magazin dins s' prôpe haswè. Bén metou dins l' galreye ås werenes a l' intrêye di l' otel. Dji lyi a remilé po k' i n' roveye nén si promesse. Eyet lyi dmander di m' fé parvini, sins tårdjî, les papîs d' louwaedje.
Dj' a don rfwait ene kimande el Chine po des noveas mayots. Beacôp pus classikes, di plinne pîce. Paski pocwè ? Po-z aconter les noveas tourisses vaila, ki vnèt des payis arabes del Gofe, la k' les comeres ni polnut nén aler bagnî. Ele ni s' discovtèt nén come les Amerikinnes ou les cenes d' avårci avou leus bikinis k' on lzeu voet tot l' brodî ki stritche foû. Po leus omes, dj' a ricmandé ossu des cis a môde di bermudas, puski leu rlidjon lezî cmande d' aveur tote li djeronêye rascoviete, del cingue disk' ådzeu des djnos.
Dins l' minme contneu, i metrént eto les meubes di roistaedje, les « poite-mantea » et les mankins d' plastike po håyner l' martchandeye.
Oufti ! L' ivier sereut tchôd. Li solea, et li rvén li rva po-z enonder nosse traeyin.
Dj' aveu payî les preyavis a tos mes ancyins eployîs, provizioné l' paymint ås Chinwès, et dj' aveu co po vey vini. Ci côp ci, mi feme n' aveut pus rén rmetou dins l' pote, paski, sins moutouwele drola, ele dijheut k' i nos faleut ene caisse di såvrité. Ci sereut leye li caissire.
***************
Dierinne Tossint el Beldjike. Dierinne ? dijhans todi kécfeye ! Aler mete des sinte-Catrene so les tombes di mes djins a Tchapele et a Beamont. So ç' tins la, Zahiya – ki n' vout nén moussî dins ene eglijhe ni ene cimintire avou des croes – s' ocupéve di rimpli l' contneu po Sint-Domingue. Li ci k' endireut d' Anverse. On laireut cwanlminme on restant d' martchandijhe el Walonreye. Zahiya aveut trové deus djins ki continouwrént a vinde sol Beldjike eyet l' Almagne. Onk di zels esteut d' Neyåw, et cåzéve ossubén l' almand ki l' walon.
***************
Emey nôvimbe, nos rarivîs, francs come Batisse et Mareye, a Sint-Dominke. C' esteut po-z aveur ene coûte djoye.
Prumirmint, li notårresse n' aveut seu fé eredjistrer nosse societé. Paski les papîs del Walonreye di cogne A4 n' estént nén del minme grandeur ki les cis d' tocial. Portant, elzès lomnut sifwaitmint « A-cwatro ». Diåle m' arawe ! Avou ça k' i nos faleut mete nosse parafe so tchaeke foyou, çou k' on n' aveut nén fwait. Nozôtes, el Beldjike, on sene djusse al fén des papîs. Pont di statuts rashious å Ministere do Comiece, pont d' limero å Redjisse Nåcionå des Comierçants, leu fameus RNC. Erré-enné-cé, sapinse a yeusses. Pont d' erré-enné-cé, pont d' louwaedje di botike ås werenes di l' otel.
Oyi mins nonna ! Pocwè ki l' notårresse et l' directeur di l' otel ni nos avént nén remilé l' novele ? Li notårresse : « Bén on pinséve ki vs avîz rnoncî å pordjet, come on n' aveut rén rsepou d' vozôtes ! » L' otelî, k' aveut rlouwé a èn ôte, on crås Amerikin, avou on sorire do gros des dints : « Li ci ki n' a nén s' dit et s' disdit n' est nén d' avår ci ». Nodiblu ! Nén onk a rlever l' ôte ! Nozôtes, cwand on bouxhe on martchî djus, c' est do stocaesse. Godferdom di nottotoute !
Deujhinmmint, li contneu d' Beldjike arivé et drovou, les dwanîs trovît, ådzeu del martchandijhe diclårêye, totès sôres d' ahesses ki Zahiya aveut muchî dins l' fond. Des mousseures – des belès djalabas et caftans atchtés mon des hôts costurîs tunizyins d' Paris -, des savonreyes di lucse, des tchirès sinteurs, et tot on tchinisse d' ahesses di manaedje. On-z a dvou payî l' dwane eyet l' TRV so tos ces agayons la. Et co ene aminde po frawtinaedje, al copete do martchî.
Troejhinmmint, cwand l' contneu d' Chine a-st arivé, li dwane a co trové totès fåssès råjhons po dire ki ci n' esteut nén tos prodûts del Chine. Por zels, end aveut ki vnént d' Årdjintene, oudon d' Belijhe. Des payis sins acoird dwanî avou Sint-Dominke. Dj' avans co ristî gadjîs.
Cwatrinmmint, cwand dj' a fwait rivni mi oto d' Beldjike, ene cwate-cwate Vosvaguene, i n' ont nén volou aconter nost argusse. I m' ont dmandé li facteure atchtêye tote nouve, et carculer les droets d' intrêye ladsu. Pu l' TRV. I m' ont co metou so les rnos ene rawete po rashire cisse sôre d' oto la dins l' redjisse des rôlants éndjins, paski c' esteut l' prumî côp k' on veyeut on sfwait tcherwè dins l' payis. Ki c' est totès otos amerikinnes ou djaponesses.
Tot çoula m' fijheut, a tchaeke côp, on fameus schård e m' sint-Friskin !
***************
Cwand dj' aléve al dwane, Zahiya m' serinéve d' elzî stoker l' pate. Dj' ô bén, lezî dner ene boune dringuele dizo l' tåve. Mins mi, dji n' kinoxhe rén a ç' pitit djeu la. A kî l' diner, el dringuele ? Å ptit piyote ki vént dvizer avou vos a l' intrêye ? Å tchîf del brigåde ? A l' inspecteur ? Å responsåve do ministere ? Et må dner les dringueles, ou n' nén dner assez, c' est co on djeu po-z esse gadjî d' rawete po « abribaedje di fonccionaire ».
Houte di çoula, mi fayé espagnol ni m' permeteut nén d' etinde tot çou k' i ragadlént drî m' dos. Li ci ki cåze e m' dos cåze e m' cou, dit-st on. Mins mi, al difén, c' est bibi k' a yeu tot çoula dins s' drîmint – såf vosse respet.
Cwand Zahiya m' pretchive por mi ecråxhî l' pate ås dwanîs, ele mi djåzéve sovint d' on lomé Mansour, on soçon d' djonnesse da sinne, ki dmoréve après Bastogne. I fjheut di l' impôr-espôr avou les payis d' Afrike. I lzî vindeut des ecråxhes po les tchamps, des fiermints po les ståves, des cloteures electrikes et des ôtes pitits ekipaedjes di cinsî, des prodûts fito eyet des droukes po les vatches et les poyes, et tchik et tchak. I pretindeut k' al dwane, i faleut todi aveur des biyets ployîs a cwate, herés å mitan des facteures. Ça rabaxheut cråndimint les amindes, si ene sacwè n' esteut nén d' asgur. Et zels, i trovnut todi des faflotes ki n' sont nén e leu plaece dins les papîs. Spepieus come nén deus, k' i sont. Cwand on vout bate on tchén, on trove todi on baston. I n' fåt k' on mot passé å blanco, et t' es rtchît – k' i m' fwaiynut si må dire ! Et s' i n' trovèt rén, il ont cobén l' hasse di cour di coschirer esprès tes documints, li tins k' ti n' î waites nén.
Mins mi, dj' a stî aclevé dins l' oniestruté. Dji n' mi såreu adure a ces faitindjes la.
***************
Dji n' esteu nén co rsouwé di ç' walêye la, avou les dwanes, ki des nûlêyes d' oraedje, co bén pus traites, aplonként vier mi, et m' atoumer sol tcherpinte. Et s' vinént ele do costé d' Zahiya.
Dispu l' moes d' decimbe, ki dj' esténs å fén mitan des rascråwes, ele ni vleut pus dmorer a shijhner ou moussî foû al nute avou mi. Ele si retrôcléve dins s' tchambe, et tchirlipoter dissu si éndjole. Cwand dji tokéve – pa oniestruté – et-z intrer, djel veyeu k' ele candjive di waitroûlêye. Et mete des fimes e-n arabe. Ele mi djheut, avou des ouys di påkete sibarêye, k' elle aveut håsse di rtrover ses raecinêyes. Di raprinde li tuzance d' avår la.
Dji n' trova rén a rdire a çoula, et broyî m' må. Elle aveut dins les cwarantes. Li måle ådje, sapinse k' on n' dit. C' est ddja a ciste ådje la ki Birdjite, mi prumire feme, m' end aveut fwait vey des vetes et des maweures. Tantea k' on s' aveut dvou dismaryî. Pol bén des efants, djouremåy dins les margayes, aveut on dit.
C' est çk' aléve ariver eto avou Zahiya. Paski pocwè ?
Si swè-dijhant soçon d' djonnesse di Bastogne, ci n' esteut k' on macrô. I hacnéve ses proyes sol telefonreye éndjolike « Scayfi ». Ele s' aveut leyî emacraler d' lu, li ptite Zahiya. A môde do diåle di l' après-nonne ki vént catyî les omes a ciste ådje la. C' esteut èn andoûleu. I lyi dvizéve e-n arabe tunizyin, avou « des doûs mots come a Vervî ». Come dit cisse tchanson la, cwand on est e l' etrindjir, on est tot fir di rôre li lingaedje di s' payis.
Bref a ça, cwand on-z a ralé a Tchårlerwè po Påke, ele li dveut rescontrer coirzenoxh pol prumî côp. Mins lu a dandjreus comprins k' i n' s' è pôreut pus mete cwite après, cwand il åreut coûtchî avou leye ene pwaire di côps. Il a yeu ptchî d' anixhiler l' radjoû. Ey espliker k' il esteut maryî, et k' i n' vleut pus tromper s' feme. Ene feme di låvå, kécfeye, ki n' aveut nén stî a scole, et ki n' pleut nén sorprinde ses målès keures so si éndjole do buro.
Cwand Zahiya comprinda k' il aveut rî d' leye, ele si mwaijhixha tote rodje. Et lyi scrire des påters di pourcea so l' aberteke di s' Fesbok.
Mi, dji m' dotéve d' ene sacwè dispu ene hapêye. Mins, sins prouve, dji n' vleu prinde nole decizion. Mins dj' esteu a l' awaite. Dji lyi evoya e-n esprès on rascråwé emile ki lyi tchôca on laid warbea dins si éndjole. Ele n' aveut djustumint pont rmetou d' antivirûsse. Ele dimora sins copiutrece ene samwinne å long, et aler halcoter so l' cene do buro. La, passant djusse après leye, tot rmontant les hårdêyes di raloyaedje, dji touma sol conte Fesbok k' on-z a dit. Dji veya bén k' elle esteut roede bleuwe sote di ç' Mansour la, po scrire çoula so s' meur, sins tuzer ki tolminme kî, - et mi eto - pôreut lére ses boignes messaedjes.
Cwand dji lyi mostra cwè, et lyi anoncî k' on n' pleut pus dmorer eshonne dins ces condicions la, ele ni trova rén a rdire. Dji n' so nén on boerleu, mins dj' eleva cwanlminme li vwès. « N' ess nén honteuse d' aveur gåté linsi ût anêyes di mariaedje !? ». Ele mi responda cåzu tot m' baltant, come dins l' tchanson des « Droles di Lodjeus » : « L' amour est moirt, il esteut vî ». Et rmete do sé so mes coixheures : « Cwand t' esteus avou tes disdwanaedjes et tes ecrameyreyes, ti n' m' acontéves pus d' ene mastoke. Croess k' ene feme pout insi rawårder des longuès samwinnes å long ki si ome el voye bén vni milouter on ptit moumint ?  »
Elle accepta k' on s' schåye erî onk di l' ôte, mins m' dimanda k' on dmoraxhe bons camaerådes. Dji n' dimandéve ki ça. Djel veyeu co voltî, mågré tot.
C' esteut djusse divant les grandès vacances, ki dj' passa tot etirmint a Sint-Dominke. Dj' î priya mes deus fis, por zels si rpoizer å solo, et lzî atåvler di rprinde l' afwaire del lindjreye. Poy ki dj' aveu rmerciyî les deus omes ki Zahiya aveut plaecî dvins. Eyet co k' mes fis, zels, asteure, il ovrént a mwaisse, dispu l' cloyaedje del handele avou les « Delhesse ».
Li dierin djoû des vacances, al picine di l' otel, mi fi Aernô, tot ploncant dins l' aiwe ene miete waeraxhmint, espita deus djonnès Dominikinnes ki s' restchåfént l' coyene sol boird do bassén. Dji lyi criya d' s' aler escuzer, mins i n' m' etinda nén. C' est mi ki fjha l' comission, dabôrd. Après, cwand i rexha d' l' aiwe après ses 500 metes – c' est on fel noweu -, dji lyi djha cwè. I s' vola eto aler fé pardoner. Et po rpayî s' flotche, inviter les crapådes å dansigne, ci djoû la al nute.
Si fré ni vleut nén sôrti pol dierinne shijhe. Pår k' il aveut atrapé on côp d' solea, et awè s' nez ki peléve. C' esteut trop riskeus d' leyî troes djonneas – on djonnea et deus djonnetes – rôler tot fén seus dins les tchôds coulots d' Babaro, la k' gn a totes les bwetes å danser. C' est on plan po s' fé haper… nén m' fi ni les crapådes, mins mi oto d' 30.000 uros. Cardjakêye pa des baligands ayicyins ki rôlèt dins l' cotoû.
Ça fwait k' c' est mi k' a falou ki våye tini l' tchandele.
Nén tant tni l' tchandele ki ça ! Mi fi n' end aveut ki po ene des deus glawenes, ene cocsante metisse avou des grands brons tchveas. L' ôte aveut ene cogne pus afrikinne, avou ene noere crolêye tchivleure. Nén si nozêye, mins foirt plaijhante po taper ene divize. Djel priya minme ene feye ou deus a danser. Ele si loméve Djiyanoba. Li shijhe houte, ele mi dna si telefone. Dji prometa del rivir èn ôte djoû.
***************
Mes fis alént rprinde li vindaedje del lindjreye el Walonreye. Mins, so ces etrevéns la, Zahiya m' arinna so « Watsape » et m' dimander si ele si pleut co ocuper eto d' aler vinde les féns lindjes. Dji dmoréve so balance. Dji lyi rdireu cwè dins kékes djoûs.
Djel rihouca so s' sûtifone li londi d' après. Les gaméns ni conoxhént rén a pareye biznisse. Valeut mî k' ele lezî mostere les carotes do mestî. Et leye ratôtchî les ancyinnès pratikes. A tchaeke marixhå s' clå !
Mes condicions : Zahiya pleut mostrer l' ovraedje ås valets, mins c' est zels ki dvént tchoezi les båsheles mankins, et tni les invintåres et l' contabilité. Ele divreut siner les papîs k' i fåt po mete les ponts so les I. Ele fourit d' acoird. Dj' emila nost acoird a Aernô, et lyi dire di houkî Zahiya al såle d' espôzucion l' londmwin.
Mins li londmwin sol côp d' nouv eures å matén, cwand mes fis arivît e magazin, i s' loukît lådje. Li botike di mostraedje esteut vude. Et les deus tchambes d' egurniyaedje eto. Et pont d' rotes di voleurs ou di spiyaedje di seres.
Å telefone, dj' elzî djha d' aler al police. Et d' cåler totasteure li comissaire Djandjo Bowel, onk di mes copleus ås djîles al Lovire, divinltins.
Les djindåres on vnou ramasser Zahiya, et lyi dmander cwè et kesse. Ele fijha l' côp des troes mårticots. Rén veyou, rén oyou, rén dit. Li comissaire el laixha passer l' nute e l' amigo. I shonne ki ça lyi a dispierté l' memwere, ca l' londmwin, divant l' procureur do rwè d' Tchålerwè, elle a ricnoxhou aveur vudî l' depot, et dire wice k' elle aveut muchî l' martchandijhe. Les policîs ont stou rcweri tos les cayets, tot creyant k' elle aveut rindou ttafwait. Po dire li veur, gn aveut nén ddja la on dijhinme del contrumasse k' elle aveut zwepé.
Rarivé amon nozôtes li samwinne d' après, dji l' a stî trover et lyi dmander cwè. Elle a co brai come ene madlinne et promete k' ele rindreut tot l' hopea. Mins k' i mel faleut rprinde come aidante et n' nén porshure avou les papîs d' divoirçaedje. On s' aléve racmoide. Tot ridvénreut come divant, et tchik et tchak.
On båbimene, ene sakî, ki s' a co leyî adire. C' est l' veur ki sacwants nutes avou leye cwand on a stî strindou a stok des samwinnes å long, ça våt bén tos les crons acoirds del Daegne. Ezayû aveut bén vindou s' droet do pus vî des fis po ene cråsse eurêye ås lintiles.
Leye, di s' costé, aléve ricweri des pîces a vinde dins s' muchete, k' ele ni m' a nén volou mostrer. Paret k' c' esteut amon des djins d' confiyince, ey ele ni s' vleut nén disdire divant zels. Avou ça k' ele rimeteut tchaeke côp les sôs d' ses vintes divins l' conte el banke del societé. Come c' esteut li pårt del martchandeye dedja payeye, po-z awè l' påye, dj' a co clôs les ouys.
Ça fwait k' on a ricmincî a vinde des ptitès coulotes et des sotént-goidje sol Walonreye ey a Brussele, tot l' tins d' l' ivier.
Après Påke, dji l' a-st evoyî a Sint-Dominke po waitî di renonder on biznesse låvå. Dji lyi a dné l' no da Djiyanoba, ki dj' aveu dmoré e hant avou leye so tos ces etrevéns la. Ele kinoxheut tertos a Babaro, et co bråmint des djins d' l' oreca, disk' el mwaisse veye.
Mi, dji rireu ladrî al fén do moes d' djun.
***************
Dj' a yeu on moes d' djun abominåbe. Nén fok k' il a fwait on tins d' tchén. Èm camaeråde cinsî do costé d' Courcele n' aveut nén rmetou on seu rond botea å prumî d' djulete. Pu t' aveus l' comissaire Djandjo ki m' taenéve li pea po k' dji n' rissaetche nén m' plinte å tribunå. Mi pårlî n' aveut k' a l' leyî e doirmance, tot rpoirtant les seyances. Poy ki Zahiya n' aveut måy rimetou totes les lokes et les ahesses k' elle aveut scarwekî.
D' èn ôte des costés, mi pus vî des fis - Aernô, dabôrd - esteut d' brogne avou s' mayon. Ene di Mont, k' esteut avou lu dispu ene boune troejhinne d' anêyes. I tapéve al diloujhe, et leyî l' contabilité foirt astårdjeye.
Si ptit fré, lu, vineut d' m' aprinde platkizak k' il esteut gai. I vleut k' on fwaiye ene coleccion d' lindje di coir po cisse sôre di djins la. Et vinde sol Daegntoele so ene waibe avou sayaedje éndjolike, k' il aveut ddja apontyî.
Dj' a manké di toumer di m' maclote. C' est åk ki dj' n' åreu måy sitî adviner – jamais d' la vie. Et portant si mame li saveut dispu ses cwénze ans, m' dijha-t i. Ele n' end aveut nén moti; avou mi, todi.
Gn aveut co deus d' mes ancyins eployîs, vinous foû d' leus preyavis et todi sins ovraedje, ki m' mancént di m' fé on procès, por zels co toutchî ene alocåcion di riscolaedje. Leu-z avocåt mi vénve tchanter ki ça n' mi costêyreut rén. Ki dj' n' aveu k' a rataker les « Delhesse » po « pratikes comerciåles foû des bounès dujhances sociåles ». Et ki dj' pôreu minme riwangnî ene pårteye des çanses des preyavis. Mi, dji n' esteu nén tchôd po çoula. C' est l' veur ki les « Delhesse » m' avént djouwé on toû d' rossea tchén. Mins il estént droets dins leu papîs. Dj' elzès vleu bén aler trover, binamêymint, po plaiti po mes eployîs. Mins pont d' tribunå, diåle m' ancate ! Minme si dj' wangneu des tchitcheyes, c' est les pårlîs ki metrént l' gros des petsales e leu potche. On mwais arindjmint våt mî k' on bon procès. Et avou ene boesse come les « Delhesse », ci sereut seur li gros pexhon ki magnreut li ptit.
Avou tos ces tourmints la, dji n' aveu waire di keure di çou ki s' passéve e Sint-Dominke. C' est a schipe si Zahiya di s' costé, et Djiyanoba do sinne, m' evoyént des ptitès videyos so « Watsape » po m' dire bondjoû. Eyet m' acertiner k' ele fijhént leu bouye. Bawaite ! dji sereu la dins kékes djoûs. On voereut bén cwè et come.
***************
Dins l' areyoplane, dj' esteu so des tchôdès braijhes. Zahiya aléve-t ele mete les cosséns so les xhames ? Ele ni m' aveut pus arinné dispu cåzu ene samwinne. Si telefone ni respondeut nén. Gn aveut rén d' noû so s' conte « Fesbok » eyet pont d' noû twite di l' ôte des costés. Mågré tot, dji m' rafiyive del rivir. On n' dimane nén maryî ût ans avou ene sakî sins rsinte des foitès atnances avou leye. Foiravant k' i gn aveut nouk a lyi prinde po vos fé monter å setinme cir, cwand elle esteut al boune.
Mins si ele m' åreut yeu veyou voltî, leye, pocwè a-t ele todi rfuzé k' on åye èn efant eshonne ? Dji n' m' aveu måy dimandé cisse kesse la avou ostant d' dotance k' å djoû d' ouy.
***************
Ci n' est nén leye ki m' vina ratinde a l' areyopoirt, mins Djiyanoba.
- Monsieu Pierot, monsieu Pierot ! Si vos sårîz l' novele !
Elle esteut tote e-n afwaire, cåzumint coûte d' alinne. Ele mi sera l' mwin tchôdmint, pu rabressî li ptit scapulaire k' elle aveut todi pindou a s' hatrea.
- Bén cwè, Djiyanova, gn a nén yeu on hosmint d' tere eyet des cints d' touwés et d' mesbridjîs come a Ayiti la sacwants ans. Dji l' åreu sepou ås noveles.
- Nén des dijhinnes di touwés. On seu. Vos.
- Mi ! ? Mins vos veyoz bén ki dj' so dvant vos, pårlant-vicant. Vos n' creyoz tolminme nén ås spérs. C' est l' veur k' avou vosse vodou, on n' sait djamåy.
Dj' aveu dit çoula a môde di riyotreye. Mins on n' divreut måy balter les creyants so leu rlidjon. Dj' åreu ddja dvou aprinde çoula avou Zahiya. Ele divneut steke cwand, el societé, on riyeut des adjnolaedjes et rlevaedjes des muzulmans ki priynut. Cwand ele s' a-st amourachî do Tunizyin d' Bastogne, i paret k' lu el barbotéve tofer paski nos n' esténs nén maryîs ås notåres muzulmans. Ki nosse mariaedje ni contéve nén, poy ki mi, dji n' m' aveu nén cviersî a l' islam ? Ki s' pa l' disbenixhreut divant d' mori, si ele ni candjive nén d' voye. C' esteut seur bråmint a cåze di çoula k' ele s' aveut distourné d' mi l' anêye passêye.
Mins wice est ele, cisse-lale ? N' est ç' nén leye ki m' diveut vni ratinde a l' areyopôrt ? Dj' a dmandé cwè a Djiyanoba.
- Co d' on pô elle esteut e violon, vosse binamêye « Zaya » - Djiyanoba n' aveut måy sepou prononcî li H di ç' no la. Si aveut ele dit « binamêye » avou on sorire do gros des dints.
- E violon ? Elle a-st amonté èn orkesse di salsa ?
- Ni riyoz nén. N' a rén d' riyåve a çoula. Vos avoz bén manké di leyî la vos hozetes.
- Djans ! Djocans nos d' djåzer a môde d' advina. Dji mour di fwin. Si on ireut magnî ene crosse dins onk des ptits restos-abeye del pladje. Vos m' racontroz vos råjhons, mins sins fé d' ådiyoss, s' i vs plait bén.
Dins l' tacsi ki nos cdujheut foû d' l' areyopôrt, ele m' a leyî padvant por mi berdeler avou l' tchåfeu. Di tot et d' rén. Po prinde li timperateure del handele d' avår la.
Gn aveut mwints otels k'estént vudes paski les tourisses rûsses avént dzarté, dispu k' leu manoye aveut baxhî pår. On roube ni valeut pus k' on cwårt di dolår amerikin, po on dmey la nén co deus ans.
Pu potchî d' ene coxhe so l' ôte, et dvizer des tontons-macoutes. Les touweus des dictateurs ayicyins avént rtrové d' l' ovraedje drocial, tot fjhant des laidès keures, payîs pa des politikîs ou des traeyincieus sins vergougne.
A ç' moumint la do djåspinaedje, Djiyanoba m' aduza li spale avou s' mwin. Dji contéve ki c' esteut on sene d' amisté. Dji rcomprindreu pus tård ki ça vleut dire : « schoûte bén çoula ! On-z è rdjåzrè torade. »
Nos ns avans astalé a ene tåve a l' adroet del mer. Sol droete, li pôrt di plaijhance, la k' les naiveus agritchtént les tourisses po lzî atåvler ene pormoennåde a batea å moteur. Dji djha tot d' ene trake :
- Dj' a todi dit ki, li prumî côp ki dj' åreu ene miete li tins, dj' ireu fé tote li coisse bijhrece e batea, disk' al frontire ayicyinne.
- Zaya l' sepeut ele bén, ki vs avîz ç' rafiya la ?
- Dandjreus k' oyi ! Ça m' schôpyive dispu ene tchoke.
- Diu merci ki vos n' î avoz nén stî tot rivnant, po fé vosse croejhire.
Si rbåjha-t ele co si medaye miråculeuse, tot m' shoflant çoula.
- Hay, djans ! Pupont d' mistere ! Vudîz vosse saetch.
Et leye mi conter li pus rocambolesse des paskeyes ki dj' n' euxhe måy etindou. Et k' c' est mi k' î est l' mwaisse persounadje, cobén !
***************
Les gazetes estént plinnes di spoûles la k' des moudreus ayicyins dischindént des djinneus. L' afronteu d' on té politikî, presse a lyi haper s' plaece ås vôtaedjes d' après. On prôpietaire ki n' vleut nén vinde si terén a on gros bastixheu d' bildignes. Et hay vos nd åroz.
Zahiya aveut dvou tuzer çouci : « C' est co mi l' toutcheuse di l' assurance-veye da Pierot. Mins i pôreut bénrade candjî d' idêye, ca dj' a les pinses ki ci ptite macrale la di Djiyanoba lyi a shoflé des pouces e l' oraye. Si dj' åreu totes ces çanses la, et li stok di martchandeyes k' i gn a co so l' iye, dji pôreu viker so blancs poes, vaici, on grand long tins. Et motoit rtrover on vî ritche Amerikin a-z edjupsiner po après côp. »
- Ele louca po s' mete e hant avou ene binde di moudreus ayicyins. Li plan, c' esteut d' vos assaetchî po ene croejhire e batea, come li cene ki vos djeryîz après, et k' ele li saveut bén. On côp el hôte mer, i vs fotént ene bale e timpli, pu ofri vosse coir come ricinon ås rakins.
C' est l' veur k' end a po fé, dins l' cotoû, et i n' si fwaiynut nén priyî cwand il ont yeu nodé l' frisse sonk.
« - Dji n' vos l' divreu nén dire, monsieu Pierot. Mins popa, il est payî come racuze-potêye pal police criminele. Il a reyussi a fé do fougnant tot divnant camaeråde avou on gros pårén des moudreus ayicyins. I m' a rapoirté l' pake ki vosse Zaya aveut passé avou ene di ces nindjes la. C' esteut riskeus por lu, sav. Si ces djins la n' estént nén payîs å pris dit, i nos plént zigouyî tertos, po fé disparexhe totes les rotes do martchî.
Dj' ala trover Zaya. Dj' esteu foû d' mes clicotes. Dji l' egueuya come do pouri pexhon. E creyole. Dji n' vos såreu dire s' ele comprinda tot. Todi est i k' ele divna blanke moite.
- Si ti n' vas nén payî les touweus å plin tarif, et fé ene croes so ti rlåcion avou monsieu Pierot, dji t' va racuzer al police dominikinne. Gn a djustumint ene grande campagne po mete ene ahote ås faitindjes des tontons-macoutes. Dj' a des temoens.
Et c' esteut l' veur : mi pa. Mins i n' åreut måy sitî dire li veur divant les noerès cotes.
Dji lyi djha co k' ele pasreut l' restant di ses djoûs å yoyo. « Et civola, ci n' est nén les prijhons dorêyes del Walonreye, saiss ! », di dj'.
Elle ala payî les Ayicyins – mins co avou des çanses poujheyes dins l' cagnote des nedjetes. Et dji croe k' elle a prins on biyet d' avion pol Canada. Dji pinse k' elle a ddja rtrové on galant rola. On Tunizyin come leye. On lomé Chakir – dji l' a-st oyou dire ci no la ene cénkinne di côps ene feye ki dj' l' a-st etindou djåzer so si axhlåve. »
A fwait ki Djiyanoba dvizéve, dji sblarixheu. Ci n' est k' ça ki dj' n' a nén toumé flåwe divant k' ele n' euxhe tot dit.
Vo m' la don mierseu. Disseulé e m' manaedje. Fén mierseu po vinde mi moncea d' nedjetes et d' mankins d' plastike ås Dominikins. I n' mi dinront måy les pris k' i m' ont costé. Pôve nozôtes et les tchéns d' tcherete. Torade, i m' fårè aler a Rékem, come dijhént les vîs Lidjwès.
Tot seu ? Nonna, taiss ! I gn a Djiyanoba. Nén on coir di deyesse, mins binamêye ki l' diåle.
Et si, padecô…
Mins elle a-st a schipe vint-cénk ans, et mi dabôrd céncwante-cénk. Mi, on vizaedje tot pleuti, et leye ene tinre pea d' djonnete.
Mins ça n' vout nén dire tcherete. T' as bén yeu l' vî Onassisse k' a rmaryî Djåclene Kenedi.
Mins mi, dji n' so nén Djone Fidzeral, poy ki dj' vike co…
---
Novele kiminceye a Lussimbork li 21 di måss 2015, tote sicrîte a Marakech li 16 d' avri 2016, pol bate di scrijhaedjes d' El Lovire
eplaideye dins "Li Rantoele" (Belès Letes), l° 79 a 85, 2016 a 2018.
---

(Back textes Louline Voye) Hay ervoye so l' pådje des scrijhaedjes da Louline Voye

(Back textes en wallon commun) Ralans sol pådje des scrijhaedjes e rfondou walon

(Back homepage Louline Voye) Hay ervoye so l' pådje divantrinne da Louline Voye.

(Back homepage Aberteke) Hay ervoye al mwaisse-pådje

include(".pinote_aujhmince.php") ?>