Contes de Haute-Ardenne.

Albert Lenfant.
dierin rapontiaedje - last update: 2004-04-02.
Dressêye:
---
Généralités.
Ces contes de Haute Ardenne sont écrits en Alphabet Phonétique International, qui retranscrit l'accent de la région de Lierneux, mais avec beaucoup moins d'insistance sur la longueur des voyelles que le système Feller. Cette page est réécrite en wallon normalisé.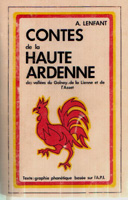 ---
E l' årmonak di Lidje, dji vou dire, e grand dobe, nén e ci da Matî Lansbert k' on lome cobén, a toirt, l' årmonak des bierdjîs, gn a scrît: «Al Tchandleuse, l' ivier s' acoeteye u rprind vigueur».
Avou çoula, on-z est crås. Ostant dire «çoula et rén, c' est l' conte».
Po nozôtes, a Djernitchamp, li tchåleur, c' est cwand k' on va atchter des ciedjes adlé Matî po les fé beni.
Ci djoû la, les vîs, a l' eglijhe, riloukèt si l' solo lût so les tchandeles di l' åté, et, s' i lût, dijhèt i, li leu rmousse e s' trô po shijh longuès samwinnes.
Todi est i k' al tchandleur, azès vepes, tolmonde, a on moumint dné, mousse foû d' ses bancs, rote al cawe onk padrî l' ôte, fwait on bea adjnolaedje divant l' Sint Sacramint, passe padrî l' åté come si on-z aléve a l' ofrande po les moirts, rintere å keur, et, la, nosse vî curé, el plaece di vs fé båjhî l' platene, vos mete deus grands ciedjes divant vos, les croejhele comifåt po k' i gn åye onk dizo tchaeke sipale, dit abeye èn oremousse, et c' est tot por lu. Vos, vs n' av' pus k' a hertchî vos pîs, tot baxhant l' tiesse. Seur ki vs n' åroz nén må å cô tot l' long d' l' anêye. Mins tot n' rovians nén tolminme di taper, abeye, e coisse, on côp d' ouy sol banc d' cominion po vey si vosse ciedje est å moens ttossu gros et ttossu long k' els ôtes.
Après vepes, on va rcweri les benis ciedjes et c' est å ci k' årè l' pus bea. C' est ci-la k' årè l' oneur d' esse li djin ki sait onorer come i covént ses moirts a vni.
Do tins-a-stou [jadis], c' esteut deus ciedjes k' on fjheut beni, onk po-z aloumer, tot priyant, cwand gn aveut onk, el måjhon, k' esteut so ses dierins moumints, et èn ôte k' on broûleut cwand k' i tonéve, po k' sint Dôna tchessaxhe abeye evoye tonire et aloumire.
Come gn a pus nouk, asteure, k' a co pawe del tonire et des aloumires mins k' on mourt todi, ci n' est pus k' onk k' on-z atchteye c' est tot spågne.
Onk, portant, k' a stî bén couyoné, c' est Måtî, lu ki fjheut todi aler s' grande linwe so sint Dôna et so tos les sints.
***************
Å fwaite di tchafter, i fåt saveur ki Matî l' moxhlî, di s' vraiy no Matî Berwete, est mî coxhou do sorno d' Cozake.
Come noste ome est ttossu tchamlou ki s' il åreut stî faxhî so on tonea; et come, cwand k' il esteut djonne, il araedjive po griper so les tchvås, on l' loma "li Cozake di Djernitchamp".
Et ç' sorno la lyi va come si vî tchapea, ca, si on lyi prindreut, a Matî Berwete, manire di djåzer, ene tiesse di cabu, inte les deus djambes, i ndè sereut nén djinné.
Todi est i k' c' est todi lu k' a totes les anêyes li pus bea ciedje.
Ci n' est nén målåjhey, dit-st on, gn a k' lu k' endè vind et gn a k' lu k' endè fwait. Et, come l' ôte moxhlî do viyaedje, Tchofile, c' est on halcotî et on pouri tchén, li Cozake est todi seur d' atraper l' flotche.
Portant, ci n' est k' sol tård ki Matî dvinve moxhlî. C' est s' mononke Hinri ki dmoréve e payis djondant ki lyi leya, cwand k' i mora, ene tcheyire et ene tåve, on coyî et on coutea et ene bele grande pea d' moton avou deus trôs dvins po-z î herer ses resses et, ådzeu di çoula, deus tchetoeres et deus noerès gades.
C' esteut tot çou k' il aveut, Hinri, padzo tot. Et, come al håsse, nouk ni bouta so rén ni so les moxhes, ni minme so les gades, i ramoenna so ene tcherete al mwin tot l' bén da s' mononke.
Et, come po rivni, i meta l' pea d' moton so s' dos, les gades corît padrî lu, e s' herant e leu grande et vude fene tiesse a coines kel vî Hinri esteut rivnou.
Po les moxhes, Matî fjha abeye èn apî e s' corti, dizo l' grande håye di spenes do fond, wice k' i fjheut todi bon, e l' esté come e l' ivier.
Et les gades, zeles, Matî les tchôca avou on côp d' pî e leu cou divins on vî ståve di vatches ki n' aveut pus veyou des rodjès biesses dispoy des ans et des razans.
Gn a do vî four e ståve, mins il est bon. Gn a des tchnôles, des laxhes et ene sitamonêye. C' est tot çou k' elzî fåt, dijha-t i, lu k' n' esteut k' on fossî, et k' n' aveut måy fwait dvins les biesses såf les robetes et les colons.
- Vs n' alez nén loyî les gades come les vatches u les tchéns, taiss, asteure !» fijha rmårker Tereze. «Ni les loyîz nén, sav' ! Ôtrumint, dji n' årans nén do bon laecea d' gade».
- Schoûte bén, båshele, responda si ome, arindje tu avou zeles. Vos vs etindroz bén eshonne. Vs av' li minme tiesse. Mi dj' a pus ki çou k' i m' fåt avou mes moxhes di tchetoere.
Et mafwè, sins l' saveur, Matî n' aveut djamåy si bén dit l' veur.
***************
I s' dijha k' ses moxhes samrént bén on djoû. Et k' adon, i lyi fåreut aveur des tchetoeres di fwaites. Po çoula; i les faleut fé.
I cora l' long d' Liene, do costé d' Brå, wice k' i gn aveut les pus beles et les meyeutès côres k' on plaxhe trover. La, i ndè voeya, les côpa, les netia comifåt, fijha des håres, meta les côres e fagots et les tcherdja po lzès ramoenner so s' velo. Disk' a Djernitchamp, i gn aveut ene trote. Çou k' i ndè djha des nodidjus, li pôve Matî Berwete, tot boutant s' tchedje so les gripetes. Måria mon Diu ! Pus d' côps k' i gn aveut d' côres e s' fagot !
I rintra e s' måjhon tot frexh di tchôd, sopa bén seur come troes, monta les egrés tot fjhant ene grosse reupe et s' leya toumer come on saetch di cint kilos d' ecråxhes so s' lét, tot moussî, sins ddja disfé ses solés.
Nén mezåjhe di vs dire k' i doirma come on på disk' al londmwin.
Cwand Tereze li houca po-z aler al fosse, il esteut todi crevé nåjhi, djha-t i, et i s' ressocta. I doirma come on crås pourcea on djoû å long.
- Et ir, la, valet, lyi djha l' contrumwaisse tot l' veyant vni tot hertchant ses pîs, t' as fwais berwete !
- Ti voes bén, Djeråd, ki dj' a stî malåde, hin» lyi responda l' ôte.
- Si to fwais dobe djournêye et si to dixhomberes, dji n' ti måcrè nén po ir. Dji sai bén wice ki t' esteus et on l' lairè po boû, ci côp vola.
- Dji voe k' ti m' coprins, Djeråd, et t' n' î piedrès nén, responda l' ôte.
Et ç' djoû la, Matî travaya come on negue. Al vesprêye, divant d' aler chlof, i meta ses côres e tonea del gotire po lzî fé prinde l' aiwe. Li londmwin, i ndè djåza azès ôtes et on lyi dna l' piceure po les aveur a pont.
Et on bea djoû, al nute, après aveur bén sopé, i stopa s' pupe, s' ashida so on xhame, prinda ene côre et, avou s' coutea bén betchou, ripassé so on coirnon d' voennete di Såm-Tchestea, i dna on côp wice k' i faleut et ploya l' côre so si djno. Li côre craca d' on setch côp et l' prumî schinon aspita.
I tira ene dozinne di schinons foû di ç' côre la. Et, cwand k' ele fourit tote dismousseye, i rprinda abeye ene ôte. Et, des schinons, endè fjha tote li shijhe et les meta trimper.
On bea djoû, come les schinons estént la, i s' meta a fé des tchetoeres avou do bén long strin di rgon, k' i sereut bén foirt divins ene bague di cur. Et, avou si alene, si strin et ses schinons, endè fjha, sav', Matî, des belès tchetoeres.

Çoula lyi prinda totes ses shijhes d' ivier, et bén seur, i s' rafiyive, pus ki tolmonde, d' esse å prétins.
I fåt dire ki Djernitchamp, c' est on bon payis po les moxhes d' apî. I fåt saveur k' i gn a del brouhire, del trimblene, des melêyes, des tiyoûs, des noejhîs, totes sôres d' åbes et d' fleurs ki les moxhes al låme araedjèt après.
Et, l' esté, ci fourit po Matî come ene longue fiesse. Tos les dimegnes après messe, disk' a nonne et après-nonne, i prindeut s' xhame et s' ashideut e s' corti mins lon erî di si apî tot foumant s' pupe, et tot raloucant ses moxhes, les moxhes da s' mononke Hinri, ki vnént zûner disk' a dzeu di s' nez po lyi fé vey surmint les fameusès hozetes k' elle avént après leus pates.
Dj' end årè, del låme, dijheut i a Tereze al vesprêye, cwand k' ele li rhoukive po soper.
- I m' shonne ki vos divnoz come les mwaisses fossîs [directeur des carrières], vos, asteure lyi respondeut s' feme. Vos vs ashidoz, vos foumez vosse pupe, vos raloukîz travayî les ôtes et vos vs dijhoz tot vs frotant les mwins. "Elle ont bén travayî sol tins k' dji m' ripoize; dj' årè del låme"
- Taijhoz vs, sav', Tereze ! Ni vnoz nén co avou vos idêyes di revolucionaire adlé mi, sav' ! dijha-t i, tot levant l' vwès, pask' il aveut stî acsû wice k' il aveut må. Kî sereut ç' bén, don, ki vs here el tiesse totes ces idêyes la, ki n' sont nén d' avå vola ? Dji wadjreu k' c' est l' missionaire di mon l' Gros Batisse k' est rivnou del Chine. Dj' endè djåzrè a nosse curé, d' ci-la. Avou tos ces coreus la, dji n' serans bénvite pus e nosse payis, nozôtes vola, ni e nosse måjhon.
Et i cora sdlé l' vî curé et i ndè djåza et l' vî curé fjha l' ecwanse k' i n' aveut nén oyou et lyi djåza d' tot ôte tchoi, do tins, do corti, d' ses moxhes, et i houca s' siervante po lyi vudî l' gote.
Et Matî cwita l' vî sint ome tot rapåjhté et i lyi pormeta ki, dvant l' ivier i lyi apoitreut on bon bocå d' låme.
***************
Et l' esté passa come les fleurs et les foyes fourît hapêyes del djalêye et toumît ene a ene sol tins k' la hôt, e cir les grouwes et les såvadjès åwes si håstént di rpasser.
On bea djoû, disk' a dvins les måjhons, on-z oda l' boune foumire des cawes di crompires k' on broûléve, ladrî, divins les tchamps.
- C' est l' råyåjhe, asteure, c' est l' moumint, pinsa Matî.
Et il ala e si apî po lever les tchetoeres et sinte li cisse k' esteut l' pus pezante. On moumint, i pinséve ki c' esteut cisse-lale k' il aléve fé mori mins i s' rapinsa, et s' dijha k' ci n' sereut nén djusse, ça. Si elle esteut pus pezante, c' est k' elle aveut mî et pus travayî k' l' ôte. Et c' est insi, k' å sintimint, li pus ledjire fourit codånêye.
I stopa comifåt les trôs avou do strin et apoirta tot doûçmint l' tchetoere so ene grande coviete. Il ala cweri s' shofla, tchôca dvins des viyès clicotes avou ene witche di shoufe, et il î bouta l' feu avou ene brocale aloumêye a s' pupe, on vî djåcob do tins-a-stou, divnou tot noer a foice d' aveur avou tchôd.
I fjha aler l' shofla, et ene laide måssire foumire vina foû, ki vs hapéve a côps, et vs fijheut tosser a vs rexhe l' åme foû do coir. Et pu adon, Matî tcherpa [arracher de la main] li strin foû do trô del tchetoere et il î hera acoûsse [rapidement] li buzete do shofla, et rif et raf, i lança l' foumire.
On-z oya groûler et zûner dvins les rais et, pus d' araedje gn aveut i, pus Matî shofléve-t i.
Ci fourit lu, come todi, k' ourit l' dierin mot, Après kékès munutes, on n' oya pus rén. Et les ptitès biesses, avou leus ptitès pates e l' air, rilouként do costé do Bon Diu.
Asteure k' el moirt aveut fwait si ovraedje, Matî cminça a fé l' sinne.
- Abeye on coutea, Tereze, criya-t i. Si feme lyi apoirta on grand long coutea d' botchî. Et Matî côpa dvins les gatos tot åtoû, tot shuvant bén les toitches do strin del tchetoere po bén disteler les rais. I les prinda, onk a onk, schova et shofla les moitès moxhes evoye, netia bén ttafwait avou on fén pincea et meta les rais ås covins [rayons contenant des larves] sol costé.
- Ci serè todi bon po fé del cire, dijha-t i a s' feme tot riyant.
- On fwait del cire avou çoula, dimanda-t ele.
- O neni, hin, responda-t i. Ni voess nén ki c' est des covins, çoula ?
- Ki sai dj', don, mi, recassa-t ele.
Cwand k' Matî ourit metou dvins on grand bassén tot çou k' les moxhes avént ramassé tot l' esté, i djha a Tereze d' aler fé del låme.
Ele prinda l' presse, ki sierveut cobén a fé l' vinaigue, et elle endè fjha, del låme, des pots et des rapots. Et elle endè poirta deus beas a Lideye, li siervante do curé, come Matî l' aveut pormetou.
- Ni rovyîz nén d' fé les ciedjes, hin, dijha-t ele a si ome tot ndalant.
Et Matî, ki n' kinoxheut co rén dvins ces ovraedjes la, et ki n' aveut djamåy sondjî a dner on côp d' mwin a s' mononke Hinri, fijha çou k' i pleut et çou k' i lyi shonnéve bon et råjhnåve di fé.
I prinda foû del presse les rais tot cbroyîs wice k' el låme esteut foû, les tchôca dvins on saetch di toele, et les leya cure e l' aiwe divins on grand tchôdron sol coine del sitouve. Come i lyi shonnéve ki çoula n' aléve nén vite assez a s' manire, i meta l' tchôdron sol feu. Et après on moumint, el rimeta sol coine po leyî rpoizer et rafroedi ttafwait.
Cwand çoula cminça a rafroedi, li cire monta dzeur. Adon, avou on schoumoe, i poujha l' cire foû.
A si idêye, i trova k' ele n' esteut nén come i pinséve k' ele divreut esse et el rifonda on deujhinme côp dvins l' tchôdron.
I poujha çou k' i dmoréve di måssirté foû et vuda ttafwait dvins on bassén d' keuve.
- Dj' end a assez fwait po ådjourdu dijha-t i, et il ala chlof.
Li londwin, après l' fosse, sol vesprêye, i pinsa a fé ses ciedjes et ses tchandeles
Po fé ses ciedjes, i pinséve k' il aveut, e l' abatou, ene caisse å moens on mete hôte, tote rimpleye di bon et d' bea såvlon. I fjha, e såvlon, des trôs do diyamete di ses ciedjes, prinda do fyi d' coton po fé witche [mèche], meta on boket d' fi d' årca al cawe del witche et l' efonça e fond do trô bén å mitan. Å dzeur do trô, il ataetcha l' witche, bén droete, a on ptit boket d' bwès metou d' triviè avou ene picete. Insi, i n' ourit pus k' a vudî l' cire bén tchôde e trô, a l' leyî rfroedi, a l' disdjeter, pu a brouxhter çou k' i gn aveut d' såvlon aplaké al cire.
Po fé ses tchandeles, ci fourit åjhey. I prinda on bordon, loya des witches åtoû, i leya rider ene pitite sicråwe li long del witche po k' ele toumaxhe å fond, po tni l' witche bén droete; et pu, i trimpa les witches l' ene après l' ôte, el cire bén tchôde. Çoula dmanda do tins ca i faleut leyî rsouwer et rfroedi divant d' ricmincî.
Matî, tot l' tins k' çoula dura, esteut come ene agaesse so des tchôdès cindes. I s' dimanda kimint si ovraedje si mosterreut. I souwa des gotes come des poes, et n' fijha nou bén, mins i fourit contint po fini, cwand tot aveut bén reyussi, mî bråmint mî k' on n' l' åreut plou pinser.
Tot binåjhe, i poirta ses deus pus beas ciedjes å vî curé po vey çou k' endè direut.
Vola, monsieu l' curé, dijha-t i, c' est por vos. Ci n' est nén des ciedjes come les cis k' on-z atchete a Lidje, mins, l' an ki vént, cwand dj' årè des fômes et k' dj' årè aprin dins on live ki dj' vén d' atchter å vî Douni, dj' endè frè des ttossu beas l' les ôtes.
Li vî sint ome vanta ses ciedjes, lyi djha k' il esteut contin, lyi fjha vudî l' gote, et lyi dna on bea cigåre avou ene bele rodje bague.
- Matî, dji serè bén pus contin, eco, cwand k' e nosse viyaedje, a Djernitchamp, totes les djins pôront mori et ndaler adlé l' Bon Diu tot sintant e leu dierin moumint li boune cire di nos moxhes di tchetoere k' ele vont cweri å prétins disk' a l' ivier so nos åbes, so nos fleurs, divins nos tchamps et nos brouhires, tot çoula, tot-z alant et tot rivnant co meye côps.
- O! po çoula, ele ni sont nén nawes, responda Matî. Ele ni nos ravizèt nén.
Et, so cisse-lale, i meta s' calote so s' tiesse, et sohaita bounnute å vî curé.
Et, di ç' djoû la, Matî n' pinsa pus k' a fé des ciedjes, po cmincî, po fé plaijhî å vî curé et pu, po les moirts a vni.
- Tot ndalant, pinsa-t i tot hôt, i sondjront a mi, et motoit la-hôt diront i on bon mot å Bon Diu por mi. Sait on jamwais !
Et les ciedjes, li låme, les moxhes et Matî ni fjhît pus k' onk. I vikît des beas djoûs eshonne. Ça n' vout nén dire ki, di tinzintins, Matî n' end a nén veyou avou ses moxhes.
***************
Figurez vs k' on bea djoû dvant nonne, si fi Tchodôre li vént rcweri al fosse wice k' i travayive djustumint, tot lyi djhant, tot foû d' lu.
- Popa, rivnoz acoûsse, gn a l' araedje divins nos moxhes.
Matî rsere li cingue di s' pantalon, broke so s' velo, pedale a s' råyî les djambes foû do cou, et arive e s' corti tot leyant toumer s' velo al tere.
La, ki voet i? Ene nulêye di moxhes so ses tchetoeres, et ki sayént d' î rintrer, et les sinnes ki disfindént l' passaedje.
- Dji wadjreu, dijha-t i tot hôt, ki c' est ç' halcotî la d' Tchofile ki m' vout fé l' côp. Dji lyi a dit dimegne passé, et çoula po l' fé araedjî, k' mes tchetoeres estént pus pezantes ki l' an passé, tot savant bén k' les sinnes éstént pus ledjires et asteure, i s' vindje, li vårén.
Tchodôre, boerla-t i, apoite mu abeye des viyès clicotes, mi shofla, et del blanke farene. Dixhombere tu, hin et n' va nén co naxhter dvins tos les ridants po trover l' farene.
Tchodôre si dxhombra et lyi rapoirta d' on côp tot çou k' i lyi faleut, Adon, Matî, pus spitant k' on såvadje tchet, stopa acoûsse, avou les clicotes tos les trôs d' intrêyes di ses tchetoeres, çoula po-z aidî ses moxhes ki disfindént leu bén. Et pu, i shofla del farene so les moxhes ki n' plént pus rintrer.
Mi velo, Tchodôre, kimanda-t i, Li gamén lyi amoenna todroet. Et vola nost ome evoye å fén fond do viyaedje, amon Tchofile.
Ci-la, djustumint fouméve si pupe tot près di si apî, å fond di s' corti.
- Tén, vola Matî, djha-t i tot chôze. Vén boere li gote, valet. Dj' a do bon, saiss.
Mins Matî, k' a des bons ouys, des ouys di moxhes, aveut veyou, paret, lu, k' Tchofile aveut des blankès moxhes.
- C' est çoula, pinsa-t i dvins lu-minme. Il intra el måjhon, ni fjha l' ecwanse di rén, fijha l' djoyeus, boeva l' bon peket da Tchofile et djåza d' totès sôres. I lyi djha k' c' esteut on plaijhi d' aveur on bon camaeråde come lu et d' boere si bon peket. Tot cwitant, i djha k' i rvénrent co, lyi sohaita bounnute come si d' rén n' esteut.
I potcha so s' velo come on biket, et rintra påjhûlmint e s' måjhon tot xhuflant.
- Dimwin å matén, dji n' va nén al fosse, Tereze, dijha-t i a s' feme. Mins fijhoz m' lever al pikete do djoû tolminme.
Li londmwin, cwand l' cok tchanta, Matî meta des vudès tchetoeres a costé des sinnes, bén stopêyes et dvins tchaeke, ene assîte avou del låme et do souke. Divins les trô d' intrêye et d' moussaedje foû, il emantcha on pincea d' soyes di pourcea, a boune groxheur, naturelmint di tele manire k' el pincea avaxhe li betchete di ses poyaedjes divins l' tchetoere et l' mantche foû. Et i rawårda.
Et, viè les nouv eures, come çoula, il oya zûner tot åtoû l' lu. Tot åtoû di si apî. C' esteut les moxhes da l' ôte ki s' vinént sayî. Ele rintrît tertotes åjheymint, mins po vni foû, c' esteut ôte tchoi: les poyaedjes lezî bårént l' voye.
Et, al veprêye, Matî prinda des toitches di strin, î bouta l' feu ene a ene et les tchôca dzo les fåssès tchetoeres.
Les moxhes da Tchofile, k' estént prijhnires crevît totes, disk' al dierinne.
Cwénze djoû après ci-vola, Matî ala rvey li bon camaerade.
- Et tes moxhes, Tchofile? Ont ele bén rapoirté l' cwénzinne passêye, dimanda Matî.
- Ki les moxhes di tchetoere alexhe tertotes å diale, k' i les vegne cweri, responda l' ôte, tot måva. Dj' endè vou pus ôre djåzer. Mi, asteure, dj' acleve des robetes.
Et so cisse la, i tourna l' cou, et leya Matî la.
Vos vs dimandez bén pocwè k' les moxhes da Matî ont stî atakêyes pa les cisses da Tchofile ?
Paski ç' vårén la, ci halcotî la, aveut metou, veyant k' les tchetoere da Matî estént bén plinnes, ene assîte divins tchakene des sinnes, et, e l' assîte: del låme, do souke et do peket… et … ene pitite sacwè. I n' aveut nén rovyî d' mete so tot çoula ene sôre di daguet, et dsu, des fistous di strin po k' les moxhes, tot-z alant boere, ni s' neyénxhe nén. Et, d' ses moxhes, i nd aveut fwait des piyresses.
Coprindoz vs?
Et l' pitite sacwè k' Tchofile aveut metou avou l' låme, li souke et l' peket, k' esteut ç', vos dmandez vs ?
Çoula, nouk nel sait nén, et si djel såreu dji n' vos l' direu nén, paski c' est on scret, et k' les screts, a Djernitchamp come divins tote l' Årdene, çoula s' wåde divins l' famile, et eco fåt i k' on soeye seur ki vs sav' clôre vosse gueuye.
***************
Et l' côp del gade, don, li cnoxhoz vs ?
Ayayay ! Ci djoû la, c' esteut on dimegne après nonne. I fjheut bon et Matî esteut evoye djouwer ås beyes amon Ivete Bracmar.
Ene feme ki passéve voeya Matî, et lyi criya
- Acoûsse, Matî ! Va rzè, valet ! Gn a on bea måleur divins tes moxhes, va. Tereze louke tos costés après ti.
Måleur et moxhes, çoula fjha come on côp d' aloumire e cervea da Matî.
I broca so s' velo, potcha dsu come on biket, et bouta sol pedale come s' il åreut efoncî on piket avou s' pî. Troes metes pus lon, i s' prinda li dzo do pantalon inte li tchinne et l' pedalî et l' dischira, tot mançant d' aler so s' panse; djura kékes meye miyårds di nodidju et rapousla e s' måjhon.
Abeye, i cora e s' corti. La, gn aveut bråmint des djins ki louként et ki n' bodjént nén.
- Nodidju, ni bele noere gade da m' mononke Hinri, dijha-t i.
I fåt saveur k' å matén, tot moennant l' gade e pré tot près d' l' apî, Matî aveut ehårdé l' haeyåve biesse avou ene grande tchinne et k' il aveut tchôkî l' anea dvins ene haminde ki sierveut d' piket.
Il aveut arindjî l' agayon po k' el biesse polaxhe magnî et cori come ele voleut. Tot lyi dnant del tchinne assez, il aveut fwait çou k' i faleut po k' ele si plaxhe waeranti conte li solea et l' plouve tot s' metant a l' ombe et a houte dizo on grand biyokî.
Et c' est çou k' il aveut fwait. Disk' a troes eures, li biesse aveut magnî et magnté tant k' ele pleut po s' rimpli l' panse et dner do bon laecea. Et come li solea s' aveut metou a tchåfer, leye s' aveut metou dins l' biyokî po roemyî a si åjhe.
Mins vo n' la-t i nén, djustumint, come il aveut souné a l' eglijhe, ki les moxhes apoûslît foû des tchetoeres, et tot s' metant e nûles, si metît a danser åtoû del pus basse coxhe do biyokî.
Li gade, ki saveut çou k' c' est èn awion bén planté so s' muzea, u e pé, u dvins ene tete, potcha so pî, come on diale foû d' ene boesse et, schitant d' pawe, si meta a cori abeye abeye evoye.
Ratnowe pol tchinne et l' colé, ele touma so s' panse, et ramassa, avou l' colé, on côp e cô et el hanete, k' ele voeya co meye sitoeles.
Ele si rleva come ele pleut et cminça a cori, tot tirant sol tchinne, tot åtoû del haminde. Et ele cora, l' pôve noerete, ele cora, ele cora, tantea k' ele ni pla pus hop et k' ele touma al tere, avou l' linwe ki lyi pindeut foû del boke, tofjhant k' ele sayive di rihaper si alinne.
Et c' est insi ki s' mwaisse li voeya avou l' panse al tere, tot tronnant tote, di pawe, et d' esse dishoflêye.
- Noerete, Noerete, c' est mi k' est vola, criya-t i al gade ki tourna s' tiesse so s' costé, avou l' air di lyi dire: Voess çou k' t' as fwait tot m' leyant al haminde.
- Ele va crever; fwai lyi do té d' mosrê, ça l' aidrè a ndaler, dijha l' grande souwêye Catrene.
Matî n' responda rén, ca çou k' cisse-lale aveut dit, c' esteut parole a deus etindmints. Mins i ralouca l' Tîxhe d' on laid ouy.
- Tchodôr, boerla-t i. Wice ess don, poureye tiesse ?
- Vo m' la, responda s' fi, tot tronnant dvant ses clicotes, ca i saveut, lu, ki dvins ces moumints la, si pere ni spårgnive nén les mwins al djaive et les côps d' pî e cou.
- Cour abeye cweri ene vude tchetoere et mes ptits boxhteas d' bwès, kimanda Matî.
Ni czamboujhe nén l' gamén insi, et va-z î ti-minme, çoula irè bråmint pus vite, lyi responda acoûsse Tereze, k' atouwa si ome po k' i s' dislaxhaxhe sor leye et nén so Tchodôr.
- Tchodôr irè bén, djha Matî. Naxhtåd come il est, i cnoxhe mî les trôs et les naxhes del måjhon k' nozôtes.
So on rén d' tins, li gamén rivna avou ene bele nouve tchetoere et les ptits boxhteas d' bwès d' cénk cintimetes di long, tot ctrawés di ptits féns trôs.
El plaece di rmerciyî s' fi d' aveur sitî si abeye et come i nel poleut nén groûler, i lyi djha, po s' diner èn air divant les djins
- T' as bén londjiné ! Çoula n' m' ewaerreut nén k' t' åreus stî djouwer å live avou Zidôre.
- C' est çou k' dj' a fwait, responda Tchodôre ki boléve divins ses bagues et ki n' pla ratni s' linwe.
- Tén ! lyi djha Matî. Et, tot djhant s' seu mot la, i lyi dna ene ledjire mwin al goidje, po såver l' oneur et wårder l' mwaistrijhe do pere so l' efant.
Et, so cisse-lale, sins masse, sins rén, i s' avança tot doûçmint, tot foumant s' pupe di Rwezin, sol djonnea ki vneut d' samer.
On côp d' tchance! Ni vla-ti nén k' i voeya l' rinne emacralêye divins ene viye måssîte sipesse rantoele, k' ene di ses grandès noerès araegnes di tchvå la aveut abandné dispoy lontins.
Pus rade k' i nel fåt pol dire, li rinne fourit apiceye et tchôkêye e boxhtea et l' boxhtea metou el tchetoere coûtchêye al tere.
Adon, ki voeya-t on ? Totes les moxhes si metît e nûle po rintrer el tchetoere wice ki leu rinne esteut ritnowe prijhnire.
Dj' arindjrans tot çoula el vesprêye, dijha Matî.
- Tchodôr, nawe ki t' es, va s' abeye cweri l' botaye d' arnica e l' årmå, boerla-t i. Elle est e l' årmå ås schieles.
Tchodôr fijha docô çou ki s' pa lyi aveut dit et rapoirta li rméde.
Matî apiça l' botaye, råya l' boutchon foû avou ses dints et pu, avou on djno sol schrene del gade, i prinda l' tiesse del biesse d' ene mwin et d' l' ôte, i lyi tchôca l' botaye di peket el goidje. Et, å risse del sitofer u del fé ecroucter, i lyi fjha boere des goirdjons et ragoirdjons d' peket a l' arnica.
Cwand Matî rsaetcha l' botaye, li gade tossa on laid côp. Et, on pô après, ele ripotcha so pîs, et cmincî a scheure ses poyaedjes.
- Vo l' la schapêye, dijha-t i Matî.
Est ç' li peket? Est ç' l' arnica kel schapa insi tot d' on côp ? Nouk nel direut ddja.
Todi est i k' Matî tira l' anea foû del haminde et ramoenna Noerete e ståve.
Cwand k' i rpassa divant Catrene ki s' ramasséve po ndè raler, puski, asteure, gn aveut pus rén a vey, i lyi djha, tot tapant on ptit raetchon al tere:
- C' est deur, saiss, ene gade di vola, c' est co pus deur k' ene Tîxhe.
Et so cisse-lale, li Tîxhe lyi tourna l' cou et s' dimanda, tot l' long del voye çou ki ç' laid et måssî "Welche" la aveut bén vlou dire tot l' arinnant insi.
---
Albert lenfant, divins Contes da la Haute Ardennes, des vallées du Golnay, de la Lienne et de l'Asset, Imprimerie Thomas, Melreux, 1980.
---
Denis a mis le joug au boeuf.
Cwand Donea, el fi då grand Hinri l' boûtlî, fourit houkî po fé s' tins d' sôdård e minme tins k' li ptit Lorint Harote, li fi da Houbert, i n' esteut nén contin. Nén ki l' tins fouxhe lon, neni, i n' fijheut k' doze moes, et Harote endè dveut fé catoize, mins Lorint, lu, aléve aler azès tchvås, et a Spå, eco !
Donea, lu, esteut houkî e prumî d' ligne, wice k' on mete les cis k' ont des bons grands pîs.
"T' irès a Vervî, Donea !" lyi djheut l' ôte tot lyi fjhant ene clignete ki ndè djheut long. Dji m' endè fou, mi, d' çoula, respondeut Donea. Çou k' i m' faleut, a mi, ki n' a djamwais cdû [conduit] k' les boûs, c' esteut les tchvås."
Et, on bea djoû å matén, tos les deus eshonne, i prindént l' trin avou, al mwin, on grand saetch di sôdård, wice ki leu mame aveut metou, di pawe [peur] k' i n' åyénxhe fwin, des galets, des poumes, on grand noer pwin et on ptit pot d' grè avou do bon boure divins. Et on n' rovyive nén nénpus d' mete tot çou k' i faleut po s' discandjî. Ca i pareteut k' on souwe a låmes, a n' rén fé.
Cwand k' il arivît, Lorint a Spå et Donea a Vervî, on ptit laid crawe serdjint les rawårdéve dedja al gåre. " Comint pout on fé des mwaisses avou des massoteas insi !" pinsît i tos les deus. Mins ces ptits tchéns la ont del goidje, pari, zels, et, sins sawè cmint, et, mildju, sins plou boere on dmey, i s' ritrovît, el cazere, wice k' i fourît cbouxhtés, egueuyîs [engueulés], dismoussîs, rimoussîs, et tirés e foto.
On lzî côpa les tchveas, on lzî aprinda a roter å pas, come des canårds ki rivnént d' leu vivî viè leu poytreye. Et i s' leyént bén fé, come des ptits agneas, zels, ki e leu viyaedje, tchessént des waezons après l' goidje des djandårs, cwand k' i n' estént nén veyous.
Les djoûs del prumire samwinne passît come ene aloumire. I s' ritrovît l' semdi å matén sins minme sawè li djoû k' on-z esteut. Et, a nonne, cwand ç' mecoyons d' serdjint la lezî dna leu permission d' ene mwin, tot les fjhant saluwer d' l' ôte (aboute ti bele papate, Mirza, t' årès do souke), i corît evoye evoye, come des poyes å matén, cwand k' on drove li bawete del poytreye.
On les rtrova a l' aresse do tram, wice k' i s' coboutént po-z esse li prumî po griper dsu. Ci fourit cwand k' Donea esteut ddja dpoy on tins sol trin k' i voeya wice k' i nd esteut.
I ralouca ses gros solés ben ecråxhîs, ses djambes di pantalon come des buzes di fornea, i prinda e s' mwin si bounet d' police wice ki s' biesse di serdjint aveu fwait mete ene baguete po k' les coines si tnénxhe bén rondes.
I tapa on côp d' ouy sol laide måssîte flotche di rodje linne et i s' dijha dvins lu-minme : "Asteure, vo m' la gåy po èn an. Abeye el måjhon, sav', ki dj' candje di bagues [vêtements].
Et tot fjhant ki l' trin rôléve, i bôra s' pupe comifåt, et s' meta-t i a foumer, bén påjhulmint, tot n' tuzant a rén, tot raloucant cori les åbes et les viyaedjes divins l' finiesse.
Cwand ki l' trin s' aresta el gåre wice k' i dveut dischinde, ki voeya-t i ? Li ptit Lorint Harote.
Tot l' raloucant, il ourit on côp å stoumak. Seur ki les tchvås n' ont néns pus må cwand k' on lzî plante li coutea e cour.
I n' oiza nén ddja lyi dire bondjoû ca Lorint, fir come on djonne cok, ni l' aveut ddja raloukî.
Po ndè raler, i l' leya cori dvant lu po-z aler cweri l' tram. I s' tina bén lon dvins les dierinnès djins, et dmora minme sol platfôme del dierinne vweteure et, po dischinde, come Lorint esteut dvant lu, i s' leya aler et hertcha ses grands pîs bin lon padrî.
Rintré e s' måjhon d' måle umeur, i n' dijha cåzu rén, a ses vîxhès djins ki s' dimandént bén çou k' i gn aveut.
"Ene sacwè ki n' va nén ezès sôdårds ?", lyi dmanda s' vîxhe mame.
"Neni !", responda-t i. mins çou k' i m' åreut falou, c' esteut les lancîs a Spå, vos l' vieroz bén cwand li ptit Lorint vénrè.
Et, ma fwè, c' esteut l' veur, on l' voeya, sav', al nute cwand li ptit Lorint, tot rglatixhant, vna po hanter avou Julia.
Et i ndè raconta, sav', lu, sol cazer [caserne], so Spå, so les mwaisses et so les tchvås.
Donea, çou n' esteut nén çou k' on pout dire, on må d' panse [jaloux]. Mins cwand k' on djåzéve di tchvås, i divneut djériveus [envieux]. Nondidju, si djheut i, c' est todi les minmes k' ont bon.
Et s' calvaire dura èn an å lon. Tos les cwénze djoûs, asteure, Lorint esteut la po lyi fé må o s' vinte.
Et l' anêye passa. Et on bea djoû, on lyi fjha mete on blanc pantalon et on lyi rmeta si livret. Et, al nute, i rintra e s' måjhon, crevé sô, tot tchantant
C'est la classe qui s'en va
Bleus, ne pleurez pas
Votre tour viendra...ha!
Li londmwin, toit [tôt] å matén, i s' rimeta coraedjeuzmint a l' ovraedje, come s' i n' aveut djamåy cwité. Asteure, si djha-t i, ki dj' a fwait m' tins, dji va dmander a m' papa k' on-z atchete on tchvå.
Et i ndè djåza å grand Hinri.
Mins l' grand Hinri l' boûtlî, ki sait tot, et on dit minme k' il ôt soude li waide [il entend même l'herbe de la prairie qui pousse], saya di lyi fé coprinde ki les boûs ont des advantaedjes, k' i wårdèt todi a moens leu valeur, k' i vs aidèt et k' i fjhèt todi des kilos d' boune tchå, ådvier ki les tchvås, zels, ni fjhèt k' di vs aidî et k' divnous vîs, i les fåt vinde pol coutea et çoula, po pîce di pwin. "Tot çoula, dji l' sé bén, respondeut Donea. Mins çou k' vos n' dijhoz nén, c' est k' les tchvås, zels, vont pus vite, et k' li tchvå, c' est ene ôte biesse a cdure."
"K' avans dju mezåjhe d' aler roed, don, nozôtes dijha l' vî ome. On djonne tchivå, dji nel såreu ddja pus shure, hin, mi"
- C' est bén çoula, pinsa Donea. Mi papa djåze por lu. I fåreut po lyi fé plaijhi ki dj' sereu vî divant d' esse djonne.
Et ma fwè, on ndè djåza pus. Cwand k' les djoûs ralonguixhît et k' les noejhîs do corti cmincît a awè des pindants et les côrîs des minous, li grand Hinri djha a Magrite, si feme.
- Magrite, dji va aler fé on tour divins nos tchamps, po vey wice k' on-z end est."
- Vos iroz piede vosse tins responda-t ele.Vos voeyoz ben k' i gn a co todi on pô d' ivier [neige] so les hourlais et dzo les håyes.
- C' est po çoula k' les foyants fjhént ås mofioûles [taupinière] tos costés, taiss ! dijha Hinri.
- Vloz vs tinde ås foyants ?
- Ben seur ki neni risponda-t i, mins s' i gn a bråmint des moufioûles, ci serè l' moumint d' sayî nosse djonne boû po hertchî.
- Ayayay, pinsa Magrite. Ki va dire nosse Donea, lu ki pinséve bén k' on-z aléve vinde li djonne boû po-z atchter on tchvå ?
Et, sol tins ki l' grand Hinri esteut evoye avå les tchamps avou Picard, li tchén d' vatches, ele li djha a Donea.
Donea ni djha nén on mot, mins, sol moumint, i s' sinta houzer dvins ses clicotes. Po s' rapåjhter, il ala fé on tour o viyaedje.
La, i rescontra li ptit Lorint.
- Ni t' endè fwais nén, Donea, lyi djha-t i. Dji t' va dner l' moyén, mi, d' end esse cwite avou les boûs.
Donea rintra al måjhon tot contin. So ç' tins la, li grand Hinri, ki s' porminéve divins ses tchamps, voeya k' les foyants s' end avént dné, zels. I côpa ene baguete el håye [taillis] po ndè fé on bordon, et, binåjhe d' awè, asteure, ene boune råjhon d' sayî li djonne boû, i rintra el måjhon, lu avou.
Donea, djha-t i dimwin dj' irans sayî li boû o Haspoujeu Tchamp. Mete tot çou k' i fåt el tcherete al mwin"
Donea n' responda rén. Li Grand Hinri trova çoula drole.
Et insi, a set eures å matén, on fjha come il esteut dit. Donea prinda l' tcherete et l' Grand Hinri mina l' boû.
Arivés so plaece, on loya l' boû a on piket, et on cminça a fé l' hêtche [traîneau pour étaler les taupinières]. Ezès håyes, gn aveut djustumint des spenes. Avou les fiermins [serpes], on ndè côpa kékès beles et on ls arindja comifåt tot les passant dzeu et dzo des cwate boes del hêtche. Cwand ki l' hêtche fourit bén gårni, on meta dsu kékès grandès platès pires po k' ele fouxhe bén prindante, pu on meta l' foxhete [crochet] do werbion [palonnier] o l' anea del hêtche et, les deus traits al tere, po n' nén sbarer l' boû.

Li werbion et l' foxhete agritcheye e l' anea d' èn ekipaedje.
Li grand moumint ariva. Donea amina tot douçmint l' boû et les traits tot l' tinant pol tchinne et rawårda. Li Grand Hinri meta l' tchapea d' cur [coussinet de cuir] sol tiesse do boû et djha a Donea tot bas: Tins l' boû avou t' mwin tot près do mouzea. Dji lyi va mete li djeu.
Et tot douçmint, pa didrî, tot rotant so ses betchetes do pî po n' fé nou brut, i leya dischinde li djeu po ki l' tiestire [têtière, courbe d'emplacement de la tête] si metaxhe bén et k' les crinnas [entailles du joug] ni fjhénxhe nén må å boû.
Cwand l' biesse sinta l' pwè do djeu, i rleva tot d' on côp l' tiesse, come èn araedji, et broca en avant, et l' djeu vola å diâle, sol costé
Donea tna l' boû come i pleut, fjha deus, troes côps l' tour do tchamp po l' rapåjhter et l' ramina dvins les traits. Et on l' risaya, on côp, deus côp, dijh côps. Rén a fé. Li Grand Hinri esteut tot foû d' lu.
- Rawåde co on côp, dijha-t i a s' fi dj' a mezåjhe d' aler o bwès, wice ki li rwè va a pî. Et après, dji l' rissayrans, l' vårén.
Cwand Donea n' voeya pus s' pére, i s' dijha dvins lu-minme "Asteure c' est l' moumint".
I loya l' boû å piket; i l' loya foirt court, s' enondixha, et lyi dna di totes ses foices, avou l' betchete ferêye di s' gros solé clawé, on côp d' pî el panse wice ki vos vs endè dotez.
Li boû djemixha et s' ashia d' må. A côps d' pî el panse do costé do feute, i l' fijha rliver, pu i rinda on deujhinme côp vos sav' bén wice. Li boû rdjemixha et råya l' piket avou tos les fis åtoû.
Donea l' ratrapa, lu dloya, et l' ramina al hêtche. Asteure, li boû esteut divnou come èn agnea såf ki d' tins en tins, i djemixheut on pô. Donea lyi meta l' tchapea d' cur sol tiesse. Pu i lyi meta l' djeu, meta l' anea del coyonke el prumire picete [régla l'attache de la courroie du joug], pu fjha tourner l' coyonke [courroie du joug] come i faleut åtoû do djeu, des coines et do tchapea. Et cwand ki l' betchete del coyonke fourit metowe el finte di l' ôte picete [quand l'extrémité de la courroie fut attaché dans la fente de l'autre système de pinçage], i s' dijha : "Asteure li boû est djondou." Li boû aveut l' djeu sol tiesse. Il esteut djondou [attelé au joug].

dobe djeu: a hintche on voet bén l' arondi po mete li tiesse: li tiestire et l' coyonke (li coide ki loye li djeu azès coines).
Mins onk ki l' fourit bén avou [qui fut "djondou", 2e sens = attrappé, surpris], tot fjhant l' acwanse [semblant] di n' nén l' esse, ca d' å lon, il aveut veyou les manires da Donea, ci fourit l' grand Hinri. Cwand k' i rivna adlé Donea, i lyi djha.
- Cmint ass fwait, don, po l' ateler tot seu ?
- Ni m' dimandez nén comint dj' a fwait, risponda s' fi. Vos vlîz ateler l' boû, asteure, i l' est; c' est çoula ki conte."
Et l' djonne boû rota come on vî. Li grand Hinri n' aveut måy veyou çoula. Såf ki d' tins en tins, li boû djemixheut. Et al nute, i pixha minme on pô do sonk.
Li Grand Hinri esteut seur d' ene sacwè, lu, asteure. Il esteut seur ki Donea lyi aveut dné s' gnak, å boû. Åraeze, Donea n' esteut pus l' minme dispoy k' il aveut stî ezès sôdårds.
"I våt mî k' dji nel siplinke nén" pinsa-t i. I våt mî k' dji nel groûle nén ddja. Sinon dj' el pierdrè et dj' serans come des etrindjîs. Et so cisse pinse la, li Grand Hinri rintra el måjhon.
- Et l' boû ? lyi dmanda s' feme. A-t i stî ?
- Fåreut houkî l' årtisse, risponda-t i.
- Pocwè djha-t ele.
- Po rén risponda-t i.
Et l' årtisse vina. Et i djåzît eshonne, lontins. Et on-z evoya l' boû, å pus abeye, e l' abatwer. Et on pierda dsu sacwantès pîces.
Et cwand ki l' boû fourit evoye, li Grand Hinri houca s' fi et lyi djha:
- Asteure, Donea, vass vey après on tchvå. I nos endè fåt onk, on bea djonne. Dixhombere tu a cweri.
- Dinez m' les sôs, dji cnoxhe onk ki nos covént, et k' est djustumint a vinde, lyi risponda s' fi Donea.
- Neni, valet, les tchvås, c' est ti afwaire come les boûs, c' esteut l' minne.
Et Donea ramina on bea ptit tchvå, l' atela et rtrova si boune oumeur. Li Grand Hinri esteut contin di sawè ki s' fi l' esteut avou, mins i n' pleut nén rovyî çou k' Donea aveut fwait po-z ariver a ses féns.
Les moes passént. On djoû k' tot l' monde esteut binåjhe, paski li tchvå aveut bén travayi, li Grand Hinri, ki n' aveut rén rovyî, dimanda a Donea.
- Mins ki est ç' don ki t' a acsegnî a ateler les boûs come to l' as fwait, avou nosse dierin ? Est ç' å redjimint k' on t' av' aprin çoula ?
- O neni, c' est o viyaedje, risponda Donea
- Kî o viyaedje dmanda Hinri.
- Li ptit Lorint, risponda Donea sins prinde asteme a çou k' i djheut.
- Oho, risponda s' pére, mins dvins lu-minme i pinsa: "Cisse pitite crapule la ki vént come on djuda adlé mi, et ki hante avou nosse Julia, i mel payrè, çou k' i m' a fwait. Et i nel payrè måy tchir assez.
I prinda s' pupe, li bôra bén comufå, et i fouma. Et tot foumant, i tuza al manire di lyi fé payî tchir, å ptit vårén, sins portant fé trop sofri si feye Julia.
Tot l' monde sét bén ki cwand l' Grand Hinri tuze, lu k' ôt soude li waide [qui entend l'herbe qui pousse = qui est très malin], i trove todi.
Et i trova si bén k' Lorint ni vna pus el måjhon, k' i n' hanta pus avou leu Julia et k' i s' maria avou ene des Tîxhes, ene grand curêye ki lyi frè vey li diâle tote si veye.
"C' est l' pûnicion då bon Diu" djha-t on dzo l' Grand Hinri, k' end aveut djåzé a ene macrale d' Otrè po k' çoula arivaxhe come i l' sohaitive.
On-z a bén råjhon d' dire k' on côp d' pî må dné vs ritoume todi sol nez.
---
A. Lenfant, divins: Contes de Haute-Ardenne, 1980.
---
La voyelle instable est U:
xh et jh se prononcent ich-laut (noté hy en alphabet phonétique et en Feller). dihyombere tu. Sauf: i djha -> i d'ha.
minne, tinne, sinne se prononcent mîne tîne sîne.
ê se prononce in: werbion -> winrbiyon.
---
Tote pitite notûle biyografike.
Albert Lenfant a vnou å monde a Lierneux e 1915 et a morou a Ocgneye e 1996.
---

(Index des auteurs présentés sous forme pré-normalisée) Djivêye des scrijheus eplaidîs dizo cogne årmonijheye, mins tot wårdant ene miete l' accint. (Index des auteurs dont les textes sont disponibles en wallon commun) Djivêye des scrijheus k' ont scrît u k' ont stî rashious e rfondou walon

(Back textes en wallon commun) Erdalans sol pådje des scrijhaedjes e rfondou walon.

(Back homepage) Alans rzè el mwaisse-pådje

(homepage wallon commun) Alans rzè eviè l' pådje moennrece do rfondou walon.
---
Sacwants scrijhaedjes di cisse waibe chal polèt esse dizo abondroets; nos les rsaetchrans foû s' i fåt.
Some texts published on this site may be affected by copyrights and eventually need to be removed in the future.
---