Page de Louis Lagauche.

Li pådje da Louis Lagauche.

(rashiou e rfondou)
dierin rapontiaedje - last update: 2004-07-03.
Dressêye:
Épopée sur le modèle de la légende des siècles, pour le pays Liégeois.

Poèmes à l'honneur de la Wallonie.

Poèmes sur la vie.

Grand poème buccolique, et moralisateur (épopée).

Biographie.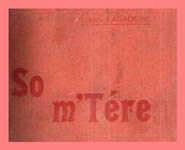 ---
(…)
On peupe vikéve e påye la k' c' est ouy mi patreye,
Siervûle, libe et djoyeus come on vigreus pinson,
Vicant del tchesse, del pexhe, et n' avant k' ene eveye:
Mori l' pus vî possibe, inte ses rôzes, ses clawsons.
Mins l' apetit des grands k' on n' pout måy ripaxhî
El timpesse ki shofléve, evoya Djule Cezår
Po ravadjî ses bwès, ses campagnes, ses paxhis
Et pårti ses ritchesses inte des mådits sôdårds.
Portant si les årmêyes do ci k' est l' impreu d' Rome
Pinsént n' resconter cial ki des yebes a språtchî,
Ele s' aporçuvît rade k' il î crexheut des omes
Bén trop deurs a distrure sins poennes et sins dandjî.
Mins l' ci k' a toirt a droet cwand l' djustice court evoye.
On-z oya xhufler l' få, côpant les tiesses di moirts,
Et l' åme d' Ambiyorice ploréve so tant d' mizere,
Cwand l' air resdondixha des paroles di Cezår
"C' esteut l' peupe li pus bråve inte tos les peupes del tere"
(Après l' aveur distrût, c' esteut l' vey on pô tård.)
---
Louis Lagauche, divins "So m' tere", Imprimreye Lambotte Stémar, Lidje, 1921.
---
(...)
L' apôte k' aveut fwait Lidje tot rispådant l' simince
Ki nos dveut avoyî des ome foirts et djintis
S' aporçuva bénrade k' i s' maxheut ene måle indjince
Avå les belès fleurs k' on nos aveut fwait vni.
(…)
Mins l' ome k' aveut ståré l' bonté tot come on seme
Li grin k' avoye des påtes, la k' i n' aveut k' do four
Mora del mwin d' Dôdô, la k' rifuza l' bateme
Å rdjeton d' on grand-duk, måva frut di l' amour.
Sint Lambiet, sint Lambiet, vosse no s' brairè djourmåy
Come i resdondixheut el påye come e disdu.
Djustice et Sint Lambiet ni s' abandenront måy
Avå les siekes a vni come ås cis ki n' sont pus.
Ca les cindes do grand ome si stårît so nosse tere
Houte del glwere des signeurs, des princes et des barons
Po fé frudjî dvins Lidje nosse vigreus caractere
Eritance di nos tåyes, ki nos efants rtrouvront.
---
L. Lagauche, divins "So m' tere", Imprimreye Lambotte Stémar, Lidje, 1921.
---
(si tchante so l' air "Honneur aux enfants de la France").
I.
Por leye ki dj' inme, po nosse bele Walonreye,
Tchante, ô bea cok, a vå tes pleus dorés.
Cwand t' vwès d' clairon resdondixh ås orayes,
Nosse cour toctêye a nel poleur edurer.
Ki t' vwès s' etinde sol voye come el måjhone;
K' ele vegne kischeure les cis k' sont-st edoirmous
Po k' ehåstexhe di braire avou :
"Oneur a nosse bele åbarone !"
II.
Ti tchantes firmint come on bea cok di håye,
Mins ti t' disfinds come on vî cok bateu
Et tes sporons (l' eritaedje di nos tåyes)
Ont ddja fwait taire les cis k' breyént trop roed.
Çou k' ti disfinds, c' est nosse cåze; elle est boune.
Et çou k' est bon ni doet djamåy peri.
Ossu vola t' vwès ki nos rdit:
"Oneur a nosse bele åbarone !"
III.
Ti prindrès pårt, bea cok, a nos mås d' tiesse,
Mins ti tchantrès po nos lzès fé rovyî.
Ti gostêyrès les plaijhis di nos fiesses
Et ti rdirès l' aweure d' esse di m' payis.
S' on liyon tchante kécféye li Braibançone,
Twè, ti nos dit k' on-z est fir d' esse Walon.
Et l' eco m' avoye di bén lon:
"Oneur a nosse bele åbarone !"
---
L. Lagauche, divins "So m' tere", Imprimreye Lambotte Stémar, Lidje, 1921.
---
A come t' as bon, bråve viye moman
Tot fjhant potchî li ptit cint-meye
Ki pîle po k' ti lyi rdeye tot bas
Les doûcès tchansons del patreye !
Li veye ki monte - wice ? On n' sait nén -
Gruzene eyet vént mete ene låme
Al coine di l' ouy del veye ki dschind
Eviè l' ripoize des pôvès åmes.
---
L. Lagauche, divins "So m' tere", Imprimreye Lambotte Stémar, Lidje, 1921.
---
Grigwere aveut ene pitite båshele
K' il inméve a l' adoråcion.
Po ses ouys, nole n' esteut si bele;
Po s' cour, c' esteut l' pus peur djowion.
Mins l' aiwe al Sint-Djhan k' est ficele
Lyi hapa s' pôve pitit poyon.
Et Grigwere, dispoy cisse novele
Si rindeut a Mouze tot côp bon.
On djoû del shijhe, i pinsa vey
Divins les feus k' s' î vnèt murer
L' åme di l' inmêye k' el fjheut plorer,
Et l' seul rigret di s' vicåreye !
Et, pinsant rdjonde l' åme di si efant,
Grigwere pica s' tiesse e corant.
---
L. Lagauche, divins "So m' tere", Imprimreye Lambotte Stémar, Lidje, 1921.
---
Adrovaedje:
Vey, coprinde et inmer s' payis, c' est viker deus feyes.
Dji vs va conter l' måle avinteure
D' on ptit hierdî di tins passé
Ki, tot djonnea, fjha ene si laide keure
K' i nel pola måy refåcî.
Tot l' long di s' veye, come ene egloume,
Li rmoird lyi peza, nute et djoû.
I dmora mierseu, vî djonne ome,
Sins exhowe, todi l' cour e doû.
A ! wårdez vs del prumire måcûle
Efants k' el monde, et ses apås,
Assaetchèt foû do ni påjhûle
Come des waermayes e clair fouwåd,
Wice k' ele si vont broûler les aiyes.
Po vs dire li vraiy, mi ptit Ådneu
N' esteut ni fås, ni traite, - croeyoz l' -
Ni minme metchant ni toursiveus
C' esteut on cour simpe et bounaesse
K' inméve si veye di payizin
Ses bons parints, si deure payaesse
Disk' a ses biesses et s' tchén… Portant,
Ene sacwè l' catyive e fond d' l' åme:
'L esteut curieus come on spirou.
Curieus ! Çoula n' est waire on blåme
Mins çoula, voeyoz vs, l' a pierdou.
Li ptit ome aveut des idêyes
Sol monde et ses meyes di cårpeas
Ki fjhént i, ces-la, d' leus djournêyes,
S' i n' wårdént nén vatche et pourceas?
Por lu, bate carasse avå Lidje,
C' esteut l' pus lancinant d' ses dzirs.
Et ptit hierdî d' Burnontidje
Di s' bouneur, paya ç' fås plaijhi.
****
Tchant I:
Hanesse et Magrite
L' Årdene, -Li hamtea- Magrite- Åmatén-Viye tchanson- Hanesse-Copinaedje-Troes-Tåvleas-Vesprêye-Li rtoû-Viye måjhon et conseys-Rintrêye.
*******
Tchant II.
L' evolêye
Setimbe-Matinêye-E rote- Li måle Magrite-Li bierdjî d' Mousni-Tchanson- Sotès croeyances-Pôve viye-Li radjoû-prumire et dierinne båjhe.
*******
Tchant III
A sint Rok
Sint Rok-Li colerå a Lidje- Les pelrins après messe- Les djoyeus Lidjwès -Pierdous-Diloujhe e hamtea- E bwès- Sondje- Li biesse di Ståneu- Al pikete do djoû - Lidje ou Burnontidje - Les Bowemyins - Wice k' on tchåraban vs pout moenner.
*******
Tchant IV
A Lidje
1850 - Ene fiesse a Lidje - Vive Li Rwè - Pôve cokea d' Årdene - Après l' plouve, li bea tins - On vî bråve manaedje - L' aprindisse boledjî - Come les djoûs sont longs - Ene amorete - Cour d' agnon - Tchanson di rgret
*******
Tchant V
Li rmoird
C' est l' fiesse - Poennes di cour - Les ceréjhes - Li må do payis - Adiè - Li biete - L' Ambleve - Emey les bwès - Viye tchanson - Li bierdjî filozofe - Li bwès - Li viyaedje - Bondjoû - Côp d' gråce - So l' aite - Li rmoird.
*******************************************************************
Tchant I:
Ene clotche sounéve al prumire messe
Et s' vwès d' cristål si pierdeut e bleu cir
Cwand ene viye tchanson, plinne di promesse
Fjha sospirer nosse hiedresse di plaijhi.
Li ptit valet k' esteut sol voye
Ki s' fåfiyive el clairté des grands tchamps
El vineut vey et, loyminoye,
Tchessive ses biesses divant lu tt tchantant
*******
- Dimegne al shijhe, enon, Magrite
Mi vî mononke di Houbiemont
K' aléve sovint come èn ermite
Totavå Lidje vinde ses ramons
Nos a conté tant d' sots messaedjes
So les djoyeus Lidjwès, dit-st i
K' on djoû dji frè l' perlinaedje
A Sint Rok po les vey ossu
- Iy ! Hanesse; k' avoz vs ki vs kihagne
Po k' i vs astitche des sfwaits makets
C' est lon d' voci, sav', Biernåfagne
Et vosse mere vos el disfindrè
*******
Est ç' veur Sav' cwè, Magrite, cwand on frè co ç' fiesse la
Dj' irè so Biernåfagne et vos wådroz mes biesses
Dji rvénrè dviè cwatre eures et dj' rapoitrè por vos
Ene medaye di Sint Rok ki rlût pa dzeu et dzo
***********************************
Tchant II:
Li dåte k' i rawårdéve por lu fé l' perlinaedje
Sounéve et ene claire aireur anoncive on bea djoû.
*******
Tot rnetiant li ståve da Noerete
Tot lyi rfijhant s' payaesse si strin
Il esteut toplin pus adjete
K' i n' l' aveut stî ls ôtes åmaténs
C' est ki s' biesse tot brognant l' ruslire
Pol vey cori, roufler tot djus
Cawtéve, muzéve, shonnant lyi dire
Dispaitche tu, gamén;dispaitche tu !
Et tot cwitant s' pitit viyaedje
Come onk k' est porshû do båbou,
I n' voeyeut ni håyes ni boschaedjes
Ca l' rafiya l' tchôkive å cou.
Adon les ronxhes et les fetchires
K' avént gripé so les talus
L' awaitént tot shonnant lyi dire
Dispaitche tu, gamén;dispaitche tu !
Sol tins k' Magrite ridjheut co traze feyes e s' priyire
"Grande Sinte wårdez l' des poennes, lu ki dj' voe si voltî"
Li ci k' ele ricmandéve endaléve a l' avire
Sins awè l' pus ptit rgret po çou k' leyive å drî
***********************************
Tchant II:
Mins vola k' ene clotche tchante d' ene vwès doûçresse
Houcant dvant l' åté tos les sint-Rokîs
Tot ridvént påjhûle: c' est l' eure k' el priyesse
Benixh les medayes et les sints d' papî
Adjeni sol voye, u dvant les erlikes
On s' tént coet ene hapêye avou ls ouy baxhîs
Pu les litaneyes et les vîs cantikes
S' enondèt viè l' sint k' on voet si voltî.
Mins vola l' tåvlea ki candje
Ossu vite k' el messe est foû
On roveye Sint Rok et si andje
Po boere li ptite gote di doûs
Do laecea, des pinteas l' bire
On vere di France ou d' peket
Et pus d' ene si leye adire
Po ene copete di crås cafè
Come ene sakî d' l' ôte sieke ki voereut l' progrès d' ouy,
Hanesse li ptit hierdî, l' efant des parfonds bwès
Aveut pô d' ses orayes et trop pô d' ses deus ouys
Po vey et po-z etinde tote cisse froxhe di Lidjwès
(…)
I les louca ridschinde et dvins on seur sorire
I s' dijheut: "Endè rvont so Lidje, les awoureus".
Et cwand i s' ritourna sol campagne disseulêye,
Ki torade ene muzike fiestixheut d' ses acoirds,
I pinsa lére å cour d' ene Årdene abandnêye
"Vicåreye sins plaijhi, disseulance disk' al moirt ! "
Ossu cwand les escos, come l' andje di måle aweure,
Lyi ravoyît co ene feye ses flibotes ses tchansons
I rovia tot: viyaedje, parints, tchamps, biesses et keure
Et recora viè ls ôtes po rvey leus cråmignons
*******
(…) (…)
*******
Tchant V
Et vola k' on trove trop coûte li samwinne
Les plaijhantès eures passèt å galop
Cwand l' roslant djambon n' a pus k' el coyene
Fåt k' on rmijhe li frake po tchåssî l' sarot
Li fiesse est evoye elle a l' båbe broûlêye
Et vénrdi racourt gåter totafwait.
Leyîz nos plorer; nos djoyes sont passêyes
Leyîz nos plorer so Matî l' Oxhea.
Padrî des surès låmes, i rvoeya tot s' viyaedje:
Pere et mere et cnoxhances et soriyants vizaedjes,
Motoit moens dispiertés k' les cis wice k' il esteut,
Motoit pus payizins, mins do moens, ses Ådneus.
Ossu, l' må do payis lyi vna-st al doûce minote
Po lyi mostrer s' laide keure di flibote a flibote.
*******
Et vola k' on djoû, des ceréjhes lujhèt
So ene pitite baguete
Håynêye a ene hobete
Sol pus viye des plaeces amon les Lidjwès,
Des ceréjhes tchantèt
Les belès promesses
Do bierdjî Hanesse.
1
Et vola k' on djoû, des ceréjhes djåzèt:
"I dvèt tni parole, les cis k' prometèt "
Et vola k' on djoû, des ceréjhes djåzèt:
D' ene medaye beneye
K' asteure on roveye
Et vola k' on djoû, des ceréjhes vantèt
L' amour sins fåstreye
K' est si råle el veye
Et vola k' on djoû, des ceréjhes mostrèt
Les ouys d' ene kimere k' i cwita sins rgrets.
Et vola k' on djoû, des ceréjhes lujhèt
Tot fjhant fé des hopes å cour do valet.
Loukîs k' les ceréjhes
Et vola k' on djoû, des ceréjhes lyi djhèt:
"T' a stî bén trop vite
Po rovyî Magrite.
Recour dilé leye ki t' solåçeyrè
*******
Li voye esteut bén longue di Lidje disk' a s' viyaedje.
Mins cwand on-z a vint ans, do coraedje et l' bon tins,
Li douceur di l' Årdene et li dzir ki vs assaetche,
Les ptitès ascoxhêyes ni contèt nén sovint.
Ouy, tot lyi soriyeut tot ôtrumint k' davance.
I s' sinteut ene ôte åme pask' il aveut sofri,
Et coprinde mî l' valeur do payis di si efance,
Wice k' on fwait vni des noejhes po coplaire les spirous
*******
Mi fi, mi fi ! brait ele, Hanesse, mi ptit Hanesse,
C' est bén twè, m' binamé, dji t' ra, don, dji t' rissin.
Et l' bråve mere, awoureuse ni sait cmint lyi fé fiesse.
Ele pleure, ele reye, li båjhe et l' kihosse e minme tins.
Li pere, on rude bwejhlî, ki n' est nén prusti d' låmes,
Sint tot s' cour difali come onk k' est pawoureus.
Et vola k' so ses tchifes corèt deus grossès låmes,
- Les prumires ! - et k' i rsouwe avou l' betchete di s' doet.
*******
Mins cwand on lyi derit des noveles då viyaedje
Et k' il aprinda pår k' el hiedresse n 'esteut pus,
K' elle aveut rindou l' åme cåze… d' èn emacralaedje,
Et k' elle aveut dmandé co traze feyes après lu,
Si vizaedje candja tot…
*******
Eyet londmwin, Hanesse, diloujhî, l' åme disfwaite,
Si leva sins rén dire; moussa foû sins ddjuner,
Et prinde li stroet pazea ki s' fåfiyive viè l' aite
Tot rotant l' tiesse baxhowe come on pôve codåné.
Et cwand i voeyea l' fosse la k' el riyante båshele
Î doirmeut s' dierin soume a houte d' ene croes d' sapén,
D' ene djårbêye di brouwires et d' ene corone di pieles,
I touma l' tiesse conte tere et rplora co lontins.
*******
Ossu, cwand s' ridressa, si cour aveut rçû s' daye
Li rmoird el kipicive do må k' aveut spårdou.
I saetcha foû di s' potche ene pôve pitite medaye
Et l' simpe baston d' ceréjhes k' il aveut prometou.
Adon, stindant ses bresses viè l' rodje tere di ses tåyes
K' il abandna davance et sins tuzer pus lon
Li rodje tere des minires, la k' Ele doirmeut-st e påye
I leya scheure sol fosse li medaye et l' baston.
---
Louis Lagauche, pol djoû del fiesse del Walonreye di l' an 1926.
---
Pitite notûle so s' vicåreye.
Lagauche, Louis (1877-1965) sicrijheu e walon, di Lidje minme, årmurî di s' mestî, pu bibliotekî. I screye dispu estant tot djonne (16 ans): ene tchanson: "Les Flaminds". Docô, i dvént redjixheu d' ene dramatike, et-z askepyî, e 1897, ene soce di scrijheus: "Les djonnes oteurs walons". I tchante å Cåbaret° walon (1895-1900), pus a ds ôtes cåbarets disk' e 1925. Ses scrijhaedjes, c' est des sacwès po rire, et po vanter l' Walonreye. Insi, i riscrît tote l' istwere do payis d' Lidje, a môde del "Légende des siècles" da Victor Hugo, eplaideye dins l' ramexhnêye "So m' tere, prumî live" (1921). Il a l' boune aweure di rashonner ses scrijhaedjes, tchaeke côp k' end a assez po fé on live, et sins leyî ouve, céncwante ans å long. "Å hazår del pene" (ouves 1897-1907); "Amon nozôtes" (tchansons tchoezeyes 1908-1912); "Mayon" (powinme e nouf tchants, 1909); Li ptit hierdî (powinme e cénk tchants 1926); "So m' tere: les belès eures" (1928); So les ailes del tchanson (1932); Tchantchès, istwere d' on Lidjwès (1935); "Prindez vosse bordon: tåvleas, contes et noveles e proze" (1937); "L' inmant" (powinmes) (1947). Riprin dins l' grosse antolodjeye da Piron.
---

Si des mots difficiles se présentent à vous sur ces pages, allez voir s'il ne sont pas expliqués dans le Splitchant motî do walon (avec brève traduction française), ou dans le Wikipedia, l'encyclopédie en wallon (suivez: "Pordjet Esplicant Motî").
---

(Index des auteurs présentés sous forme pré-normalisée) Djivêye des scrijheus eplaidîs dizo cogne årmonijheye, mins tot wårdant ene miete l' accint. (Index des auteurs dont les textes sont disponibles en wallon commun) Djivêye des scrijheus k' ont scrît u k' ont stî rashious e rfondou walon

(Back textes en wallon commun) Erdalans sol pådje des scrijhaedjes e rfondou walon.

(Back homepage) Alans rzè el mwaisse-pådje

(homepage wallon commun) Alans rzè eviè l' pådje moennrece do rfondou walon.
---
Sacwants scrijhaedjes di cisse waibe cial polèt esse dizo abondroets; nos les rsaetchrans foû s' i fåt. Sacwants bokets scrîts ezès walons coinreces polèt aveur sitî ene miete rassonrés po poleur shuve pus åjheymint les mwaissès-rîles do rfondou walon.
Some texts may be affected by copyrights and eventually need to be removed from this server in the future.
Certains textes peuvent avoir subi des modifications mineures pour faciliter leur insertion dans le projet d'orthographe nationale pan-wallonne.
---