Page des textes en prose d'Emile Gilliard.

Sicrijhaedjes e proze da Emile Gilliard.
dierin rapontiaedje - last update: 2004-09-01.
Dressêye:
Romans et nouvelles.
L'invasion allemande de 1940: On vî fizik eruni: May 1940.

Journal intime de la dernière sœur de Goyet. Les djoûs racourtixhnut
Traduction et adaptations.
Collines de Jean Gionno: So les tienes: Li feu.

Pådje moennrece da Emile Gilliard.
---
Journal intime de la dernière sœur de Goyet.
Li shijh do moes d' awousse.
I gn a rén d' candjî. Påjhire, c' est påjhire.
Li cir est pus clair et pus bleuw ki l' pire castinne. Long et lådje, on n' voet nén on plomion, nén ene barbôjhe e l' air, come s' on åreut rnetyî a fond les grandès finiesses do stoelî.
I fwait tchôd jamwais. I gn a ene grosse moxhe ki zûne pattavå l' måjhone. Ele cavole, pezante, et s' pokî conte les cwåreas. Ele ni låtche nén. Ci n' est nén come li tchet ki s' a ståré padrî l' håye. Ossu nawe ki l' moes d' awousse, sapinse l' ôte.
I m' arive cobén d' cåzer tote seule, tot hôt, po etinde ene sacwè. Ou ene sakî, c' est come on vout. I gn a kel moxhe ki zûne d' ene finiesse a l' ôte. Hodante. Taenisse.
Ådjourdu, dj' a yeu l' zine di vleur schoûter les tchants d' Påke di l' abeye di Solemes. Nos les avans so ene plake k' on nos aveut ofrou po l' fiesse di dji n' sai pus del kéne di nozôtes. Dj' a metou l' plake et l' fé tourner.
Dji m' a ashid addé l' finiesse et rwaitî sacwants ptits moxhons et des orondes ki s' enondént aviè les dzeus. Et schoûter.
Dji m' åreu yeu metou a djnos.
Mins pocwè aler mete del muzike di Påke e plin moes d' awousse ? Tot l' monde li direut. Pocwè, oyi ?
El sai dju seulmint mi-minme ?
Kécfeye bén paski l' plake atake avou on tribolaedje di clotches come i gn a pont et k' ça vos stitche d' on plin côp dins ene air di fiesse.
Påke, c' est come li ravicaedje di tot. On scheut l' ivier et rtchessî les nûlêyes et l' noerixheur. C' est l' fiesse del veye ki spotche li moirt et, si on vout, c' est tos les djoûs a rataker. On mourt ene miete tos les djoûs et raviker et s' rastamper.
Por mi, dj' aveu dandjî d' ça ådjourdu. La tot. Sinte ki dj' vike. Ki dj' ravike. Dj' end a dandjî dispu lontins. Et d' etinde triboler les clotches, dji m' rapinséve les fiesses di Påke did dinltins et dji leyive berôler mes pinsêyes avår la. Ça m' fijheut do bén.
Après li stampêye et sgoter tchaeke a toû, les clotches s' ont tai. Et dvant d' edåmer l' muzike, on a etindou tchîpler des ptits moxhons dins les åbes åtoû d' l' abeye.
Adon, ç' a stî l' tchant des moennes ki s' a enondé, ene miete å côp: "Resurrexi et adhuc tecum sum, alleluia..."
C' est come si ç' åreut yeu stî Djezus, moirt et eteré, ki s' åreut yeu stampé d' on randon, pårlant vicant, foû d' ses bindletes et foû di s' lénçoû et s' mostrer åzès femes k' estént disbåtcheyes come djel so.
C' est come s' I m' åreut yeu vnou houkî et m' dire: "Voeyoz, dji vike et vos vikez eto. Låtchîz vos sotès idêyes".
A Påke, li seuve boute, les coxheas si rbotnêynut et rfoyter; gn a tot ki ravike come djel vôreu fé ådjourdu.
Mi ragrawyî on côp po totes. Ni pus leyî sgoter les djoûs a cawêyes come on tchaplet k' on leye rider etur ses doets, grin après grin, sins s' ritourner so rén et sins pus trop croere a tot çk' on dit, a tot ç' k' on remoût, a tot ç' k' on fwait.
Påke, ça sereut, ça divreut esse, ene miete cwand on vout, å trefond d' lu-minme. Ça n' a rén a vey avou l' tins, avou les djoûs, avou les fiesses.
Dj' a frumjhî. Li beaté del muzike m' a stréndou.
A m' shonnance, ça n' diveut nén esse foirt målåjhey di priyî, di rgriper viè les dzeus avou des pareyès enondêyes.
On va co dire ki dj' fwai do sintimint. Seulmint nos n' estans nén des bokets d' bwès et ç' muzike la, ça vos strénd. Ele pout aler rdognî conte les vôsseures di grandès eglijhes, ttossu bén k' dins les camousseas d' nos ptitès tchapeles.
Poleur schoûter des si beas bokets, leyî griper ses pinsêyes foû des mizeres et des margayes di tos les djoûs.
Foû d' nos tchinistreyes.
Co d' tchance k' on les pout co schoûter d' tenawete, so des plakes come li nosse. Paski l' novele muzike d' eglijhe, c' est come tot asteure, ci n' est pus k' sacwants ptitès årgudinnes, todi les minmes tot costé. Ele cournut al taxhlete å raeze des tcheyires, po n' nén dire a raeze di tere.
C' est må toirtchî, c' est må tchanté.
Si l' curé voereut çou ki dj' sicreye, î direut co, come todi, ki dj' fwai do sintimint, ki dj' rûteye so tot et ki dj' divreu prinde tot ça åtoû d' mi. K' i gn a pés k' ça dins l' monde d' ådjourdu.
C' est l' vraiy k' i n' a nén toirt s' i va d' la. Mins, tolminme, on n' a pus rén po s' recoraedjî, po s' renonder. Tot toûne a målvåt.
---
E. Gillard, divins: Les djoûs racourtixhnut.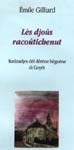 Dipus d' racsegnes so "Les djoûs racourtixhnut"
---
Traduction de "Collines" de Jean Gionno.
So les tienes.
Li feu.
Babete tape li finiesse di s' tchambe å lådje:
- Ki gn a-t i ? Ki gn a-t i co ?
- Li feu ! li feu !
Mårasse pîtele etur si mame et Gondran:
-... Scafyî, l' bwès des Croejhîs. Pus lon, viè les Dijh Cresses, c' est totafwait fini, raspepyî. Gn a pus rén. Cand dj' a adåré so li dzeu d' Espel et vey ça... Binamé Bon Diu !
- Et l' Garidele ?
- Ça plonke dissu.
- Et Gåde ?
- Ci n' est pus k' ene blamêye.
- Tonoere di mvé !
Djåme est ene miete tot seu; ene miete foû des bruts. Mierseu. I lyi shonne k' i dvént grand et stocaesse come èn åbe. D' on plin côp, il a s' cour å lådje. I l' schoûte tocter å fond d' lu-minme, clair et net, raiwé pa des waxhlêyes di bea sonk.
Bon ! ç' côp ci, on sait bén d' ewou k' ça vént; on voet bén çki c' est. On sait bén çk' i fåt fé; ç' åreut polou esse pire. Nos estans la. Dji so la, mi, et ça va; ça va, do moumint k' on sait bén çki c' est.
L' aireu, ti direus del sirôpe ki sint bon les yebes. Elle est raspexheye di totès sôres di hinêyes et c' est tot tchôd dins ses trefonds.
Ene ascoxheye et la Djåme dilé zels. Si droete mwin so li spale da Mårasse et l' gåtche sol cene da Gondran; vo l' la å mitan des deus come èn åbe k' åreut des percés bons coxheas.
- Hay evoye, tertos, les efants !
" Arbåd, fijhoz poirter vosse pitite crapåde amon Gondran por zels li mete dins l' tchambe did padrî. Vos, Laleye, alez dner on côp d' mwin a Babete. Et vos, man Madlinne, amon Gondran ossu. Tertotes amon Gondran. Alez. Dimoroz eshonne. K' on seuxhe bén ewou ki vs estoz s' on åreut dandjî d' vozôtes. Et pu, insi, tertotes eshonne vos n' åroz nén peu.
" Et nozôtes:
" Arbåd, voste hepe et vosse locet.
" Mårasse, vosse locet et purdoz vosse traeyén eto.
" Gondran, voste hepe, des coides et vosse flayea.
" Gamén, vos vnoz avou nozôtes. Couroz al måjhone. Purdoz mes deus hepes, li lådje et li ptite. Eles sont padzo l' banc d' munujhî.
Les femes chornut.
- Babete, ê, Babete, waitîz al coviete da li ptite.
- Man, purdoz ene sacwè por vos mete so vosse dos.
- Mi ptit boket, ni dmeroz nén la å mitan do djeu d' guiyes, couroz raddimint. Gn a des finiesses ki s' tapnut å lådje.
- Pa, avoz pris l' clé del dresse ?
- Alez, abeye, raddimint, k' i fwait Djåme.
- Pa, li clé del dresse; pa, li clé, vos di dj' !
- Cwè ?
- Li clé del dresse.
- Padrî l' vere do régulateur.
Les ouxhs clapnut.
- Les hepes, gamén ?
- Nén trové.
- Padzo l' banc, vos di dj', nom di dio !
- Arbåd, avoz tot ?
- Dj' a pris m' såpe eto.
- Dj' a deus piyoches, dit-st i Mårasse.
Gondran bize foû des Monjes.
- On a metou Mareye coûtchî.
- Ele n' a nén brai ?
- Et m' moman ?
- Vint dius d' vint dius, atake-t i Djåme; estoz presse oyi ou non ?
Ene volêye di moxhons ossu spesse k' ene nûlêye d' oraedje passe tot tchîplant. Djåme gripe sol figuî. Dins l' tchambe a coûtchî, Djanet est stindou roed come on piket et påjhire, al minme plaece k' enawaire. Addé lu, gn a l' tchet ki fwait s' twelete a ptits côps d' grawes.
- Djanet, li bwès des Croejhîs ki broûle; etindoz-m' ? Et l' vint shofele did la. N' avoz rén a dire ?
I n' mouftêye nén. On n' ôt ki l' vint k' avore et ronfler, tcherdjî d' felès hinêyes di broûlé. Adon, on etind Djanet ki creye di totes ses foices:
- Couyon !
Ça a pris vaila ås cwate cints diales, etur deus viyaedjes k' on î broûléve des ranches di canadas. Subtil come on tchet, li feu s' a enondé foû d' ene bowêye di brouhire sol tape di troes eures å matén. A ç' moumint la, i s' cotapéve et fé l' moenne-brut dins les sapéns. Sol côp, on pinséve k' on l' aléve mwaistri sins k' i gn euxhe trop d' raspepyî, mins il a dåré télmint foirt tote li djournêye et on boket del nute ki ls aveut tertos metou djus et k' i n' årént pus seu dire: do pwin.
Al pikete do djoû, i l' ont rveyou pus stocaesse et pus rézolou k' jamwais. I cotoirtchive si grand coir etur les cripias, parey k' ene waclêye d' oraedje. Il esteut trop tård.
Dispu adon, il a tchôkî si rodje tiesse ådtruviè des bwès et des trîs et s' vinte ki shût n' est k' ene blame et s' cawe tot padrî cotape les breujhes et les cindes.
I s' cotrinne, i zoupele, i vore. On côp d' grawe par ci, on côp par la. Vaici, i fwait on schård din les tchinnes; vaila, il è scafeye vint blancs et troes carotes di sapén d' on seu côp d' grawe. Li betchete di s' linwe saye li vint por leye sawè do ké costé k' i fåt potchî. On diréve k' i sait bén ou çk' i va. Et c' est s' mouzon, ki l' sonk sgote djus, ki l' Mårasse a treveyou dins l' foncea.
(a shure)
---
Emile Gilliard, divins, " So les tienes ", 1990.
Des ôtes racsegnmints so les scrijhaedjes da Gionno: vochal.
---
L'invasion allemande de la Belgique vue par Emile Gilliard.
Dijh di may 40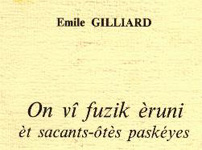 Li dijh di may, li solea n' a nén yeu l' tins d' griper foirt hôt divant ki l' novele ni s' euxhe sitramé pattavå les rowes do viyaedje. Les Almands avént broké so nos teres do costé d' Lidje. Il avént dedja sacramenté sacwantès veyes, del nute, et les distrure k' i gn aveut pus k' des burtons d' meur, dijhéve-t on.
On a pus personne ki cåzéve di tåtes a poirter amon l' boledjî, di for a tchåfer, di blanke cote a dveur aler assayî amon l' costrî divant k' ele n' atake a l' ristinde.
Et c' esteut kine eto po dmerer e l' eglijhe et repeter les påters et les tchants. Li curé aveut dvou låtchî les efants. Wespiants k' il estént. Arnåjhes jamwais parey.
Et kî çki les åreut yeu sercî ? Avou des pareyès plonkes ki vos tchaiynut sol dos...
Sol plaece di l' eglijhe, dé les botikes et ene miete tos costés so les voyes, ci n' esteut ki ramonçlaedjes di djins. Couratreyes. Boeladjes. L' air frumjhive. Li viyaedje, on åreut dit ene tchetoere efoumêye, on copixhot pestelé.
Tolmonde vleut dire li sinne.
Portant, tolmonde el saveut bén k' ça vénreut on djoû ou l' ôte. K' i mousrént å payis come al guere di catoize.
I gn aveut dedja des moes et des moes k' les sôdârds montént li gårde adé les ponts, åtoû des gåres. Tot l' ivier, fåt i dire. Et k' il aveut fwait si froed. Avou deus pîs d' nive cåzu disk' al fén do moes d' måss.
Kécfeye k' on aveut dins l' bon ki l' axhlêye åreut co yeu passé d' èn ôte costé, ôte påt, lon erî d' nos teres. On nd åreut cåzé å posse et dins les gazetes. On s' åreut dislaminté so les moirts et so totes les mizeres di ces djins la. On åreut co bén portchessî dins les eglijhes po tos les målureus k' arént sitî rascråwés.
Mins, dins l' fond, soladjîs di l' awè schapé bele, k' on åreut sitî, po dire li vraiy.
L' anêye d' après, i gn åreut co yeu ene grande fiesse po des ôtès ptitès påcresses avou des belès cotes et des bankets dins totes les familes.
May åreut co stî ossu bea. Les ptitès båsheles årént co yeu metou des blankès aiyes dissu leus spales po fé les andjes al porcession.
Les djins årént yeu fwait leus pairs di ptitès sminces, sins si rtourner après les ôtes. Et les cinsîs, l' awousse come todi. Et l' solea åreut lût et l' plouve tchaire po les bråvès djins. Tot åreut yeu tourné come todi. Come do papî d' muzike.
Estô d' ça, on a stî cossåyîs so les voyes. On n' aveut nén ddja yeu l' tins d' mindjî les miscotreyes ki ratindént el cåve. Les tåtes åront tchamossé so leus cloyes.
Tins d' messe, li djoû d' Pintcosse, sitréndous, ls efants, et tronner d' peu e l' eglijhe. I gn aveut ene cabouxhreye di tos les diales a l' air. Les sôdårds, vinous d' France å pus rade, s' avént cossåyî pattavå l' viyaedje. I tirént sins låtchî so ls avions et sayî d' les fé tchaire.
Maria todi, kéne toû d' rowe di molén d' tos les diales ! So pont d' eures, c' est tot nosse vicaedje k' aveut stî discopecî. Sol côp, on nd aveut nén yeu idêye. Portant, li dijh di may, c' est cåzu come si l' tere åreut yeu fwait l' croye dissu si efance. Po nos payis todi.
---
Emile Gilliard, divins: "On vî fuzik eruni" dins li ramexhnêye di noveles, "On vî fuzik eruni et sacwants ôtès paskeyes", SLLW, Lidje, 1997
---

(Page sœur en conservant l'accent wallons du 20e siècle, et traduction française). Pådje da Emile Gilliard el Livreye (nén rfondous scrijhaedjes).
---

Pådje moennrece da Emile Gilliard.
---

Si des mots difficiles se présentent à vous sur ces pages, allez voir s'il ne sont pas expliqués dans le Splitchant motî do walon (avec brève traduction française), ou dans le Wikipedia, l'encyclopédie en wallon (suivez: "Pordjet Esplicant Motî").
---

(Index des auteurs présentés sous forme pré-normalisée) Djivêye des scrijheus eplaidîs dizo cogne årmonijheye, mins tot wårdant ene miete l' accint. (Index des auteurs dont les textes sont disponibles en wallon commun) Djivêye des scrijheus k' ont scrît u k' ont stî rashious e rfondou walon

(Back textes en wallon commun) Erdalans sol pådje des scrijhaedjes e rfondou walon.

(Back homepage) Alans rzè el mwaisse-pådje

(homepage wallon commun) Alans rzè eviè l' pådje moennrece do rfondou walon.
---
Sacwants scrijhaedjes di cisse waibe cial polèt esse dizo abondroets; nos les rsaetchrans foû s' i fåt. Sacwants bokets scrîts ezès walons coinreces polèt aveur sitî ene miete rassonrés po poleur shuve pus åjheymint les mwaissès-rîles do rfondou walon.
Some texts may be affected by copyrights and eventually need to be removed from this server in the future.
Certains textes peuvent avoir subi des modifications mineures pour faciliter leur insertion dans le projet de langue nationale pan-wallonne.
---