Chicago-en-Wallonie

Tchicago-el-Walonreye

(ewaerantès noveles da Lucyin Mahin, ki s' pasnut après Tchålerwè (on boket, todi), sicrîtes e 2010)
dierin rapontiaedje - last update: 2011-08-27.
Dressêye:
---
Sacrée frousse pour une mère qui va récupérer ses enfants à une "boum" à 1 h. du mat.
Cardjakigne
Dji raléve cweri mes djonneas, k' estént-st evoye a ene boume avou des pareys a zels, après Dårmè. Il esteut sol côp d' ene eure å matén. Dj' aveu leyî l' ome dins s' lét, fornåjhi k' il esteut d' aveur bouté disk' a tård del shijhe. Fåt dire k' il avént deus grossès pratikes a-z ahessî, dins si imprimreye. Et nén cwand cwand, ca c' esteut des afitches po les votaedjes.
N' aveut nén grand djin avå les voyes. Come a mi åbitude, dji n' rôléve nén pôvite. Mins c' est bén dazår k' i gn ouxhe on radar a des pareyès eures, taiss, dandjreus !
******************************
Des gableus, neni, mins des otomaboulisses, oyi. Waite on pô ci halcotî la, dins s' grosse Volvo, ki frinne des cwate pates et do muzea sol bele droete lene del Pasturåstrêye. Portant, li feu-rodje ki vént est co vete. Mins i va bén fini pa-z î passer, å rodje. Eto, dji boute eto come ene waeraxhe so l' erayoe. Mi Audi dsicapotåve ni rabresse nén voltî on gros cou d' Volvo. Nonna, ele n' est nén raecisse... Djusse bén aclevêye.
Mins, so rén do monde di tins, wôrs del grosse tcherete suwedwesse, come des cacafougnas foû d' leu boesse, i gn è rexhe troes måbelairs, avou des noerès cabounetes so leu tiesse. Li prumî a-z arivé dé m' poirtire mi dit, avou on accint nén d' avår ci : "Les clefs ou on te bute !"
Dji n' piede nén m' froed sonk. C' est don çoula, on cardjakigne. Et c' est des ptits canvolants d' Francès ki m' volnut haper mi oto, a mi, ene Årdinwesse ki s' popa a fwait l' Ofinsive da Van Rouchtete avou l' Årmêye da Montgomery.
Dji n' fwai ni ene ni deus, dj' eclitche prumire, deujhinme et troejhinme, et vo m' la a do cint a l' eure sol tårmak do Grand Tchålerwè. Dji n' m' a nén ddja abaiti ki les deus bouxhaedjes k' on-z a etindou enawaire, c' esteut des côps d' fizik saetchîs après mi. Asteure, dins l' erî-muroe, dji voe ki l' finiesse did padrî est tote kipetêye. Ci n' est nén pår des coråls, nos cardjakeus !
Et asteure, les gros fåres ki m' shuvèt, la å lon, c' est dandjreus zels, paret. Dj' a ene u deus munutes d' avance. Dji n' so nén cråsse avou ça.
Lacobén ki m' tiesse va bén, leye. Nén disbrôlêye del vessete ! Djusse astok, so Mårciene, dji cnoxhe on restorant avou on grand parkigne. Dj' årè l' tins d' î moussî, et di m' maxhî åzès djins.
Come dit, come fwait. Såf ki l' ouxh d' intrêye est seré. Come di djusse. Dispu deus troes ans, les polices do tote li Picårdeye francesse ont rhåssî leu livea di straegnté. Swè-dijhant po sayî di dzindjner les grands bandîs ki rôbalént so leu triyaedje. Ene coûsse-porshûte, et i mitrayént les saiwantès tcheretes, sins si rtourner k' i gn aveut des (nén enocinnès) åmes divins. Avou l' benediccion des sarcozisses.
Dabôrd, les brakeus et ls atakeus di totes les tires ont-st aploû sol payis d' Tchålerwè, la k' il avént ddja mwints frés d' mestî. Cial, el Walonreye, cwand on bandî s' fwait acsure d' ene bale pierdowe, c' est tos les policîs porshuveus ki sont dins leus ptits solés. On sotént l' calinreye, vos di dj'.
Mins rivnans drî rinne.
******************************
Vo m' la don divant èn ouxh di bwès, å prôpe et a l' imådjrece. Li tins di håspler po fé vni on sierveu, et la les lampes di l' oto des shuveus ki loumeynut l' noereur, a l' intrêye do parkigne. Pus l' tins d' rén do tot, ki di m' sititchî dizo l' prumire oto gårêye djondant.
Les målairs n' ont nén metou lontins po s' abaiti di m' catchete. On côp d' fizik a co peté. "Lebon, tchipete ! Ti n' ti vas tolminme nén fé dischinde po on hopea d' fiermints. Tape lezî les seroûles di l' oto, et k' on n' è cåze pus."
Dj' elzî a hiné.
Po m' rimerciyî, il ont co saetchî deus troes côps avou leus pistolets. E l' air, come on tire des maryîs ? Dji n' vos l' såreu dire. Dji n' voeyeu rén : dj' esteu co padzo mi oto.
Cwand les voleus ont yeu stî petés å diale, les ouxhs do restorant s' ont disclapé. T' aveus la ene flouxhe di båyåds ki vlént saveur les ca et les ma. Mi telefone axhlåve aveut stî riscroté avou l' oto. Tolminme, onk des magneus, on pô pus midone k' els ôtes, mi prusta l' sinne. Li gårçon, lu, m' aveut vnou siervi on vere di maxheure di djus d' fruts, avou des ptits cwårés d' froumaedje. Dji n' sai nén si c' esteut d' pitieusté, oudonbén k' il aveut sovnance ki dj' esteu ene pratike del måjhon.
******************************
C' est cwand on-z a dandjî d' zels k' on ricnoxhe ses vraiys soçons, dit-st i l' rebusse.
A cist egzamin la di relijhaedje des vraiys amisses, mi ome åreut seur sitî buzé. Vo l' la ki s' dispiertêye grigneuzmint. Cwand dji lyi conte mi paskeye di cardjakigne, et k' il ôt les vwès des djins did tåtoû d' mi, il a l' acertinance ki dji so ki lyi djowe ene kénte. Ene kénte å rvier, sapinse a lu. Aprume ki djel vou fé lever et prinde si oto po-z aler rcweri les crapåds et l' crapåde (nos deus djonneas et onk di leus cousses). Djonneas ki doevnut aveur li tins long, a des pareyès eures, a l' ouxh di leu dancigne, la k' on lzî aveut dné radjoû al dimeye di deus. Ey il est ddja l' cwårt a deus ! Ey i brouhene, et fé ene crouweur ki vs amousse disk' ås oxheas. Dji l' a bén sepou cwand dj' esteu dvant l' ouxh, racafougneye dizo ene oto.
Il a falou k' ene pratike do restorant prinde li schoûtrece, et aveuri a m' mwetî tot çou ki dji lyi aveut dit. "On vout co bén aler rcweri vos djonnes a leu dancigne, dijha-t i tot s' måvlant, mins soeyoz don binamé di vni rascode vosse feme droci. Après l' saizene k' ele vént d' aveur, vos avoz ene fire tchance k' ele est co mwaisse di leye et n' vos nén dire ene volêye di påters di bourike."
Cwand i s' a-st apwinté, ene grosse eure pus tård, les sopeus avént tertos dzarté, et les sierveus avou. Gn aveut pus ki l' boss do restorant, et les policîs k' avént ddja cåzu tot scrît leu rapoirt. Li brigadî n' a rén dit, mins il a mostré, sol tancea di s' mwin, les deus vudès cartoxhes k' on-z aveut rtrové sol parkigne. Des Bronigne 15-10, onk des pus traites des pistolets d' atake.
C' est mi ome k' a toumé dins les cropecindes, et c' est co mi k' a dvou rmoenner l' oto po-z eraler al måjhon.
Vlacobén ki l' Audi discapotåve esteut assurêye disconte do scrotaedje.
Ça co stî on bea côp dé on laid.
---
Lucyin Mahin, li 11 d' avri 2010, so ene sovnance da Brigitte Mahin.
Eplaidî divins "Li Rantoele Belès Letes", Rantoele-gazete l° 54, esté 2010.
---
Peut-on vraiment s'intégrer à la vie wallonne moderne quand on est fille de réfugié pakistanais ?
Moude d' oneur
Dj' åreu polou esse Fadila Laanan ...
Oyi, saiss ! Moussî å PS di Tchålerwè et, après l' dislaxhaedje del Walonreye, divni li prumire minisse del culteure do Payis Walon. Ki dj' loméve dedja, a môde d' après mon nozôtes, Walonistan.
Mi prumire bouye, dj' î aveu ddja tuzé, ci sereut di ricnoxhe, dilé les cénk lingaedjes nåcionås endogènes - do payis - sacwants lingaedjes nåcionås exogènes - did foû payis. Il årént les minmes waerantixhants droets. Dj' ô bén ki, come pol walon, li picård, li gåmès eyet l' lussimbordjwès, les efants des abagants et les ôtes les pôrént aprinde - po rén - dins les scoles del Walonreye, tins des eures normåles di cours. Et avou des ponts ki contrént po les bultins, ostant k' les cis do flamind et d' l' inglès.
Tot passant pa Nameur, la sacwants samwinnes, dj' aveu mådjiné m' buro, dins ene tour modiene basteye sol Grognon. Dji m' voeyeu a relére li djivêye des "lingaedjes redjonås foû payis" ki serént ricnoxhous dins les lwès walones. Dj' aveu la scrît so ene foye, dins l' ôre alfabetike : amazir, arabe marokin, kicongo, kiniarwanda, kiswahili, lingala, ourdou, trouk.
Ci n' aveut nén stî åjhey di stitchî l' ourdou. N' aveut nén des meyes di Pakistanès ki dmorént dins l' cotoû. Les sacwants come mi pa, k' estént la dispu ene tchoke, c' esteut des broûleus k' avént cwité po l' Inglutere, mins dmorer a stok a Ostinde u a Calais. Adon-pwis, rabroker on pô e-n erî sol Nonne del Beldjike, foiravant sol payis d' Tchålerwè.
Mins cwand dj' årè l' ådje d' esse minisse, les Rikins et leus copleus d' l' OTAN åront ramassé leu petêye e l' Afganistan. So ces etrevéns la, li Pakistan serè divnou islamiveus. Ça fwait k' tos les cis k' åront dné on côp di spale ås "crustins" po tiper des bombletes so li screne des rezistants do Baloutchistan, ces-la, di dj', åront dvou saiwer å pus abeye. Et l' Urope bén oblidjeye d' elzès rascode.
******************************
Tot çoula, c' est des boignes contes ki Kevin mi tchante tins des foûzeures, al cantene del sicole, la k' on-z s' dene radjoû a tot côp bon.
Kevin, c' esteut m' prof d' istwere-djeyo di l' anêye passêye.
Cwand dj' a moussî dins s' classe pol prumî côp, la on pô dpus d' èn an e moes d' setimbe, nos ouys si rescontrît d' atoumance la k' i dmandéve ene kesse sol Mîtrinne Azeye. I rodjixha come ene cressôte. Mi avou, mins ça n' si voet nén so m' morete pea. Dji låtcha "Tachken, Douchambé u Alma Ata" - i s' adjixheut del mwaisse veye d' on payis d' avår la - tot baxhant honteuzmint mes iys. Mins dandjreus aspita-t i so mes lepes on ptit soriya ki dj' n' aveu polou mwaistri.
Dispu don, pitchote a midjote, nos nos avéns raprepyî a môde di rén. Dji lyi dmandéve des kesses et des messes so tot çou k' i nos contéve tins des scoles. Lu s' meta a studyî les pondants et les djondants di l' istwere do Pakistan. Et shuve al tévé et sol Daegntoele tos les corwaitaedje politikes so cisse coine la del Daegne, k' i n' î fjheut nén trop påjhire pol moumint.
******************************
Pocwè nosse pa s' a-t i måvlé araedjî sot sor mi å mitan d' l' anêye ? Dire ki dji m' moussive come ene sins-oneur, avou mes marones-djines todi pus splincantes. K' i gn aveut pont d' avance di wårder mi noret d' tiesse po-z aler avå les voyes, si c' esteut po s' abiyî, padzo l' tiesse, avou des foufes ki mostrént totes les rondeurs di m' coir. Des mousseures di disbåtcheye.
Disbåtcheye, dji l' esteu, mins dins l' ôte sinse do mot : diloujheye, discatibulêye come ene covresse ki l' vexhåd lyi a scroté tos ses poyons.
C' est l' veur ki dji meteu des coûtès tayes et des marones basse cingue. Mins todi avou ene flanele padzo, afîsse k' on n' voeye nén m' botroûle. Ni m' dos, ni l' roye do drî... come on les voeyeut, a tot côp, ås ôtès scolresses k' estént nipêyes come mi. K' ele li fjhént cåzu esprès. Dji n' pleu tolminme nén passer po moens k' ene ôte ! Et c' est moman ki m' rabiyive. Et s' n' aveut ele nén l' air di esse disconte di ces cayets la.
******************************
Mins onk k' esteut disconte djamåy parey, c' esteut m' fré Perwez. Djalot, va, dandjreus, lu. Foice k' il aveut volou schoûter nosse pere, et s' aler maryî å payis avou ene båbimene di 15 ans k' i sayive asteure di fé rivni el Walonreye. Et dire ki, co l' anêye passêye, i hantéve a stok avou ene glawene di nosse coulot a Lodlinsåt. K' i continouwe di courtizer, åré, mins catchetmint.
Dji n' sai nén si c' est nosse monpere u nosse monfrere k' î aveut tuzé l' prumî, mins i fourit decidé - dirî m' dos - ki, ezès grandès vacances, dj' erireu å Pakistan. Nén dandjî di m' fé on dessin. C' esteut purmint po m' î maryî, sins dmander mi idêye, avou on cuzén u on ptit-cuzén. Onk k' åreut ene miete sitî a scole, et ki profitreut do mariaedje po-z aveur ses papîs, lu eto, po ravoler sol Beldjike.
Nosse pa aveut ddja atchté les deus biyets "Areyoflote" Zavemtem Islamabad pa Moscou. Dji touma d' astcheyance so les foyous do vol, tot rnaxhant dins les letes do facteur, on djoû del difén do moes d' djun.
******************************
Cisse nute la, dji prinda ene grande decizion dins mi ptite caboche di refoirceye gamene di 17 ans. Dimwin, dji n' rinterreu nén a nosse måjhone. Et-z aler passer totes mes vacances dé ene camaeråde di Gochliye ki s' pa boute a l' areyopôrt, et k' a des biyets d' avion po deus côps rén.
Nos avans stî so tchamps so voyes les deus moes å long. Londe, Malaga, Hamamate, Rimini, Prague.
******************************
Mins, e moes d' setimbe, i fala bén rintrer e scole. Rola, gn aveut m' pa et m' fré k' avént vnou trover l' directeur. El pôve målureus Kevin, ki n' aveut portant rén a vir avou tot çoula, s' aveut fwait barboter d' astok. Et on-z aveut dedja stî rcweri des grands mots : distoûmint d' mineurs, et dji n' ti sai d' tot cwè. Mins nos avéns po fé po nosse disfinde. Dji n' voeyeu Kevin ki inte mes voyaedjes avou Gwena (li cene di Gochliye). Et lu aveut stî fé tchîf po les Scoutes do Rou k' avént campé e l' Ovegne, e l' France, cåzu on moes å long. Nos avéns des alibis d' acî.
Les parints da Gwena m' avént bayî l' djîsse e leu måjhon, et fé vni ene assistante sociåle del proteccion del djonnesse po lyi conter l' paskeye. Li Comene avént ahoukî nosse pa et nosse mame. Dji m' aveu leyî dire ki popa esteut fén dismonté, come do bolant laecea k' efoût d' on cantea, cwand il aveut vudî d' drola. Avou m' fré, come di djusse; Sint Rok n' eva djamåy sins s' tchén.
Mins nosse pere ni m' åreut djamåy oizou vni trover, ni e li scole, ni amon mes mwaisses lodjeus. Co on côp, Perwez sereut s' messaedjî.
Li prumî côp k' i m' vina ratinde al rexhowe di l' atenêye, i saya di m' ehertchî d' foice på bresse. Mins mes soçons d' classe n' estént nén bén lon. I saya bén d' elzès mancî et dire ki ça n' les competéve nén. ki c' esteut des afwaires di famile. Mins dji breya k' i m' låtchaxhe. Les deus troes pus castårds di reto ont yeu rade fwait di l' tini astok et lyi mete li mwin so s' gargasson. Il a bén dvou leyî la hatche et matche, e voeyant k' il aveut a fé a pus foirt ki lu.
Il a rivnou ene cwénzinne di djoûs après, tot fjhant bebele, ci côp ci. Et m' prinde al doûce, tot djhant ki moman aveut l' tins long après mi, et k' ele si tchoûléve moite cåzu totes les shijhes. Et dmorer dispiertêye tins d' parnute. Ki si ça continouwéve, elle aléve souwer so pîs. K' i n' mi foircixhrént pus a spozer m' cuzén do Pakistan. K' i dji m' diveu racmoirder avou nosse pa, k' esteut presse a m' pardoner tafwait.
Kevin, li bon Kevin ki n' voeyeut l' må nene pårt, m' a-st ecoraedjî.
Gwena, leye esteut bråmint pus dmefiyante, Ele voleut vni avou mi mins dji n' a nén accepté. C' esteut des mannetès lokes, des cayets ki s' bouwnut divins famile.
Dj' elzî a dné radjoû on vénrdi a nonne, po mareder avou on bon couscousse cwand popa rvénreut del moskêye. Ci n' est nén ene eurêye pakistanesse, mins moman aveut-st aprins a l' fé comifåt avou ene vijhene marokinne.
******************************
Dj' åreu dvou schoûter Gwena.
Asteure, il est l' dimeye di deus. N' a pont d' venêye di couscousse dins l' måjhone. Moman n' est nén ddja la, evoye amon ene conoxhance après Lidje.
Tant k' a mi, waitîz dins kén estat ki dj' so. Dj' a deus côps d' coutea inte les coisses. Dji so ki s' forsonne. Dji nd a pus po on cwårt d' eure a viker. Perwez est la ki brait come on påpåd, avou s' crin-d'-aresse plin d' sonk e s' mwin. Popa ramxheye dins l' bele plaece. Dji l' ô co ki cåze å telefone avou les djindåres. Portant mes ouys sont clôs et dji n' bodje pus.
"Oyi, c' est po on moude å 10, rowe des teris a Lodlinsåt. K' i vegnnuxhe do côp !"
******************************
Dj' åreu polou esse Fadila Laanan. Al difén, dj' årè tolminme mi ptite gloriyole : dji serè l' prumî moude d' oneur di l' istwere del Walonreye.
Peneus rconsolaedje !
---
Lucyin Mahin, li 24 di djulete 2010.
Eplaidî divins "Li Rantoele Belès Letes", Rantoele-gazete l° 55, waeyén-tins 2010.
---
Camicazresse
Dj' åreu polou esse li bele-feye Ben Laden.
Oyi, cwand dj' a rescontré si fi, Djamel, a Nadjaf, divant ki dji n' m' evåye po m' prumire et dierinne mission po l' Cayida.
Ké bea valet, Djezuss Maria !
Djel rivoe co nos pretchî, do hôt d' ene pitite pirlodje di Sint-Nicolai. Dji m' a dit dins mi-minme : "Muriele, si l' Bon Diu t' evoye, di ces djoûs ci, diner t' veye po nosse guere pol djustice, pôreut vali k' i soeye touwé e minme tins k' twè, dins ene atake d' on drome amerikin. Insi, on s' ritrovreut nozôtes deus eshonne al poite do Paradis, et fé cnoxhance."
Po s' maryî dins l' veye d' après ?
Hê, valet, båshele ! Ti n' es pus amon les Boudisses, la, vaici. Ti sovénss co li prumî côp ki t' popa t' a moenné dins leu timpe, a Tcheslinea ? Ti n' esteus co k' ene dine di doze traze ans. C' est zels ki croeynut a çou k' i lomnut li restchårnaedje. Ki ti åme ripasse dins èn ôte coir après t' moirt. Pus bea, pus peur si t' as fwait des bounès accions. Pus laid, pus måssî, si ti t' as må codût.
Mins asteure, dispu deus ans, ti shûs les islamisses. Li mwaisse pretcheu del moskêye di Couyet ti l' a ratchawté co traze côps. Ti coir eva po todi al moirt, magnî des viers. Ti åme eva e Paradis u e l' infier, a l' assulon di t' vicaedje et del mizericôre do Bon Diu. Si to ravikes, coirzenoxh, ci n' serè k' å djoû do dierin djudjmint.
Ki swete ! Mins mi, Muriele Dograf, dji sai pår bén ki, docô k' on mourt, on rprind èn ôte coir, et rviker ene tote novele veye. Et dji so-st a pô près seure ki, dins ene veye di dvant, dj' a spozé Djamel Ben Laden, li bea napea ki nos a-st arinné enawaire.
Mins si t' es seure ki c' est lu k' a stî ti ome dins ene ôte veye – et k' il risserè co – , pocwè nel nén aler trover sol pî sol tchamp ? Divant k' i n' revole – sai dju pa kéne voye – so l' Afganistan u l' Pakistan, ritrover les tchîfs del Cayida. Vos n' avoz k' a vos maryî, pu steper evoye e-n on payis k' i n' a nole guere inte crustins et muzulmans. Et-z î viker mo påjhirmint disk' a vos vîs djoûs, tot-z aclevant ene peclêye d' efants. I n' a k' di poujhî sacwants potchtêyes di dolårs dins l' casse del Cayida po payî l' voyaedje, et vos setler låvå vozôtes deus.
Mon Diu todi, Louwis ! Bén ti n' î pinses nén, taiss ! Traeyi si cåze ! N' a rén d' pus pire po ridischinde dins l' schåle del valixhance di l' åme. C' est on plan po s' ritrover come coloûte ou come clouctrê dins l' veye d' après. Diale m' ancate !
******************************
Muriele, mi feye, djoke tu do cåzer tote seule. Astampe tu raddimint sins t' epîter dins t' grande noere cote et va s' ritrover les kékès cmeres – ene shijhinne pol moumint – k' ont tchoezi come twè di sacrifyî leu veye pol guere djusse disconte des crustins.
******************************
Les crustins ! Pocwè end ass tant siconte di zels ? Portant, ti viye mårene, ki t' a-st aclevé après ki t' mame åye peté å diale, ti grand-moman, di dj', c' end esteut ene, leye avou, di crustinne. Batijheye, todi, ca ele n' aléve nén a messe tos les dimegnes.
To l' as dit ! Nenene ! Pôve viye åme ! Ki n' s' a-t ele nén plindou des curés ! Onk ki lyi aveut rtrossî ses cotes, et rsaetchî si ptite coulote, po fé les cwanses di lyi fote ene ratournêye po ene loignreye u l' ôte. Ci n' esteut ki po lyi candôzer les fesses, li laid vicieus godi.
Et kés toursiveus, ces curés la ! Li minme apôte ki margougnive les efants, il esteut straegne ca todi po çou k' est des penitinces a cfesse. L' alaedje, di ç' tins la, c' esteut di raconter e cofessionå tot çou k' on t' aveus mårtoké el tiesse ki c' esteut petchî. Minme d' aveur sitî danser. Et t' aveus sacwants priyesses ki n' vlént nén minme diner l' absolucion pol dansaedje, trovant ki l' petchî esteut trop grand. Et rclaper l' plantchete åzès crapådes ki s' end avént acuzé.
Fås-pilåtes ! Fås-pilåtes, avou !
Ça fwait ki l' viye djin n' a waire bouté al tcherete po k' ses fis alénxhe co a l' eglijhe cwand il ont yeu fwait leu comunion. Li pa Muriele, åré, a divnou on critikeu d' curé djamåy parey. I n' aveut nén ddja volou fé batijhî s' feye. Et s' dispetroner fer avou s' feme a cåze di çoula.
Di çoula et di toplin d' ôtès sacwès, ca c' esteut on mariaedje k' aléve a schî-fesse dispu l' tot cminçmint.
Mins si feme ses djins, c' esteut des magneus d' Bon Diu. Il ont tant fwait ki les parints da Muriele ont dvoircî. Portant on n' divoirceye nén mon les grands catolikes. Bawaite, i fåt viker avou s' tins. Les bea-parints ont fwait des pîs et des mwins po-z aveur li wåde del glawene. Mins, al fén des féns, li djudje, on socialisse siconte-PSC, l' a dné al tayone do costé di l' ome.
C' est dandjreus tote ciste haeyime la disconte des catolikes k' a fwait ki, on bea côp, li pa Muriele a decidé di fé moussî s' feye amon les boudisses.
******************************
Boudisses u islamisses, c' est todi l' minme diale, dit-st i l' martchand d' bondius.
A 16 ans, l' ådje k' on s' revinte siconte di tot çou ki vos a strindou dispu estant tot ptit, on n' dimeure nén voltî a rén. Ca po les boudisses di Djumet, i s' faleut tuzer moirt tot lijhant li Tawo-teu-kign, li live da Lao Tseu. Et viker al Tawo-tchiaw : cachî di n' nén mori, tot shuvant li "Voye" eyet l' "Viertu", tot rapinsant co meey côps les deus atuzes do "nén-fé", li Wou-wey et di l' eralaedje e-n erî, li Fou.
A saze ans, ti vous d' l' accion, del margaye, des batreyes et do touwaedje. Come dins les djeus videyos.
C' est çou ki les islamisses ofrixhént, dins leu lûte disconte des Amerikins. Foiravant dispu k' ces-ci avént-st enondé li nouvinme croejhåde, e l' Irak ey e l' Afganistan. Do côp, ça a stî cohigne cohagne avou les muzulmans di tot tchamp payis. Minme les doûs ki voeyént evi les gueres. Et copurade dins l' payis d' Tchålerwè, la k' les djins, avou leu mintalité socialisse, haeyixhnut les gros ki vont spotchî les ptits.
On djoû, d' astcheyance, Muriel aveut rescontré Abdel, on Marokin k' aveut stî a scole avou leye dinltins. I l' aveut etrinné dins ene soce ki sayive d' egadjî des camicazes po l' Irak.
I n' avént nén stî spepieus so ses cnoxhances di l' islam. I n' lyi avént nén dmandé di fé ses cénk priyires tot les djoûs, et co moens di djuner on moes d' astok e cwareme moslimî. Ele ni dveut nén ddja aler al moskêye. Ki do contråve ! Leu moskêye esteut awaitêye pal police siconte-terorisse. Valeut mî k' ele ni berlôre nén avår la.
I l' avént rashiou dins des såles po fé totes sôres di spôrts. I lyi avént dné a magnî del tchå deus côps par djoû. Pask' ele esteut mwinre come on tchet d' après l' Sint-Djhan, après ses cénk anêyes di redjime ås verdeures d' amon les boudisses.
******************************
Après deus troes ans di ç' sognaedje la, Muriele aveut divnou ene bele grande foite comere. Avou ses bleus ouys et ses clairs tchviveas, mousseye a sôdårresse amerikinne, les Djankîsses ni s' dimefiyrént nén d' leye, cwand ele s' aprepeyreut d' zels po fé s' "mission".
Målureuzmint, i n' lyi avént nén seu fé aprinde l' inglès come il åreut falou.
Muriele, li walon, ça lyi aléve å pair do pôce. Li francès, faleut ddja bén tot. Mins l' inglès, elle esteut a l' åjhe avou ça come on pexhon e mitan d' on bouxhon di spenes.
Damaedje ! Ôtmint, on l' åreut fwait aprepyî on gros menir amerikin (come gaztresse u ôte tchoi), et l' fé potchî avou leye.
Bawaite, on l' frè såtler å fén mitan d' ene patrouye US a Bagdad u a Mossoul. Ele n' årè nén a djåzer avou zels.
Po aveur on meyeu rindaedje – dischafioter li pus di marînes possibe – on montreut on pantomene. Ele serè mousseye a sôdårresse amerikinne, come dj' avans dit, et fé les cwanses d' esse porshuvowe pa des rezistants. Ele creyrè djusse "Help ! Help !" Ele n' årè k' a repeter cint et cint côp ci fayé mot la. Nén Mouze et les vås !
******************************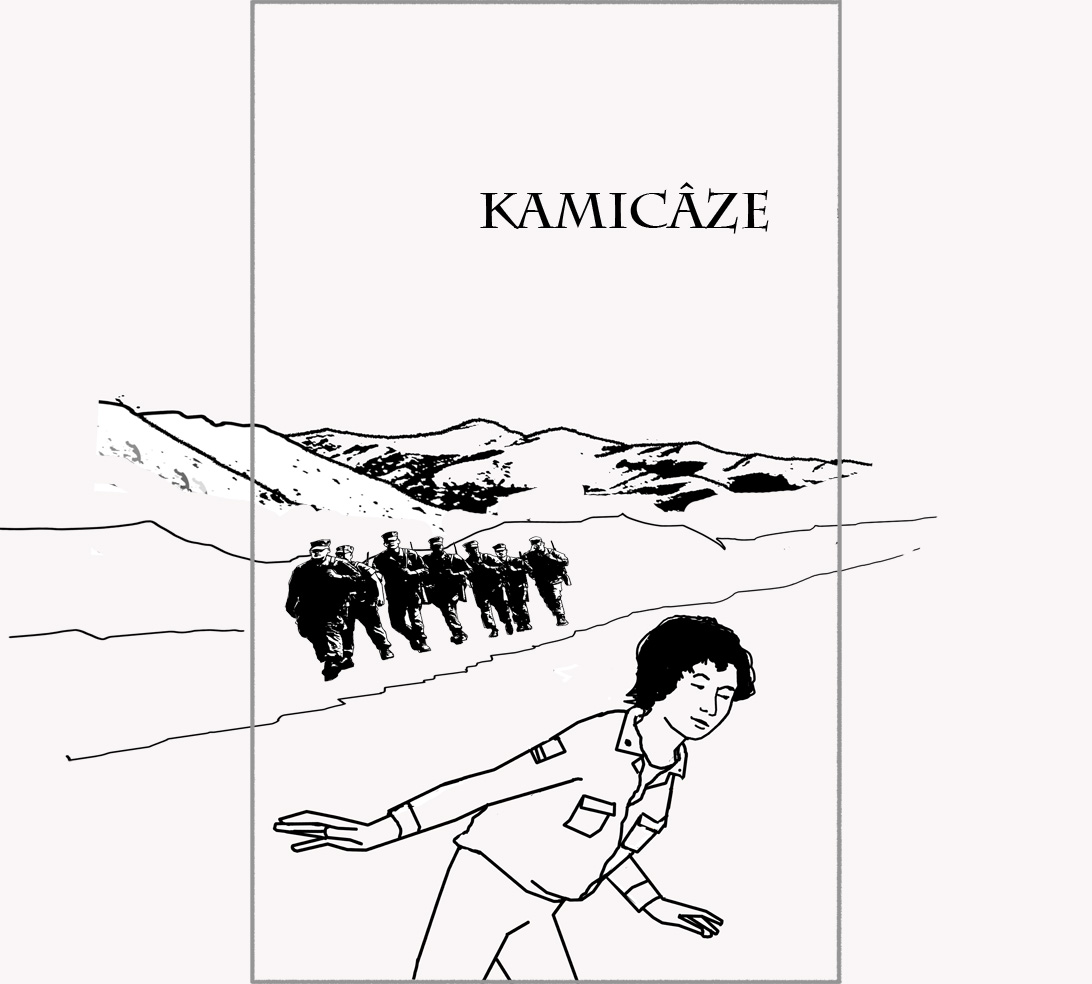 Enute, c' est l' grand djoû. Elle est presse. Ele dit hinkeplink si ake di contricion e-n on cpité arabe. Ses copleus è fwaiynut ostant, ca el vont porshure podbon, tot saetchant après leye avou des bales a blanc. Mins i pôrént totsu bén è rçure ene vraiye, di bale, cwand les Amerikins les vont awè a lugnî...
Coraedje, båshele ! Motoit k' ouy al vesprêye, ti rtrovrès Djamel Ben Laden al poite do paradis.
Çou k' ene comere vout, li Bon Diu el vout.
---
Lucyin Mahin, li 29 di setimbe 2010.
nén co eplaidî so papî.
---
Lisbete di Lavervå
Dj' åreu polou esse djudje del djonnesse.
C' est çou ki dji tuzéve, todi, di ci esté la, e deus meye toubak, cwand tos mes soçons et soçones di scole aplouvént divant nosse måjhon.
Nos aléns rfé l' monde, avou noste exhowe di grandès crpådes et di rafoircis gaméns, tertos cwénze saze ans vîs.
Onk aléve baguer pol Braezi, et-z amonter des soces nén recwårlantes, dins tos les viyaedjes di l' Amazoneye, po k' les Indyins ni s' fijhénxhe pus groujhî påzès distrujheus d' grands bwès.
Ene ôte aléve adjinçner des scoles dins les ospices, po les catîs aveur fodi del djonnesse åtoû d' zels. Et n' si nén sinti dins on moroe, on pî so tere et l' ôte dins l' waxhea.
Tant k' a mi, come djudje del djonnesse, dj aléve mete so på so fotches les tos des cintes di distreyance po les efants disgurmeteus. Estô do fé araedjî leurs prints, les djonnes sins rasta s' î vénrént fornåjhi e djouwant å baskete, tot fjhant del plantche ås rôlestes, u e gripant so des hôts meurs come les alpinisses.
---------
Mi, c' est Lisbete di Lavervå; c' est insi k' on m' a spoté, todi.
Saze ans et tot si alant !
On cinte po distreyî les djonnes harlakes, djel lomrè on "spåce a Lisbete".
---------
I fåt k' dj endè cåze å vijhén, di l'ôte costé del voye. Cwand i rintere di si ovraedje diviè cénk eures et dmey, i vént cobén taper ene copene avou nozôtes.
Ki, a ciste eure la, nosse pitite soce s' a ddja beazebén scramé. I n' dimeure pus ki deus pelés et troes tondowes.
Come Florant - c' est l' no do vijhén - n' end a k' por mi, et cåzu nén aconter les ôtes, i stepnut evoye sins tårdjî.
Oyi, taiss, i m' fåt dvizer avou lu di m' pordjet des Espåces a Lisbete. Lu, il est electizyin. I pôreut ddja tuyer a tot et l' loumiraedje po k' on voeye bén çk' on dit disk' å pus ptit racwén. Nén kession ki ces ravacholes la s' alénxhe muchî dins les peurès eaines do bastimint et-z î esse a damaedje catchiveuzmint.
A way, ça! S' i m' rinvite co on côp e s' tchambe, come djudi passé, dji lyi dmandrè cwè et kesse, sins manke.
******************************
Bondjoû, vozôtes. Diè wåde li bénfjhant. Diale evole li måfiyant !
Way ! C' est mi, Rita, el moman Lisbete. Ki l' Bon Dieu meta e s' saloe la ddja dijh ans d' çoula. Et k' i gn a a nou Sint Nicolai po vni fé raviker.
Cwè çki dj' fwai droci, po ene infirmire ? Bén vos l' voeyoz bén. Dj' aprins a saetchî å pistolet. Douvént ? I n' vot fåt nén fé on dessin, tolmminme !
Èm popa, k' a 85 ans l' a dit et repeté. « Cwand ç' canvolant la k' a touwé m' pitite-feye vudrè del gayole, dji lyi stitchrè ene bale inte les deus iys. A mi ådje, cwè çk' i ca m' pout fé k' on m' codåne a perpete ! I n' mi dmorrè todi k' én an ou deus a croper å yoyo... divant d' endè rexhe inte cwate plantches ! »
Mins – c' est Rita ki rdjåze – s' i ratreut s' côp, li pôve viye åme ! I tronne dedja tot cwand i boet si djate di sope. I fåt ene sakî padrî lu po ratchever l' bezogne... po si e cas.
Bén ça serè mi, ô, vos !
******************************
Fredi d' Lavervå li papa da Lisbete !
Bén binåxhe di vos cnoxhe !
Dji rvén d' aveur sitî trover li directeur del prijhon. Lyi dmander di vey Florant Taramin inte cwate-z iys, divant k' i n' åye si condicionele. Li raloukî å pus parfond d' ses ouys, inte les cwate meurs del prijhon. Paski, si djel rescontere avå les voyes, pus tård, dji n' respon pus did rén.
Sav bén k' on m' a rbouté, låvå. « Les prijhnîs n' sont nén la po vosse boune volté. Zels eto, il ont leus droets. »
Leus droets ! Çoula m' fijha potchî foû d' mes clicotes. Ça fwait k' on moudreu a dipus d' droets k' èn ome oniesse, k' on lyi a waraexhmint distrût s' feye, li seul efant do manaedje !
Gn a k' mi ki n' a pont droet, dins tote cisse paskeye ci.
---------
Li docteur k' aveut-st arivé ki l' dîne vikéve co motoit, cwand il a veyou l' tåvlea, i n' a rén vlou fé divant l' arivêye des djindåres.
Les djindåres paret ! Si dji vs di cwè, vos pinsroz k' c' est ene kénte å rivier. Gn a ene djindåmreye dins nosse coulot. Mins, po des sfwaitès afwaires, i fåt houkî li criminele, a Twin. C' est çou k' il ont fwait, k' il esteut 10 munutes po dijh eures å niût.
Mins drola, l' addjudant d' gåre aveut tot fwait s' siervice a dijh eures.
« Bawaite ! Dji n' mi va nén anuti disk' a des meynute meyzeure, et ki m' djonne feme est ki m' ratind – les djonnès femes et les viyès otos, i fåt todi esse dissu –. Ki m' shuveu s' ocupe di l' afwaire ! »
Cist albran la, il avaut l' droet d' nos fé ratinde, lu. Li droet di piter dins l' dierinne tchance ki l' glawene fouxhe eco vicante ! Taiss k' oyi k' il aveut l' droet ! Pår k' il a minme monté e gråde, aprume shijh moes pus tård.
---------
Cwand dj'  a stî trover li Bon Diu et ses sints po fé dmander des contes ås cis ki n'  avént nén fwait leu dvwer, mi, dj'  a sintou ki dj'  n'  aveu nou droet.
Dj'  a dvou tcherper po les awè mins dj'  els a prins, mes droets.
Dj'  a splitchî tos les tecses di lwè. Dji sai çou k'  i n'  mi polèt rfuzer. Mins cwand onk di zels a metou on pî sol costé, i s'  etind avou s'  dizeutrin com deus lives dins ene avoenne. Et s'  fé racwiter.
Mins dji n'  mi discoraedje nén po ça...
I m'  ont fotou a l'  ouxh di mi ovraadje sins boune råjhon. Dji lezî a fwait payî tchir et vilin. Cåzu ostant ki les anêyes k'  i m'  dimorént disk'  al pinsion.
Dji n'  lairè djamåy ouve ! Et dji n'  mi lairè måy djus.
******************************
I va trop lon, Florant. Dji lyi a dit cint côps k'  on n'  esteut ki des vijhéns ki s'  inmént bén. Mins dji n'  a k'  cwénze ans, mi. Saze ans dins ene samwinne, li 22 d'  nôvimbe. Nén ene ådje po fé des sekelreyes avou on djonnea cåzu dijh ans pus vî k'  mi ! Dji lyi a repeté co traze côps. Mins lu, i m'  vout, rén k'  por lu. Rastrin, la, valet !
---------
Adjourdu, i m'  a houkî a s'  tchambe po m' diner ene lete d'  aniviersaire. K'  i m'  a dit, todi. Dj'  î va mins c'  est l'  dierin côp. Dji passe dilé l'  plaece-bas tot fjhant on ptit sene bondjoû a s'  grand-mame. Pu monter les montêye eviè l'  la-hôt.
I m'  ratind. I m'  fwait ashir sol lét. I m'  apoite on coca. Mins dji n'  lyi a nén dmandé a boere, mi. Cwand dji n'  î vout nén toutchî, i s'  mwaijhit. Pu, rifé bebele. Mi tinde li fameuse lete po mes ans. Tossu rade, i rexhe del tchambe et mete li clitchot di l'  ôte des costés. Oyi, l'  ouxh est seré. Dji cmince a transi. Dji drove li lete. Gn a ene tchandele dessinêye dissu, ene aloumete å fond d'  l'  ewalpeure. On tecse: « Dji t' voe voltî; ti m'  voes evi. Mete li feu a cisse lete ci : elle si va cbroûler et fini ossu rade ki t'  veye. »
Dji tronne come ene foye. Dji n'  a pont d'  axhlåve po houkî papa u moman, u mes cousses. Dji n'  såreu rboeler. Mi goidje est serêye. Dji n'  sai avaler m'  toursion.
Dji n'  vos såreu raconter çou ki va shuve. C'  est trop tchôcmwårrece. Et portant, ci n'  esteut nén on tchôcmwår, poy ki, ene dimeye eure pus tård, dji serè roede moite, sitindowe sol plantchî, forsonnêye...
******************************
Nouk ni sait å djusse çou ki s'  a passé, soçon Lucyin. Al riconstitucion, ki moudreu a rabroké dins l'  tchambe dijh munutes après awè cwité. Tot noer moussî, come dins "Scream II".
On disguijhmint k'  i vneut d'  atchter po l'  alowine, cwénze djoûs pus timpe. On grand coutea al mwin. I l'  a planté dins l' pwetrene da Lisbete. Elle a bén sayî di s'  disfinde. Elle a hagnî l' atakeu å bresse. Mins il esteut pus foirt ki leye. I l'  a rtourné su l'  lét et lyi planter l'  coutea cénk shijh côps dins s'  dos.
Adon-pwis, li moudreu a tapé la l'  coutea et aler a pî, trankile come Batisse, amon on comaeråde di s'  pa, on policî al pinsion. Et raconter cwè et come.
L'  ôte a houkî l'  police di Tchålerwè, ki n'  l'  ont nén croeyou, paski lu esteut gableu après Nameur. C'  est po ça k'  il a falou dispu d'  deus eures po l'  bon côp d'  telefone ariver ås djindåres di Twin, les cis ki ça lzî competéve.
So tot ç'  tins la, dji esteu ki telefonéve pattavå po saveur wice ki nosse Lisbete esteut dmorowe. Cwand dj'  a-st oyou ene ambulance hoûler å toumant, dj'  a comprins ttafwait...
---
Lucyin Mahin, Caza, li 27 di decimbe 2010.
nén co eplaidî so papî.
Politesses entre parachutistes femmes.
Paratcheyisses
Dj åreu polou esse tchampione do monde di libe tcheyaedje.
Ene tchampione do monde a Boufiou ! On n' åreut djamåy co veyou çoula. Les cenes k' î vegnnut po s' î fé rfonde, elle årént on clapant modele po l' potlî les redjårber.
Tot cåzant d' modele, dj' ô bén : ene copete-modele.
Kî, sobayî ? Mi. Taiss k' oyi ki dj' cåze di mi : Påla Cerami. Des longs noers tchiveas, et des spitants ouys. A fé dåner on moenne.
Ki dji m' vante ? Si waire ! C'est Yonel Delfoidje, li moniteur do ceke di paratchutisses di Gochliye, ki m' l' a-st acertiné lanawaire. On gåy napea, ci-la ! Grand bea foirt ome, lådje di spales. Droet come èn î cwand i nos fwait scole teyorike so les areyoplanes, les paratchutes et les hôtrins corants d' air, "Jet stream" sapinse les Inglès. Nozôtes, on dit les HCA. Po Hôtrins Corants d' Air.
Ki, mimne et s' leyant toumer di 10 000 metes hôt et fé do libe tcheyaedje disk' a 1000 metes, on n' pout må, cabén k' on resconterreut on HCA. Djusse, i n' fåreut nén ki vos vénrîz a toumer dsu cwand k' vosse paratchute si drove. Ca, alfeye , ces måssîs corants d'air la ridischindut so tere et esse li cåze di nouzomès timpesses. Mins å djoû d' ouy, avou tote lis pouxhance des indjéns po-z anoncî l' tins, on n' riskêye pus di planeter on såtaedje e paratchute si l' meteyo divize di grande air.
Dins nosse mestî – dji di "nosse mestî", mins c'est djusse on pasmint d' tins por mi k' est eployeye di banke – dins nosse mestî , di dj', li prumire sacwè k' on aprind, c' est kimint drovi s' paratchute. Cwè fé si n' si disploye nén, s' i s' toirtcheye so ses coides di sotnaedje, s' i tourbeye a môde di tourpene, et tchik et tchak.
Adon, si vos ndè vnoz nén mwaisse, gn a todi li rcours do "vintrå", li paratchute di scours metou so vosse vinte.
Et si l' vintrå ni s' drove nén nén pus ? Adon, cloyoz vos ouys et conter disk' a vint-ey-onk. Après ça, c' est fini. Vos n' sintroz pus rén.
Sote mivêye, li Veerle Vlaemingue ! C 'est nén l' tot k' ele a on no a vos fé atraper on må d' goidje. Mins ele vos dbite des biestreyes cwand ele nos scole so çoula. Des boignes messaedjes come : « Cwand vos arivez al dierinne hôteur – 700 metes – la k' il est tins ki vosse paratchute si drove, s' i n' si drove nén, i våt mî conter e flamind. Vos wangnoz ene dimeye sigonde a "zeven", "negen" "dertien" "vijftien" "zestien" "zeventien" et "negentien", tos mots k' ont on pî dpus ki "set", "nouv", "traze", "cwénze", "saze", "dî-set", "dijh-ût" et "dijh-nouv". En flamind, li contaedje fwait vormint ene sigonde. Insi, a "tweeëntwintig", vos estoz snazé... u snazêye." Et ele mi rwaita tot-z djant ces dierins mots la.
Sote mivêye ! Sote mivêye, avou ! Ki çki lyi metrè ahote a s' "Kulturkampf" po nos stitchî do flamind el miyôle, voye non voye ?
Nén todi Yonel ! Kéne ideye, po on nozé cokea come lu, di s' awè stî aclaper avou ç' laidron la d' Veerle Vlaemingue. Cråxholete, dobe minton eto. Et on papadrî d' matrone itålyinne ! « Ça amoirtixh cwand on s' riçût må, eva-t ele, a môde di baltreye. Et on dit todi ene bele grosse, djamåy ene bele maigue. »
C 'est l' monde a l' evier. Mi, ene feye di Tchitcholyin, dji dvreu esse bén poirtante et leye, ene blanke Flamindje des Polderses, setche come on côp d' trike.
Mi po-z aler disconte si spreclaedje, ses "tweeëntwintig" et hay vos nd åroz, dji di sacwants mots walons ki dji tén d' nosse pa, k' a corou a velo avou les efants des corons divant di letchî l' rowe a des Jacques Anquetil, Raymond Poulidor, Rik Van Looy et li cpagneye.
Djustumint dj' elzî a dit enawaire di nos rbatijhî. « paratchutisse », c' est do francès po dire « parer la chute ». Et walon, gn a pont d' « chute », c' est on « tcheyaedje ». Ça fwait ki, dispu don, on s' a rlomé inte di nozôtes : « Club des paratcheyisses ». Veerle Vlaemingue a yeu ses poretes ritaeyeyes.
Eyet Påla l' paratcheyisse – c' est mi – a divnou pitchote a midjote li rinne do libe tcheyaedje do club di Gochliye. Et tchampione di Beldjike – ki : come c' est evoye avou les margayes Flaminds-Walons, c' est on tite ki serè bénrade a mete e-n on muzêye.
Et s' etrinner pol tchampionat do monde, todi dpus racovêye pa on lomé Yonel Delfoidje.
Si bén racovêye k' elle a divnou si amresse.
Mins, bon valet, i n' a nén leyî Veerle Vlaemingue po do poeve et do sé. Tchaeke a s' toû come a cfesse. Les moslimîs end on bén cwate, et maryîs å grand sacrumint !
Pacyince, poyete ! Ti finixhrès bén po l' awè po twè tote seule.
******************************
Li prezidint del coû d' ashijhes di Mont :
- Veerle Vlaemingue, les prouves disconte di vos sont mierpezantes. Li nute do 25 d' avri, vos arivez amon Yonel Delfoidje åtoû d' 7 eures al nute. Vos eployîz on dobe di clé ki vos avoz fwait fé å serlî sins l' avouwer a vost amrê. Ci-cial vos aveut dmandé li samwinne di dvant di lyi rinde totes les seres di si cwårtî. Poy k' i n' vout pus viker aclapé – såf vosse respet – avou vos, mins motoit avou li cene ki s' va touwer sacwants djoûs pus tård, Påla Cerami. A ciste eure la, Yonel Delfoidje n' est nén la, poy k' il est evoye ricweri Påla a l' areyopôrt di Zaventem. El savîz ?
- Nonna, vost oneur ! Les tchampionats do monde di libe tcheyaedje di Cancoun estént li 24 d' avri. Et li rmetaedje des pris li 25. Ele n' åreut dvou rivni ki l' 26. Dj a stî trover Yonel di boune tchôze. Come i n' est nén malwè, dj' esteu po lyi propôzer d' aler ascoyî Påla avou lu. Li Påla, c' esteut cwand minme mi scolresse. Si elle a rascodou ene medaye di bronze a Cancoun, c' est ene miete a cåze di mi.
- Cwand çki nos deus djins ont ravivé ?
- Aviè onze eures al nute, vost omeur. Ene miete berzinques, doe dju dire. Il avént fwait rinchinchote po fiesti l' medaye da Påla.
- Ça fwait ki vos avoz yeu tot l' tins di disvôtyî li paratchute da Påla, et di soyî a mitan les aburtales do docså et do vintrå. N' a k' vos k' aveut l' sepiance po-z aler côper li doblaedje dirîtrin del costeure, tantea k' on n' î voeye rén d' on prumî côp d' ouy. Åresse, n' avîz nén espliké çoula å cours ? Et dire, avou on riya do gros des dints : « Asteure dji vos va mostrer kimint vos mete cwite di vost ome, u di vosse feme, ki sereut pår trop hodisse si lu u leye est paratchutisse. » Et k' on n' si dotaxhe di rèn." Tos vos scolîs ont temognî di cisse fråze la dins l' rapoirt d' inkete.
Li pårlî del disfinse si stampa d' on randon.
- Vost oneur, èm cliyinne est fene eployeuse del noere riyotreye, sapinse k' on dit. Ci n' est nén po çoula k' ele si laireut adire a pratiker des pareyès faitindjes. Årè d' ça, les labos n' ont pont rtové di markes di ses doets so les paratchutes. Ni rovians nén ki l' Påla – li Bon Dieu l' åye e s' paradis – aveut atchté des tot noveas paratchutes po les tchampionats do monde. Et ki c' est bén d' astcheyance k' elle a reployî ses vîs agayons, ene feye k' on s' a abaiti do disparexhaedje podbon des noveas paratchutes. Dandjreus hapés avou ses bagaedjes å candjmint d' avion a Mecsico.
Li procureu do rwè dimanda l' parole :
- Vost oneur, l' ametowe aveut des kinoxhances assez emey les djins k' estént so les tchampionats do monde po fé haper les noveas paratchutes dal Påla pal mafia mecsikinne.
Mins l' pårlî da Veerle nel leya nén porshuve so cisse glimounante voye la :
- Obdjeccion, vost oneur. N' a nou documint dins tos les corîs avou l' police mecsikinne u avou l' voyaedjisse k' apoite li pus tene astoca a cist acuzaedje la. Dji dmande ki tot cist årgouwaedje la soeye rissaetchî do dossî ki les djurés ront dvant leurs ouys.
******************************
Nouvès longuès seyanses å long, les noerès cotes, atakeus et disfindeus del Geert Vlaemingue avént schouté, les orayes grandes å lådje. Mins n' avént i nén ene idêye tote fwaite, dedja divant d' edåmer l' procès?
C' est l' veur ki tot a fwait esteut conte li Veerle. Li mobile, po comincî. Clair come di l'aiwe dî rotche : si rivindjî del cene ki lyi aveut scroté si galant. Vindjince k' elle aveut yeu l' tins di fé meuri cisse nute la, k' elle aveut coûtchî so ene carpete dins l' bele plaece, dabôrd ki Yonel et Påla båjhént come des såvaedjès biesses å prumî plantchî.
L' åre do moude n' aveut nén stî prezintêye mins tolminme kéne lame d' on ptit coutea d' taxhe ki n' fouxhe nén ene lambozete, åreut convnou. Oudon-bén on flîme di cérudjin. Eme lame di razoe côpêye e deus, tén, po onk k' a del pacyince. Gn aveut k' a crinner les costeures al boune plaece, fyi après fyi.
Pont d' alibi pol Veerle. Tot l' contraire pusk' elle aveut polou esse mierseule a forguiner amon Yonel ey a tchicter sol paratchute dal Påla cwénzes djoûs å lon divant l' touwaedje. Elle aveut les clés d' l' ouxh d' intrêye et kinoxheut totes les naxhes. Si aveut ele seur yeu sogne di mete des wants po catchî si måle keure.
Pu gn aveut li temonaedje des djins do club di Gochliye. C'est la k' elle esteut cwand on-z a-st aprins li moirt da Påla, spotchêye dins on tchamp d' golzå a deus kilometes did la. On trô on mete fond dins l' fråle tere do Hinnot. Les cis do club dijhît k' i l' avént veyou sorire. Et dire k' ele vleut leye-minme raveur li paratchute del touwêye... po studjî les cåzes di mwais fonccionmint, sapinse a leye.
---------
Mins çou ki l' a-st efoncî kécfeye li pus, c' est k' elle a dmoré froede tot l' tins do procès. On vizaedje di scroufier. Sins nou pleu. Elle a todî noyî ki c' esteut leye. Mins n' a måy valou låtchî des ôtes nos as inketeus. Des nos di des cis k' avént l' sawè-fé po côper les bons fyis al boune plaece.
Elle a djusse recassî, on côp, a on kessioneu : « Tos les potcheus e paratchute di Gochliye arént sepou soyî les cingues, poy ki dji lzî aveu mostré kimint fé. »
---------
Cwand on-z anonça li vierdik do djuri – dijh ans d' prijhon, inte di zels, ût ans nén rastrindave –, n a yeu a schipe deus låmes k' ont tchichî foû d' ses iys. Mins les cis k' estént djusse astok l' ont-st oyou maltoner « On djoû, vos saroz cwè ! Et ç' djoû la, n årè des ploraedjes et des groumtaedjes. »
---
Lucyin Mahin, Asfi, li 23 d' fevrî 2011.
nén co eplaidî so papî.
---

(Back textes Louline Voye) Hay ervoye so l' pådje des scrijhaedjes da Louline Voye

(Back textes en wallon commun) Ralans sol pådje des scrijhaedjes e rfondou walon

(Back homepage Louline Voye) Hay ervoye so l' pådje divantrinne da Louline Voye.

(Back homepage Aberteke) Hay ervoye al mwaisse-pådje